WooCommerce print shop – complete guide to accepting print orders online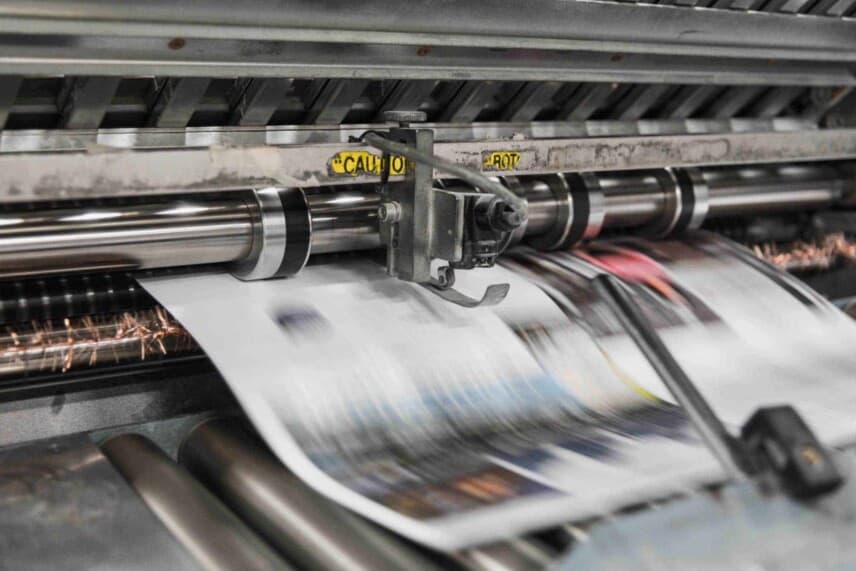 Let's imagine you'd like to know how to set up a print shop with WooCommerce. In this article, I'll walk through how to start accepting orders for your print shop, including how to let your clients customise products.
WooCommerce print shop
Let's just clarify exactly what we mean by a print shop. Often, this can refer to a physical or online store where you'd get various items printed, like documents, photos, business cards.
In this article, we'll look at various products that a print shop might offer. We'll step through how to let your customers upload their own images and documents to be printed, as well as how to let them customise other aspects of the product through custom fields.
Physical shop or online only?
It doesn't matter if you have a physical shop and you're looking to extend your services online, or if you only have an online presence, we'll look at how you can quickly and easily set up your own web to print service using WooCommerce.
Creating your products
In our scenario, we'll imagine that we're a bricks and mortar print shop that also offers web to print services. So sometimes our clients will come in to the store with items to print; other times, they'll send us items via our website.
The products that we'll look at are:
Business cards
Letterheads
We'll look at setting up each product in turn.
Additionally, we'll cover some extra options to offer our customers – e.g. a surcharge for a same-day service.
You should be able to apply these examples to your own requirements.
WooCommerce print shop plugin
In this article, we'll be using the WooCommerce Product Add-Ons Ultimate plugin, which will extend WooCommerce to give us the extra functionality we need for our print shop.
For the examples below, we'll need the Pro version of the plugin. However, if you only have the Basic, you can modify the guidance to achieve similar results.
Example 1: How to create a business cards product in WooCommerce
For our first WooCommerce print shop example, let's look at how we can accept orders to print business cards.
We'll create a product for business cards and add some extra options so that the customer can upload their own artwork and specify other parameters as they wish. This is what the product will look like: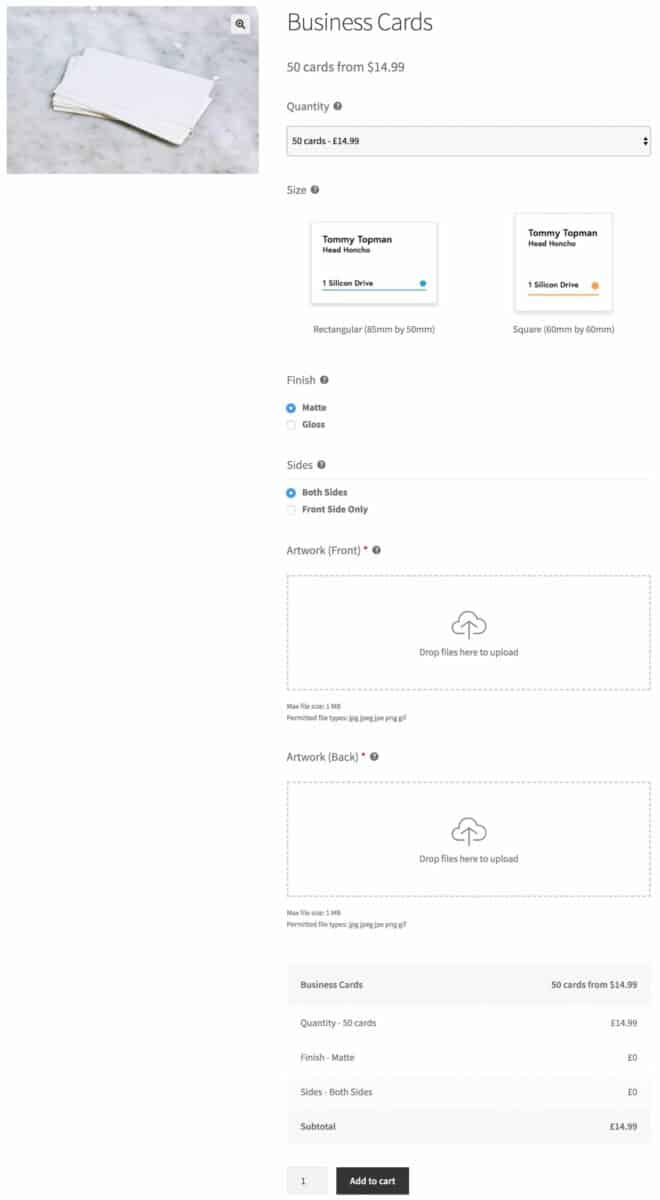 You can view the working demo product here.
To create the business cards product:
Go to Products > Add New and create your product
On the 'General' tab of the "Product data' section, set the price to 0. This is because the product price will be set by one of the options we'll add
Write some alternative text for the price in the 'Price label' field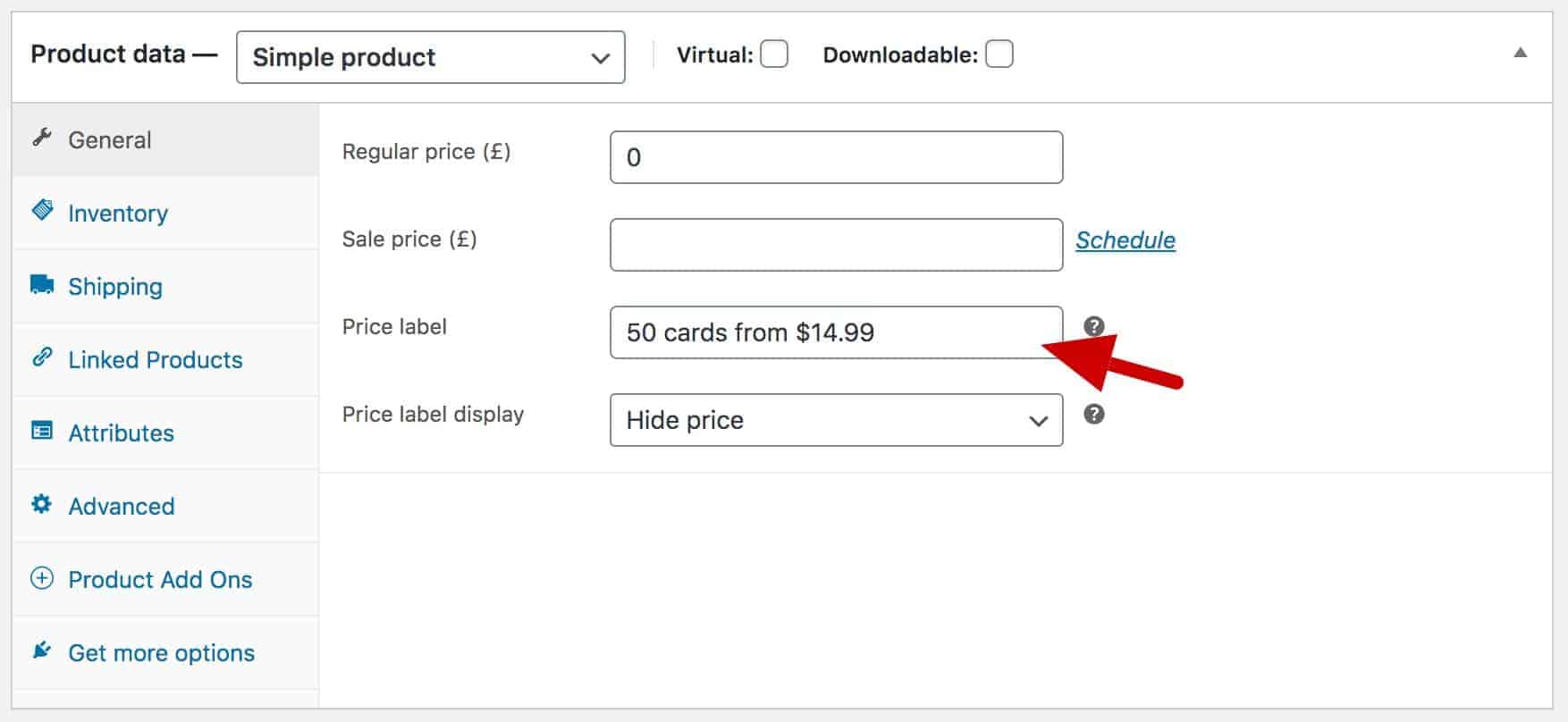 Now we're going to add some extra product options using the Product Add-Ons Ultimate plugin. We'll add the following options, but you can adapt these to your own requirements.
Adding extra options to our business cards product
Our WooCommerce print shop provides the following options to customers who want us to print their business cards:
Quantity
Size and format
Finish
Front and reverse side printing
Let's walk through each option.
Adding a quantities field to our print product
To add a quantities field to our print product:
Click the 'Product Add-Ons' tab in the 'Product data' section
Click 'Add Group' then 'Add Field'
Choose 'Select' as the field type and enter 'Quantity' as the label
Click 'Add Option' to add an option for each quantity that you wish to offer
Enter a price against each quantity option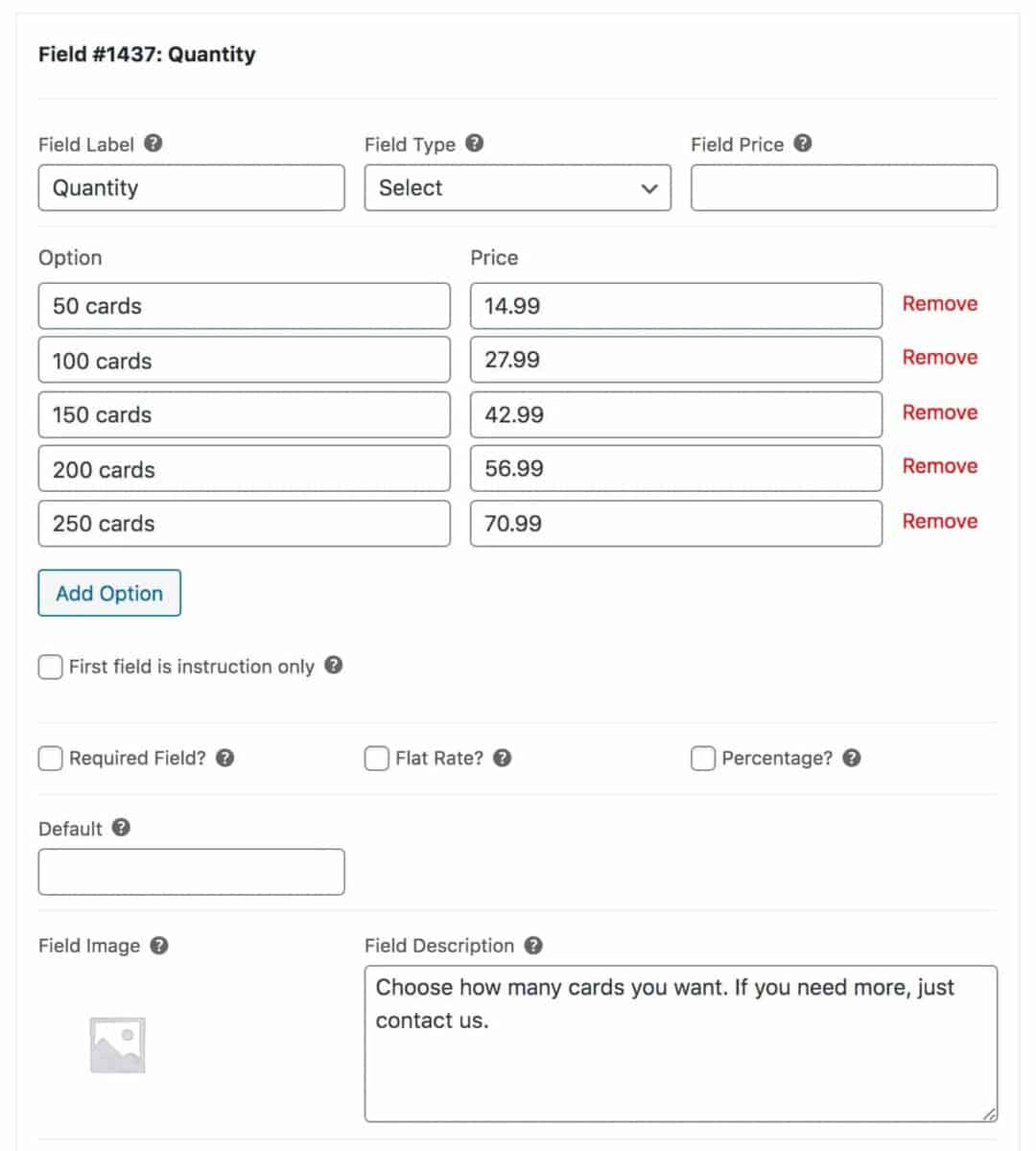 Adding a size field for our print product
For the size field, we'll include a nice graphic for each option to help the customer visualise what they're ordering:
Click 'Add Field'
Select 'Image Swatch' as the field type (note that you'll need the Pro version for this field type)
Click 'Add Option' for each size option you're offering
Upload an image to use as a visual guide for each option
Optionally enter a price if certain options have a surcharge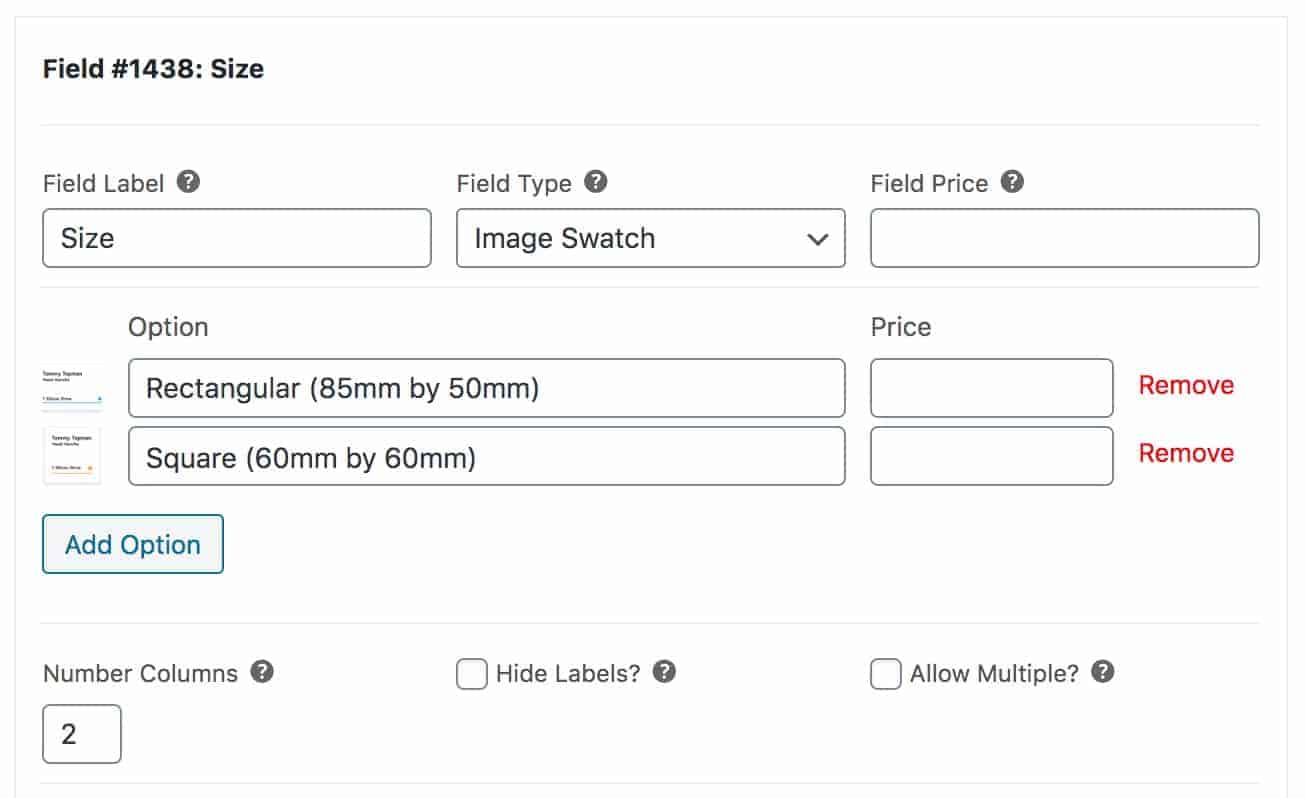 Adding radio group options
In the demo product, you'll see that a couple of the fields, 'Finish' and 'Sides', use radio groups. You set them up in the same way:
Click 'Add Field'
Choose 'Radio Group' for the field type
Enter a label for the field
Click 'Add Option' to add each option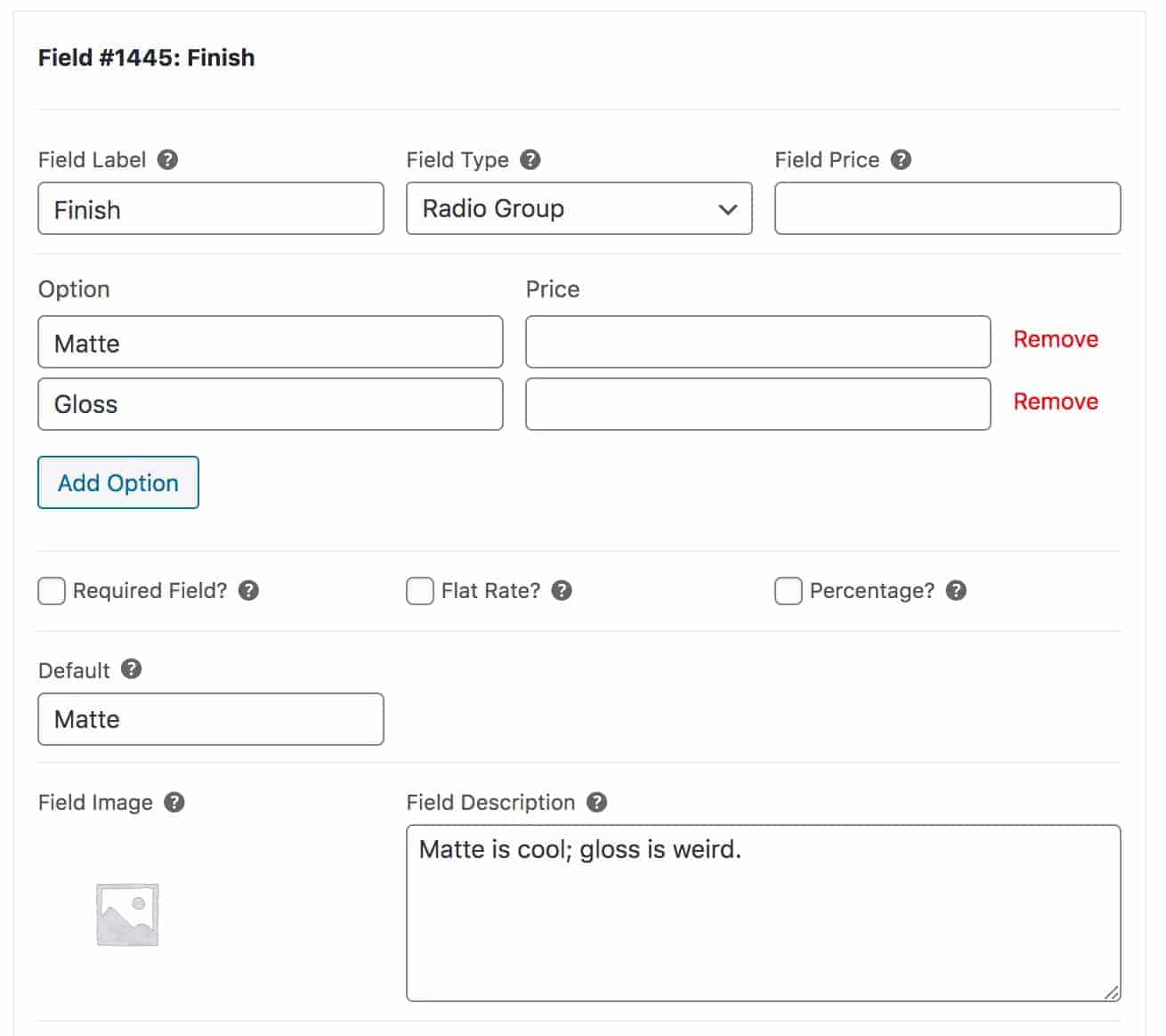 Adding a file upload field for artwork
Finally, a key aspect of any WooCommerce print shop is the ability to upload files. In this case, users will want to upload artwork – perhaps a file for the front of the business card and a separate file for the reverse.
To add a file upload field:
Click 'Add Field'
Choose 'Upload' as the field type
Enter a label for the field
In our case, we're going to create two upload fields. But we're only going to display the second field if the user has chosen to have their business cards printed on both sides.
We can do this using conditional product options:
Click 'Add Condition'
Choose 'Show this field if'
Create the condition to ensure the field is only displayed if the user selects 'Both Sides' from the 'Sides' field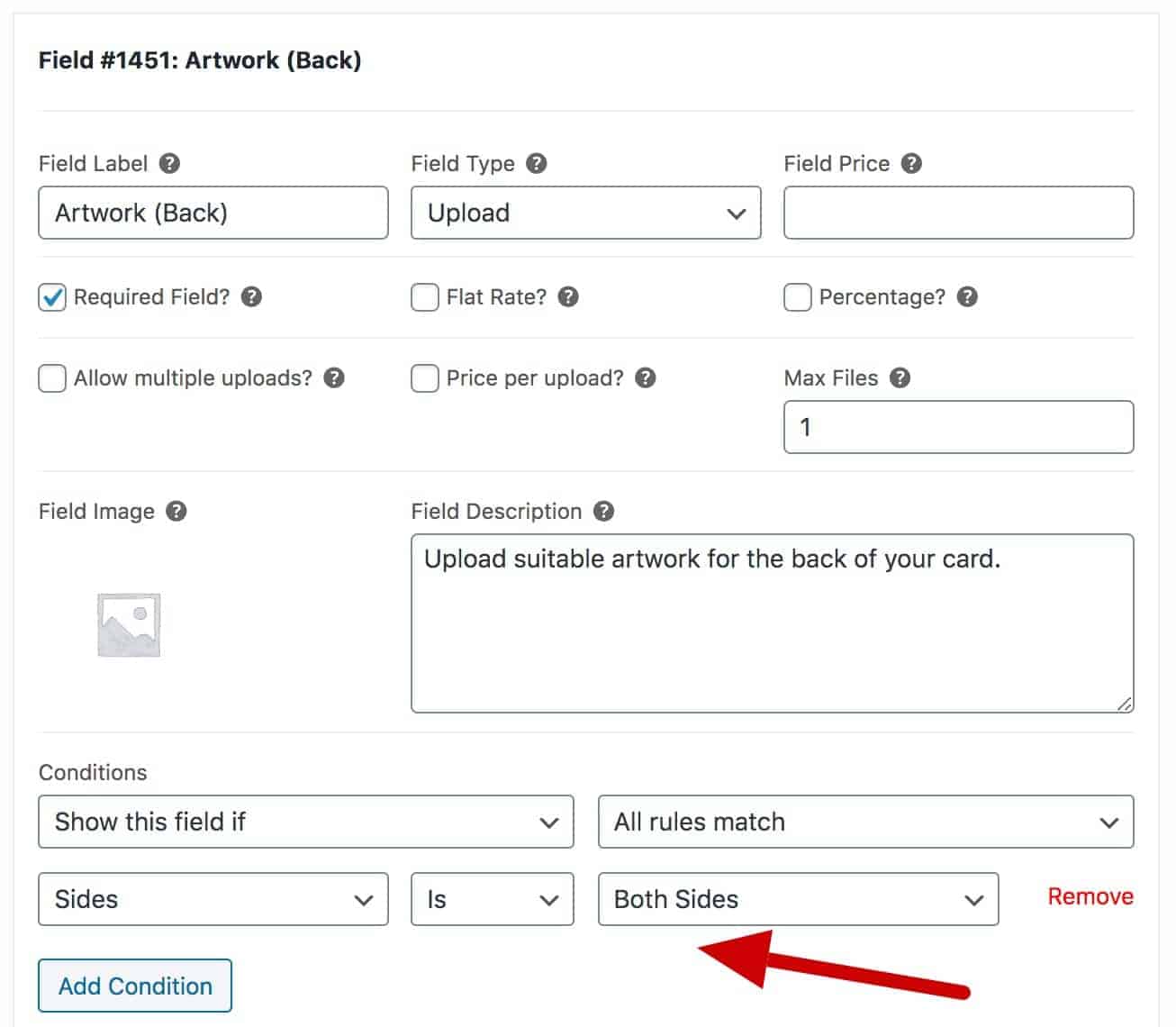 There's a longer article on how to upload files to a WooCommerce product page here.
That's it for the business cards product for our print shop. Check out the demo to see how the price is set according to the quantity selected.
Example 2: How to create a letterheads product in WooCommerce
Now let's look at another classic product for any WooCommerce print shop: letterheads. Take a look at the demo product here.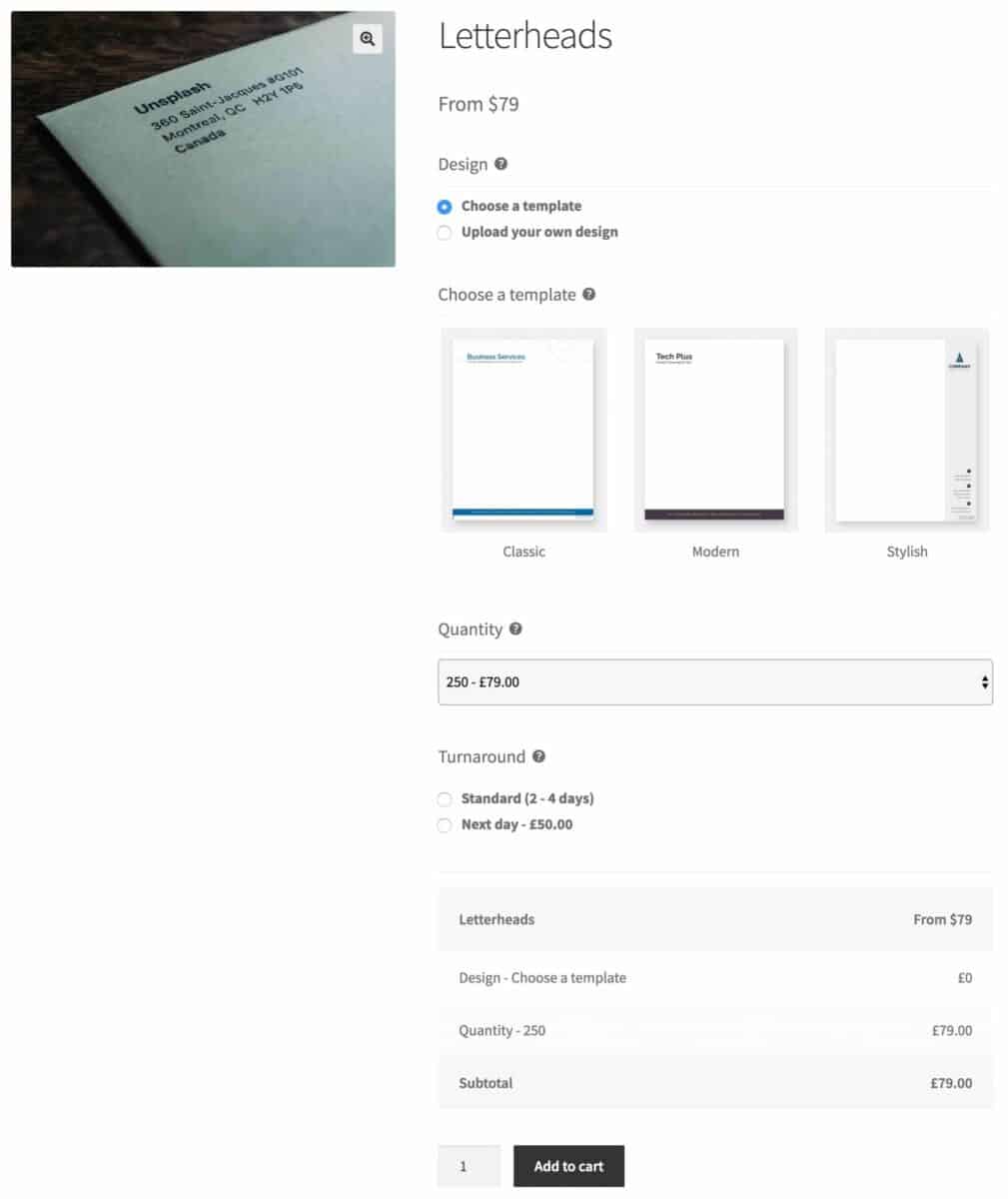 This product will allow customers to:
Choose one of our own letterhead templates or upload their own
Select a quantity
Choose a standard or next day turnaround option
Create your product in the same way as the business cards product above, then add the extra options.
Adding extra options for our letterheads product
As before, these extra options are only examples of what you might want to do for real in your WooCommerce print shop so feel free to adapt these as required.
Allowing the customer to choose a template
This is actually a combination of three fields:
A radio group for the user to choose between template or own artwork
An image swatch field if they choose template
An upload field if they want to use their own artwork
Create the radio group using the settings in this screenshot: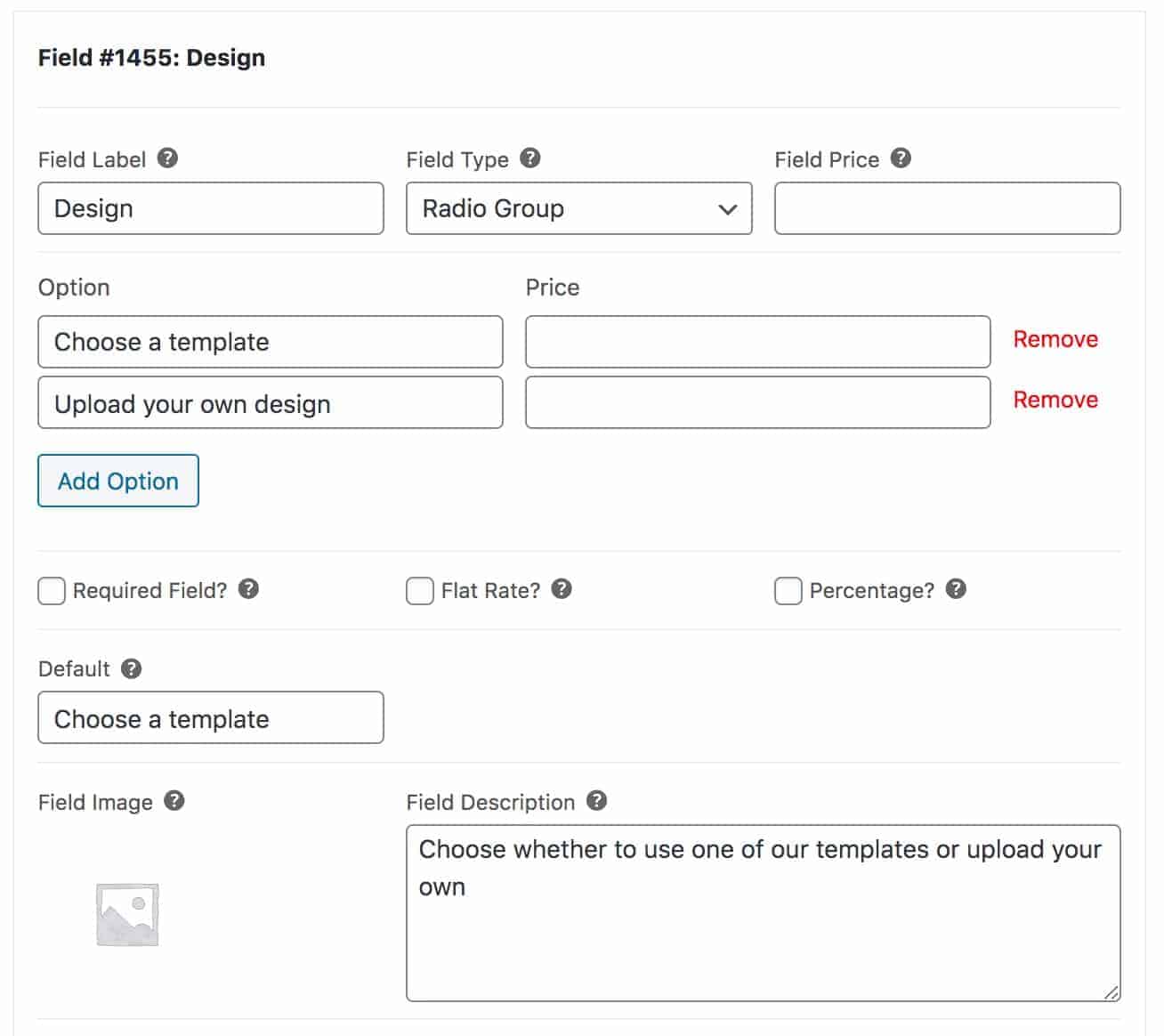 You can see that there are two options:
Choose a template
Upload your own design
Now add the image swatch field which features images of our letterhead templates so that the user can visualise how theirs will look.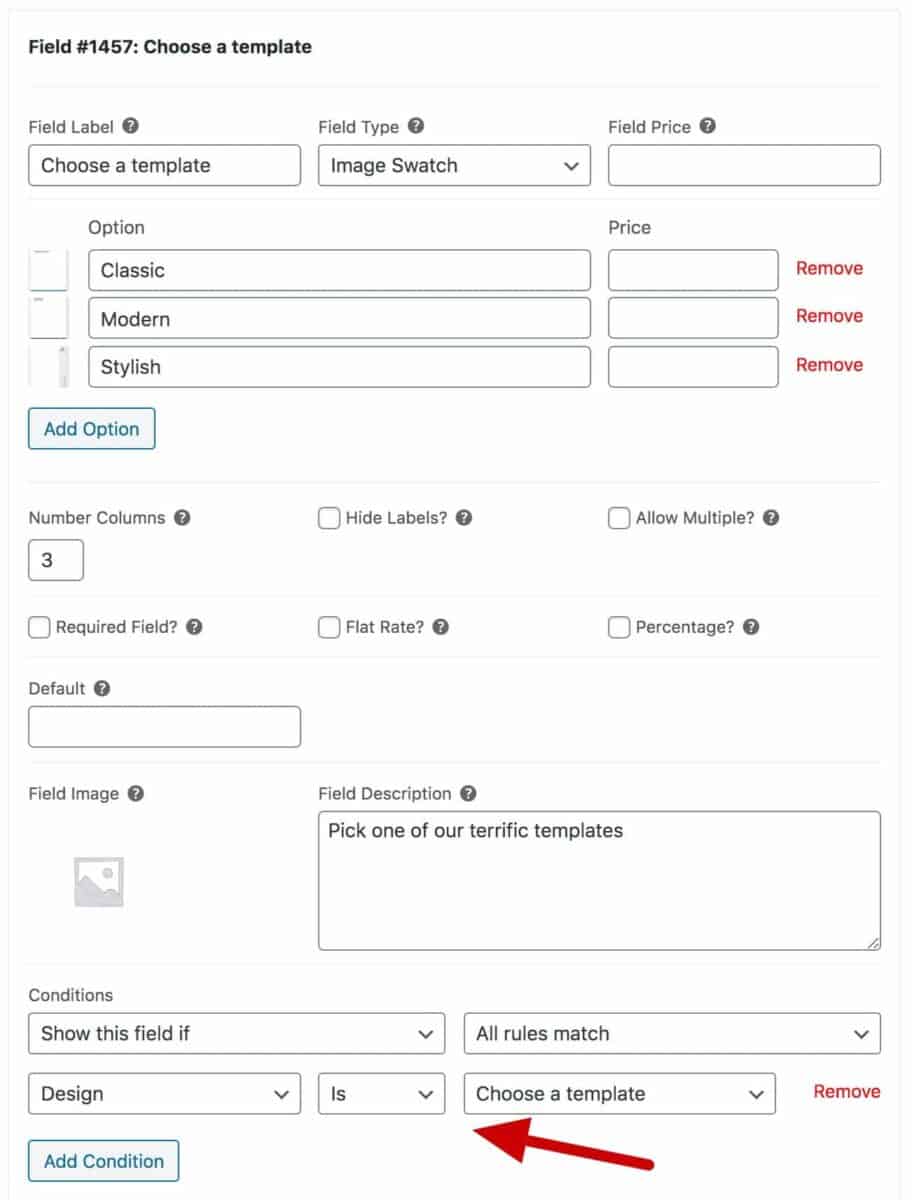 Notice that we've added a condition to this field so that it will only display if the user selects 'Choose a template' in the 'Design' field.
Finally, add an upload field for the customer's own artwork.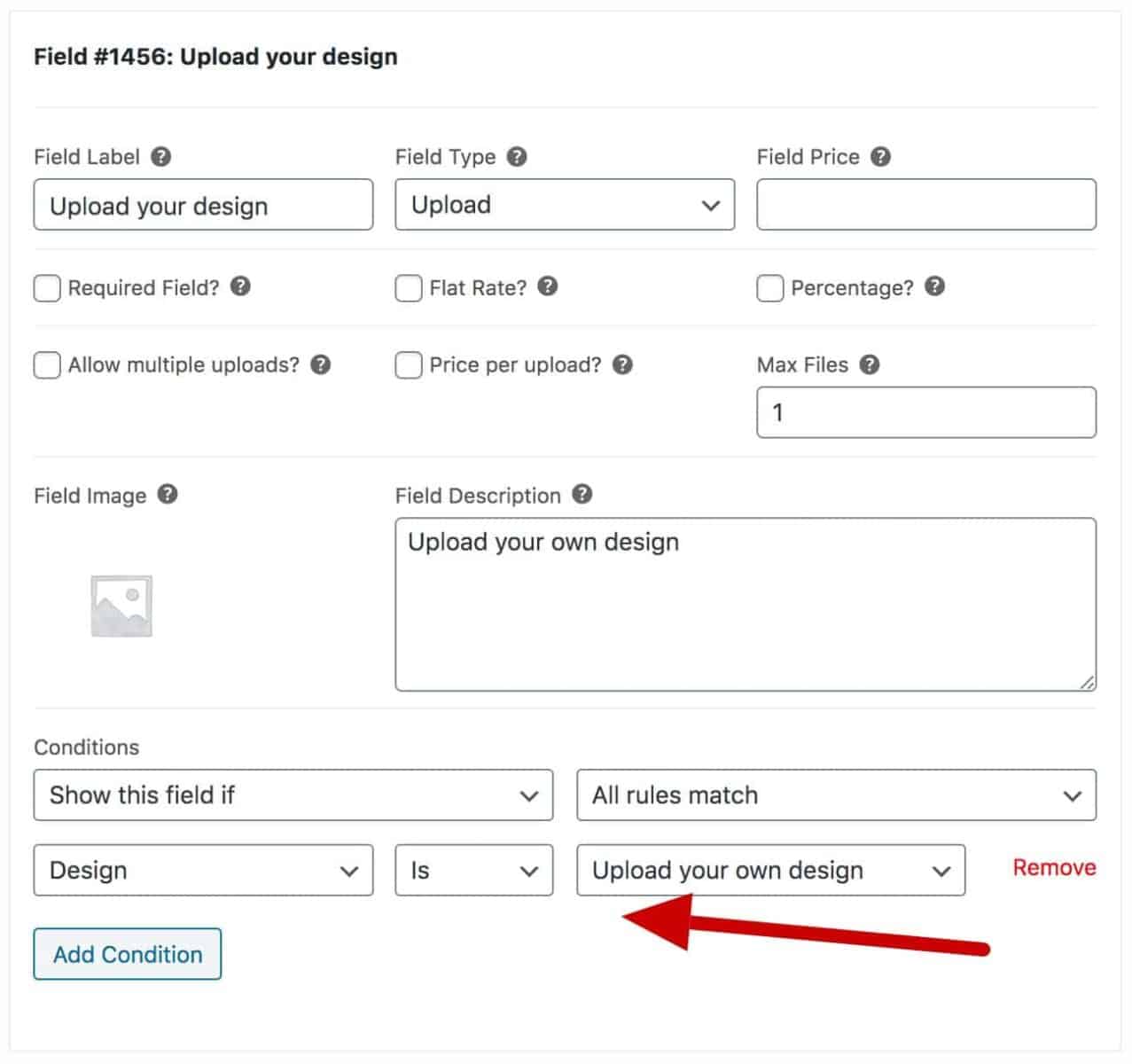 Again, note that we've got a condition so that the field will only show when the user selects the option to upload their own design.
Adding a quantities field
Because we want to restrict the user to certain quantities, e.g. 500 prints, 1000 prints, etc, we'll create a select field with quantities as options. We'll also define the price of the product here.
Create a select field as follows: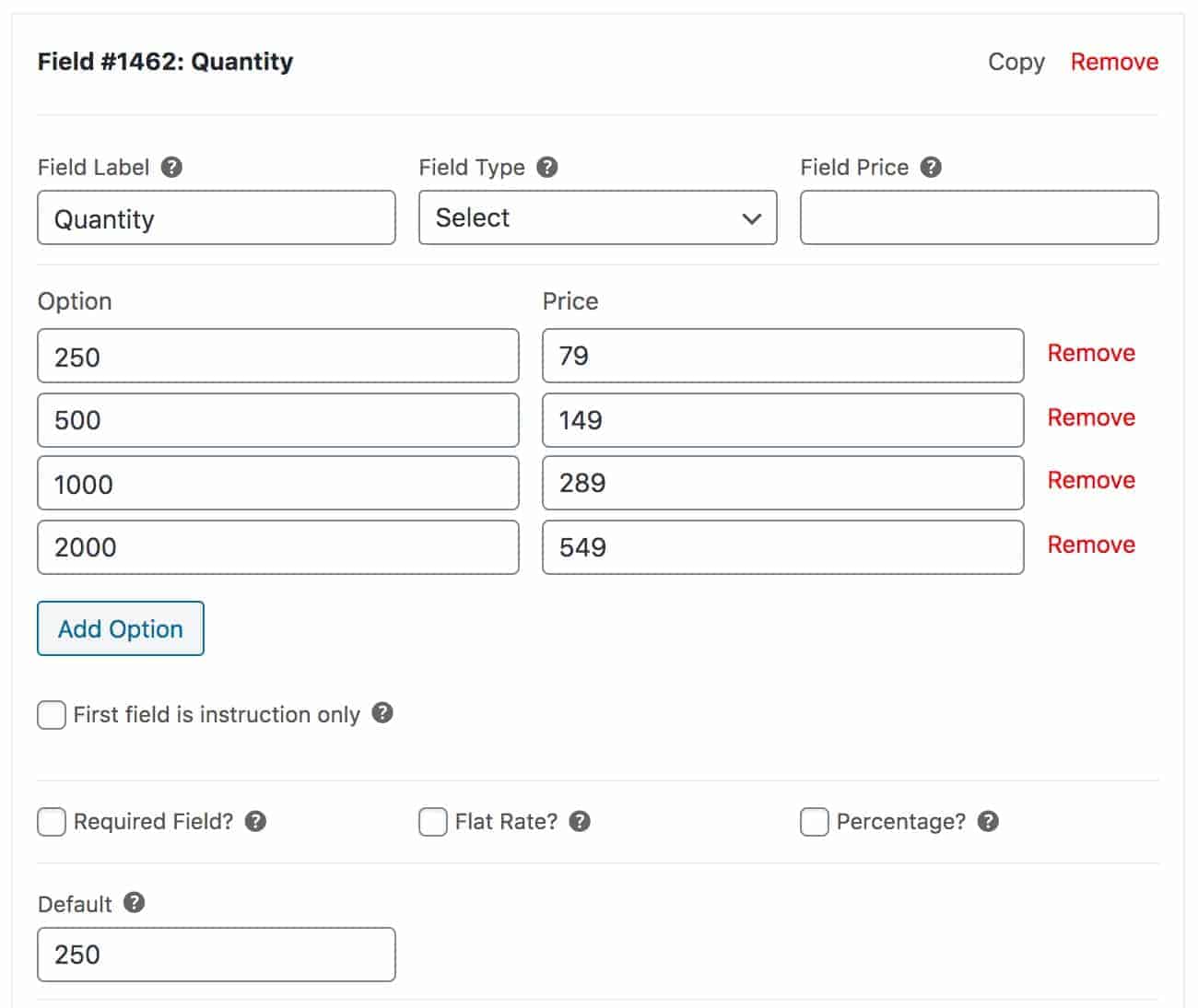 You can see that the first column, under 'Option', is where we define the quantity. Then, in the second column, under 'Price', we define the price for that option.
Adding a surcharge for the express service
Now, as an optional extra, we're going to give the customer a chance to select a 'Next day' service. Of course, we'll add an extra charge on for this.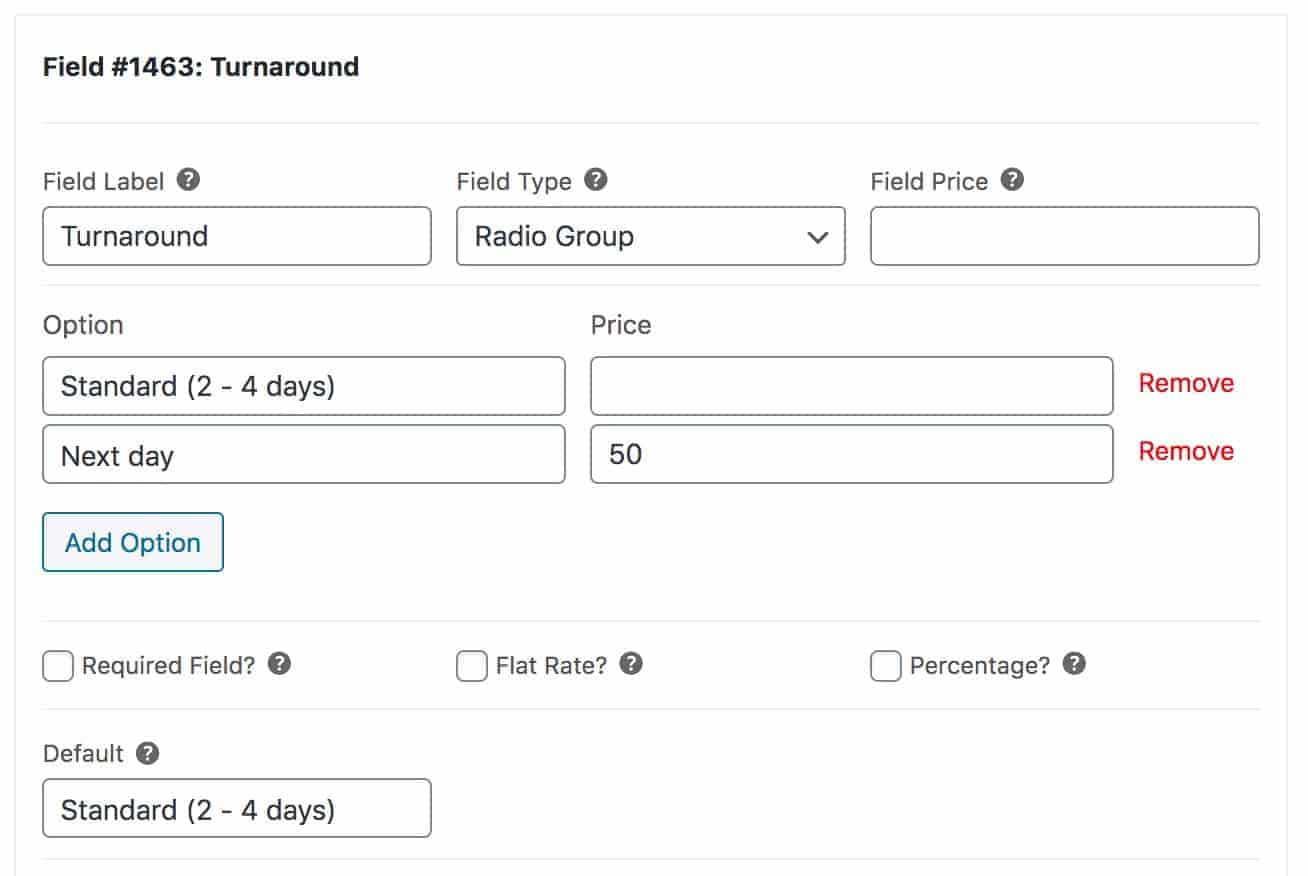 Don't forget to check out the demo product.
Examples of other businesses offering web to shop print services
Here is a incomplete list of businesses that might fall under the print shop definition. Each of them might have some kind of web to shop print service.
T shirt printing
Signs and banners
Photo albums, canvases and framed prints
Labels and stickers
Badges and button printing
Awards and trophies
School uniforms, work outfits, sports strips
The techniques we looked at in this article will apply to most, if not all, of the above.
Other useful tutorials
You might also find the following tutorials useful:
File approval or proofing process
Do you need a process for customers to approve amendments or revisions to files? For instance, your customers might want the option to approve different versions of their business cards before they go to print.
If so, you can use the WooCommerce Review and Approve plugin. This allows you to create a workflow between you and your customer, giving them the ability to review and approve files.
There's a complete tutorial on file approvals in WooCommerce here.
Video tutorial on uploading files to WooCommerce product pages
Bonus content – using the Thank You page effectively
Having set up your print shop, you can start to think about taking orders and how to start marketing your products more effectively.
The WooCommerce Thank You Pages plugin will help you to provide more information to your customers at the exact moment they place their order. This will cut down on the time you need to spend answering customer queries: for instance, including a map of your store location on the order confirmation page will let the customer know exactly where they need to come to collect their order.
Check out the Thank You Pages plugin here:
WooCommerce web shop – a recap
In this article we looked at how to accept orders online from your customers for your printing services. We looked at a couple of real-life examples, business cards and letterheads, using methods that could be adapted to any online printing service.
Don't forget to check out the WooCommerce Product Add-Ons Ultimate plugin – it's all you need to start your own print shop.