How to easily customize WooCommerce products with extra options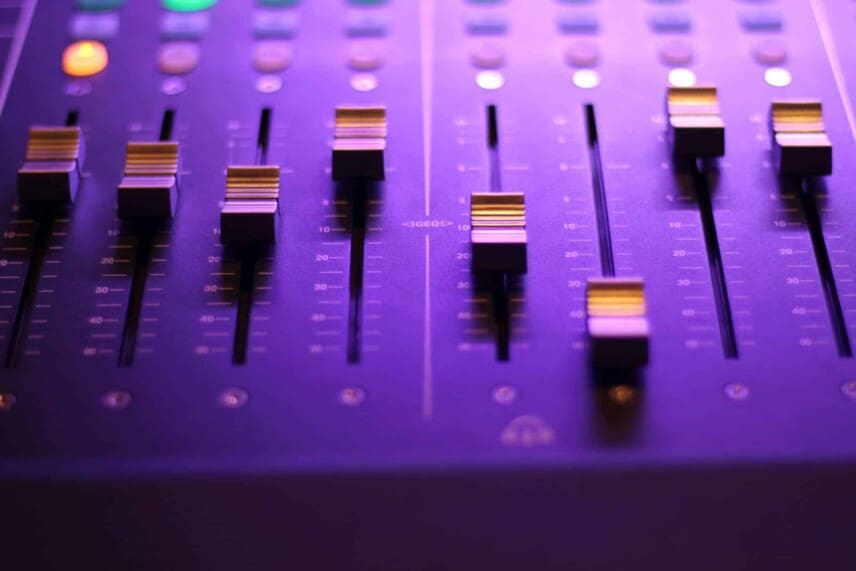 WooCommerce is a very flexible and, at times, complex ecommerce plugin for WordPress. But it doesn't always give you quite the functionality you're looking for out of the box, like being able to customize products in WooCommerce through extra product options. In this article we'll look at how to achieve this, plus several examples of customized products in WooCommerce.
How to easily customize products in WooCommerce – the ultimate guide
This article is intended to be the complete guide to personalizing WooCommerce products – the only guide you'll ever need.
As such, there's a lot of detail here. There is plenty of background information, several detailed how-to guides, and links to live working demo products.
Create a customizable product in WooCommerce
We'll look at what exactly we mean by a customized or personalized product, define many of the terms and synonyms involved, and make an comparison between customizable product fields and variations.
Also, we'll look at the reasons you'd want to sell personalized products, including some compelling figures on the commercial benefits.
Then there's a highly detailed overview of various scenarios where you'd want to allow products to be personalized. Also we'll look at how to add various types of custom field to your products.
We'll also take a look at some of the ways of creating more complex personalized products, like product boxes, with links to tutorials and fully functioning demo products.
In total, we'll look at the following. Feel free to use the menu below to navigate around the post:
Let's start by taking a look at what we mean by customized products.
What are customized products in WooCommerce?
Personalized or customized products include custom fields or options. A good example would be ordering a pizza online: the basic pizza is the product but a customer can personalize it by adding toppings of their choosing or by selecting a different crust.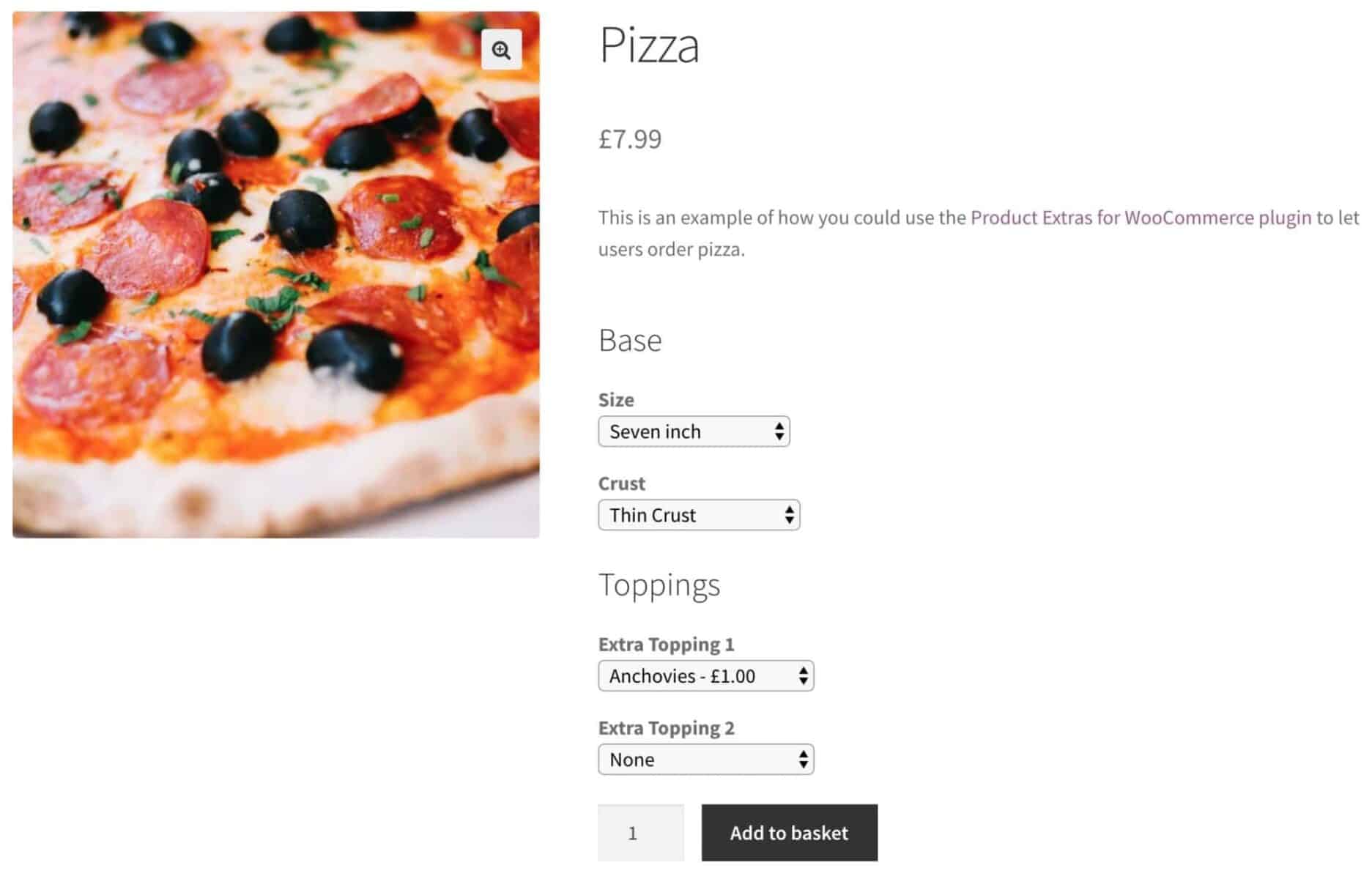 Other examples might include jewelry with custom engraving or teeshirts with custom prints. We'll have a look at several examples in more detail later.
More complex examples include product boxes where customers can build their own products by selecting certain options. This type of product can be anything from a cupcake box where the customer chooses which cakes to include in their box all the way through to a completely customisable build your own laptop product.
In all the examples, the key factor is that personalized WooCommerce products allow the customer to fine-tune a product with custom options according to parameters set by the store owner.
What are custom options?
In discussing WooCommerce custom options here, we're talking about form fields that can be added to individual product pages. Other terms which I've also used in this article include:
Using a product add-ons plugin
The point is that WooCommerce does not have the ability to customize products out of the box. So if you want to be able to custom fields, you'll need a plugin to help you accomplish this.
Throughout this article, wherever I've included examples of how to create custom fields, I've used the WooCommerce Products Add-Ons Ultimate plugin.
Types of custom fields
Custom fields can be any type of form field, typically:
Text input
Textarea
Number input
File upload
Checkbox
Radio button
Select / dropdown field
Essentially, customizable product fields let the user input their own information which is then added to the product.
How are WooCommerce product options different from variations?
Lots of products sold online are personalizable in some respect or other – even if that's simply purchasing the size or color you want. WooCommerce already handles this basic type of personalization using variations.
Variations allow you to define attributes for products, like size and color, and you can then set price and inventory levels for each variation – so you can charge different prices for different variations. Here's a screenshot of a typical product page with variations: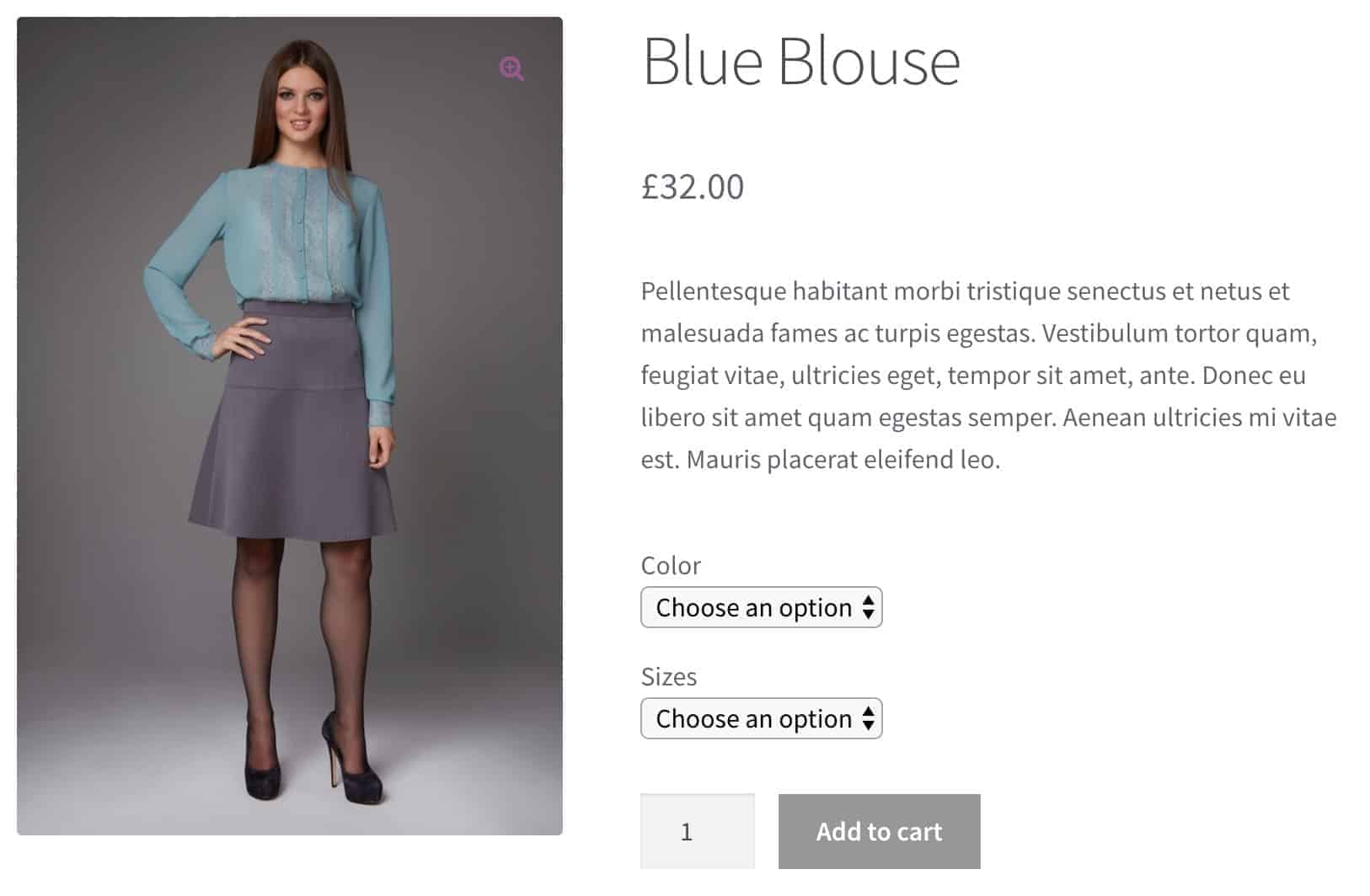 Here's a screenshot of an example product with custom options: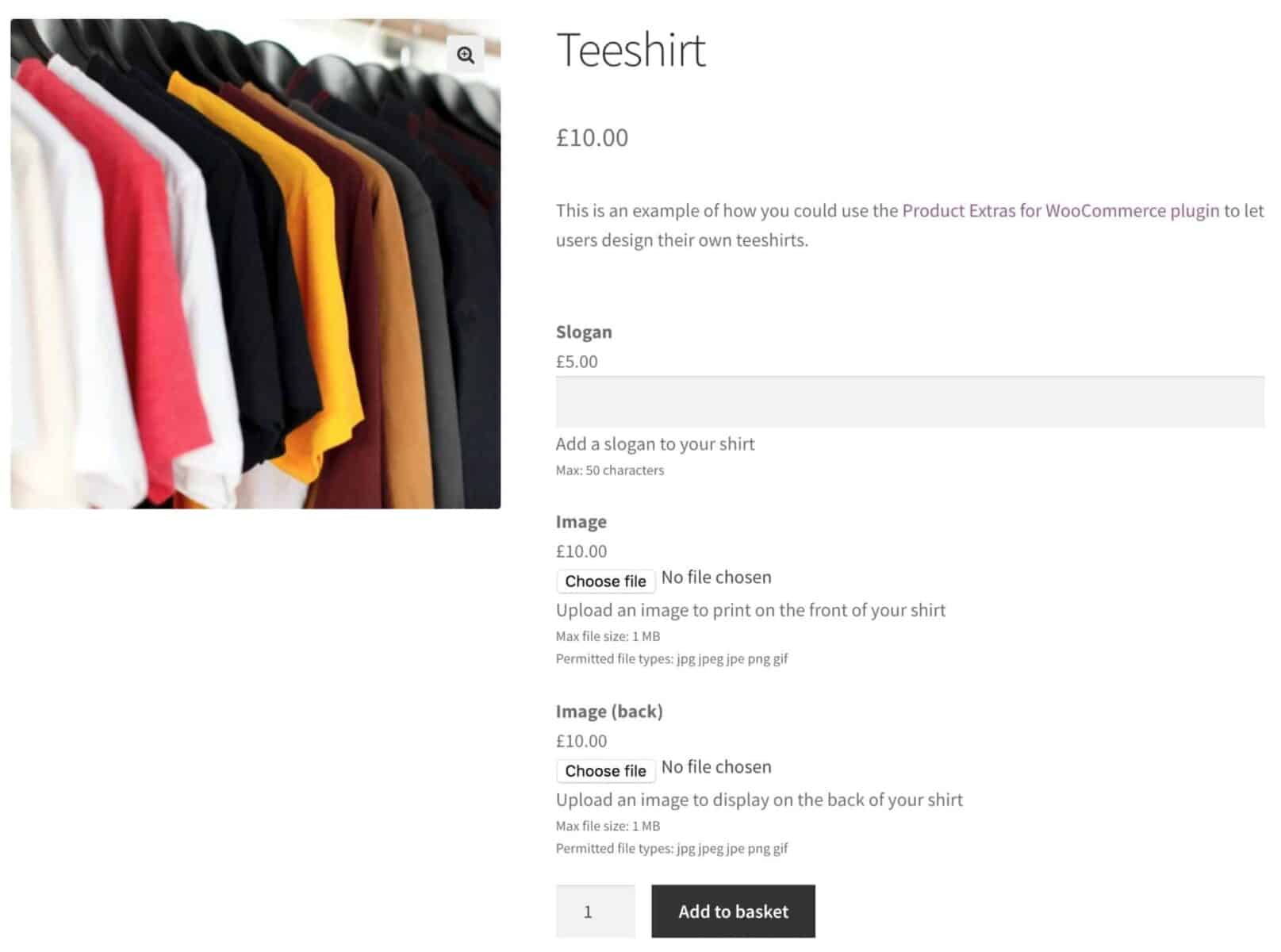 You can see that variations aren't really a way to customize products in WooCommerce. They simply allow the user to choose which version of the product they want.
Product options are not restricted to select fields like the variation fields are. Custom fields also allow for unique input, such as the ability to enter someone's name or upload an image for example – and that just isn't possible with variations.
Why not use custom checkout fields?
You might be thinking that you could accomplish all this at the checkout. There are plenty of plugins and code snippets to allow you to add custom checkout fields to WooCommerce.
This might be okay in some circumstances but if customers are buying multiple products from you at a time, you don't want to confuse stuff at the checkout. Also, product fields allow you to change the price of the product, which you can't do with custom checkout fields.
Why sell personalizable products?
According to a 2013 study by Bain & Company of over 1000 online shoppers, providing customization options to your customers helps to:
Elevate customer loyalty and engagement
Encourage customers to advocate your store to other potential buyers
Boost sales
Increase customer engagement with your company
Furthermore, stores that offered personalized products found that customers visited their websites more frequently, stayed on the page longer and were more loyal to the brand.
Here's a graphic from the Bain study showing increased user engagement on stores that allow customizations: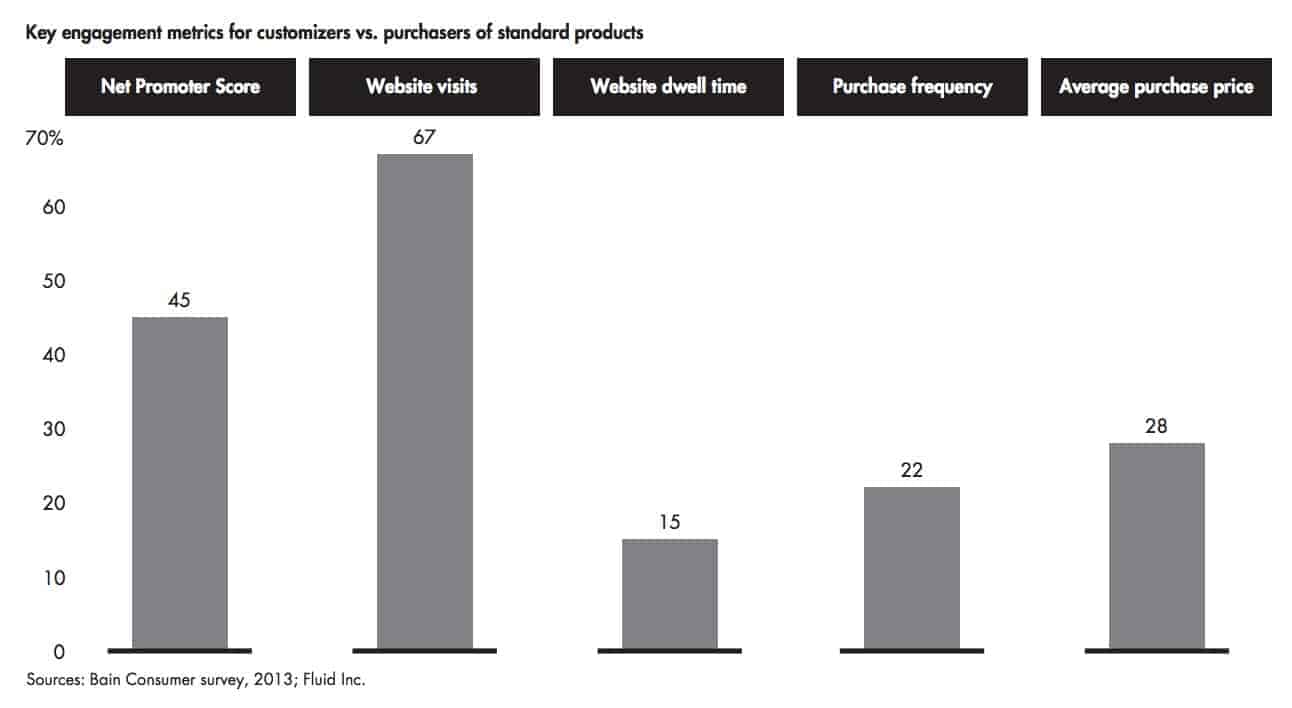 Convinced yet?
Customizable products are essential for your business
Of course, there's another very simple reason why you might want to offer personalization on your products: and that's because your product demands it.
If you are selling personalized items like gifts then you are going to need to be able to allow your customers to add their own information to products.
Ideas for ways to customize WooCommerce products
So now we've established the case for personalizing products, here are some ideas for how you could customize WooCommerce products – or maybe even ideas for new products you could sell.
Gift wrapping
Providing your customers with the option to have an item gift-wrapped is probably the simplest product customization there is – yet it may also be the most profitable for you. Imagine just having a simple checkbox for each product you sold that invited your customers to have that product wrapped, all for an additional fee.
It's the equivalent of those impulse purchases at the supermarket checkout when you just grab whatever's on display while you wait.
It might sound obvious but a gift wrapping option works really well when your products are likely to be bought as gifts: for example, if you're selling jewelry.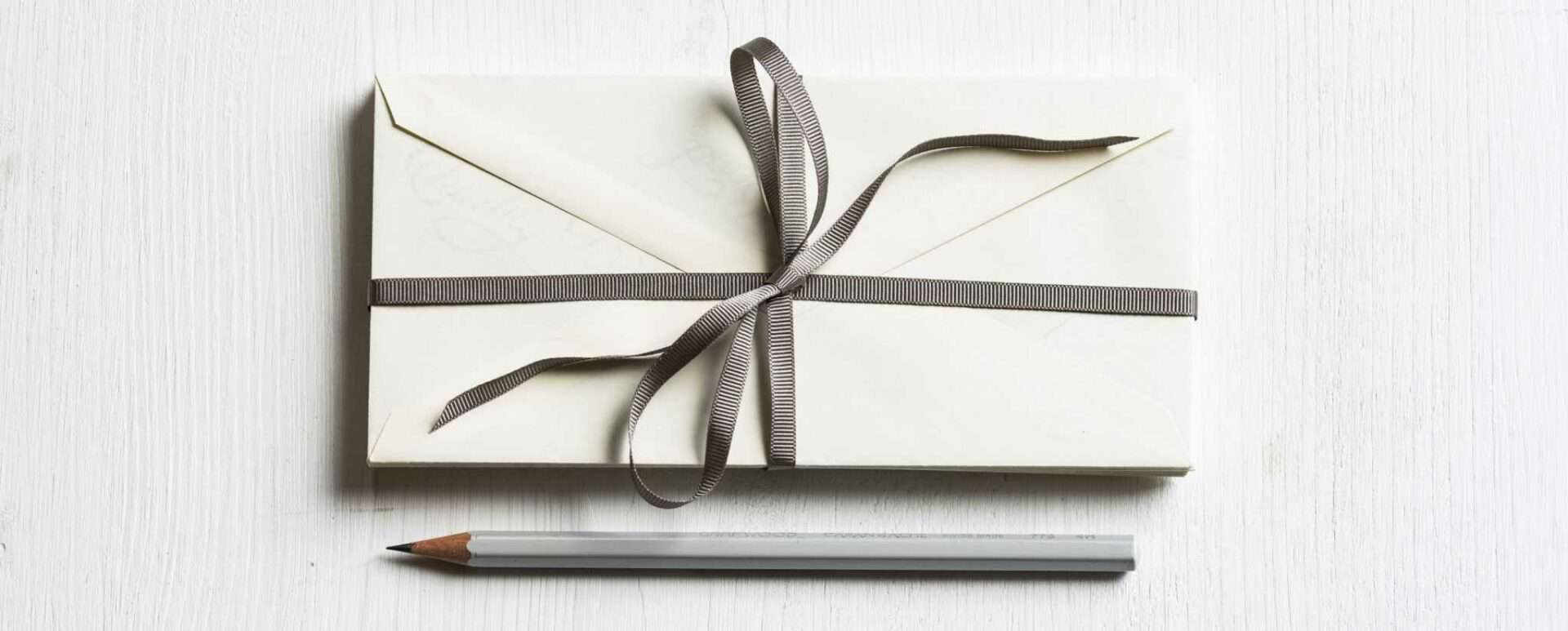 Extended warranties
Another really simple way to add value is to offer extended warranties or guarantees on your products (especially tech and electronic items). Just add a checkbox option to your product inviting customers to purchase additional cover.
There's a demo product here showing a simple checkbox option for an extended warranty on a product.
Greetings cards
According to The Spruce, over 7 billion greeting cards are sold every year. And although most of these are purchased in bricks and mortar stores, you can guarantee that the trend for online purchases will increase. By offering personalized, unique greetings cards you can gain a real advantage over your competitors in bricks and mortar stores.
Ideas for customizations that you can offer include:
Uploading user images for the front of the card
Personalized messages on the front of the card
Choosing layouts and designs
Personalized messages inside the card
Adding the recipient's name
Adding the sender's name
Including content on the back of the card – such as logos and business details for corporates
Here's a demo of a greetings card product with additional custom options.
Takeaway food
I mentioned pizza at the start of the article but almost any type of dish that people are ordering online can be customized. The online food market is changing as well. No longer confined to pizza and other "fast foods", companies like Deliveroo are going upmarket, bringing all kinds of restaurant food to your door.
If you're running a takeaway restaurant or, more to the point, building a website for a takeway restaurant, there's a good chance you want to allow your users to customize products in WooCommerce.
Customizations you could provide for takeaway might include:
Pizza toppings
Side dishes
Add bread or rice
Drinks
Cooking time (e.g. rare, medium)
Dressings
Sauces
Build your own salads
Scheduled delivery times
All these options are great ways to upsell, to encourage your customers to spend just a little bit more. It all adds up.
Calls for artists submissions
On a completely different tack from gift wrapping and takeaway food, you can use product options to help with calls for submissions to exhibitions. If you're running a gallery or you're promoting an exhibition, at some stage you're likely to put out a call for artists to submit their work with a view to placing it on display. If you want to charge artists for their submissions, you can create a product with various options so that artists can upload images of their work and provide information about it.
These options can even have extra costs attached so that artists who wish to submit more than one work will need to pay more.
Online competitions
Running competitions on your website can be a very effective way of generating publicity and traffic. If you're running an online photography store, you might want to run occasional photography competitions, for example. Entrants can upload their work and provide information about it – and you can charge them for the privilege. It's win-win.
Personalizing clothing
A universally well-known example of personalized clothing would be teeshirts with custom messages or images. According to this report by Credence Research, the global market for custom teeshirt printing is expected to grow to $10 billion by 2025. That's a lot of teeshirts.
But you're not confined to teeshirts. You can offer customization options for any item of clothing: shirts, gym wear, pullovers, overcoats, underwear…
Customers could upload their own images or you could present them with a set number of designs to choose from. They could add messages or slogans, add text to the back of the shirt, choose color options, anything to make their purchase unique.
And obviously, don't forget that gift wrap option.
There's some specific guidance in this article on customizable products in WooCommerce. Click here to go direct to the section on how to create a simple teeshirt designer in WooCommerce.
You can also take a look at a working demo of a t shirt product here.
Corporate market
If you're selling to businesses, then customization is essential. Whatever product you're selling, corporate clients will want to add their logos, business details, and no doubt some kind of inspiring message for their customers.
"Build your own" products
As the final example of products that can be personalized, think about build your own products like:
Hampers
Sandwiches
Vegetable or fruit boxes
Gift baskets
Wine cases
Building your own product feels like a premium service, the ultimate in luxury (even if you are just choosing the fillings for your sandwich). Think about high-end brands like Fortnum and Mason and their world-famous hampers: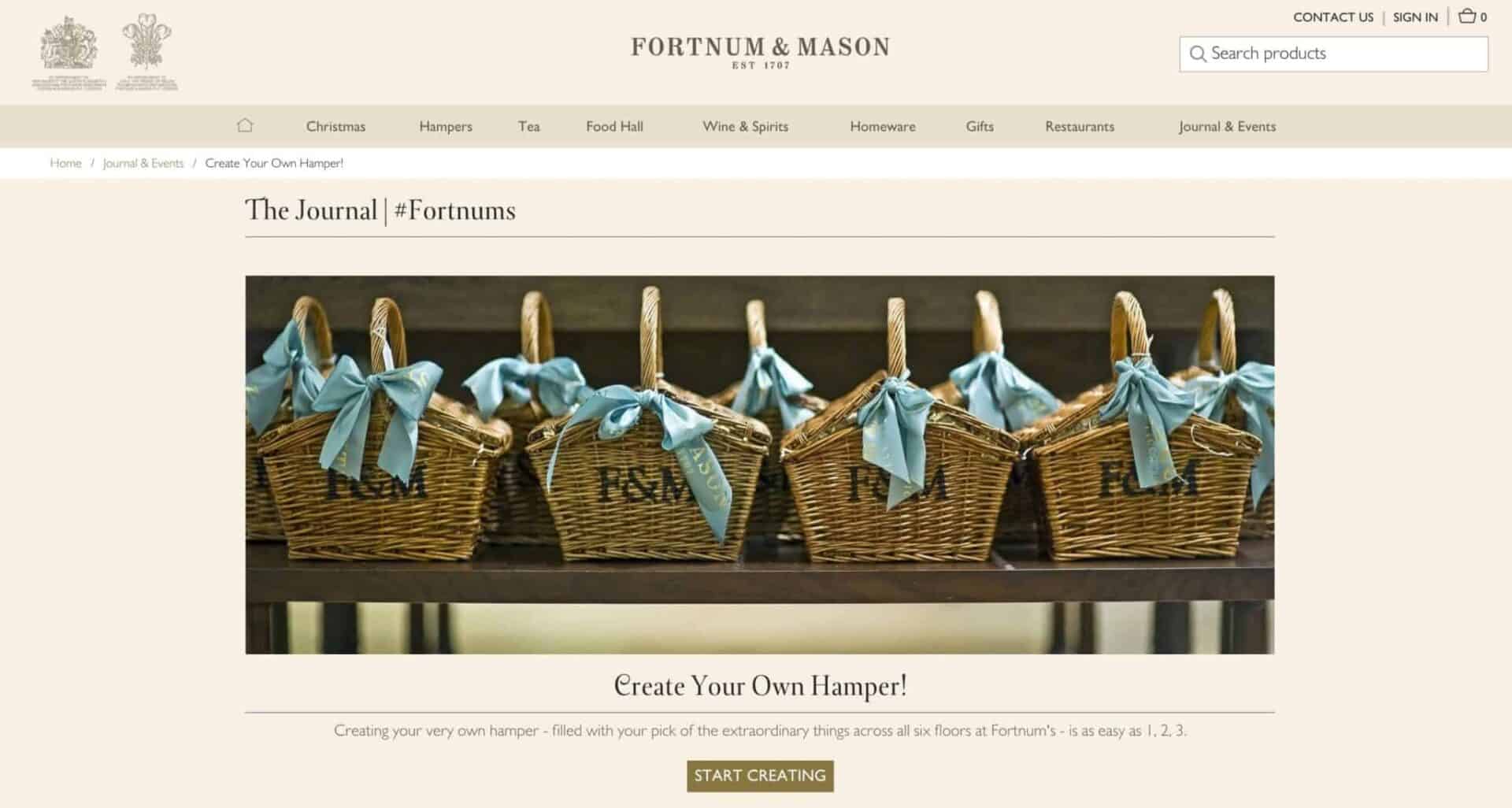 There's also a in-depth article on WooCommerce composite products here. This has a couple of detailed walkthroughs on 'build your own products', including a 'build your own computer' product.
Take a look at a custom breakfast hamper demo product here.
How to add product options to WooCommerce
As I mentioned above, WooCommerce doesn't have extra fields as part of its default functionality so you'll have to use an extension. In the examples here, I'm using the WooCommerce Product Add Ons Ultimate plugin.
If you want to allow customers to customize the products in your WooCommerce store, you'll need a plugin like this.
Adding custom fields
In all the examples below, you'll first need to create a product in WooCommerce, assign it a price, then click on the WooCommerce Product Add Ons Ultimate tab.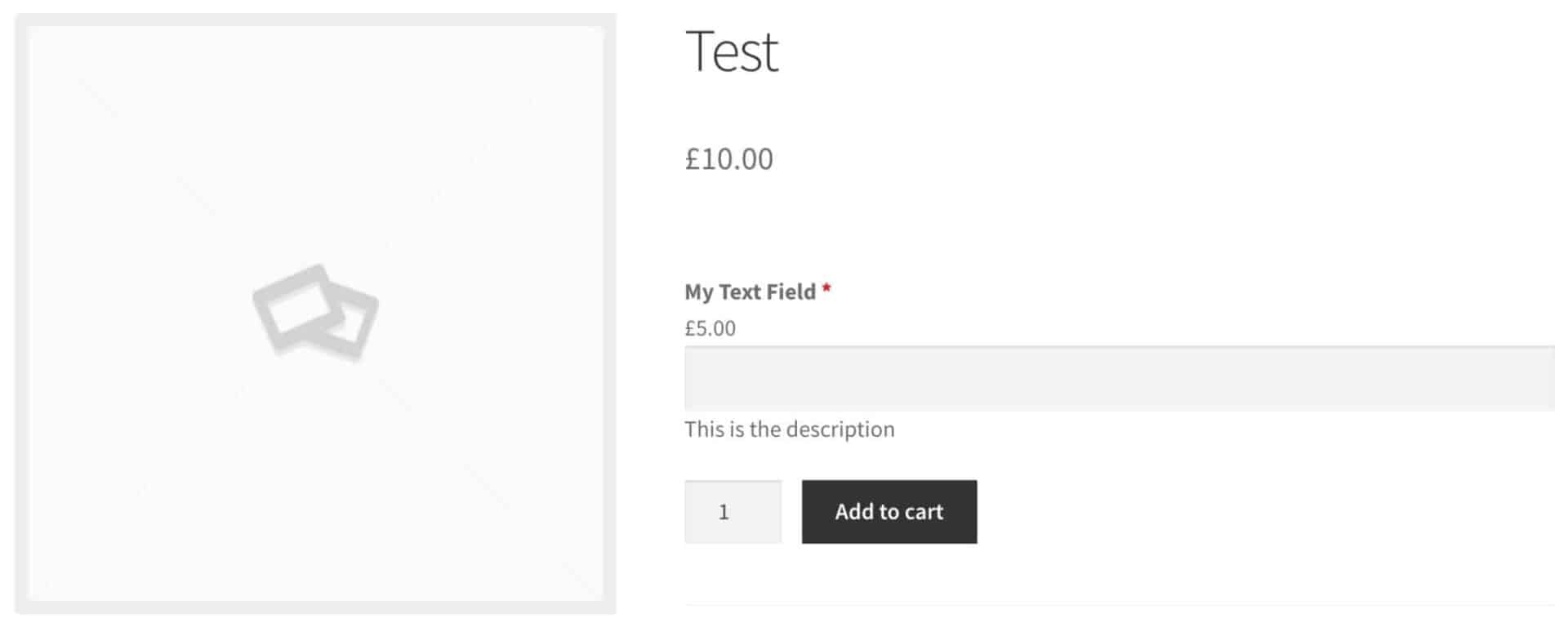 Click the 'Add Group' button then click 'Add Field' to add your first custom field.
How to add a text input field to customize a WooCommerce product
From the WooCommerce Product Add Ons Ultimate panel (see above), click 'Add Field' to add a new custom field. You'll see a new section appear: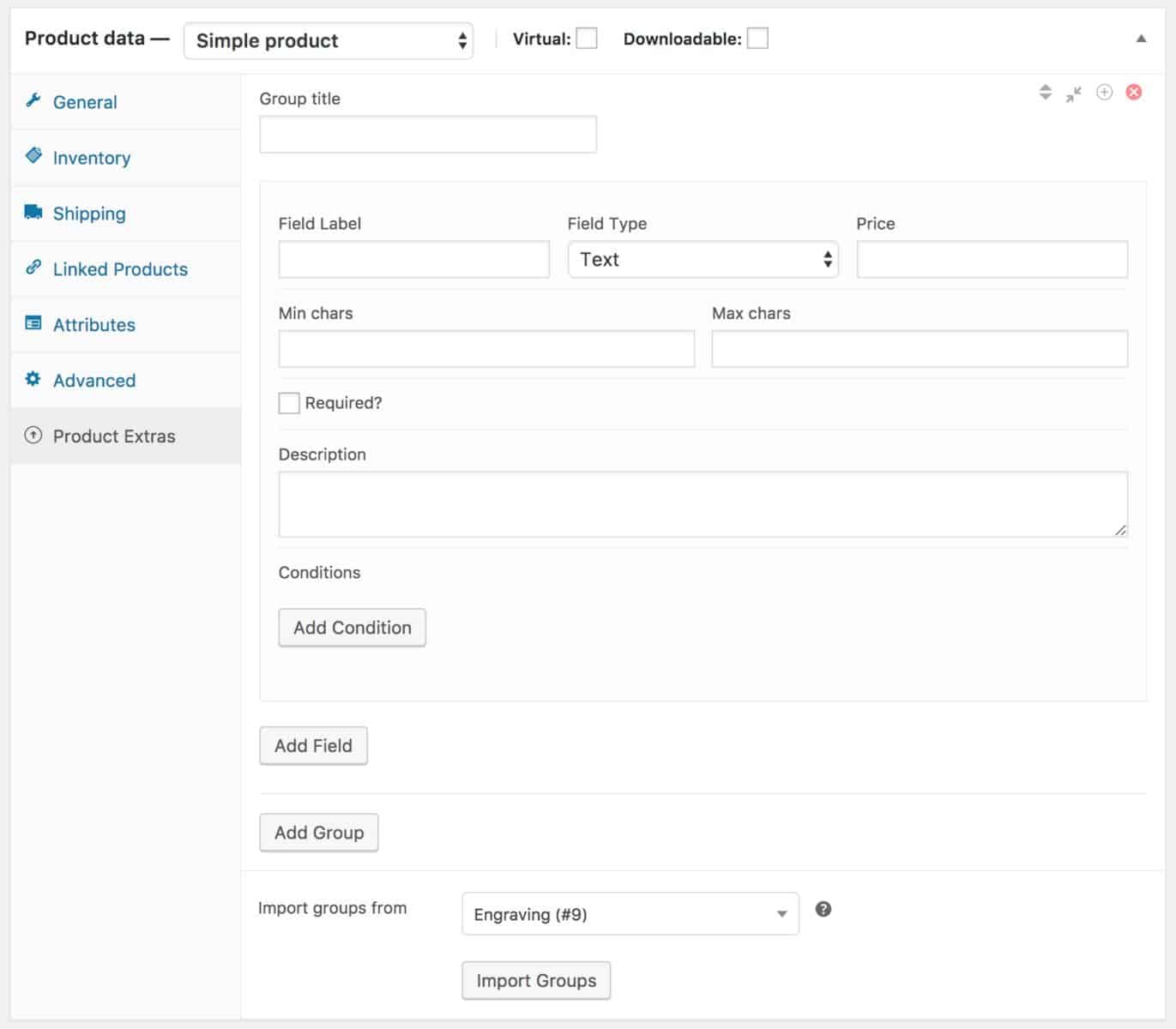 In the 'Field Label', enter a label for your field.
In the 'Field Type' select field, choose 'Text'
Add a price to the 'Price' field. This will get added to the product price if the customer enters anything into this field
You can optionally set a minimum and/or maximum number of characters allowed in the field in the 'Min chars' and 'Max chars' fields
Check the 'Required' box if the customer must enter something into this field
Add a description for the field in the 'Description' field
Once you've added your information, publish or update the product. On the front end, you'll see something like this: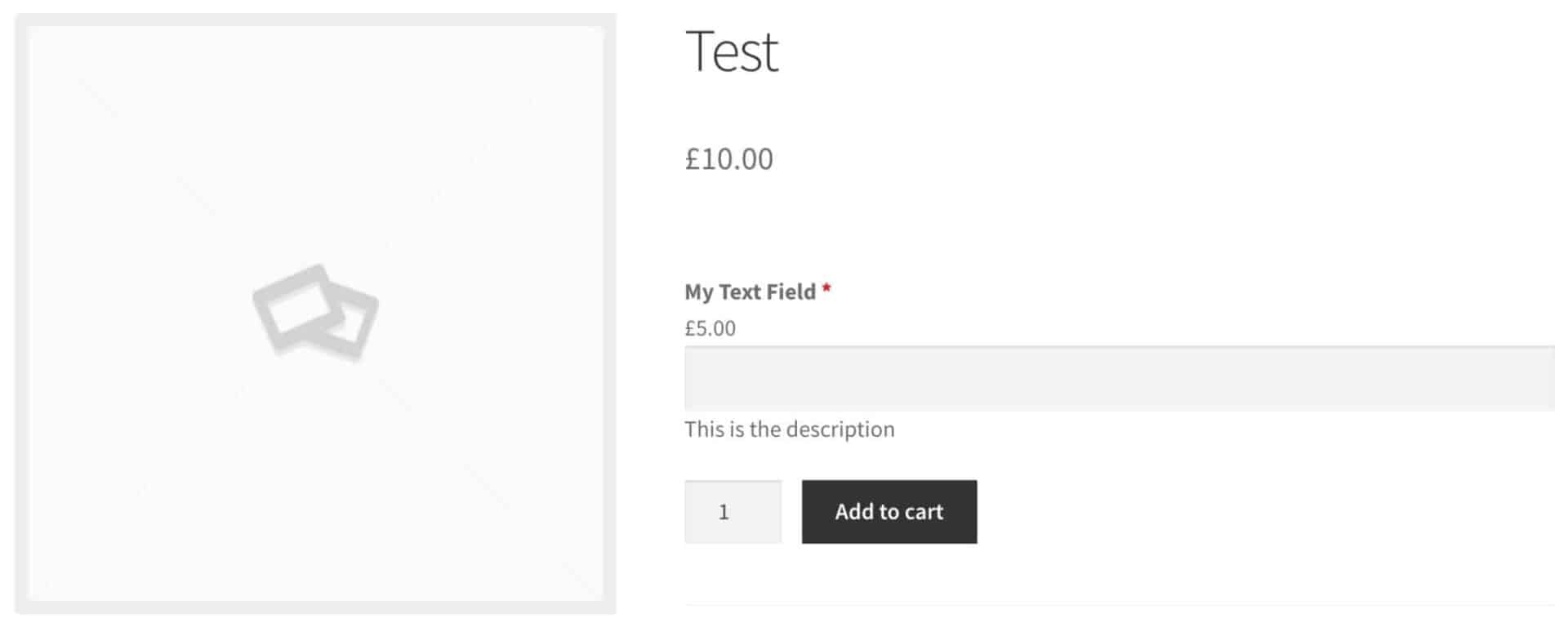 How to add a textarea field to a WooCommerce product
For a textarea, follow the steps above for adding a text field but just choose 'Textarea' from the 'Field Type' dropdown.
How to add a file upload field to a WooCommerce product
To add a file upload control to your product, just change the 'Field Type' to 'Upload'. This will add a file upload field like this: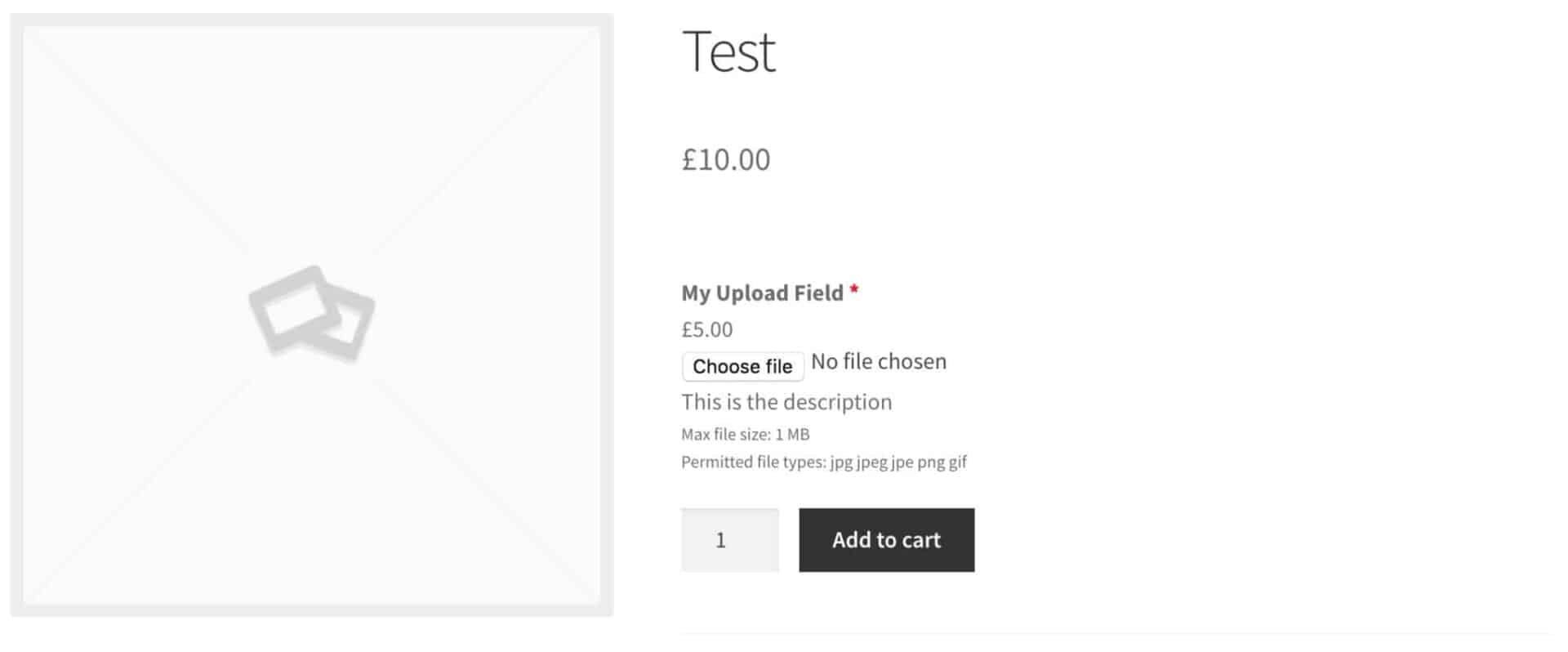 This field is used exclusively for uploading images to your WooCommerce product, mainly for security reasons. You can set the maximum file size permitted on the WooCommerce Product Add Ons Ultimate tab in the WooCommerce Settings page. You can also specify whether users need to be logged in to upload images (again, for security reasons).
How to add a number field to a WooCommerce product
Hopefully, you're getting the hang of this by now. To add a number input field, change the 'Field Type' to 'Number'. You have some additional parameters here – 'Min value' and 'Max value' – where you can set the permitted value range.
How to add a checkbox to a WooCommerce product
To add a checkbox, just choose 'Checkbox' in the 'Field Type' dropdown.
Note that if you check the 'Required' field for a checkbox, the customer will have to select the checkbox. This is a useful way of requiring the customer to make a confirmation or acknowledgement, e.g. for terms, when on the product page.
If you're thinking about adding a gift wrap option, the checkbox field is all you need.
How to add a select field to a WooCommerce product
Adding a select field is slightly more complex than the other field types above. Choose 'Select' in the 'Field Type' dropdown and a new area will appear where you can enter your options. Click the 'Add Option' button.

You'll get a new row appear with a field for the option name and a field for the price. (The price field is optional).
Enter as many options as you wish.
Adding conditions to custom fields
Sometimes, you might want to display fields only if certain conditions have been met. Perhaps if the customer selects a checkbox for an extended warranty you'd like to display a select field with different options for the warranties available. Or maybe you want to hide a field if another field has a certain value. You can do this using conditional logic.
To use conditional logic, you will need to have created at least two custom fields in your product. In the example below, there are three: Field 1, Field 2, and Field 3. I've contracted them for brevity.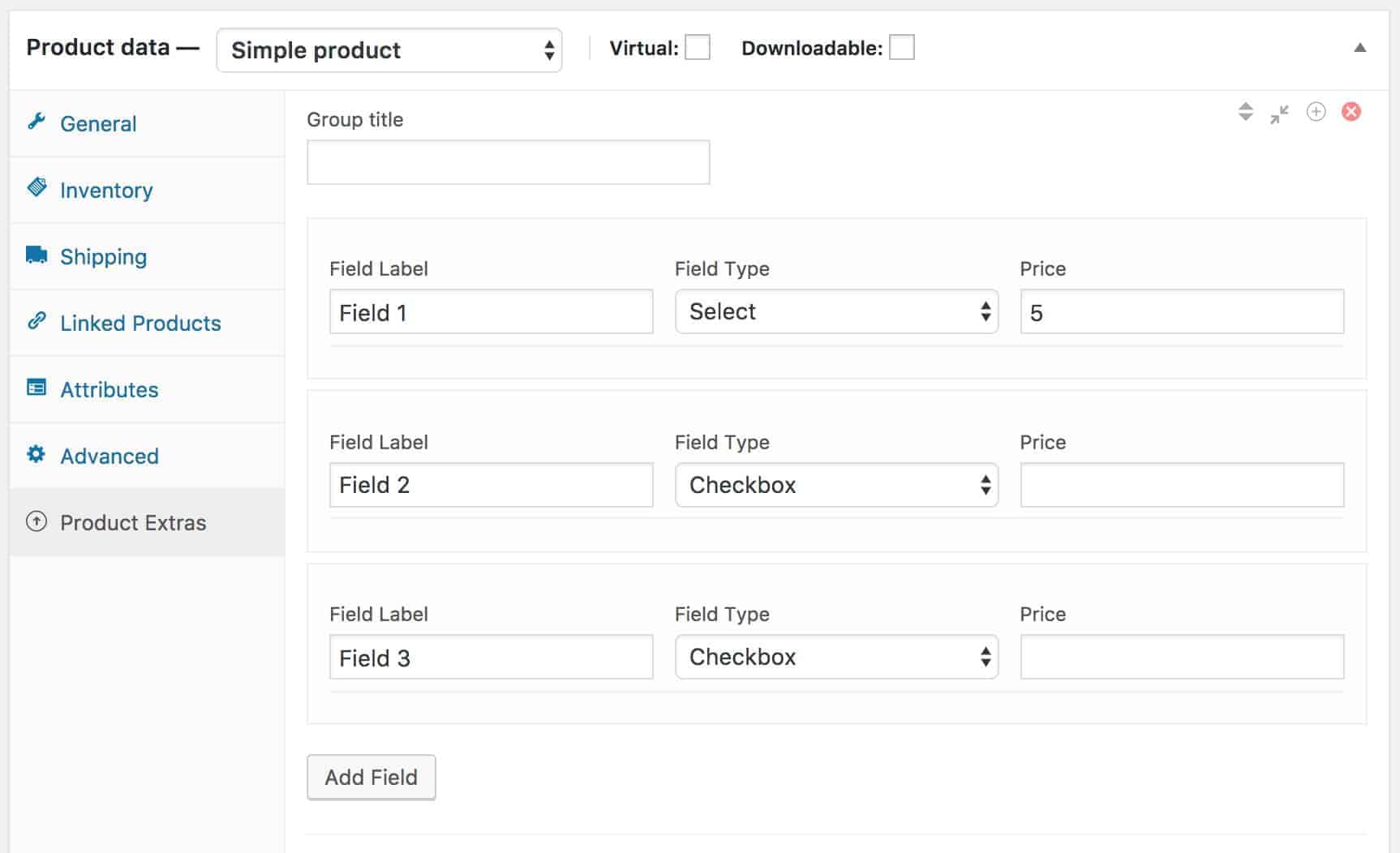 Let's say we only want to display Field 3 if the checkbox in Field 2 is selected. To do this, expand Field 3 and click the 'Add Condition' button.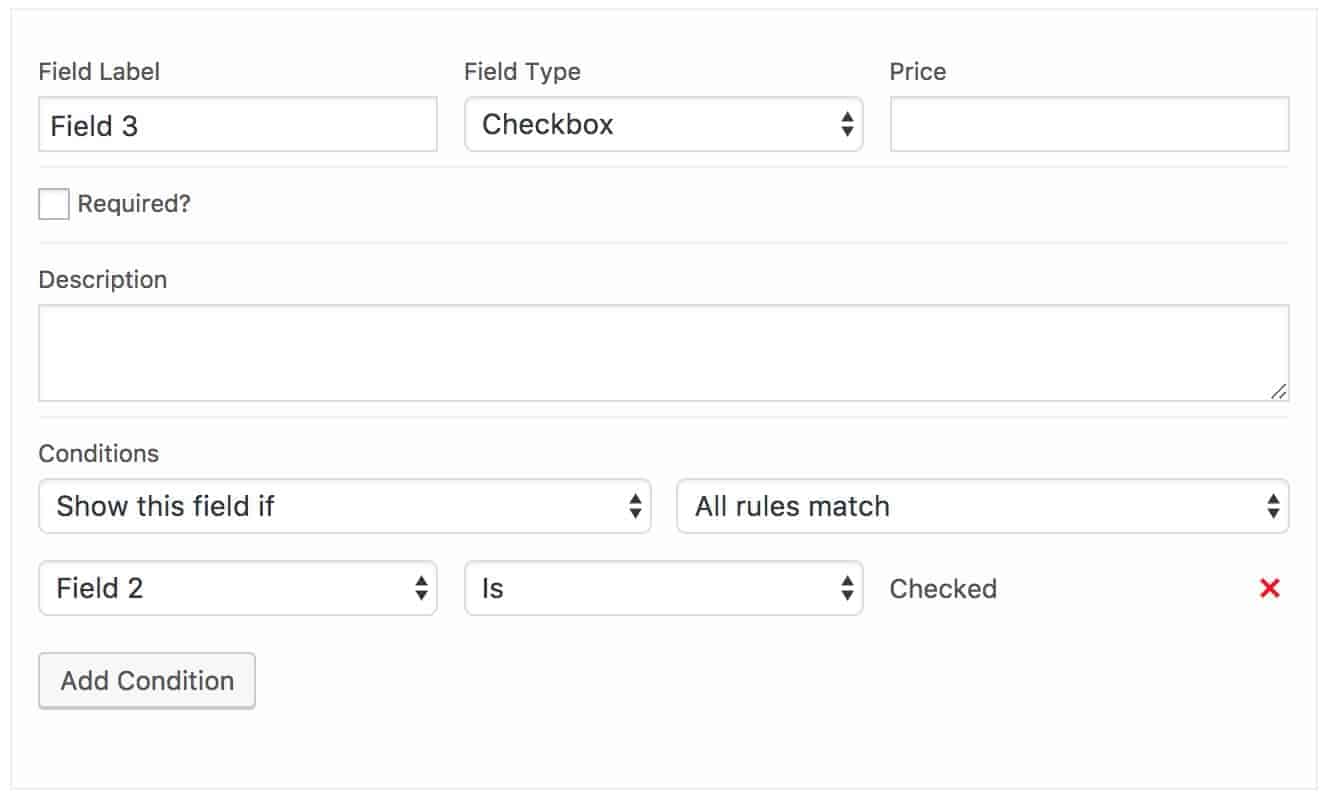 Some new options will appear under the Conditions heading. Firstly, you can choose what action to take: either to show or hide the field. Secondly, you can choose whether all rules need to be true or if any rule can be true. If you only have one condition, this field is academic.
Below this pair of options, you can start setting your conditions. In the screenshot above, the condition simply means that Field 3 will be displayed if Field 2 (a checkbox) is checked. Otherwise, Field 3 will be hidden.
You can add multiple conditions to a field if you wish.
You can also add conditions to groups, which is a massive time-saver. It means that you can hide or display a group and all its fields with a single set of conditions.
How to let your users customize products in WooCommerce
Here are some simple scenarios for how to build some of the example products above.
How to add a gift wrapping option to WooCommerce
If you've read through the details above on adding different fields using WooCommerce Product Add Ons Ultimate, you'll see that adding a gift wrapping option is really straightforward. Just add a checkbox (ensure that the 'Required' field is not selected) and add the cost of the gift wrapping in the 'Price' field. When a customer chooses this option, the price will be added to the product price.
When you receive the order, the additional product options, like gift wrapping, will be clearly listed under the product title.
How to add an extended warranty field to a product
This is exactly the same as the gift wrapping option above – just create a checkbox and assign a price.
How to sell personalized greetings cards on WooCommerce
Greetings cards are a perfect example of when you might want to customize products in WooCommerce using options like text inputs and image upload fields.
They're also a great fit with WooCommerce and WooCommerce Product Add Ons Ultimate. In many ways, they're the ideal customizable product.
You could be selling single cards to consumers, e.g. just to someone who wants to send their wife a unique birthday card, or you could be offering customized cards for businesses.
Example greetings card product
Here's a quick example of how you can do this.
Create a new product and assign a base price for the card
Click the WooCommerce Product Add Ons Ultimate tab and click the 'Add Group' button. Name the group 'Front'. We'll add custom fields for the front of the card to this group
Click the 'Add Field' button
In the new field, enter 'Main Message' as the label and choose 'Select' as the field type (this is just an example – you can choose what fields you want)
Enter some options for the main message – e.g. 'Happy Birthday', 'Welcome to your new home' etc.
Click the 'Add Field' button again
Select 'Upload' as the field type and label it 'Upload your image'. This will allow people to upload their image to appear on the front of the card.
Your WooCommerce Product Add Ons Ultimate panel will look a bit like this: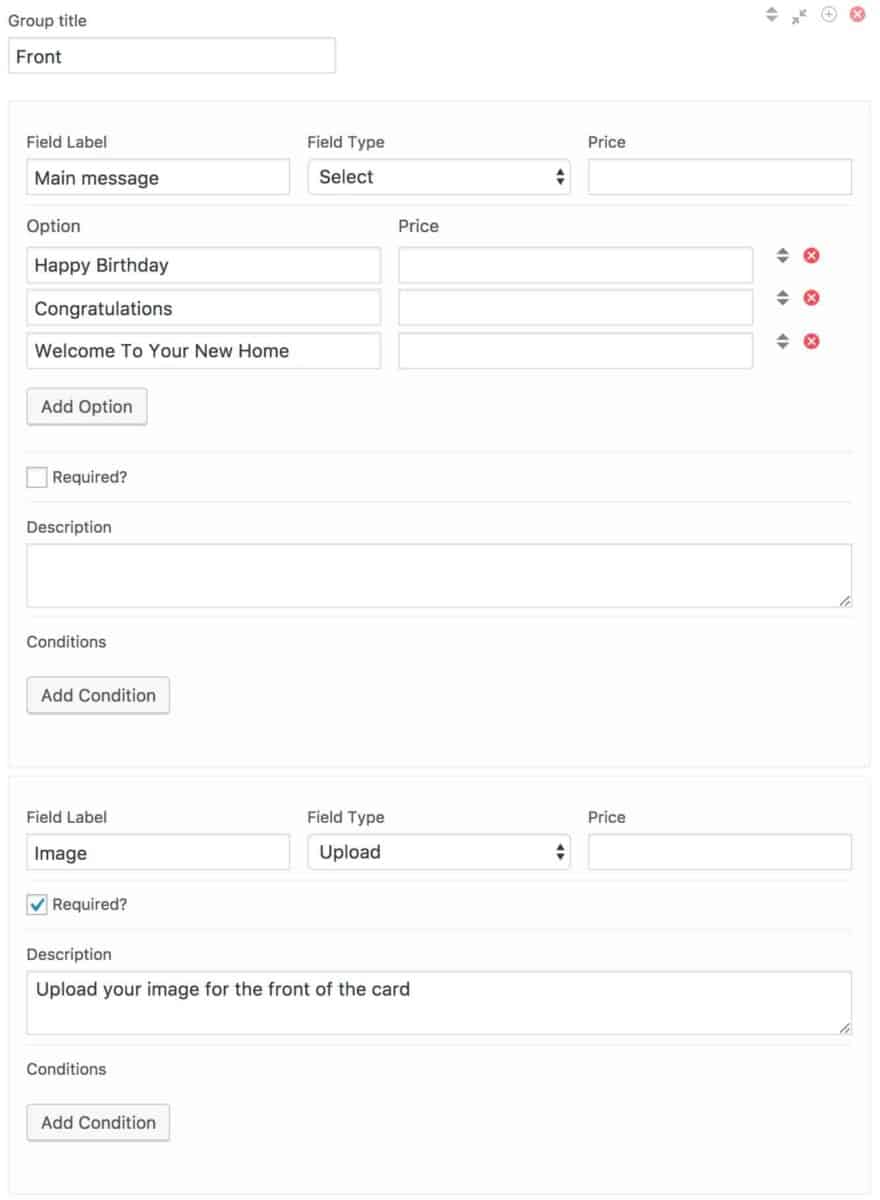 Now create a group for the inside of the card:
Click 'Add Group'
Name the group 'Inside'
Click 'Add Field' – add a new text field called for the recipient's name
Click 'Add Field' again – this time, create a textfield for a personalized message
You might want to restrict the number of characters in both groups to ensure the text is not too big for the space
The group will look like this: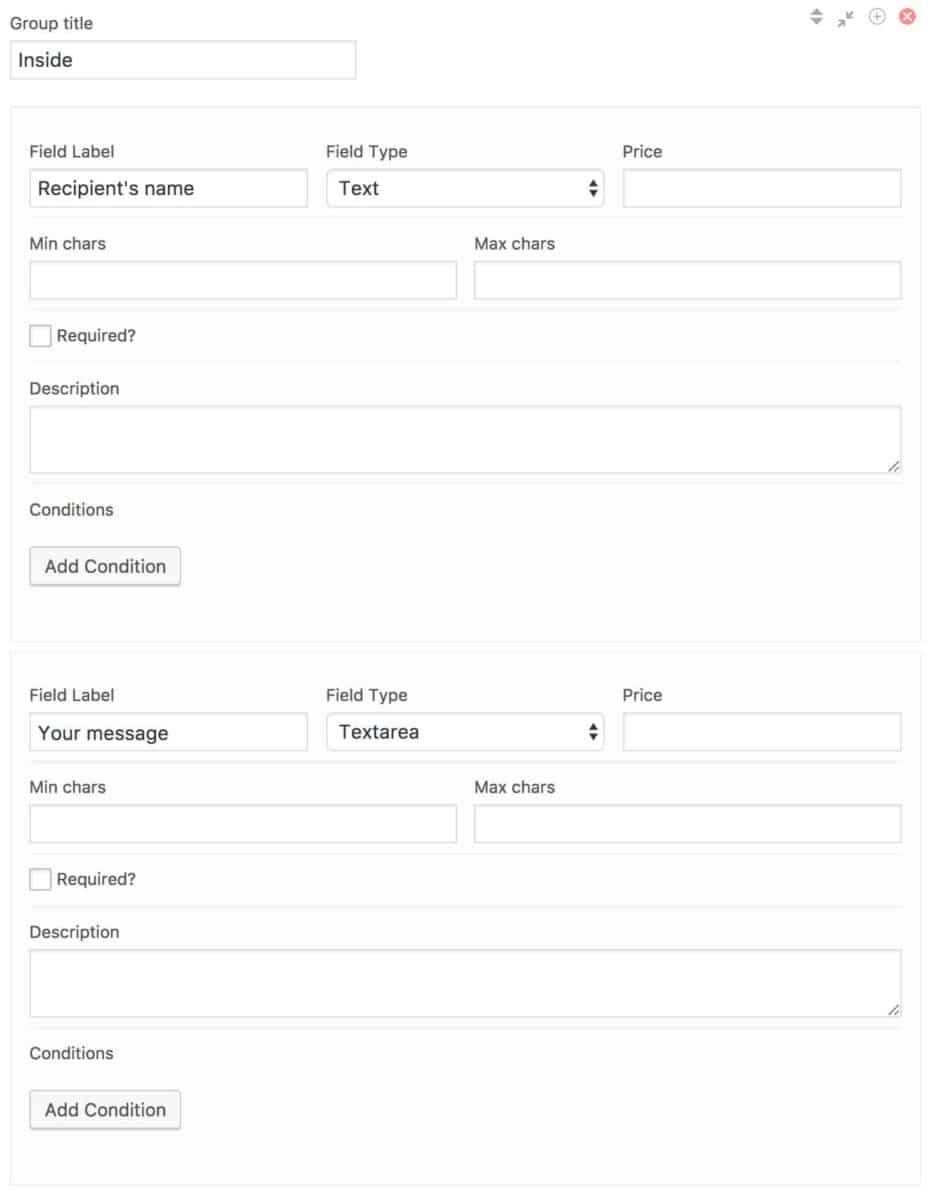 Publish the product. On the front-end, it'll look something like this: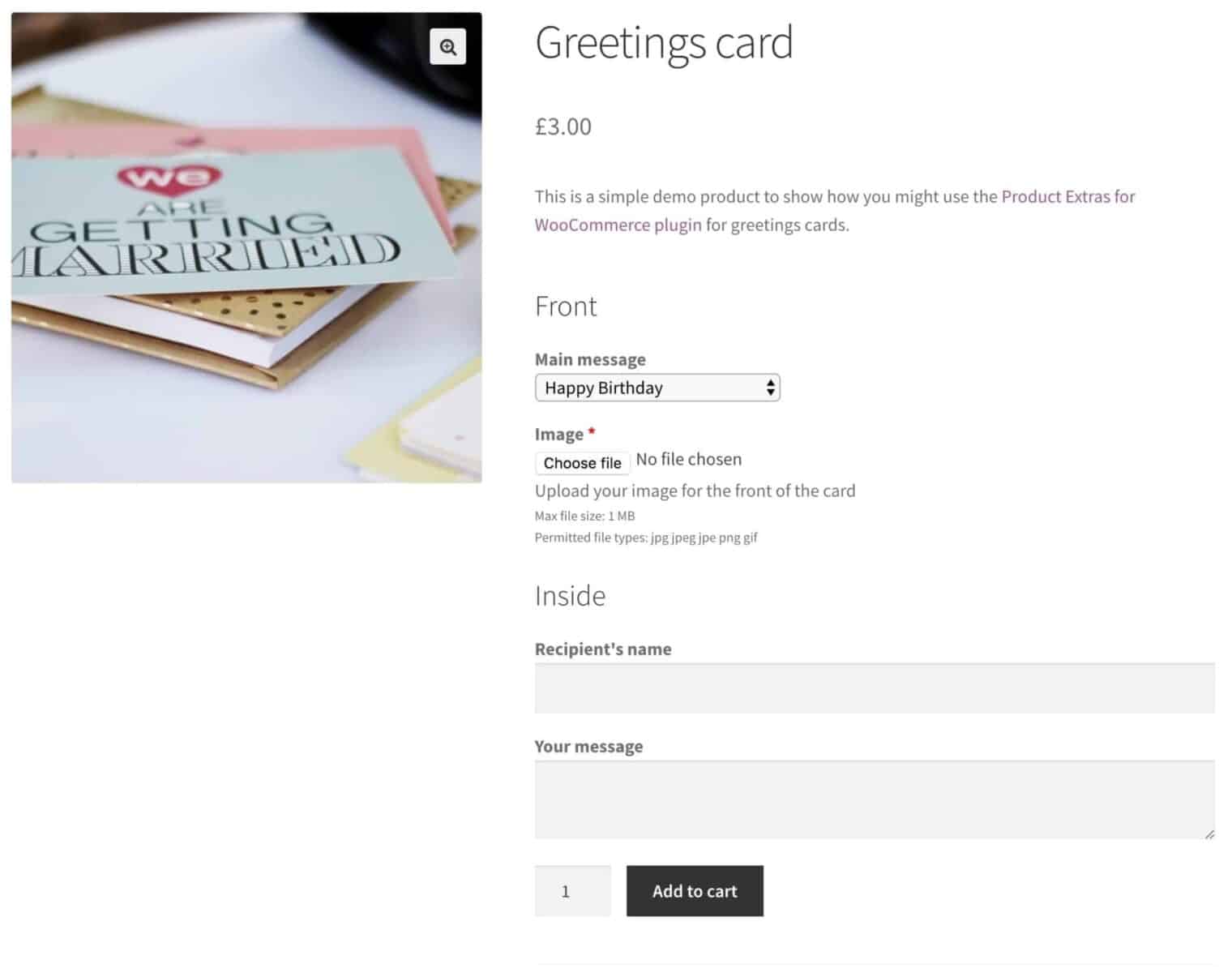 So that's what a WooCommerce product looks like with customizable fields.
Advanced examples of customizing WooCommerce products
The examples above are fairly simple and only use one or two product options. For more complex examples, take a look at the following:
Composite products
Composite products are products that are built out of several component products. You can also think of them as product kits or product builders.
I wrote a detailed post about composite products with step-by-step guides on how to create a 'build your own computer' product and a gift box product.
Product bundles
Similar to composite products and product boxes, product bundles allow the user to combine different elements to create the product. These typically use other products as the custom elements within the main product.
Products with a measurement price calculator
Price calculators are necessary when your products are not sold in simple units – for example, if you sell by area or volume.
With a calculator, you can set a formula that incorporates user inputs, product price, and other factors to create simple or complex calculations.
Mixed cases
Mixed case products allow you to select one or more products to include as part of a larger, combined product. Typical examples would include mixed cases of wine, gift hampers, or gift boxes.
'Complete the look' products
'Complete the look' pages are often used by fashion and other clothing stores to encourage the customer to purchase additional items.
What have we learned?
Well, I hope you have found this article to be useful. We've looked at what personalized products are and why you'd want to allow users to customize products in WooCommerce. Even relatively minor customizations like gift wrapping can add value to your product and increase your profitability.
I've also covered a number of specific types of personalized products – if you have more examples you'd like to share, then please leave a comment below. It would be interesting to hear how others are extending WooCommerce with products options.
WooCommerce plugin for extra product options
Finally, we looked at the details of adding custom fields and options using the WooCommerce Product Add Ons Ultimate plugin.
You can find out more about the plugin by clicking the image below. Or you can check out a demo.