If you're a store owner, then you've probably thought about implementing a WooCommerce discount. Maybe you're a compulsive sucker for a sale yourself; or you just understand that discounts can be the basis of a successful sales strategy. In this article, we'll look at all aspects of WooCommerce discounts.
WooCommerce discounts – everything you need to know
In total, we'll look at the reasons behind offering a discount in your WooCommerce store, different types of discount, and some step-by-step guides on creating specific discount scenarios.
WooCommerce discount plugin – everything you need in one place
If you're going to be implementing some discount pricing, you'll need a discount rules plugin like WooCommerce Fees and Discounts.

The Fees and Discounts plugin gives you several options on the type of discount you can apply, including bulk discounts, dynamic pricing, payment gateway fees, and user role based pricing in WooCommerce.
Discounts – the method behind the madness
At first glance, offering your customers a discount doesn't seem the best way to make money. After all, you're selling your products for less.
But, in fact, discounts can increase conversions. Just the thought of getting some money off is enough to make the difference between a sale and no sale with some customers.
It's fairly well agreed that discounts attract more customers and will ultimately persuade customers to spend more. So – charge less, sell more.
And, in the end, you can always bump your non-discounted price up in the first place. So you're still selling at the price you want, even with a discount, plus customers think they're getting the best deal. It's the perception of value that counts.
Types of WooCommerce discount
We'll look at some specific examples below but, generally speaking, discounts fall into the following types:
Sales promotions: this could be a seasonal or festive sale, an end of line sale, a flash sale
Bulk discounts: also called a quantity based discount, where customers can get lower prices the more they buy. This is often a percentage discount but could be a fixed discount as well
Buy one get one free: and any variant of this that you can think of, like buy three get one half price etc
WooCommerce discount scenarios
Let's look at some concrete ways to implement discount strategies in your store.
How to create a Black Friday promotion in your WooCommerce store
Black Friday is, without doubt, the most widely known and largest sale.
According to the Financial Times, online spending on Black Friday 2018 in the US alone was $6.22 billion. Cyber Monday, which is supposedly the day where deals are to be found online, was worth around $8 billion.
However, the distinction between Black Friday and Cyber Monday is increasingly blurred. And crucially, an increasing percentage of sales are made online with fewer people actually visiting physical stores.
Furthermore, many sales now start before Black Friday in an attempt to attract customers to deals before the day itself.
Create your own Black Friday promotion
Let's think about what kind of deal we want to offer to our customers for the Black Friday weekend. Lots of sites seem to offer a percentage discount across all their products; I see a lot of sites selling WordPress themes or plugins that offer as much as 50% off their products.
So let's take their lead and set up a 50% discount for all our products.
Step One: Install Fees and Discounts
When you purchase the WooCommerce Fees and Discounts plugin, you'll get an email with a download link. Download the zip file from the link and install it via Plugins > Add New > Upload Plugin.
Step Two: Create a discount rule
Fees and Discounts lets you create global discount rules that can apply to all products. This means you can apply a 50% discount to all products in just a few seconds.
Go to WooCommerce > Settings > Fees and Discounts > Dynamic Pricing and enter the following settings:
Offer type: choose 'Bulk Pricing'
Label: enter some text to tell users that there's a sale on
Applies to: select 'All items'
Enter a single tier where the 'Minimum quantity' is 1, the 'Adjustment' is 'Percentage Discount' and the 'Amount' is 50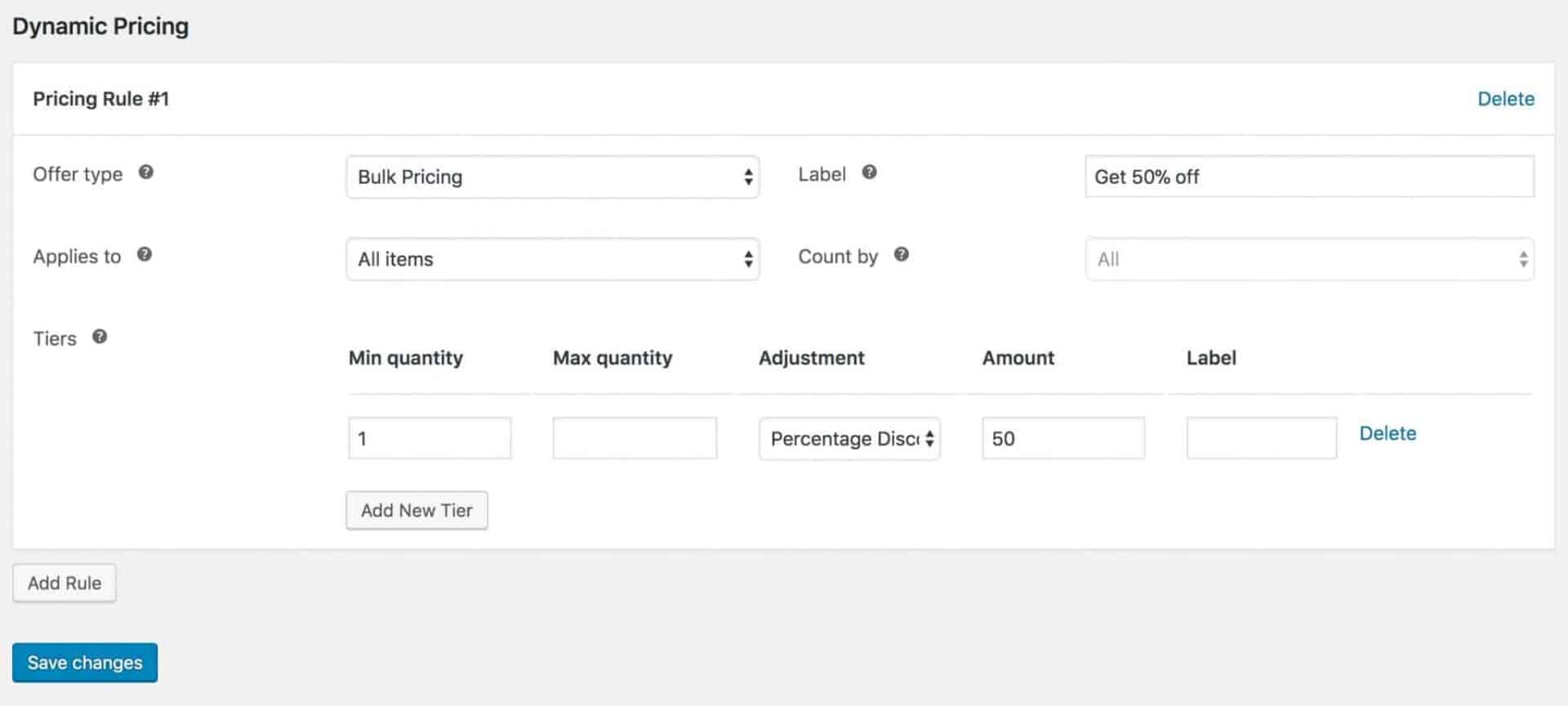 Tiers are how you define your quantity price breaks, e.g. buy more than 50 and get 10% off. Here, we're applying the same rule for all quantities. (There's more information on tiered pricing in WooCommerce here).
Click 'Save changes' and all your products will now be half price. The same discount will be applied to all products.
How to support your discount strategies
Having a great discount on your site is one thing, but you've got to let people know it's there. Here's a quick three-step list of things to think of when planning your sales.
Newsletters
Let your loyalest customers know you've got a sale coming. Newsletters are generally considered to be the most effective form of marketing: it's believed that if someone has taken the time to sign up to your newsletter, it stands to reason that they're interested in your products.
Of course, it's no good starting to build a newsletter a week before your sale. You need to be doing this all year round.
Landing pages
There is research that indicates users start looking for Black Friday sales well before they're due. It's worth setting up a page on your site that is available to search engines and to customers all year round.
Easy link building
In the lead-up to Black Friday, many websites create list posts of stores running sales. Get your store on as many lists as possible in order to generate more traffic to your site. These are probably the easiest links you'll get all year as sites are keen to make their posts as comprehensive as possible.
What's the difference between a discount and a coupon?
WooCommerce offers you the ability to create coupons for your customers. These are simple codes that users can apply to obtain a discount. These differ from the discounts we've discussed above in a couple of ways.
Firstly, discounts can be dynamic and applied automatically according to parameters you specify, e.g. 10% off for orders over a certain value. Coupons are generally applied manually and often are restricted to one or more users.
Secondly, discounts can be automatic. For instance, you will often see a banner at the top of sites advertising sales or promotions offering you money off when you apply coupon XYZ at checkout. The advantage of using an automatic WooCommerce discount is that it doesn't require any user interaction – it's applied automatically. There's a distinct psychological difference in the mind of the shopper between automatically qualifying for a discount and having to enter a code.
WooCommerce discount rule plugin
Hopefully, you've seen how easy it is to create discount rules in WooCommerce. All you need is the Fees and Discounts plugin.