Plugin Features
Create a private WooCommerce store where only selected users can view your products
Restrict access by password, user role, or logged-in status
Set multiple passwords or one global password
Define where to redirect users after they log in or enter the correct password
Decide which content to restrict:

Restrict the entire site
Restrict all WooCommerce pages
Restrict all WooCommerce products
Restrict specific WooCommerce categories

Hide widgets and menu items from users who aren't permitted to view your content
Create different rules for different categories
Create a private store in WooCommerce
WooCommerce Members Only gives you the ability to create a private store in WooCommerce. Only the users that you choose can access. You can decide to hide all products and store content, or just products in certain categories.
How does it work?
When you install WooCommerce Members Only, you get a new tab in WooCommerce Settings.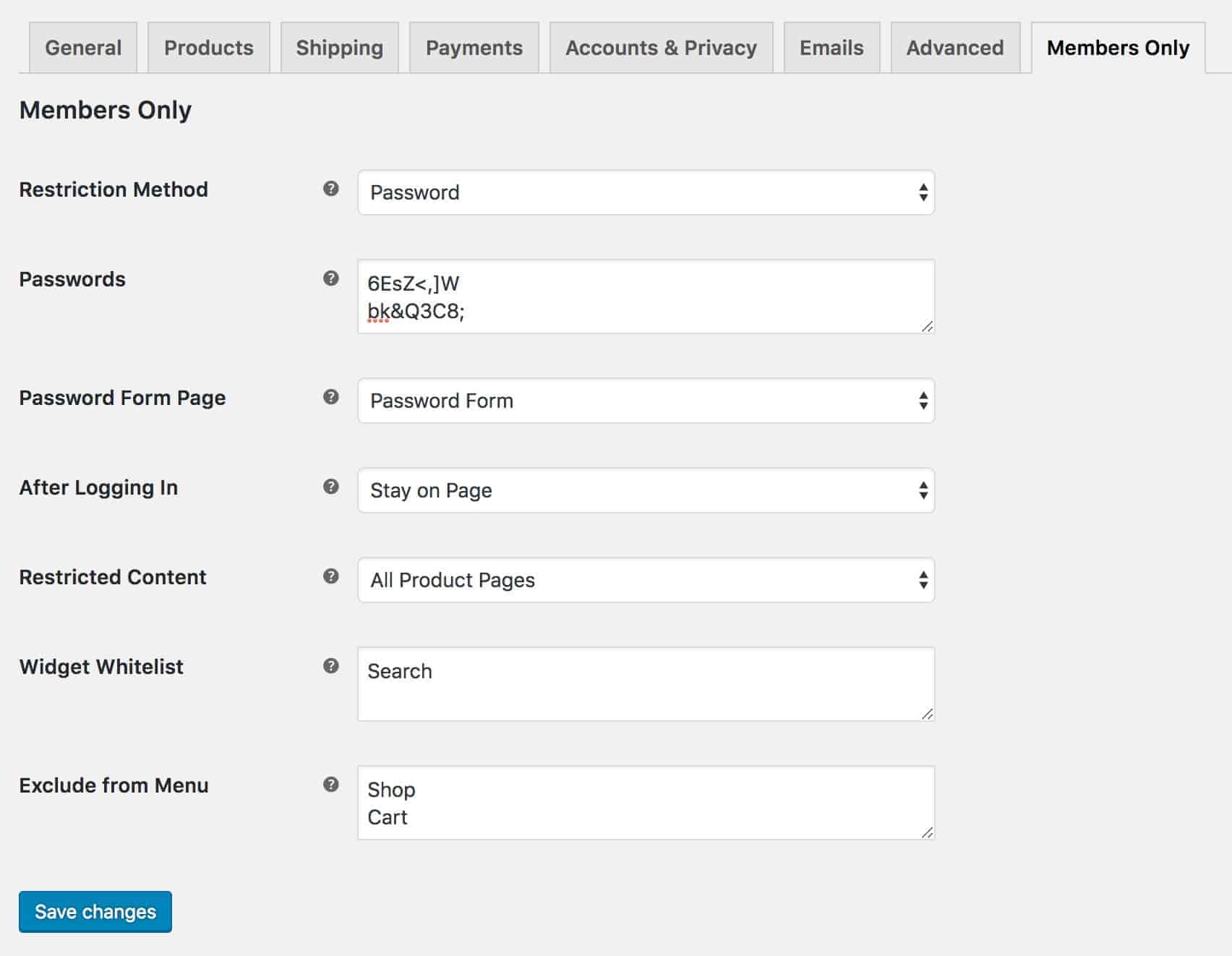 This gives you all the options you need to start operating a private or members-only store or website.
Why choose Plugin Republic?
Easy to use
WooCommerce Members Only has really simple settings.
Restriction Method
Choose from:
Log In Status - users need to be logged in to access the restricted content
Password - users need to enter a password to access the restricted content
User Role - users need to belong to a specified user role to access restricted content
Passwords
Enter a list of passwords for users to access content.
Password Form Page
The page where your password form is located. The plugin will give you the option to create this page automatically, or you can create it manually if you prefer.

Permitted User Roles
Define which user roles are allowed to access your content. The plugin will automatically allow you to choose from all registered roles on your site.
After Logging In
Define what happens when the user accesses the site, either redirecting them to a specific page or allowing them to remain on the same page.
Redirect Page
Define which page to redirect users to after accessing the site.
Restricted Content
Define which content should be hidden from the user. Choose from:
All Product Pages - all WooCommerce products are hidden from the user. Every other page on the site is accessible
All WooCommerce Pages - all WooCommerce pages are hidden, including the shop page, categories, product pages, and the cart and checkout pages
Entire Site - every page on your site except your log-in page is unavailable to the user
Specified Categories - you can hide products and archive pages that belong to defined categories
Restricted Categories
Define which categories should be hidden from the user
Widget Whitelist
Add the names of any widgets that you'd like to remain visible whether or not the user can access content on the page
Exclude from Menu
Enter the menu items that you'd like to hide from users who are not able to access content
Installation and Set-up
Getting started with WooCommerce Members Only is really quick. Install and activate the plugin then go to WooCommerce > Settings to configure your settings. You can be up and running within only a few minutes.
FAQs
What are the differences between the Basic and Pro licences?
The Basic licence entitles you to updates and support for 1 site. The Pro licence entitles you to updates and support for unlimited sites.
How long is the licence valid for?
Unless otherwise stated, licences are valid for a year. During that time you are entitled to receive free updates and support. Licences will automatically renew unless cancelled.
Will the licence still work if I cancel my subscription?
If you cancel your subscription, you'll still be entitled to free updates and support until the end of the subscription period. After that, the plugin will continue to work but you'll no longer be entitled to updates or support.
Is there a free trial?
I don't offer free trials but all products are backed by a 14 money back guarantee so if the plugin isn't what you wanted, I will issue you with a refund.
Do you offer refunds?
Yes, there's a 14 day money back guarantee so if you purchase the plugin and decide you no longer want it, just drop me a line.
Will this plugin work with my theme?
All my plugins are independent of the theme being used so there shouldn't be any problems. If you do run into any issues, just let me know and I will take a look.