The 12 best WooCommerce plugins to skyrocket sales in 2023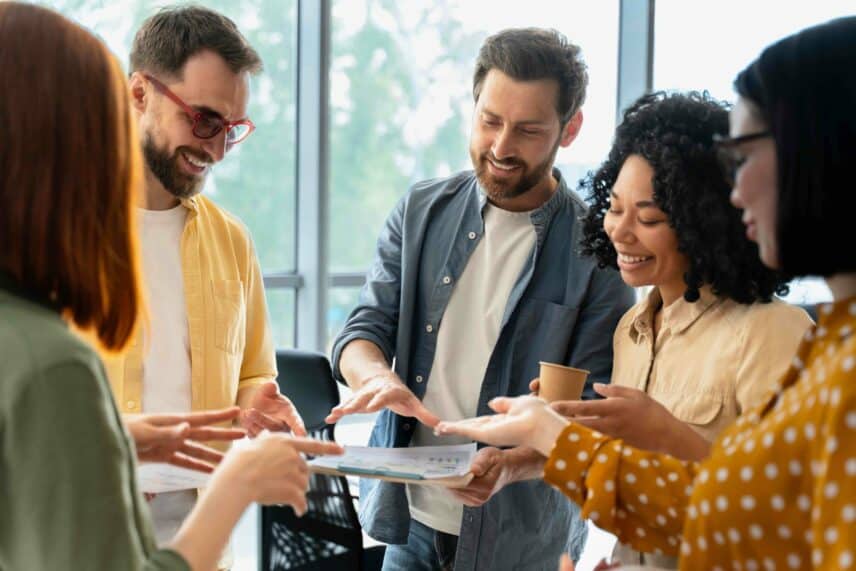 The popular eCommerce platform, WooCommerce, is renowned for its power and flexibility providing businesses and users in general with a solid foundation for building online stores. However, despite its strengths, WooCommerce by default lacks certain features that are essential for creating a conversion-optimized online store.
Fortunately, WooCommerce seamlessly integrates with a vast range of plugins that empower you to enhance and customize your online store according to your specific needs and requirements.
However, navigating through the abundance of available WooCommerce plugins can be a daunting task for many users, especially if you're new to WooCommerce and WordPress. To alleviate this challenge, we have curated a concise selection of the 12 most effective WooCommerce and WordPress plugins, which have been carefully chosen to boost sales and drive remarkable growth for your online business.
The top 12 WooCommerce plugins to drive sales
Every plugin in the list is different. So, rather than it being a case of which plugins are better, it's important to think about what goals you are trying to achieve with your eCommerce site and which plugins will be the right fit for you.
Purchasing every single plugin in this list isn't necessary, but you can keep referring back to this list for ideas and recommendations if you ever need to upgrade your WooCommerce store in the future.
It's worth bearing in mind that while none of these plugins are comparable, we have placed some of the most feature-packed and effective plugins at the top of the list.
#1. WooCommerce Order Bump for up-sells, cross-sells, and product recommendations
The WooCommerce Order Bump plugin offers an all-in-one solution for displaying upsells, cross-sells, and product recommendations in a professional way.
This plugin provides a fantastic method for increasing sales as you can use it to display a modal popup at strategic points in the customer journey on your online store. For instance, display product recommendations popups on the cart and checkout page so customers can quickly add more items to their cart before checking out from your online store. This is a great way to recommend additional products such as related products and cross-sells to your shoppers in an interactive way. It also encourages customers to upgrade their orders with upsells before they submit the checkout form.
WooCommerce Order Bump offers an intuitive interface for setting up order bumps or modal popups on your WooCommerce site.

Using a simple dropdown menu, you can choose where the order bump appears on your WooCommerce site and choose what happens when customers click on the "add to cart" button.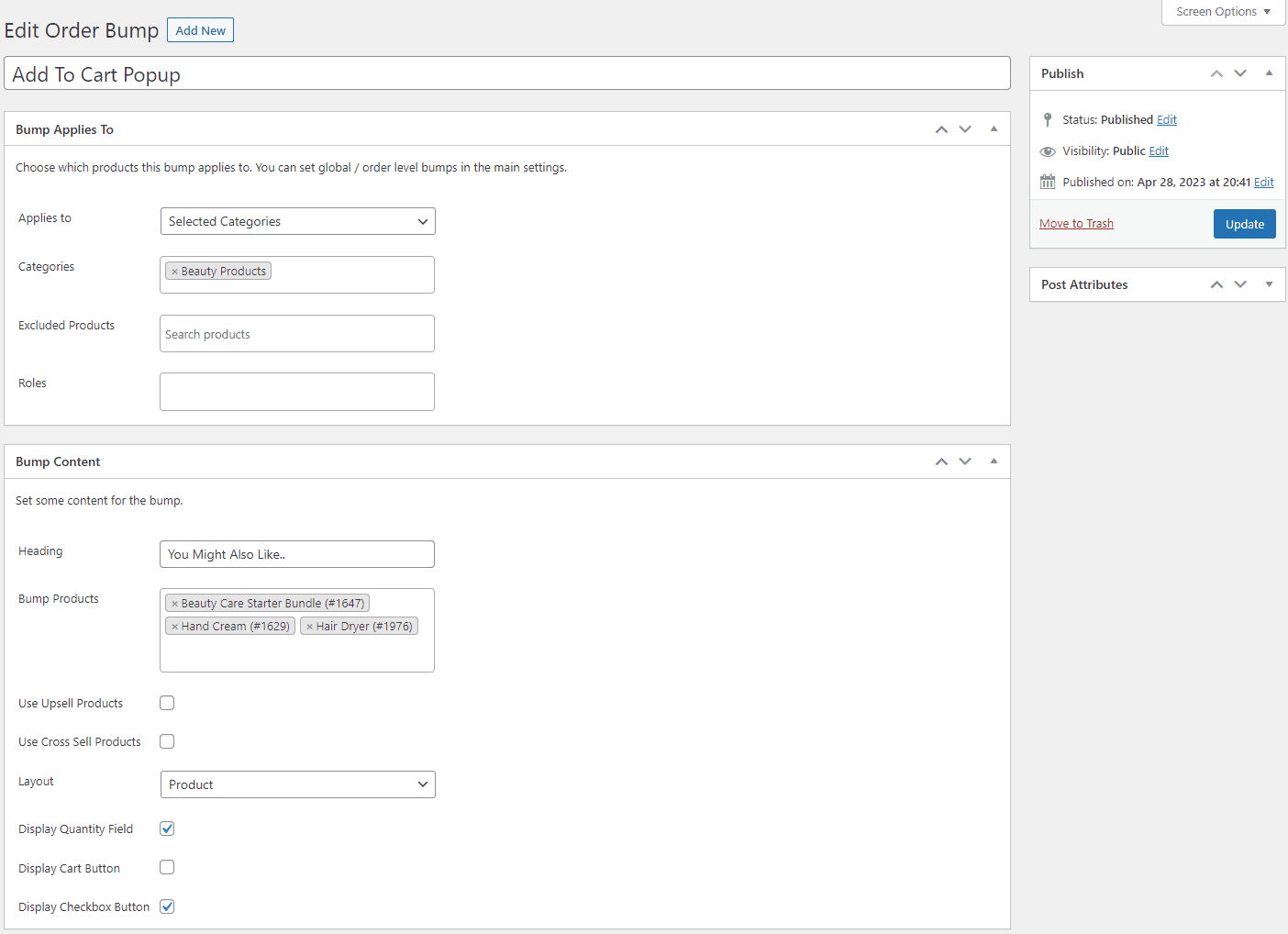 Setting up the order bump is also very easy and gives you full control over which products are displayed in the modal popup. You can set up order bumps for all products in your store's catalog, for specific products, or for specific product categories only. It's possible to customize the modal popup by adding custom heading labels and changing the layout styles.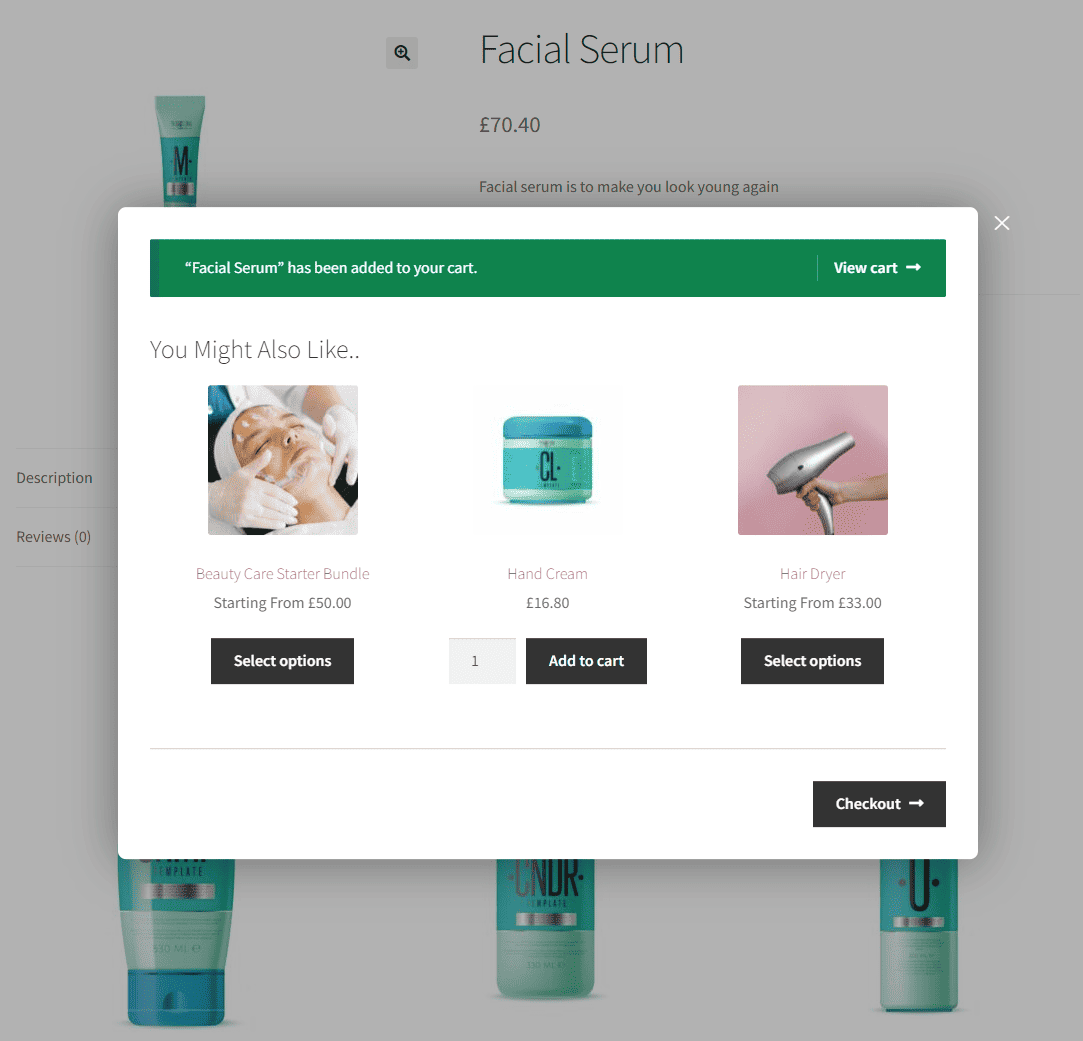 In addition to all of these features, WooCommerce Order Bump also lets you offer discounts on products displayed in the modal popup.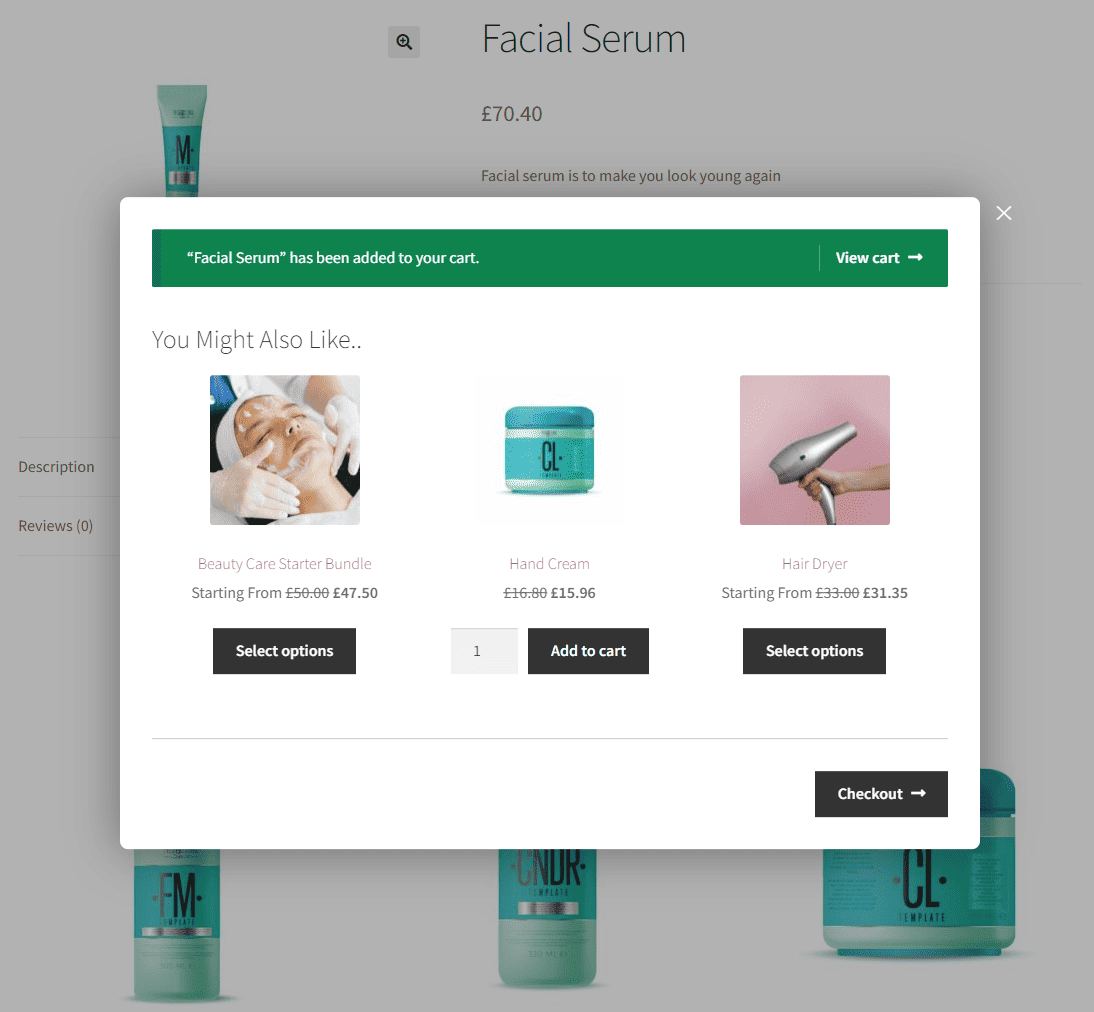 #2. WooCommerce Product Table Ultimate to improve the way you display products
One way to improve the shopping experience on your WooCommerce site is by using product tables. Product tables make browsing your online store much more efficient for customers, as shoppers can compare products easily and see more information about them without having to visit each product page.
The best way to implement this in WooCommerce is with a dedicated plugin like WooCommerce Product Table Ultimate.
This plugin lets you create unlimited product tables on your online store and lets you display them on any landing page on your eCommerce website using the Gutenberg block editor.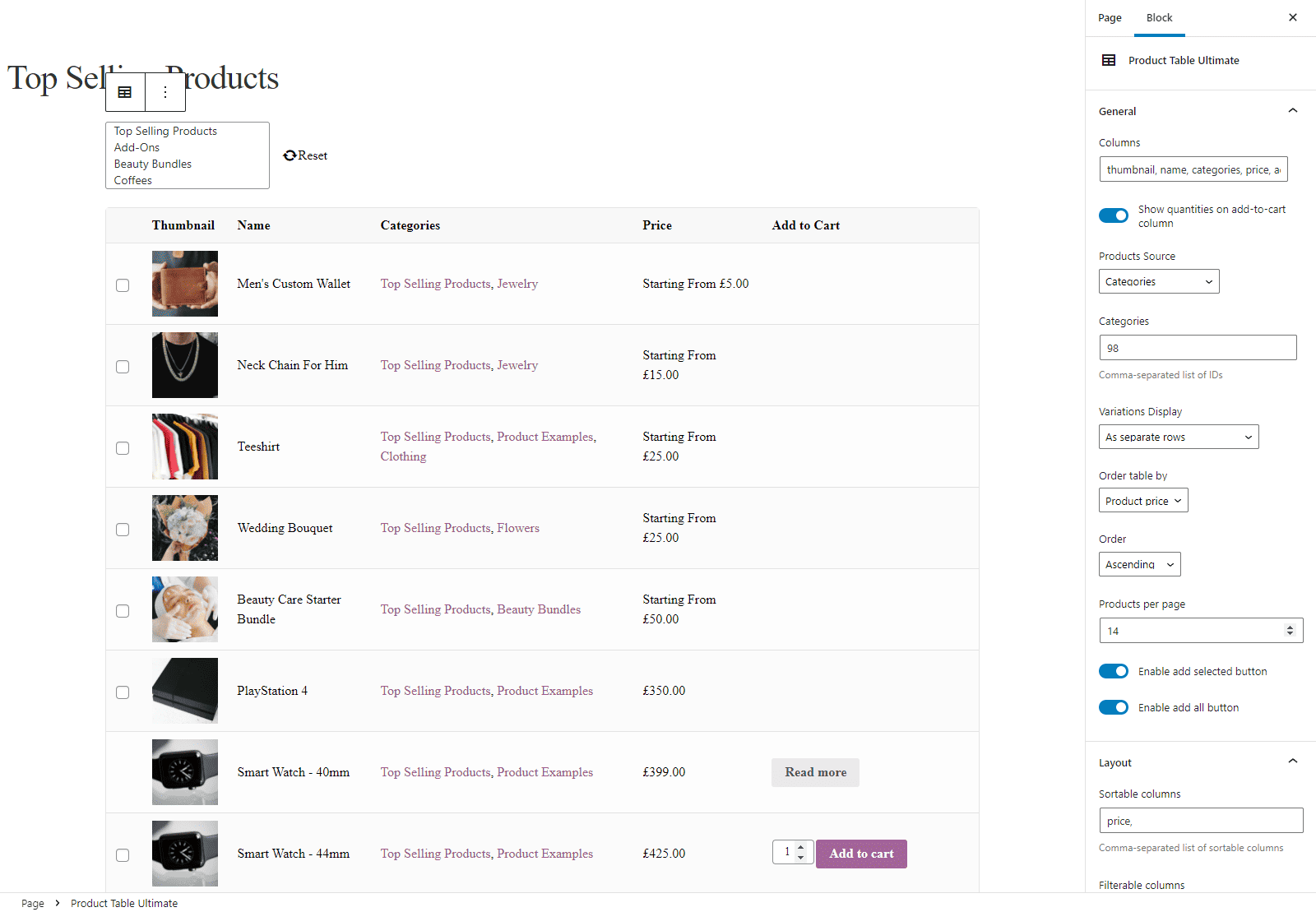 For instance, you can set up a product table with some of your best products on a dedicated "Top Selling Products" page or section of your online store. While you have full control over which products will be displayed in the table, you can also add or remove columns from your product tables according to your requirements. You can manually add products, create tables based on categories or attributes, or include entire WooCommerce categories.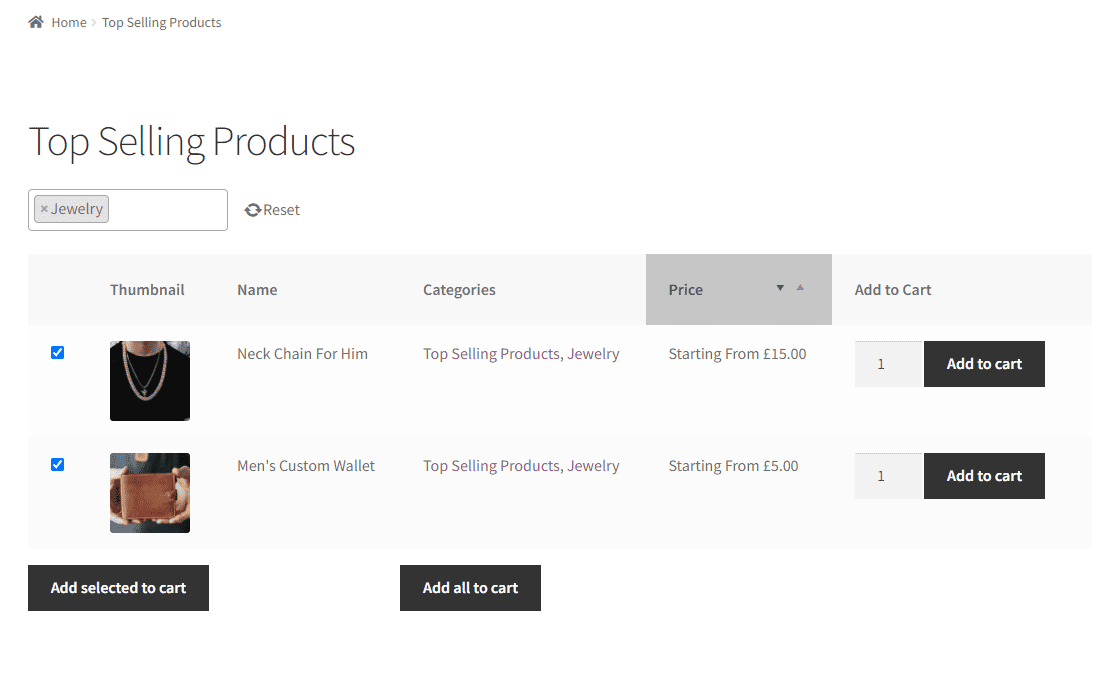 In addition to this, you can also add filtering and sorting options to make it easy for customers to find specific products they need. It not only helps speed up user flow on product pages but also encourages shoppers to spend more when shopping from your online store.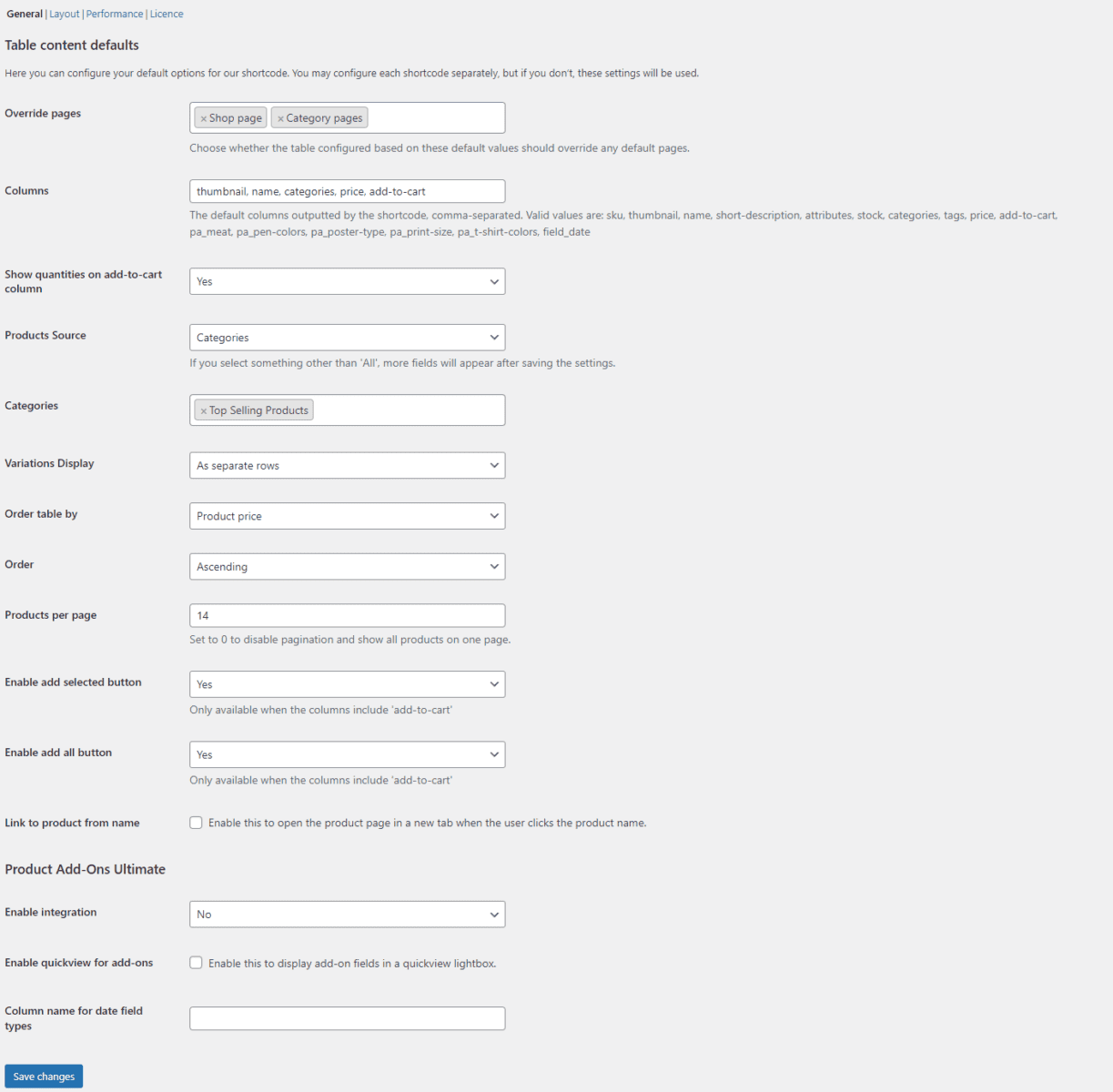 The WooCommerce Product Table Ultimate plugin also lets you override your entire WooCommerce shop pages with product tables. This makes it easy to transform an ordinary WooCommerce site into a professional online store within a few clicks.
#3. WooCommerce Fees and Discounts for dynamic pricing
One of the most effective ways for increasing sales on any WooCommerce site is by offering discounts and promotions. While there are limited options for setting up discounts in default WooCommerce, you can use a plugin like WooCommerce Fees and Discounts to extend the default WooCommerce functionally.
The WooCommerce Fees and Discounts plugin lets you create all types of discounts including bulk discounts, dynamic pricing discounts, role-based discounts, cart-based discounts, and even payment gateway-based discounts.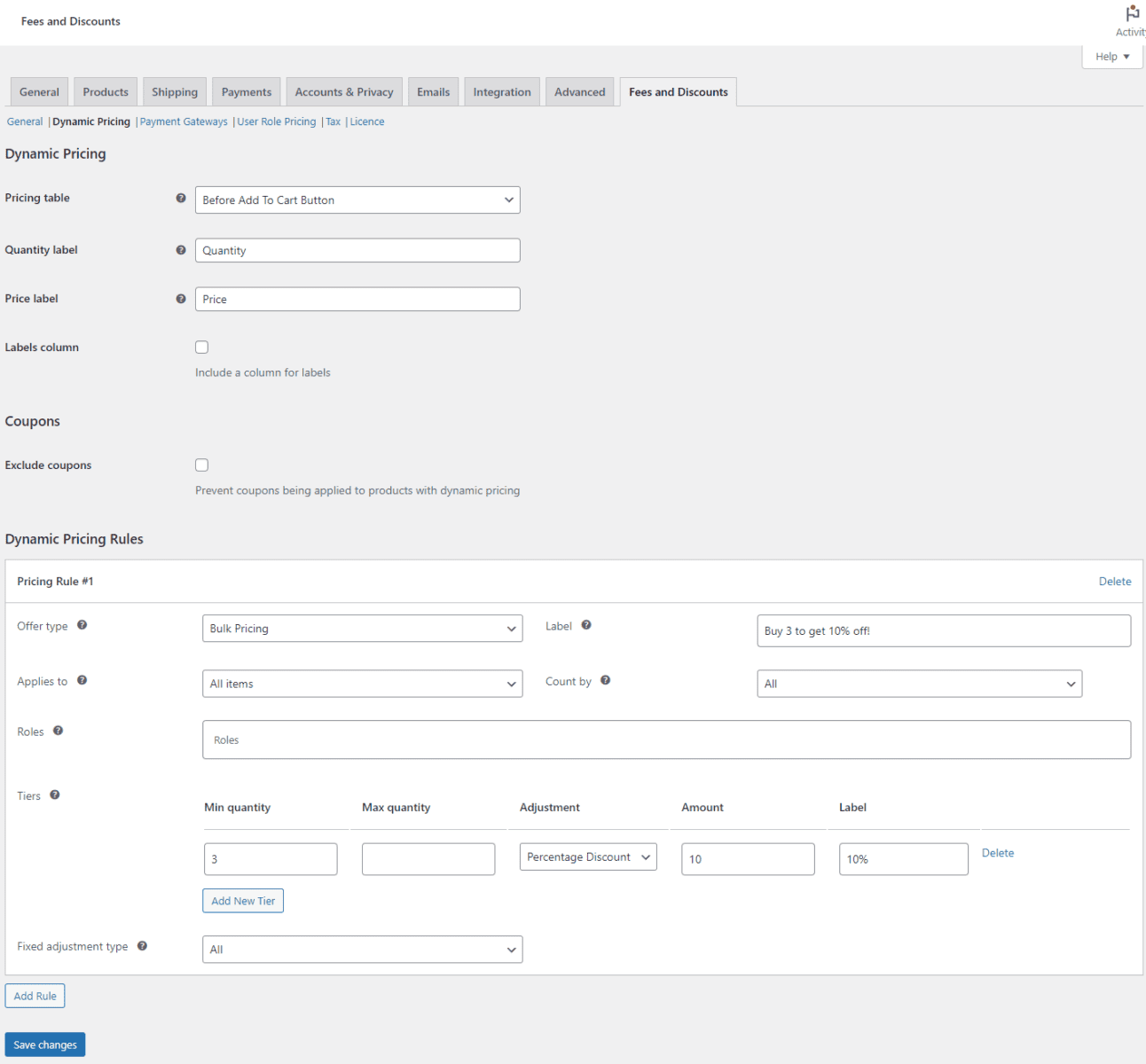 For example, you can set up a "Buy 3 to get 10% off " promotion that encourages users to purchase more than one unit of a product so they can get a better price per piece. Similarly, you can set up a discount based on the total amount customers spend when shopping from your online store.

The discounts you create are displayed on the front-end of your site on single product pages, cart, and checkout pages.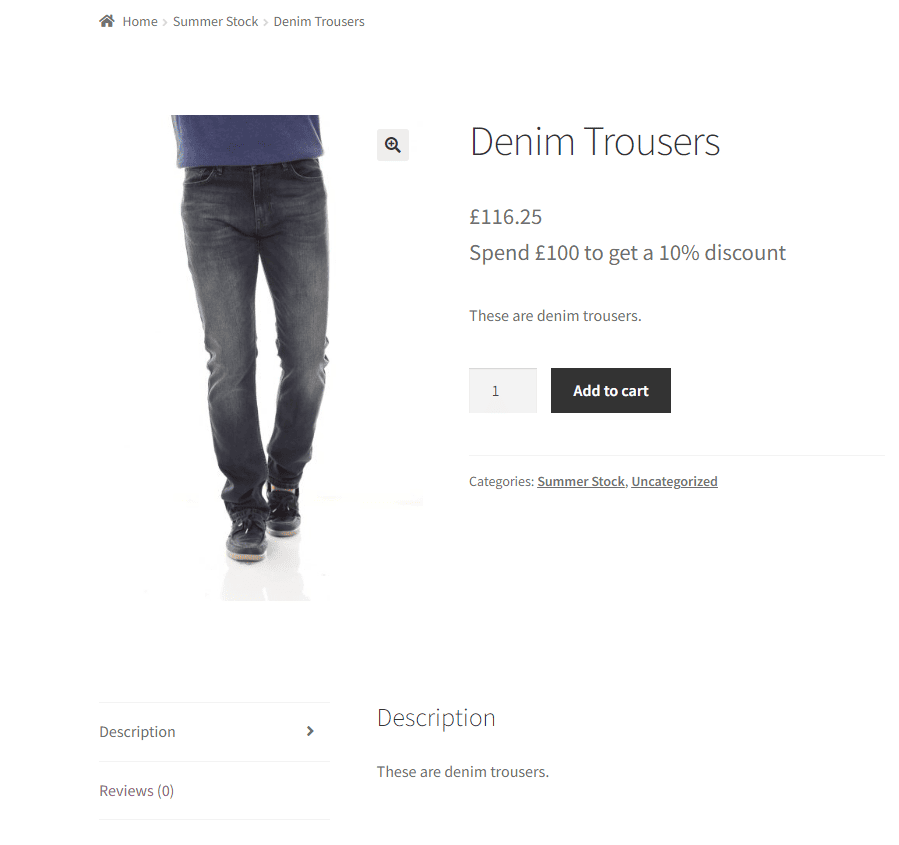 This encourages more customers to shop from your online store and can help them make informed purchase decisions.
In addition to this, the WooCommerce Fees and Discounts plugin also lets you create tiered pricing tables and showcase them on your product pages.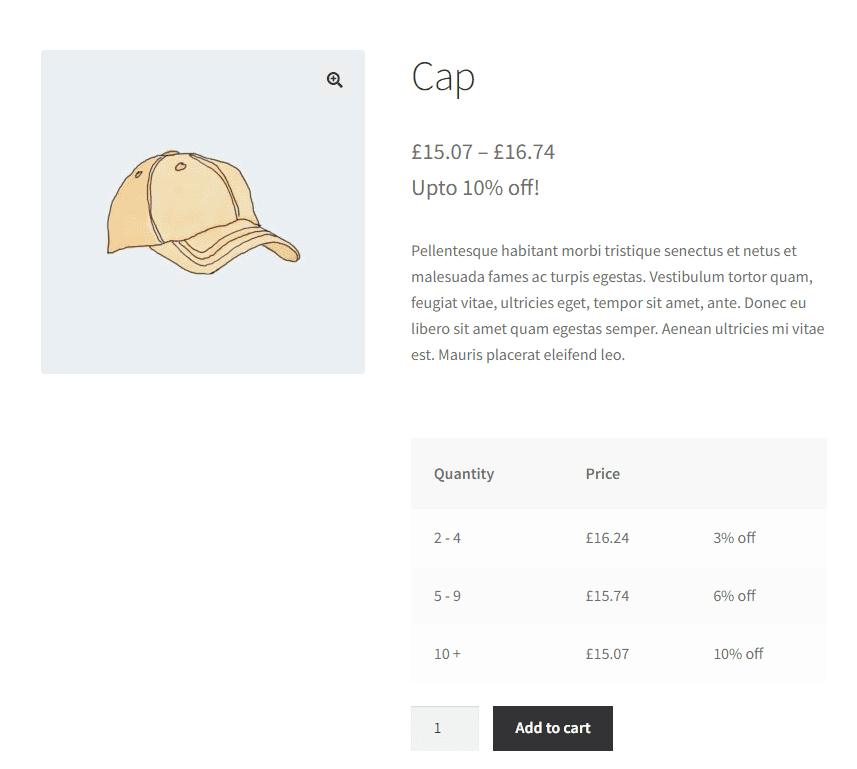 This makes it easier for your customers to understand the dynamic pricing rules that you create and encourages them to take you up on the offers.
#4. WooCommerce Product Add-Ons Ultimate for offering extra options
There are many types of online stores that would benefit from adding extra options to configurable products including restaurants, electronics and gadgets stores, apparel stores, custom print shops, and even jewelry stores.
The best way to add extra product options is by using a dedicated product customizer like the WooCommerce Product Add-Ons Ultimate plugin.
With over 16 different add-on fields, you can use the robust plugin to customize your WooCommerce products in many ways. For instance, if you sell apparel products, you can offer personalization options using add-on fields.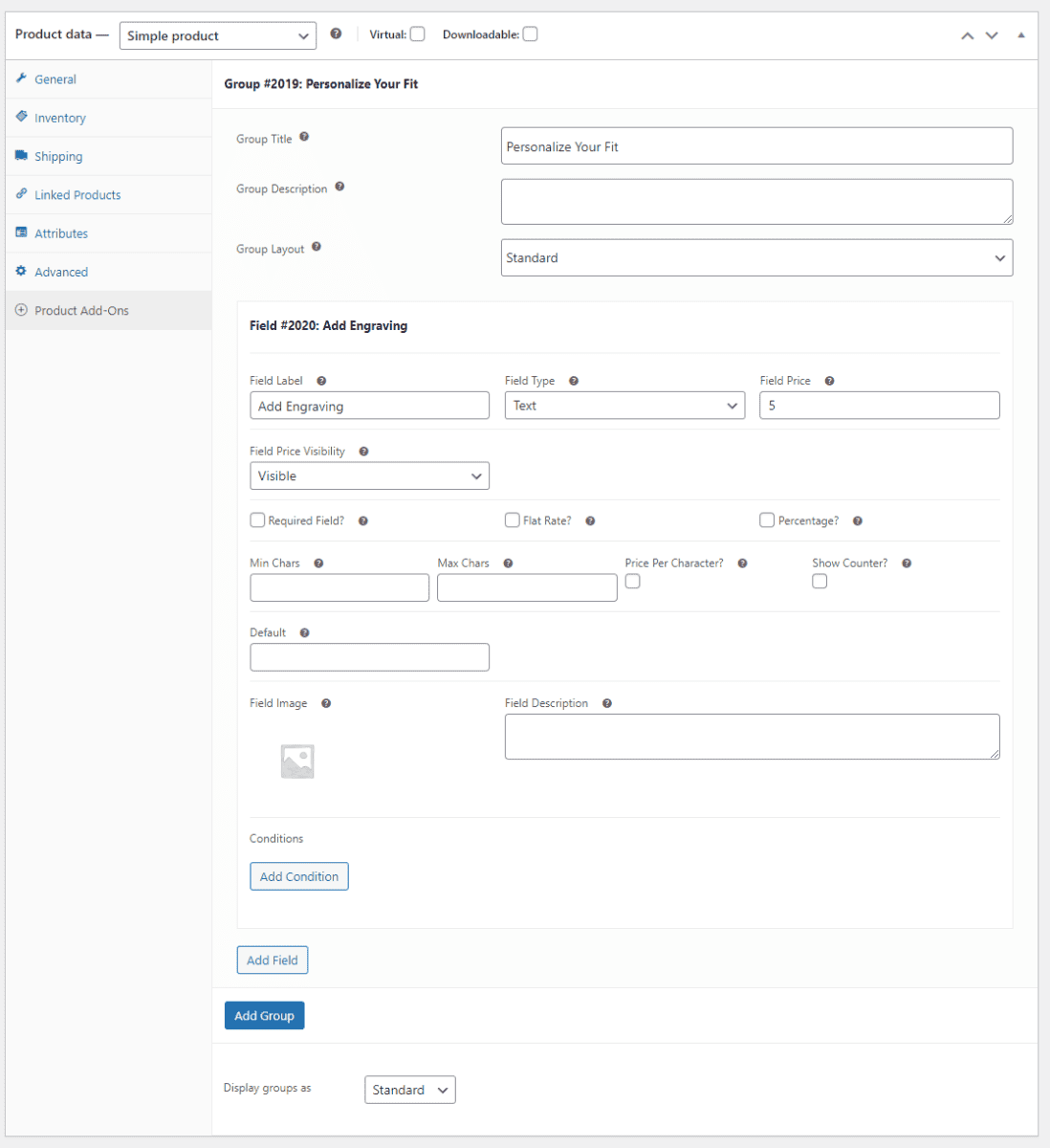 Let's say you offer text engraving. You can use the Text field to let shoppers add custom engraving to their orders at an extra charge.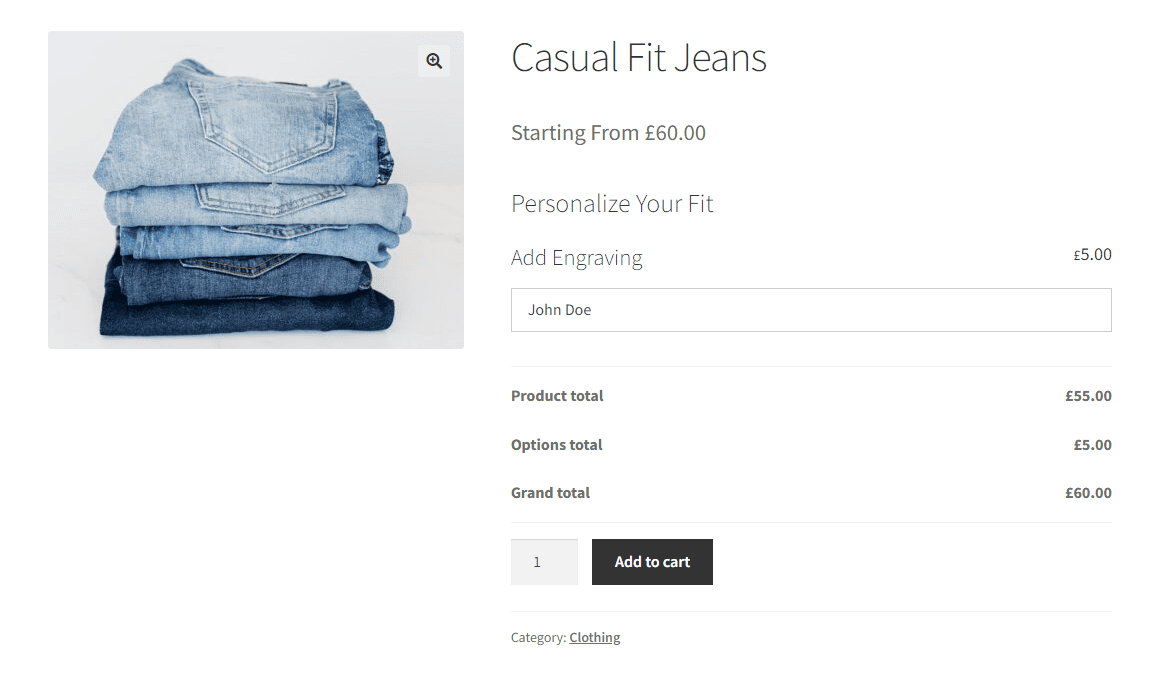 Similarly, you can also use the Image Swatch fields to let shoppers select their preferred design using visually appealing buttons.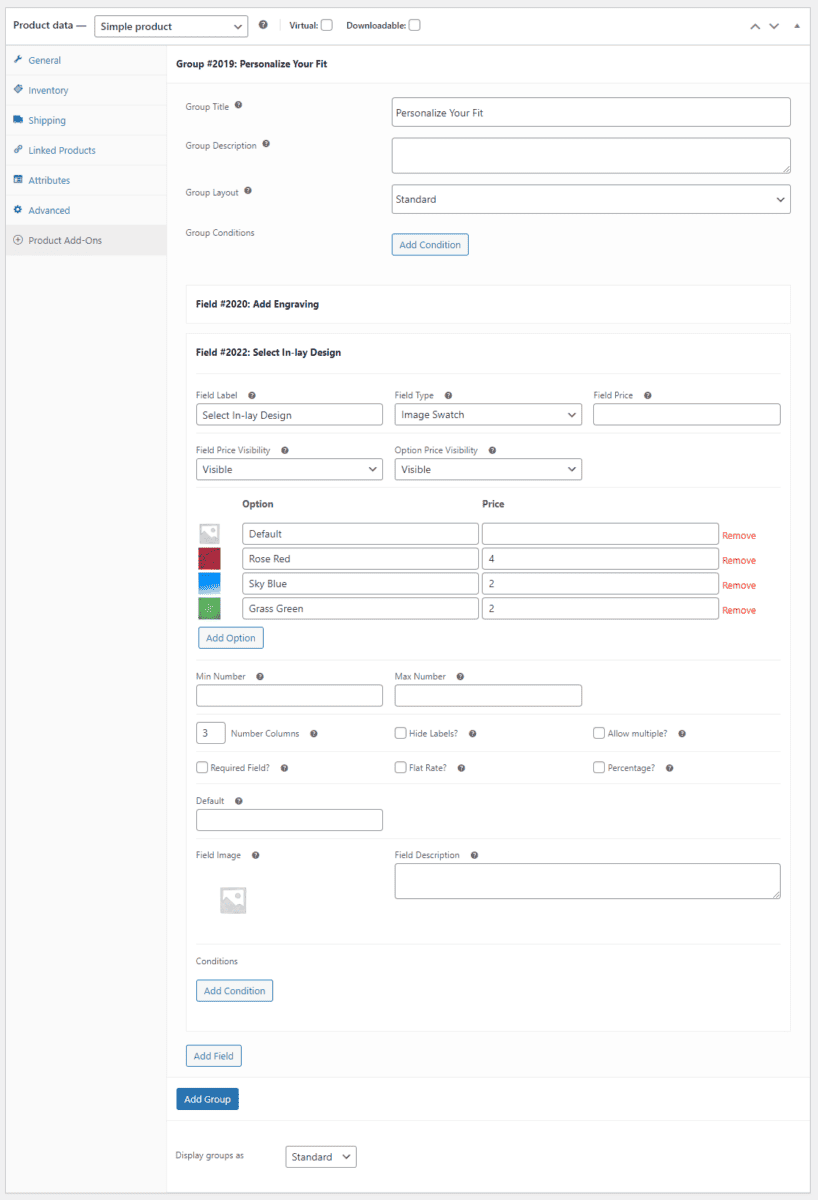 You can add as many extra options as you need and upload an image to each option, set a custom label, and a price. This way, you can offer premium extra options to customers who are looking to spend more.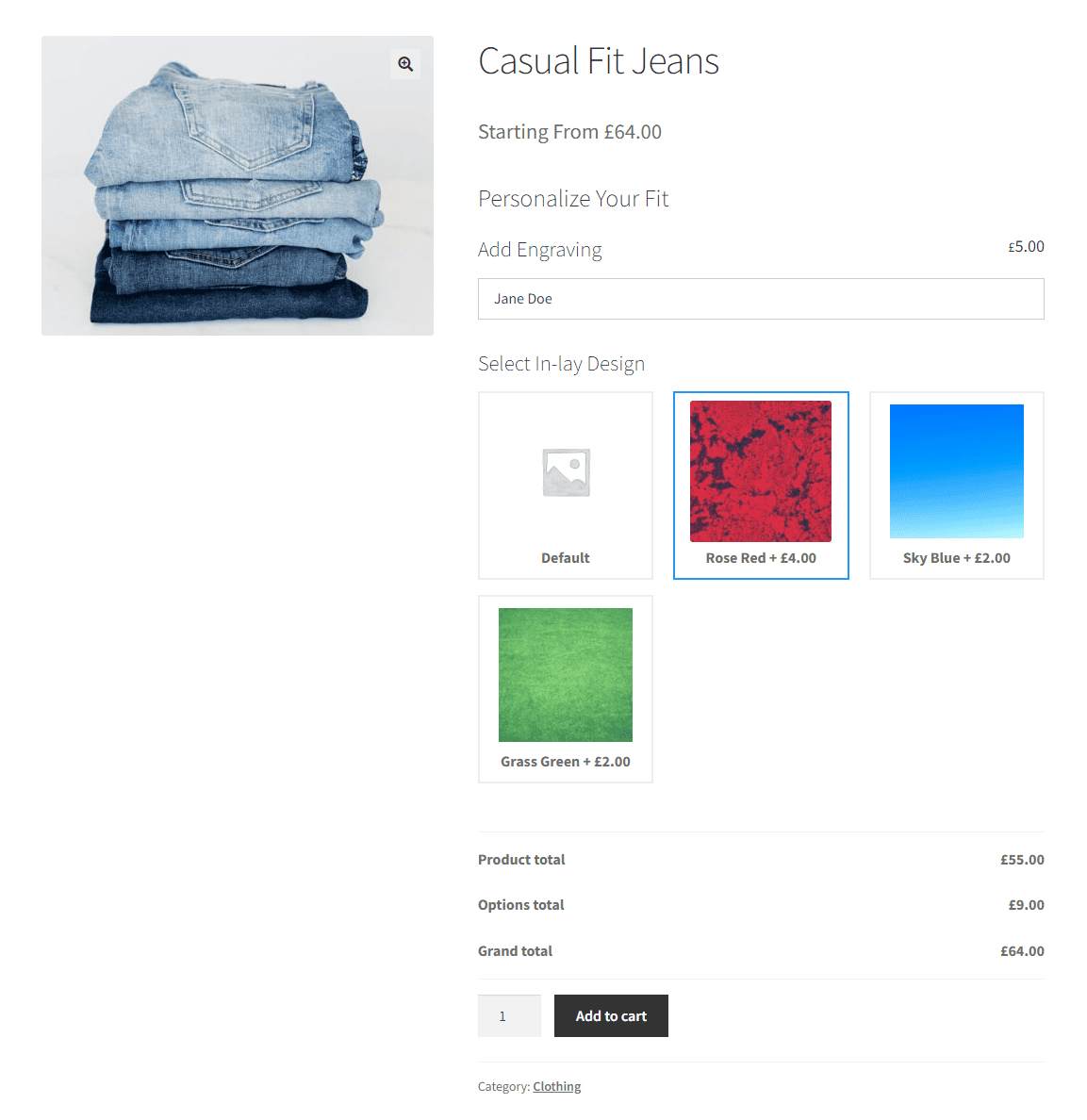 In addition to this, you can also create field groups to display different product options in different sections on the single product page.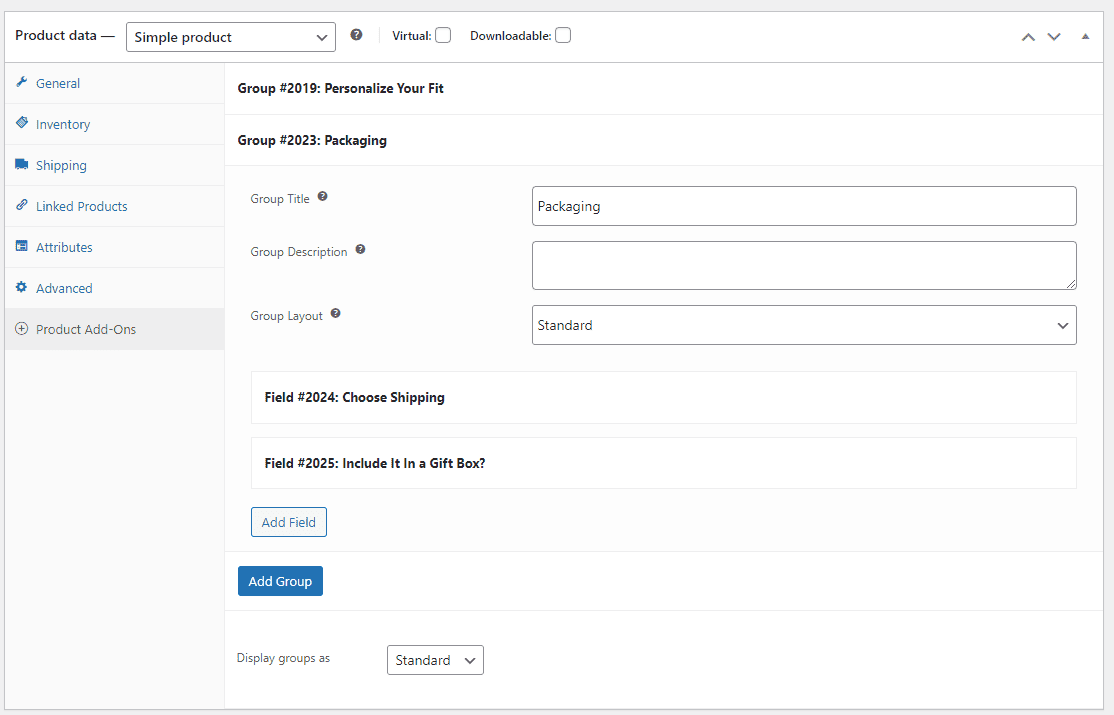 For instance, you can offer a personalization options section and also add a "Packaging" field group section that lets customers choose how they want their order to be shipped.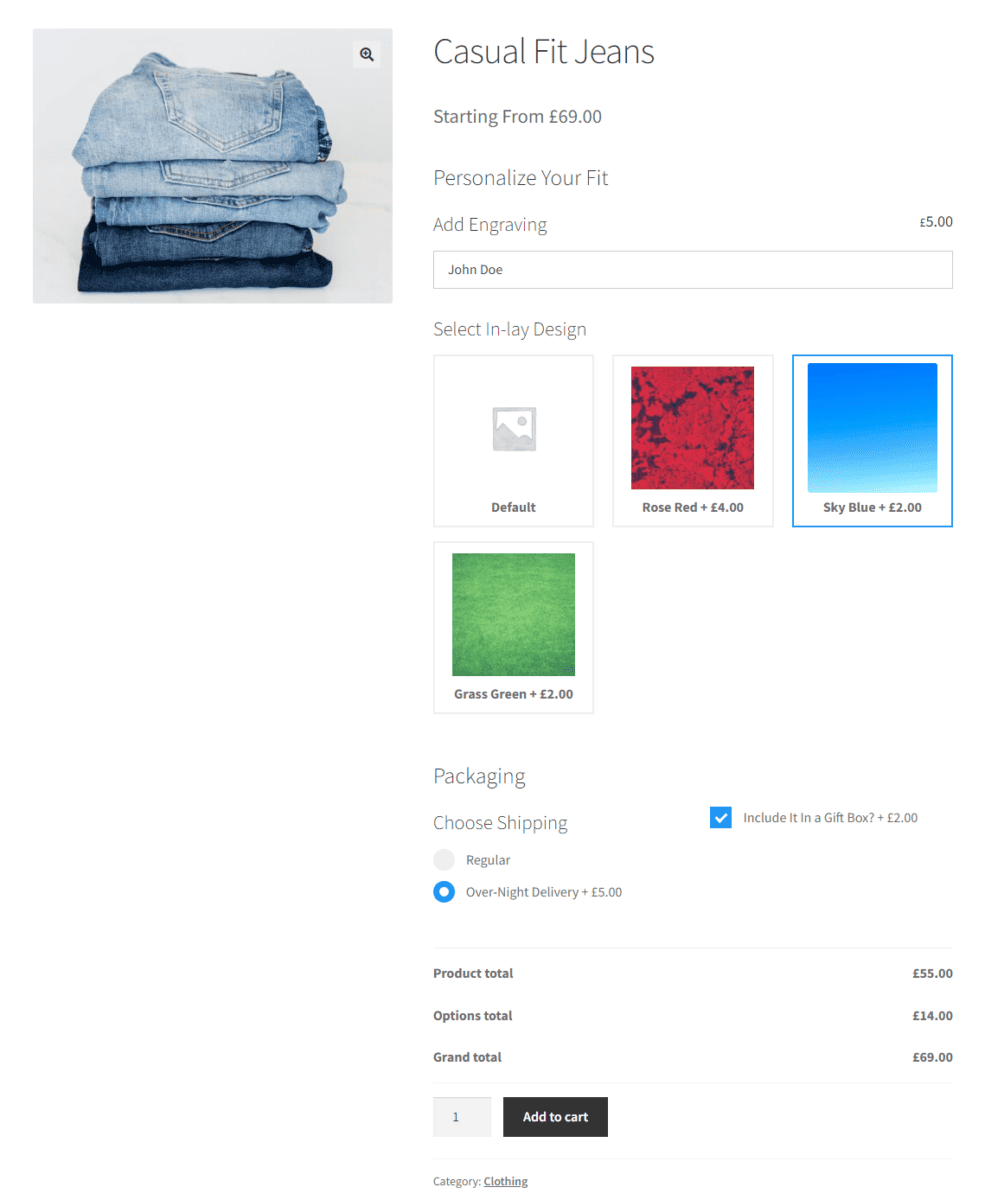 This makes it easier to create professional-looking product pages that not only look good but are highly optimized for conversions.
#5. WooCommerce Minimum Maximum Quantity and Order for controlling order quantity
As an online store owner, you probably already know that it's important to control order quantity on your online store. This is because there are some products that aren't worth selling unless you're moving multiple units at a time.
For example, there's no point in selling a single roll of toilet paper as they are usually sold in pre-packaged 12-piece packs. Similarly, you might want to set the minimum order quantity for a product like eggs to 6 or 12 so you don't end up receiving orders that are not possible to fulfill.
While there's no way to set the minimum or maximum order quantity in WooCommerce, you can use a plugin like WooCommerce Minimum Maximum Quantity and Order to do this.
The powerful plugin is designed to let you set exactly how many units can be sold at a time for any given product available on your online store. For instance, if you set the minimum order quantity for a product to 3, customers will only be able to add 3 or more items to their cart at once.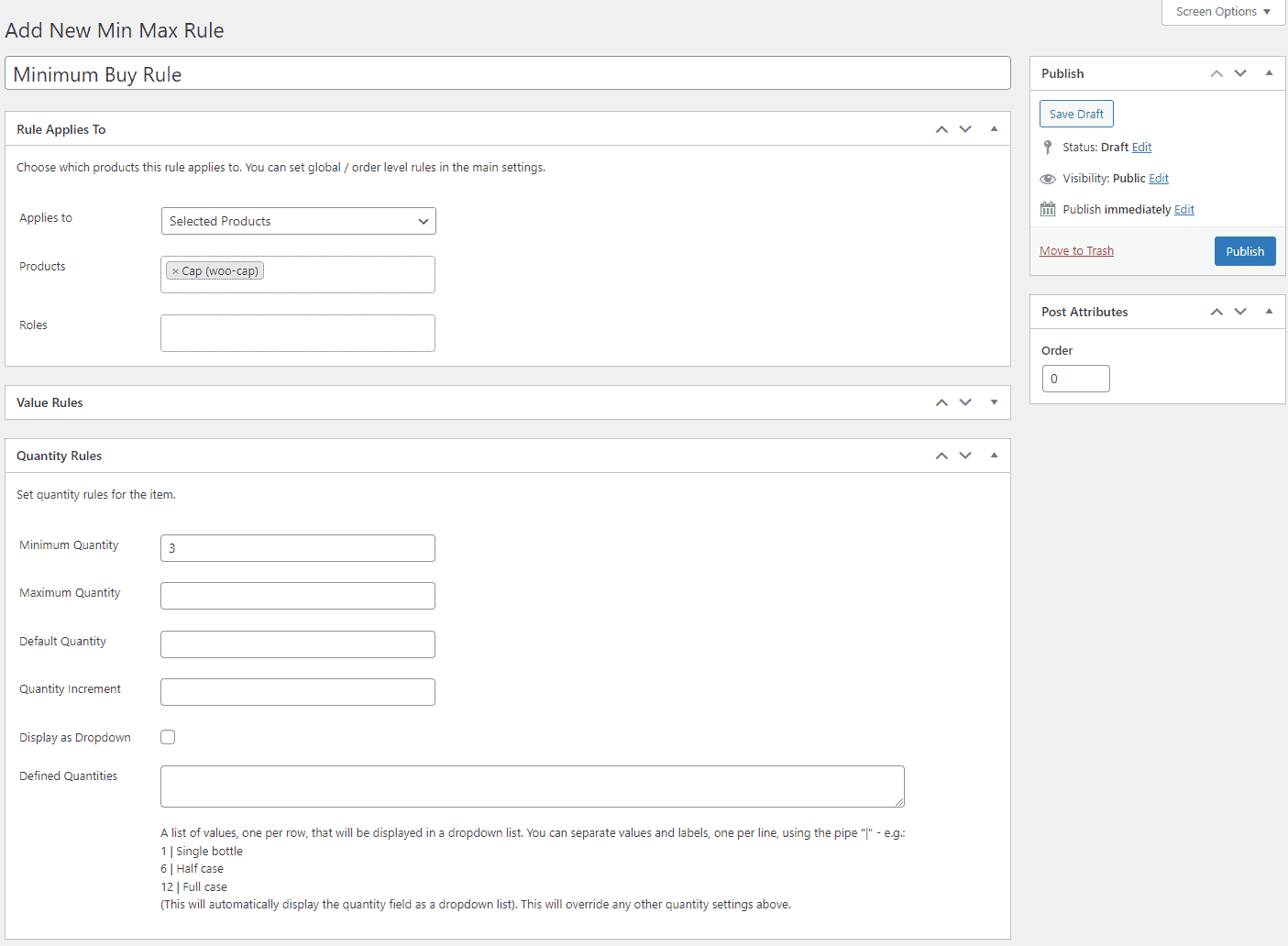 The plugin offers an easy interface to set the minimum or the maximum quantity that can be ordered for any product on your online store.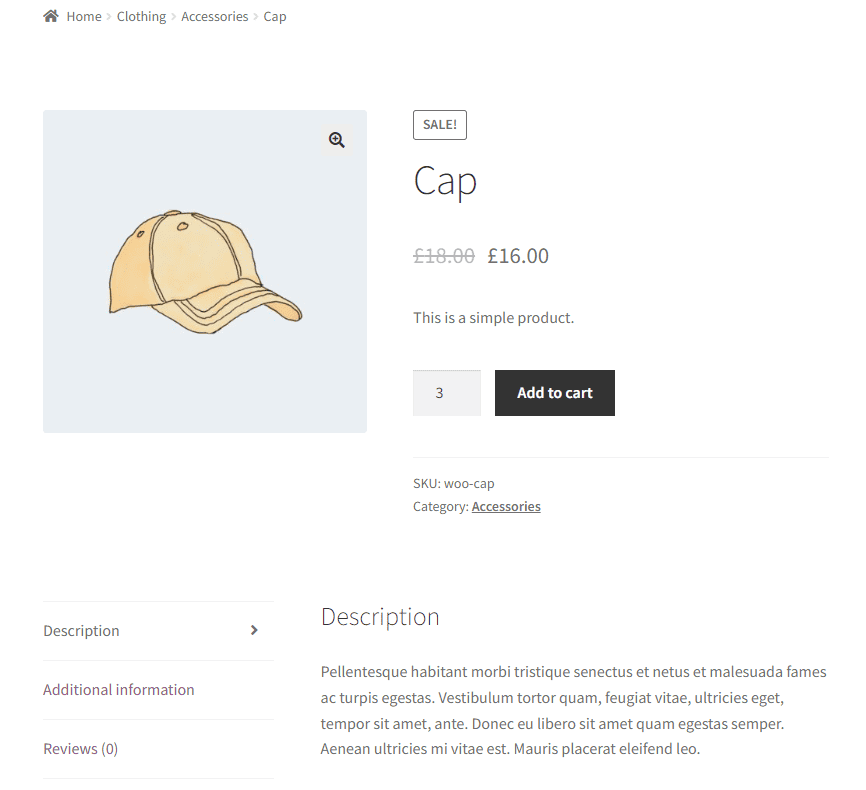 This way, when your customers click on the Add to Cart button on the front-end, only the order amount that's set for the product will be added to their shopping carts.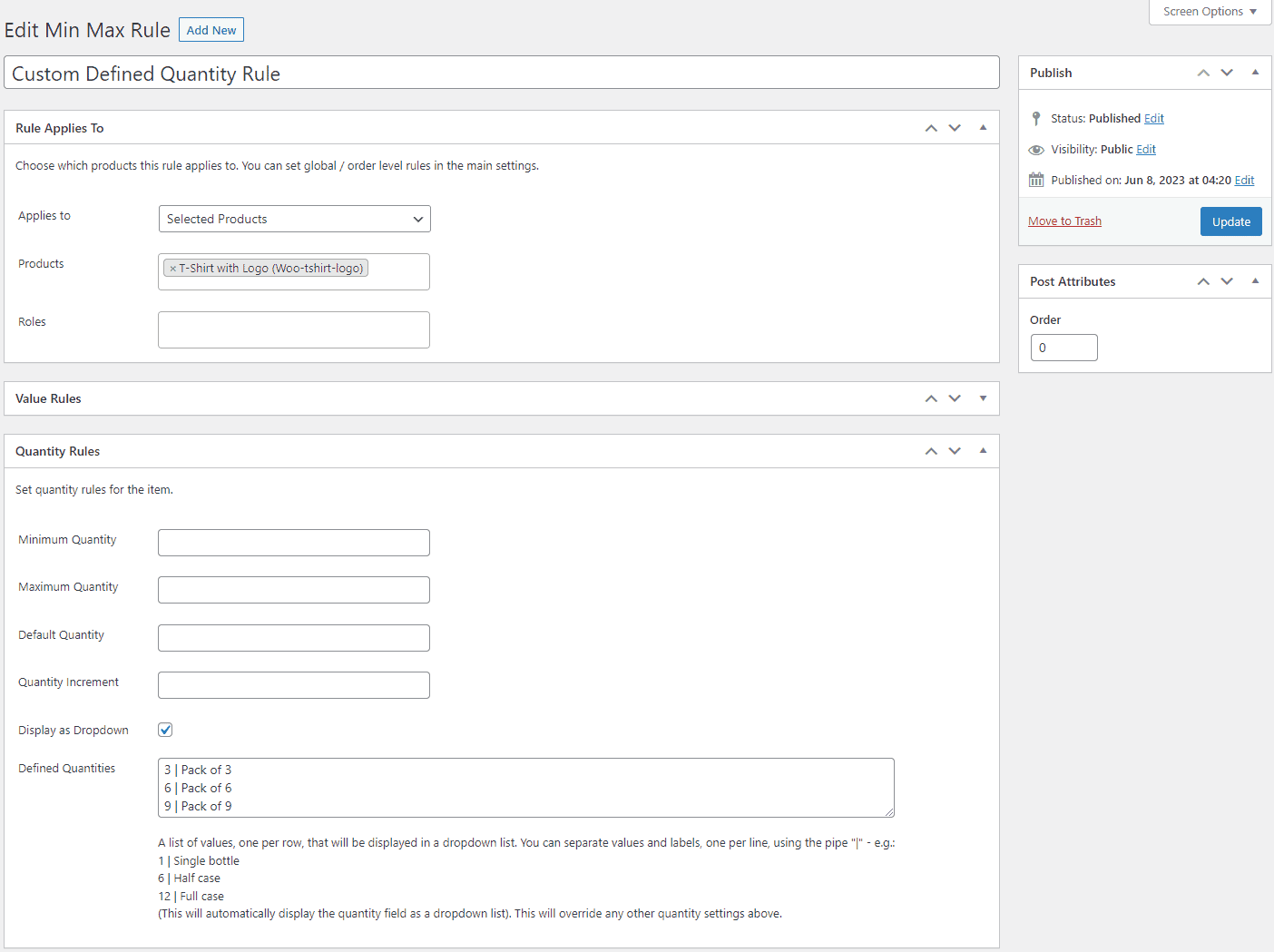 Similarly, you can also create custom step increments for your WooCommerce products. For instance, customers can purchase t-shirts only in packs of 3, 6, and 12 only.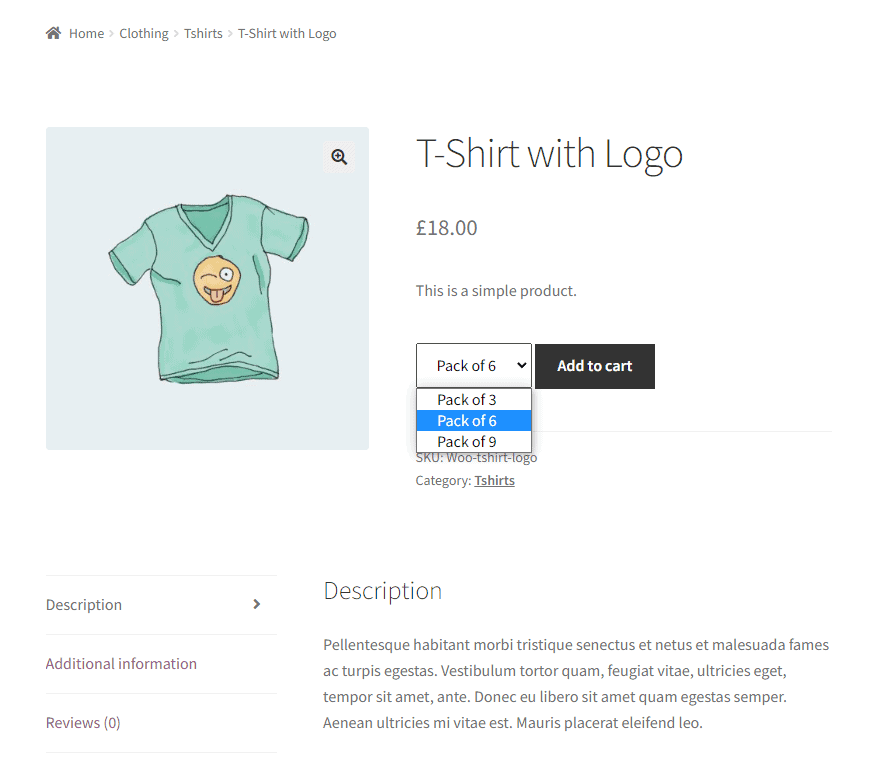 #6. MailPoet for CRM campaigns
MailPoet is a CRM plugin that works seamlessly and has deep integration with WooCommerce.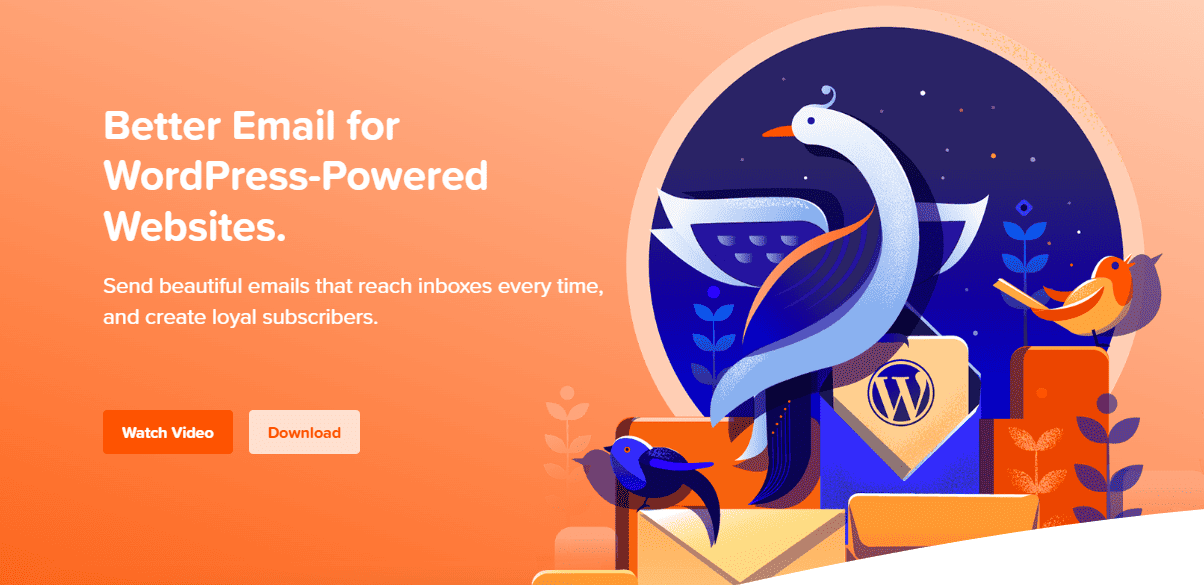 You can use MailPoet to essentially create a GDPR-friendly form and display it on the checkout page of your WooCommerce site. This way, you can collect the email addresses of your customers and start building your email list.
Once you have a solid email list, you can use the plugin to create automated email marketing campaigns that are designed to recover abandoned carts on your online store. You can design a custom cart abandonment recovery email using an intuitive email customizer that gives you full control over the styling options.
In addition to this, the plugin comes pre-built with analytics and performance tracking tools. This way, you can gauge the performance of your emails and see how much revenue you've generated per email.
#7. TrustPulse for social proof
TrustPulse is a social proof plugin that's designed to let you send social proof messages to your customers in real-time.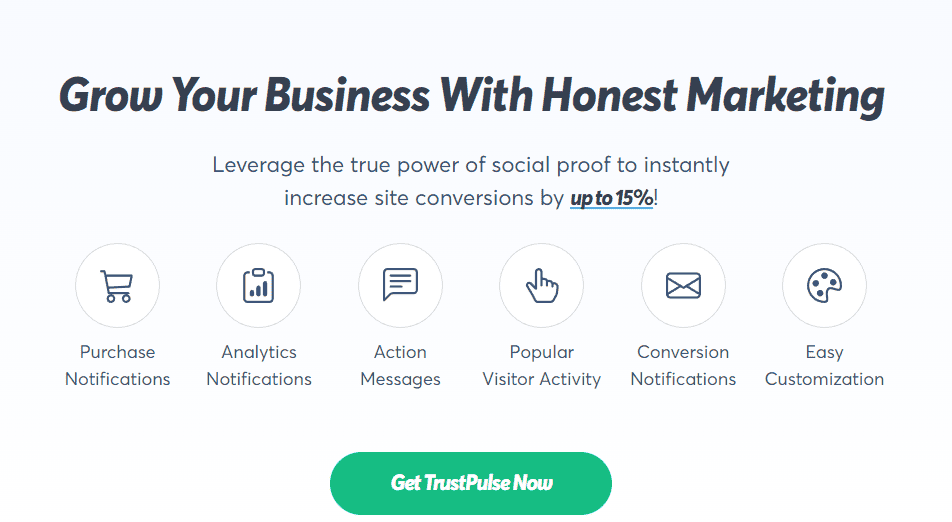 This makes it easier to encourage more conversions to your online store. For instance, you can send messages that the item a user is interested in was recently purchased. It's a great way to let customers know that your products are trusted by other customers and encourage them to complete their purchases.
In addition to this, TrustPulse also comes pre-built with features like real-time event tracking, flexible design options, and push notification customization options.
#8. MonsterInsights for store analytics
While analytics might not directly drive customers to complete their purchases, it's an important part of any WooCommerce store since you can learn more about who is visiting your store, and see what stages of the customer journey need to be optimized.
MonsterInsights is one of the most popular eCommerce analytics tools that's designed to let you track every aspect of your online store with ease.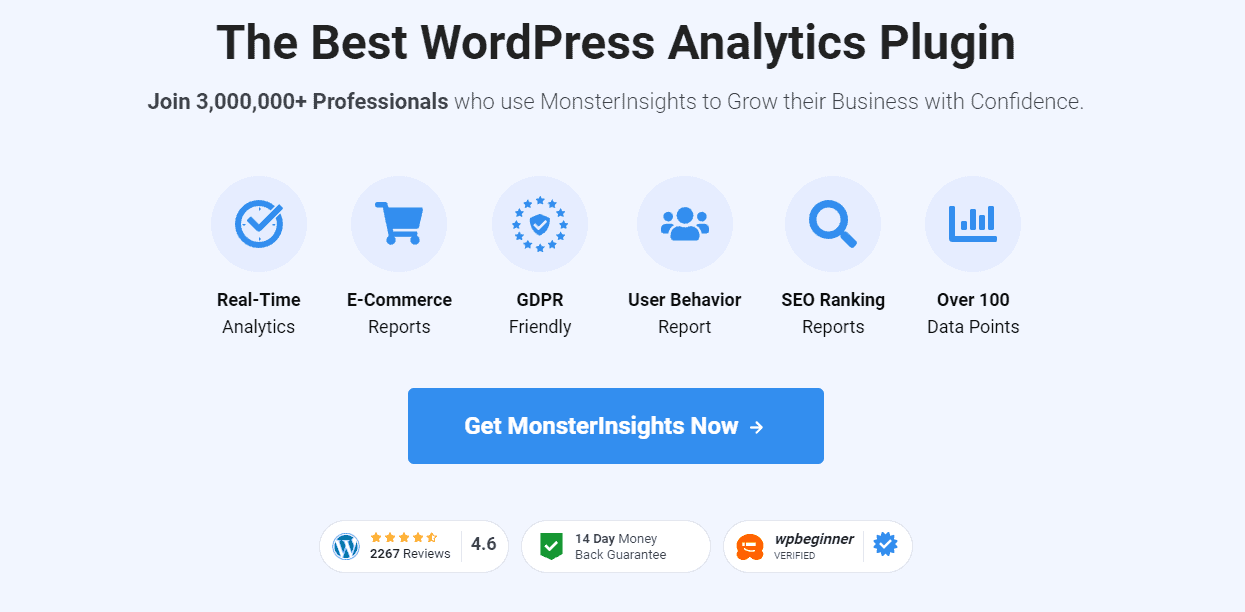 This plugin, which has Google Analytics integration, lets you create an eCommerce report that gives you insight into your store's best-selling products, top conversion sources, the time it takes your customers to make a purchase, the keywords your customers use to find your products, and even the country your customers are from.
#9. FooBar for announcement and call-to-action bars
FooBar is a professional notification bar plugin that lets you display customizable announcement and call-to-action bars on your WooCommerce site.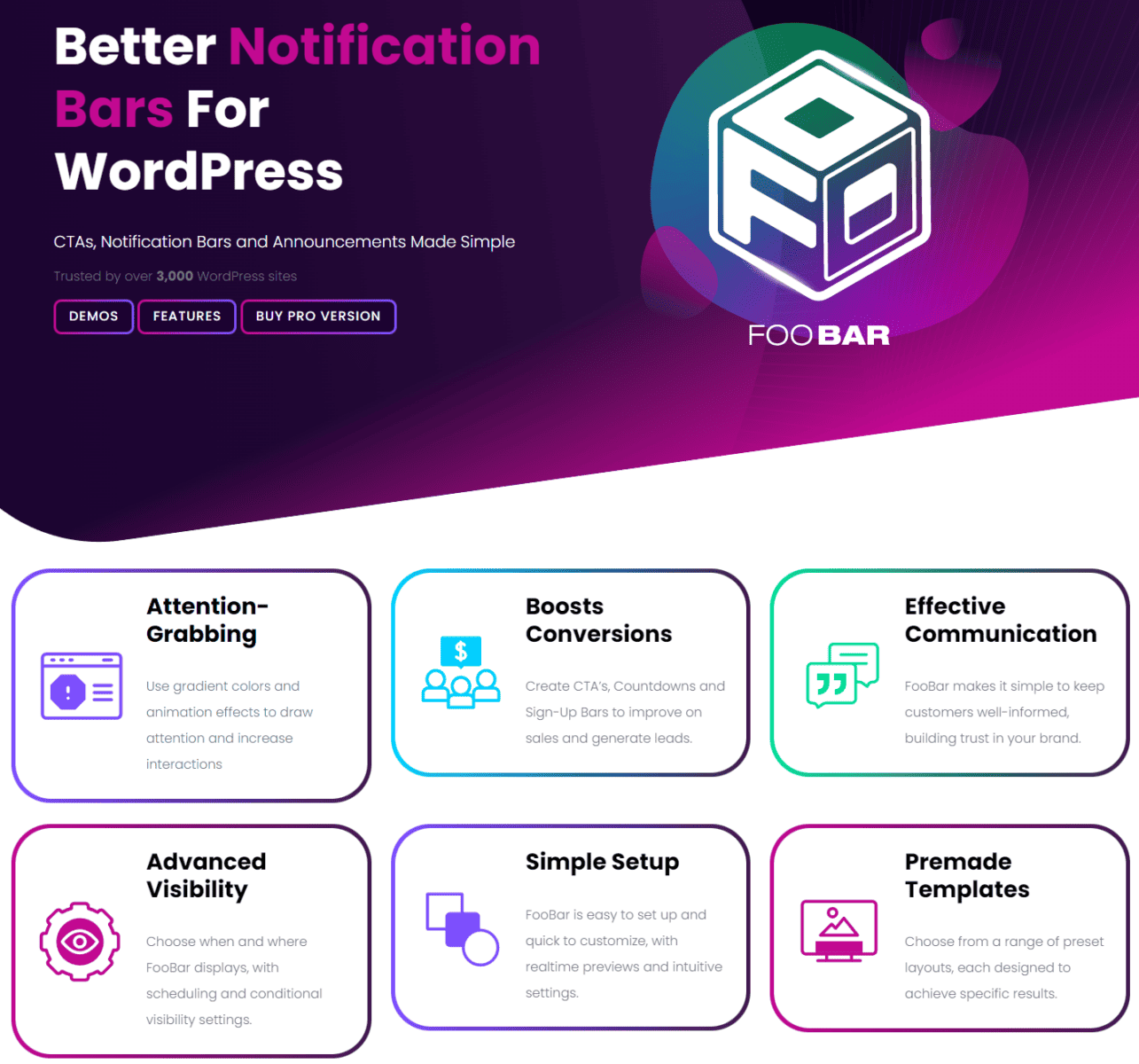 You can create many types of bars including notification bars, call-to-action bars, cookie notices bars, countdown bars, sign-up messages, click-to-tweet notifications, and WooCommerce free shipping notifications.
With over 12 different notification bar positions to choose from, the options for customizing the shopping experience of your online store are limitless. You can easily grab the attention of your site visitors and let them know about important announcements.
#10. AffiliateWP for affiliate management
It's pretty obvious that if you want to sell more products, you'll have to increase their visibility. One way to do this is to showcase them on other websites through affiliate marketing.
This not only increases the chances of other people discovering your products but also helps boost sales and revenue for your business. Even though you have to pay a commission on every sale generated, it's well worth it and helps with the long-term growth of your brand.
One of the best plugins for affiliate management on WooCommerce is the AffiliateWP plugin.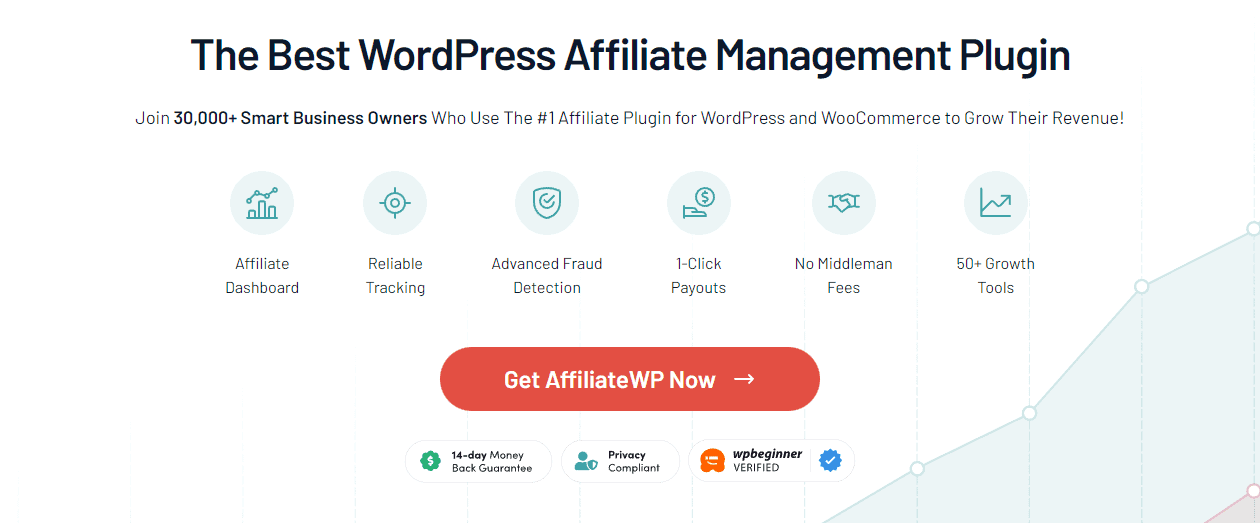 It uses an intuitive affiliate dashboard that makes it easier to manage everything including the total revenue generated, conversion rate, link visits, and unpaid affiliate earnings. This makes it easier to manage affiliates for your brand and helps create effective affiliate marketing strategies.
#11. WP WooCommerce Gift Cards
The WP WooCommerce Gift Cards plugin is a WooCommerce plugin that lets you sell virtual and physical gift cards on your online store.

This plugin offers a wide range of features for advanced coupons, such as the ability to set custom amounts on gift cards so customers don't end up ordering too many or not enough for the order to be profitable for your business. You can also let customers select when the gift cards will be delivered to them. In addition to this, you can also include QR codes in the gift card email.
#12. Live Chat for helping customers in real time
Live Chat is a full-fledged service where you can outsource live chat support to the company's agents.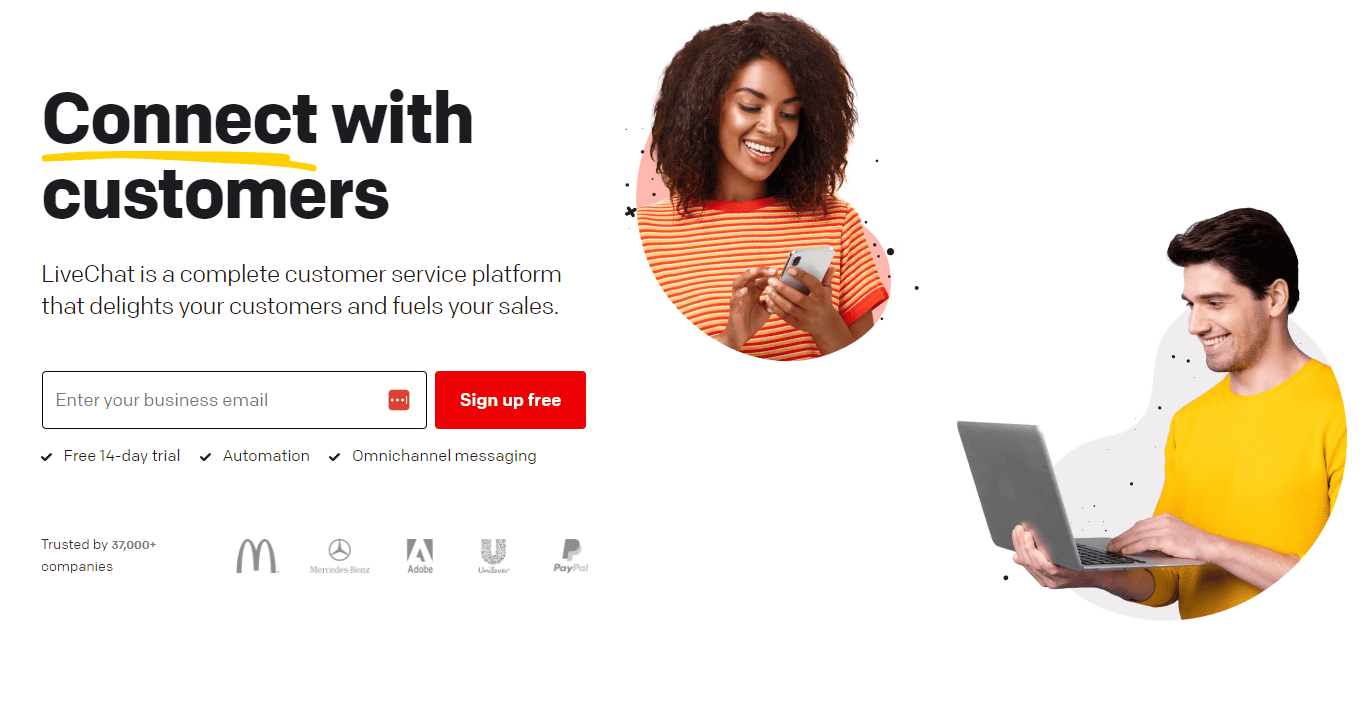 It fully integrates with WooCommerce, so it's possible to outsource your online store's customer service to the agents at Live Chat. This way, if customers have any queries about your products, they will be answered in real-time. This not only improves the shopping experience of your online store but also increases the chances of more users making purchases.
Which WooCommerce plugins should you start with?
As we also mentioned earlier, all plugins in our list serve completely different purposes. However, if you're not sure where to start, we recommended checking out our top 5 selections in depth.
The top 5 plugins in our list cover functionality including:
Check out these plugins if you're looking skyrocket sales on your WooCommerce site!