Easy steps to add a custom product builder in WooCommerce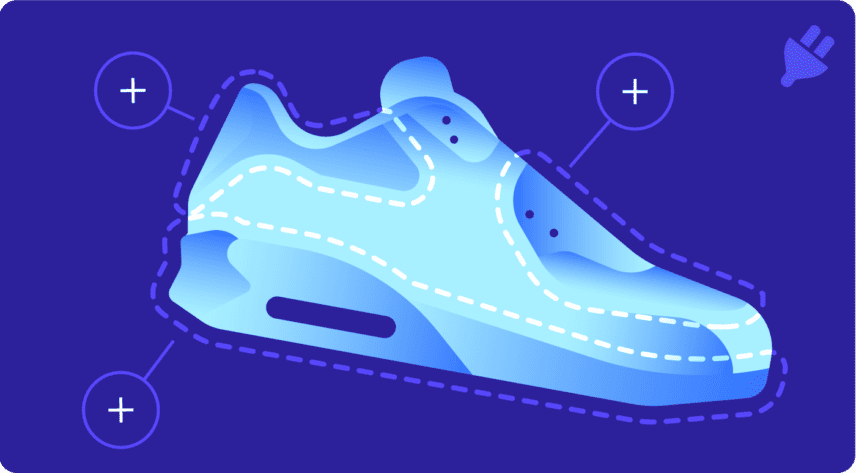 Are you looking to create a unique and individualized shopping experience by allowing your customers to design their own products on your eCommerce platform?
The journey towards a personalized customer experience includes overcoming certain limitations in WooCommerce, especially when it comes to customizing products. While WooCommerce proves to be a powerful eCommerce platform on its own, it lacks built-in capabilities for advanced product customization.
A solid plugin can augment WooCommerce's native utilities, providing additional functionalities such as customizing a distinctive product or crafting a personalized service.
This is where the WooCommerce Product Add-Ons Ultimate plugin comes in.
Seamlessly integrating with your WooCommerce store, it bridges the gap to deliver the comprehensive customization you need.
In this article, we'll guide you step-by-step through the process of integrating the Product Add-Ons Ultimate plugin into your online store. Not only does this plugin supercharge your WooCommerce platform, but it also champions a hand-tailored shopping experience by enabling your customers to design their one-of-a-kind products right from the ground up.
Understanding the need for a product builder plugin in WooCommerce
WooCommerce boasts a dynamic suite of features that breathe life into your online store. It provides an easy-to-navigate platform for product management, payment processing, shipping options, tax calculations, and inventory management.
Despite this, WooCommerce has room to expand when it comes to accommodating intricate product customization. The platform is somewhat constrained in setting complex configurations, creating in-depth product variations, enabling visual product customization, instituting advanced pricing rules, or computational product customization costs.
WooCommerce store owners often grapple with several dilemmas due to these limitations, such as:
The inability to provide personalized product options tailor-made to individual customer preferences.
Challenges with managing custom orders efficiently and ensuring a seamless customer experience.
These pain points can significantly hamper the overall sales and effectiveness of the digital storefront.
Product builder plugins provide a key solution to these challenges,by allowing customers to create their own products from scratch.
The benefits of using a product builder plugin include:
Enhancing customer experience.
Achieving a competitive advantage.
Increasing sales through upselling opportunities.
Streamlining the management of customizable products.
Consumer trends help us understand the rising demand for product personalization. In a study by Deloitte, 50% of consumers expressed a preference for personalized products as a way to create unique gifts. Up to 41% of shoppers opt for tailor-made products to ensure their purchases stand out. Furthermore, 34% are drawn to customization since standard products or services don't always meet their needs.
Introducing WooCommerce Product Add-Ons Ultimate
If limitations in WooCommerce are causing headaches and hindering your ability to customize and adapt your store to your needs, then meet WooCommerce Product Add-Ons Ultimate, your new solution for overcoming these hurdles.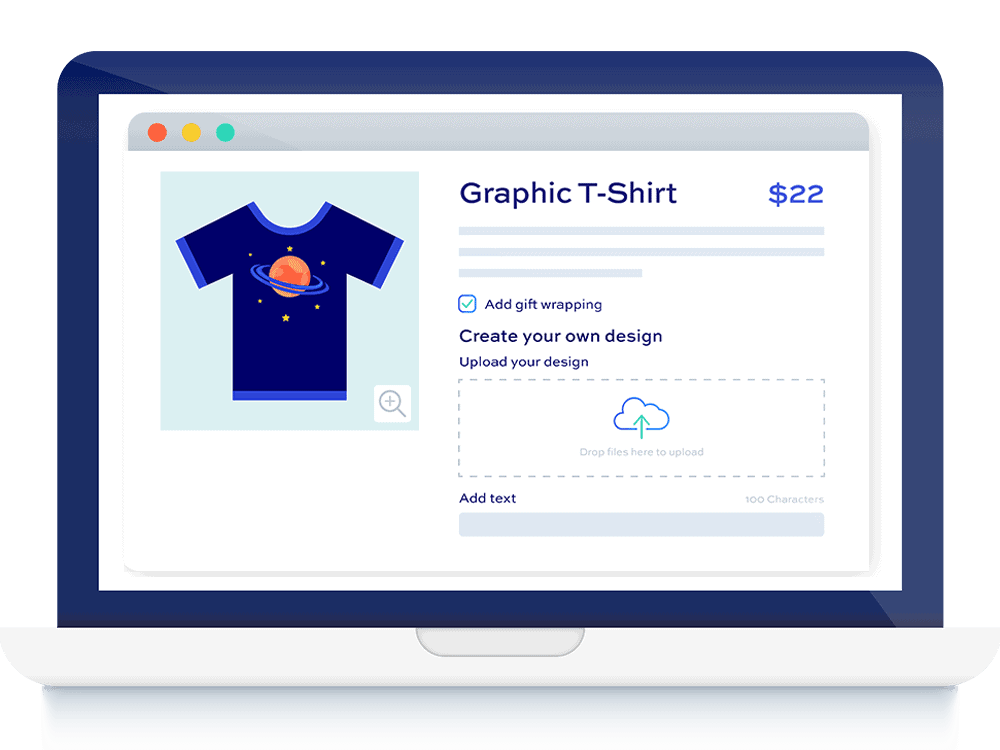 Personalise products with extra fields and custom options
This resilient plugin fills the gap between WooCommerce's basic offerings and your store's unique needs, delivering a range of flexibility and customization options right at your fingertips.
Key features of WooCommerce Product Add-Ons Ultimate
Product personalization: The plugin lets customers personalize products by adding extra fields and custom options to product pages. This enriches the shopping experience for your customers while giving you complete control over your product configurations.
Add unlimited customization fields: You can add any number of extra fields like text boxes, dropdowns, and checkboxes.
Support for conditional logic: To make a specific option appear only under a certain circumstance, you can enable conditional logic for dynamic field display using this plugin.
Custom pricing options: You can set custom prices for every add-on field or option, and even allow customers to upload a file for customization.
User-friendly interface: Despite the rich feature set offered by this plugin, you'd be surprised at how easy it is to master. Built with simplicity and functionality, WooCommerce Product Add-Ons Ultimate features a user-friendly interface, suitable for users of all experience levels. All you have to do is navigate to your WordPress backend and select the product you want to edit to add extra customization options.
Wondering how this could apply to your business?
Let's create a scenario; say you're running a bespoke gift service, where each order is unique and calls for numerous custom options. Or perhaps you're managing a subscription box service and need an efficient way of allowing customers to select their own products.
In both these scenarios, this plugin will prove to be a game-changer, saving you time, reducing complications, and offering your customers a personalized shopping experience.
By leveraging the personalization tools offered by WooCommerce Product Add-Ons Ultimate, online store owners can sail past the limitations of WooCommerce's default customization options, creating a store that truly reflects their vision and serves their specific needs.
Ready to explore some more? Let's take a look at the plugin's setup process step-by-step and help you harness its potential to take your WooCommerce store to the next level.
How to implement WooCommerce Product Add-Ons Ultimate on your WooCommerce store?
1. Initial setup
Getting started with WooCommerce Product Add-Ons Ultimate is as easy as pie.
Purchase the WooCommerce Product Add-Ons Ultimate plugin from the Plugin Republic website. The plugin has two pricing plans – Basic and Pro. While the Basic plan offers all the essential customization fields you need to get started, we recommend opting for the Pro plan if you truly want to leverage the full potential of product customization.
After purchasing, check your email for a download link and license key.
Download the plugin's .zip file to your computer and remember where you saved it.
In your WordPress dashboard, navigate to Plugins > Add New > Upload Plugin.
Upload the .zip file by either dragging it or selecting it from your computer.
Click Install Now and then Activate (ensure WooCommerce is also activated).
Go to WooCommerce > Settings > Product Add-Ons > Licence and enter your license key. Click Activate this license.

2. How to add image swatch fields
This feature is available in the Pro version of the plugin, facilitating a more vibrant product customization.
Select Image Swatch from the Field Type dropdown.
Customize options for each swatch.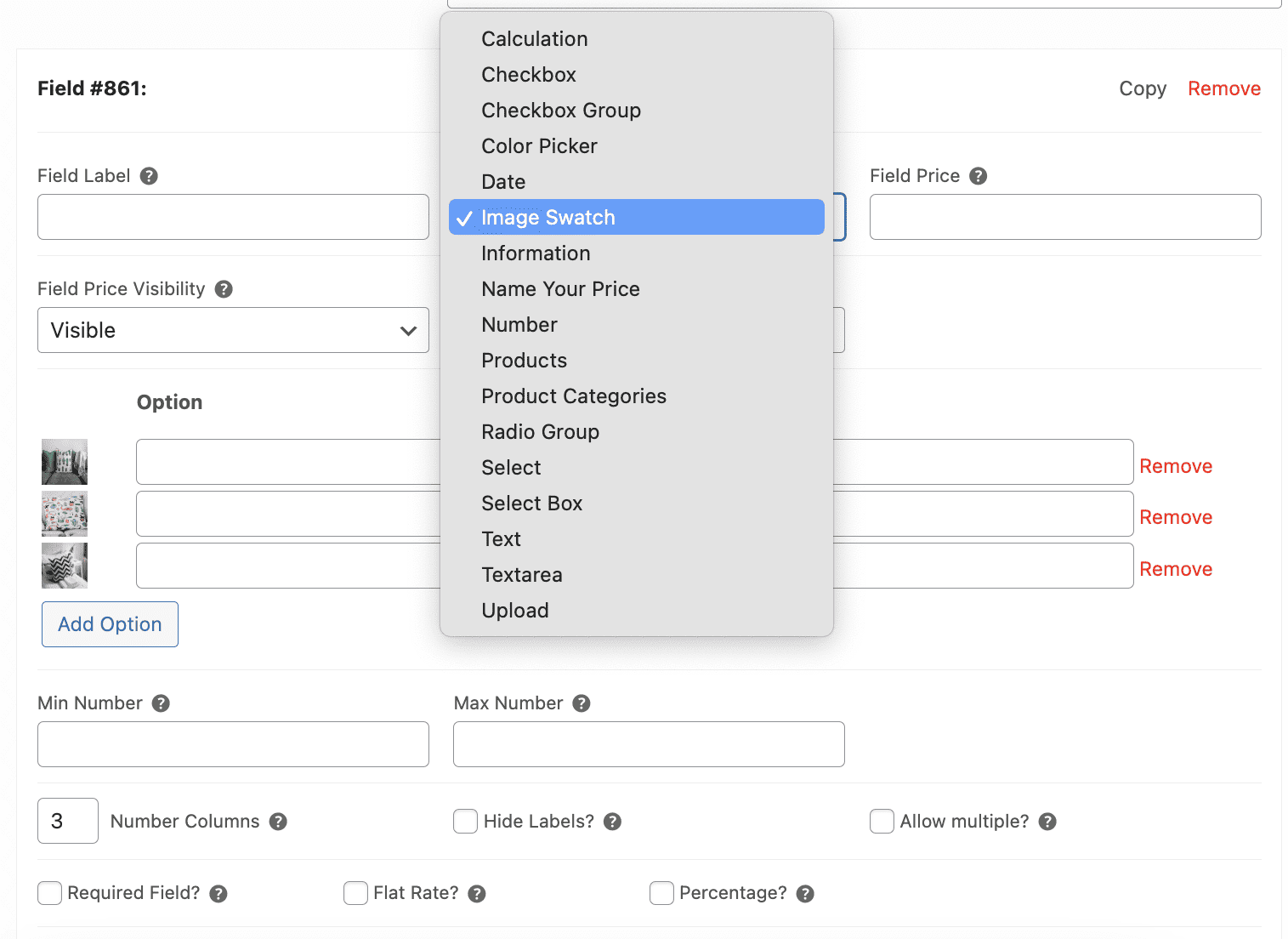 Define the number of columns for the swatches display.
Hide labels to show only images.
Allow multiple selections if needed.
Set minimum and maximum swatch choices, considering the Required Field? checkbox if you want to mandate the customer to enter a value. Note that minimum and maximum settings apply when Allow multiple is enabled, and validation occurs when users click Add to cart.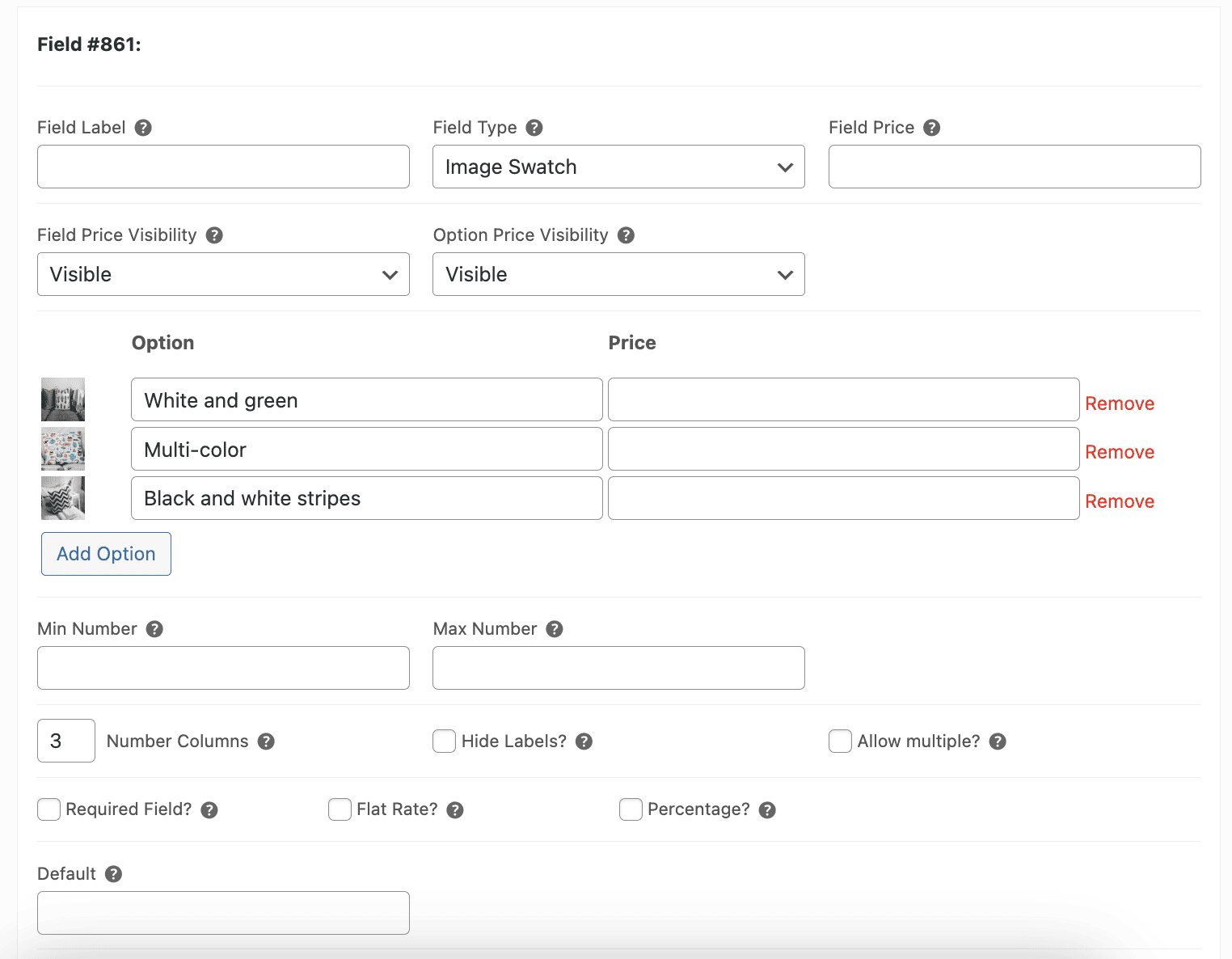 With image swatches, you're not just amplifying product customization but also dramatically enhancing the aesthetic decor of your product lineup. This feeds into an upgraded shopping experience – an informed buying decision from your customer that not only fulfills their needs but also leaves them feeling satisfied.
3. How to add radio group fields
Adding radio group fields to your WooCommerce store is an easy and straightforward task.
Choose Radio Group from the Field Type dropdown.
Customize options for each radio group.
Define option names and, if needed, assign prices.
If specifying a minimum or maximum selection, check the Required Field? for enforcement.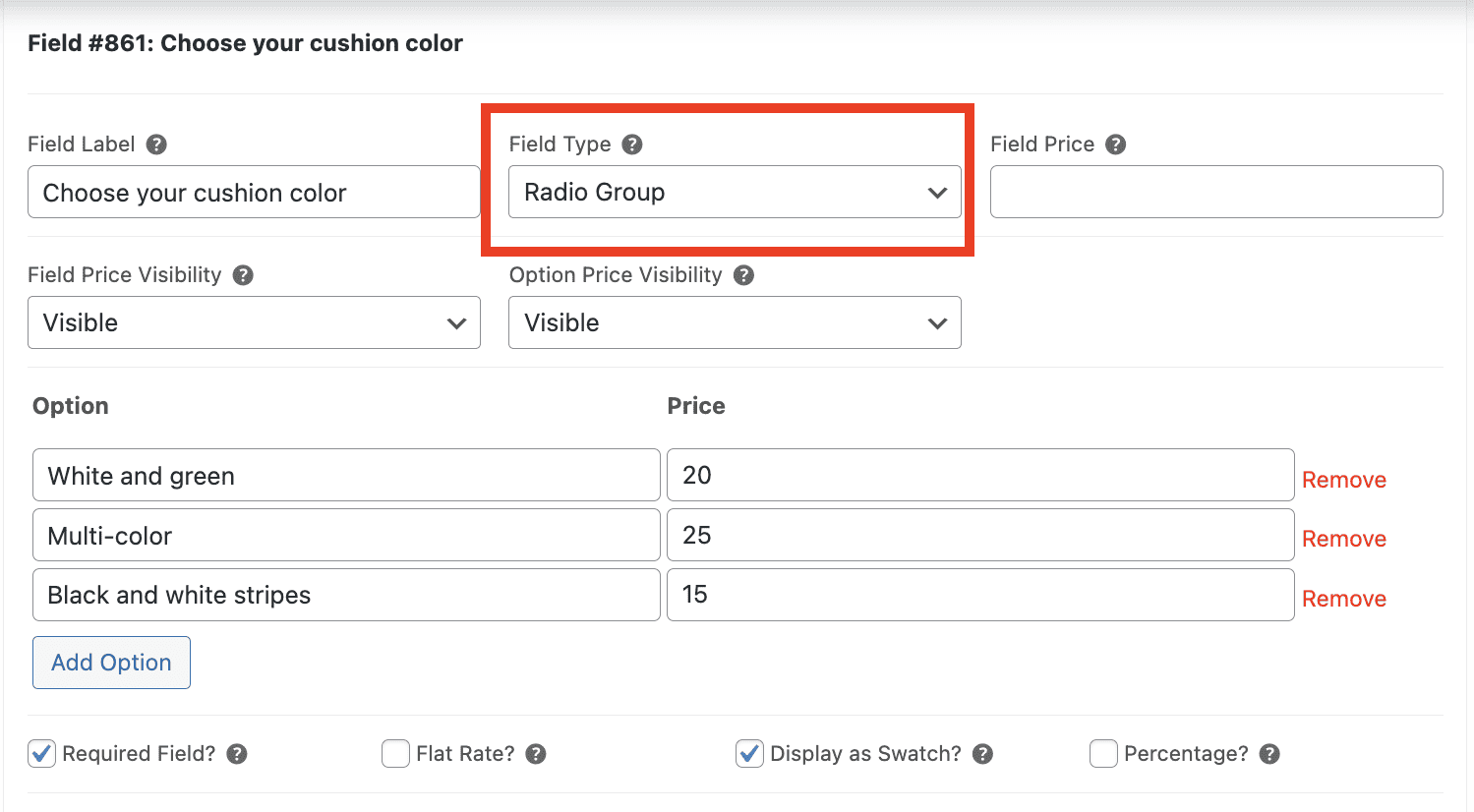 Capitalizing on radio group fields in product customization fetches numerous benefits.
They provide a simple yet efficient way to present clear, mutually exclusive options to your customers, making it a perfect choice for product variants or customization options.
Its compact design saves screen space and reduces checkout errors by providing a defined set of options for customers to choose from.
Showcasing the prices for each option enriches pricing transparency, leading to more informed and efficient decision-making from your customers. This clarity doesn't just create upselling opportunities but also enhances your customer's shopping experience, potentially reflecting positively on the revenue of your WooCommerce store.
4. How to create text swatches
Minor changes, like adding text swatches, can elevate your product customization and significantly improve the user experience.
Determine if users should select one or multiple options per field.
For single-option selection, refer to the instructions above for creating a Radio Group field.
For multiple-option selection (available in the Pro version), select Checkbox Group as the field type.
In the field settings, activate the Display as Swatch option.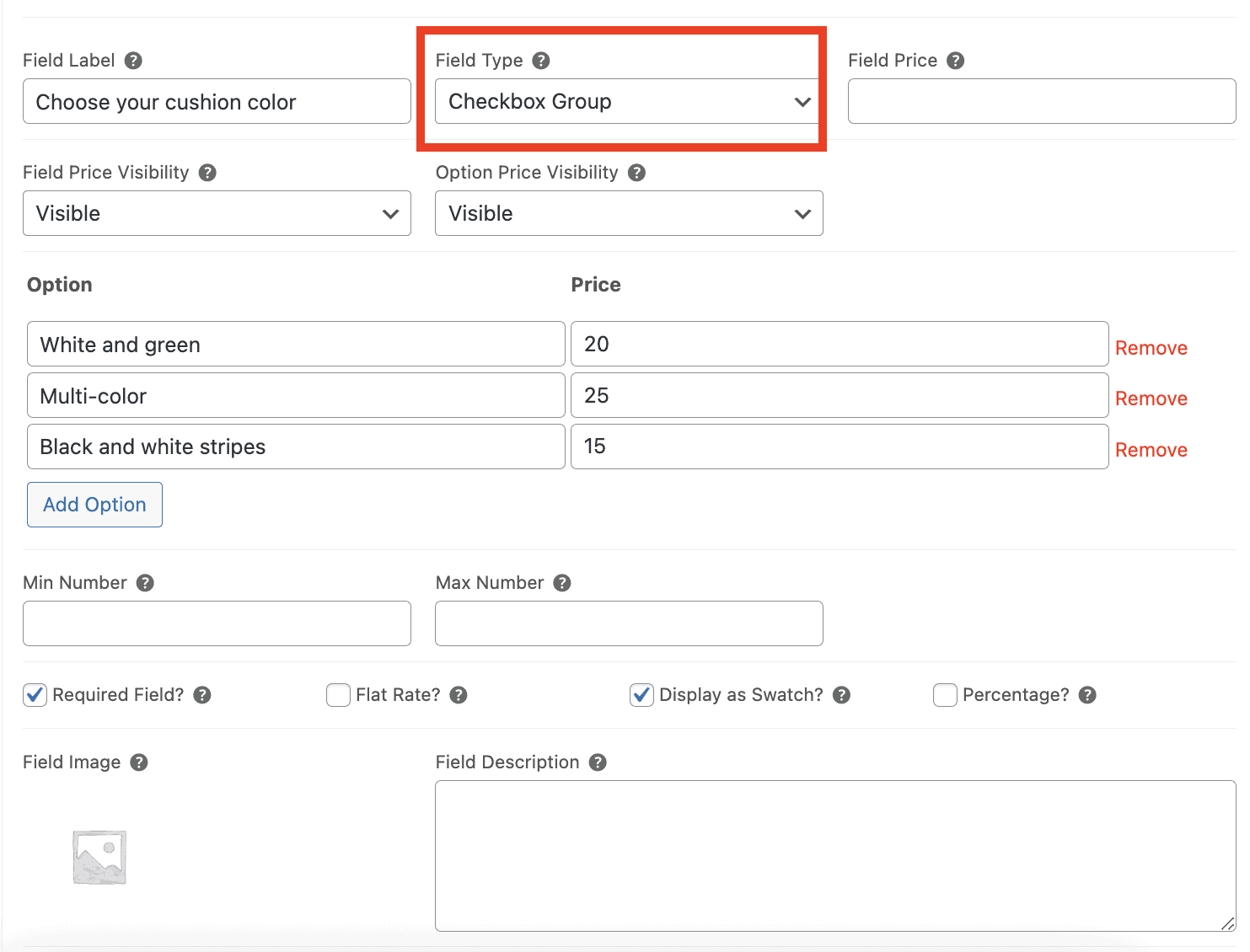 The integration of the text swatch format in your WooCommerce product customization offers several benefits:
Stylish, clear option presentation: Text swatches offer an appealing alternative to traditional option displays.
User-friendly design: Easy-to-select button-like options ensure a smooth user experience.
Adaptable for various needs: Text swatches can cater to both single and multiple selection settings.
Space efficiency: Offering numerous options in a compact visual format, text swatches save valuable screen space.
The versatility of text swatches means that they can be applied in a variety of real-world situations:
Selecting color, size, or material for apparel and furniture items.
Adding a personal touch, such as a monogram or custom text to the product.
Defining detailed configuration options for tech gadgets.
Choosing flavors for consumable products.
Displaying product accessories or add-ons available for purchase.
Inputting personalized messages for cards and jewelry.
Text swatches prove to be a valuable addition to your product pages. These visually engaging, user-friendly, and space-efficient option displays greatly advance your product's appeal and customization flexibility.
5. Enabling file uploads
If you're striving for higher levels of customization in your WooCommerce store, file upload fields could be just the feature you need. They streamline the ordering process by giving customers the liberty to upload their custom product images, assure precision, and enforce customization, which results in a versatile product offering.
To enable file uploads for products
Access the product's edit page or create a new product in WooCommerce.
Navigate to Products > Add New > Product Add-Ons tab.
Click Add Group > Add Field to add a new field.
Choose Upload as the field type, set a custom label, and consider marking it as required.
Publish or update the product.

For bulk file uploads
Enable multiple uploads by checking the Allow multiple uploads? option or specifying the maximum number of files.
Alternatively, display multiple upload fields for various uploads as needed.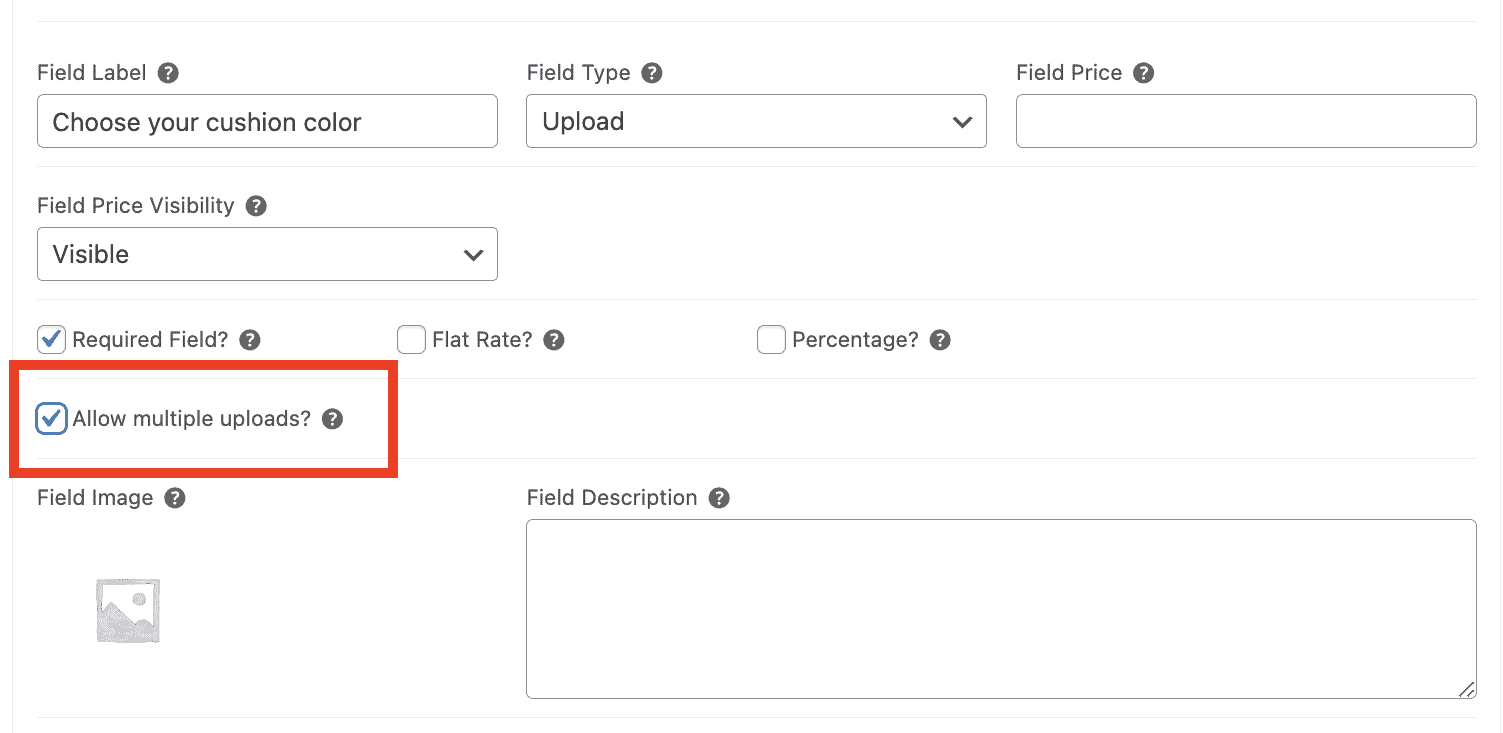 To charge for file uploads
Set a price in the Field Price field and consider making it conditional.
Customers can opt for custom uploads for a fee, which dynamically adjusts the product's final price.
The addition of upload fields introduces numerous benefits that directly contribute to your business's success. For instance, businesses centered around print-on-demand services can permit customers to upload their custom designs.
Take your WooCommerce store to the next level with WooCommerce Product Add-Ons Ultimate
Personalized product offerings have transitioned from being a luxury to a necessity. Unfortunately, WooCommerce's native capabilities often fall short of providing the level of product customization modern online consumers desire.
Hence the need for an efficient product builder plugin!
We've discussed the benefits and features of one such impressive tool: the WooCommerce Product Add-Ons Ultimate plugin. Functioning as a comprehensive solution, this plugin unfurls an array of features, starting from effortless customization and efficient time-saving operations, to the offering of an intuitive, user-friendly interface.
The plugin's versatile upload feature makes it an excellent choice for print-on-demand services. Its personalized subscriptions stand out as a unique feature, benefiting businesses that offer custom box services. Dealing with complex pricing structures is also no longer a daunting task – the plugin offers the ability to assign costs per field or option, rendering it a perfect fit for such scenarios.
With such robust features, online store owners can more effectively address the challenges of product customization. This can advance user experience, turning potential customers into satisfied, regular shoppers, and drawing in sales boosting revenue figures substantially.
So, if you want to unlock a world of endless customization possibilities in your WooCommerce store, consider introducing this nifty plugin to your storefront.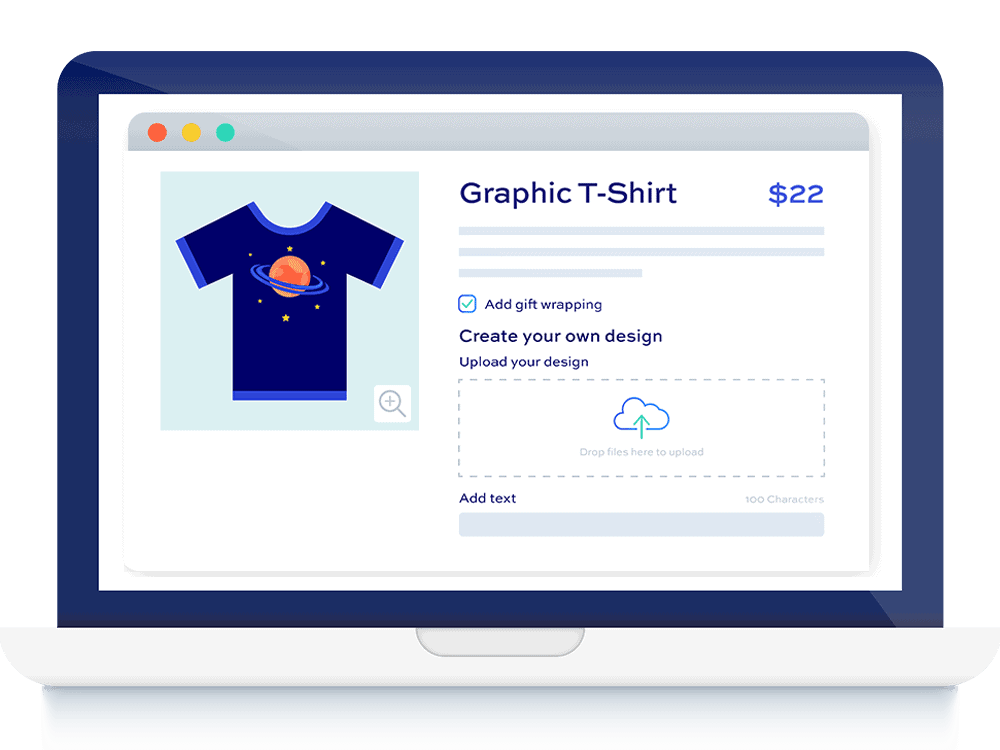 Personalise products with extra fields and custom options
Get WooCommrce Product Add-Ons Ultimate and take your eCommerce business to the pinnacle of personalized products today!