Version 2.2.0 of Product Extras for WooCommerce adds a major new feature, the child products field, which gives you the ability to specify other products as addons to a product. This means that your customers can now add multiple products to their cart from a single product page.
Version 2.2.0 is due to be released November 1.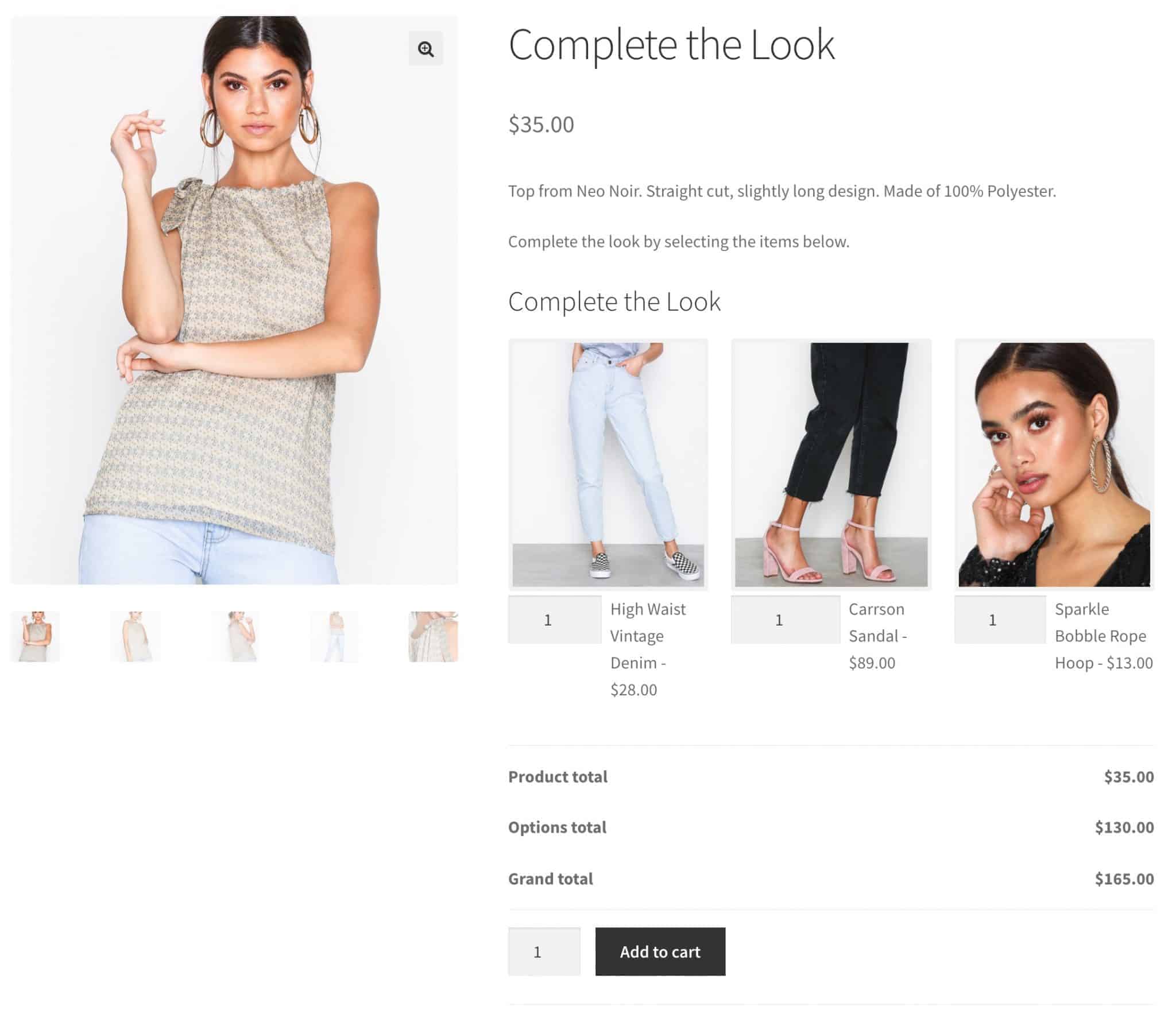 WooCommerce child products field
Product Extras continues to allow you to include form fields in your WooCommerce products, like text fields, date fields, dropdowns, checkboxes and radio buttons, but now you can also include 'child' products as addons within your 'parent' product.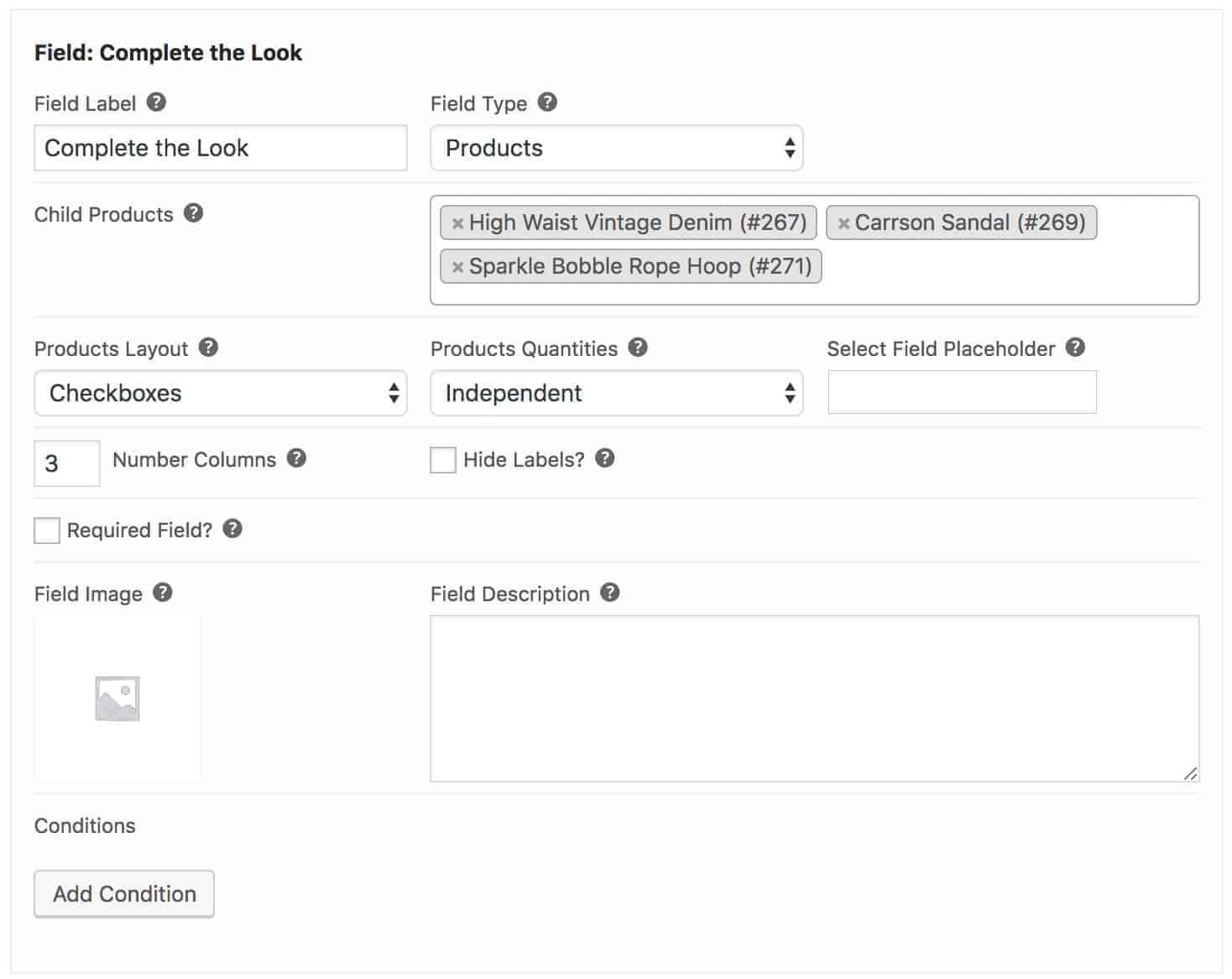 Why is the child products field so powerful?
By specifying products as addons, you can:
Increase profitability by making it easier for your customers to purchase more items. It's far more powerful than standard WooCommerce upsells and cross-sells because the customer can add the extra products to the cart direct from the parent product page rather than having to click through to another product page.
Track inventory for addon items: when a customer adds a child product to the cart as an addon to the parent product, your stock figures will be adjusted correctly. If an item is out of stock, Product Extras will disable it as an addon – so you don't have to worry about manually managing stock.
Calculate shipping rates correctly: because you're using actual products, WooCommerce is able to calculate shipping correctly by using the addon products' weight and size.
Features
Child products can be standard products, available elsewhere on your site, or they can be hidden, meaning that you can create specific products just to use as addons.
Layout
You have three layout options: checkboxes, radio and select:
Checkboxes let you add one or more child products as an addon field. The customer can select multiple child products within the field that will get added to the cart.
Radio buttons allow you to add one or more child products as an addon field, just like the checkboxes layout, though in the case of radio buttons the customer can only select one child product from the field.
Select lets you add your child products as a dropdown field.
When you use the checkboxes or radio layouts, Product Extras will pull through the product image, name and price. When you use select, Product Extras will only display the product name and price.
With checkboxes and radio layouts, you can specify the number of columns to display your child products in. With select, you can enter some placeholder text to act as an instruction within the select field itself.
Quantities
You have three options for specifying quantities:
Independent: when you specify a product addon field's quantity as independent, the customer will be able to purchase as many of the child product as they wish, regardless of how many of the parent product they've chosen
Linked: when you specify the quantity as linked, the quantity of the child product added to the cart will always be the same as the quantity of the parent product
One-only: when you specify the quantity as one-only, then only one child product can be added to the cart, regardless of how many of the parent product has been added
Example use cases
The child products field is the perfect way to allow your customers to:
Build customised products
Create any kind of build your own product
Add multiple products to the cart from one page
Here are some example use cases:
Custom computers
If you'd like to be able to allow your customers to assemble their own spec, you can create a parent product then add your graphics cards, processors, screens, keyboards, etc as child products.
Skateboards
Skateboards are a popular online customisable product. You can easily allow your customers to build their own board by creating a parent product with multiple child products for the deck, trucks, wheels, decals, and any other option you'd like to include.
Gift Boxes
From food hampers to beauty products, gift boxes are the archetypal customisable product. You can use standard extra fields like dropdowns to specify things like the box size and wrapping, then add child product fields for the contents of the box.
See an example of a gift box using child products here.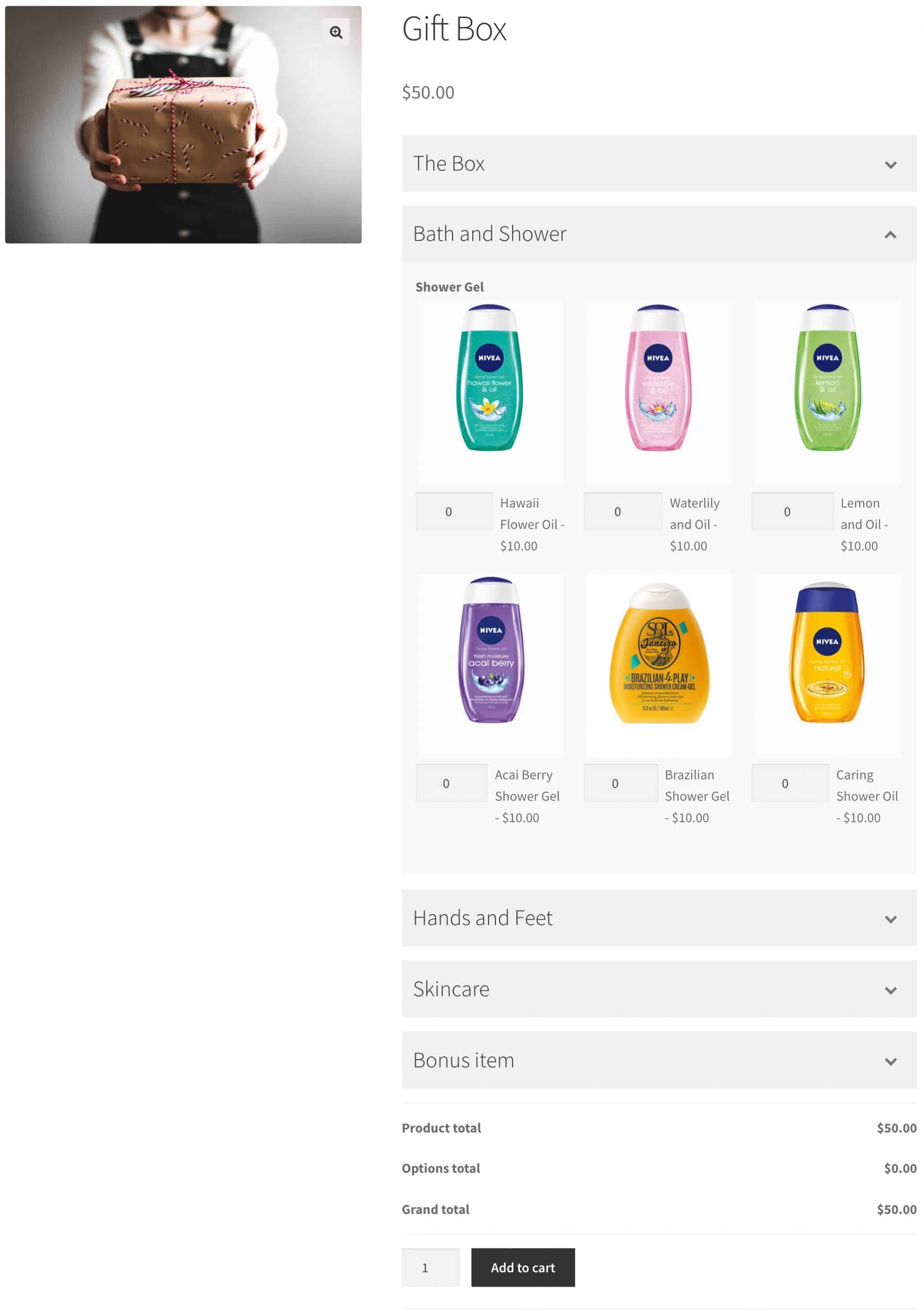 In the example above, the Gift Box is a single product that uses several child product fields. The customer can add multiple products from each field. Each product is a standalone product in its own right so you can track inventory and be certain that the shipping rates are calculated correctly.
Complete the Look
'Complete the look' or 'shop the look' are used to encourage your customers to make additional purchases, often by fashion and clothing retailers. For example, in your product image for a shirt, the model may also be wearing jeans, shoes and jewelry that is available elsewhere on your site. Using the child products field, you can offer these additional items for sale direct from one product page.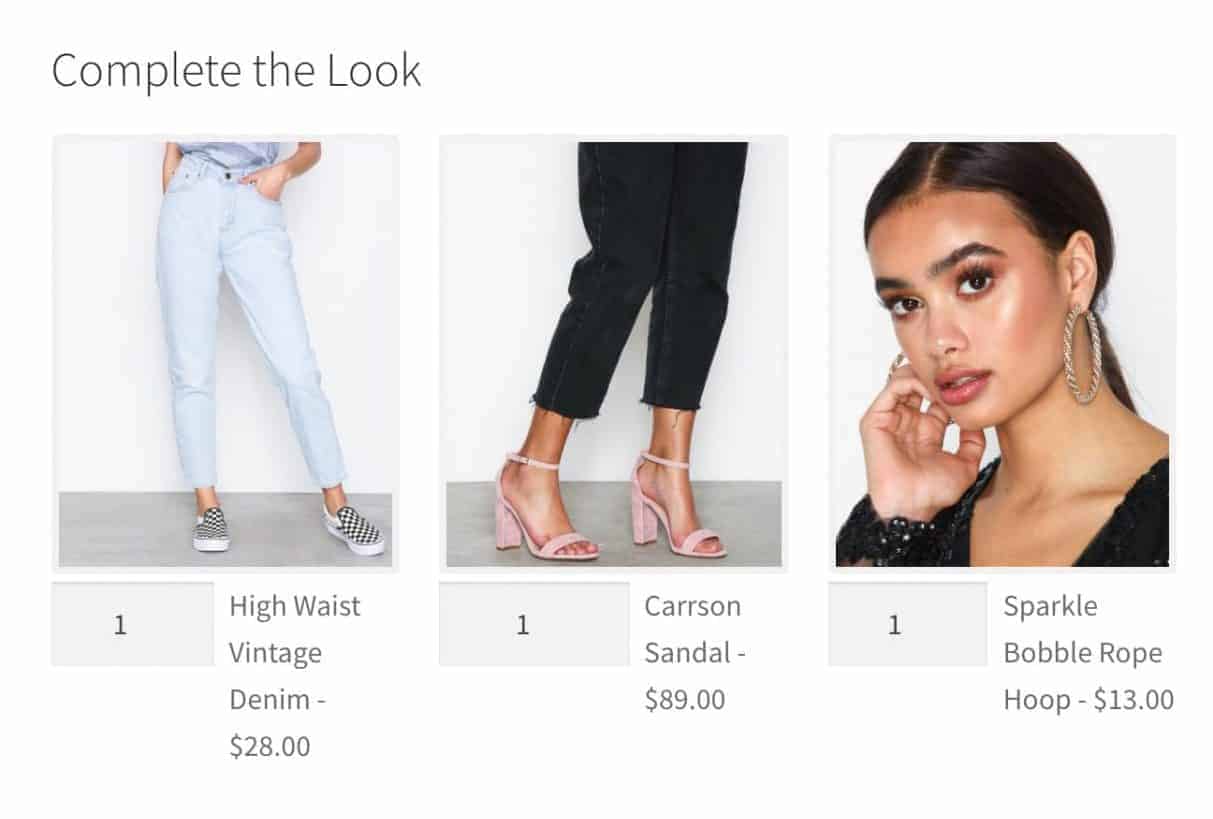 See an example of shop the look using child products here.
Takeaway menus
You can easily create a takeaway menu in WooCommerce using the child products field. Create each of your meal options as products, e.g. all starters, mains, salads, sides, etc, then create a product for the takeaway menu itself. Add each meal option as a child product so that you customer can easily choose their entire menu from one page.
What are the other features in Product Extras 2.2.0?
The child products field is the biggest new feature in 2.2.0 but there are other significant new features, fixes and updates including:
Tooltips on all fields to help you when you're setting up your products
Improved layout and UX in the admin
Prices for extra fields now respect your store's tax setting so will either display including or excluding tax, depending on your store's setting. You can continue to use the existing method by selecting the 'Ignore tax setting' option in WooCommerce > Settings > Product Extras
Haven't bought it yet?
If you haven't bought your copy of Product Extras for WooCommerce yet, just click on the image below: