You can now sync between Airbnb, Booking.com, VRBO, and other third party booking sites which use the ical calendar format. You can even sync between two or more WooCommerce sites.
Syncing is two-way – meaning that when a user makes a reservation on an external site like Airbnb, your WooCommerce site will update availability and if a user makes a reservation on your WooCommerce site, your Airbnb site will also update its availability.
Remember that most external sites like Airbnb only sync at certain intervals, e.g. every two hours, so you may wish to manually sync if you see an order go through on your WooCommerce site. Please see the relevant service's own guidance for full details of how to do this. You'll find links to guidance for the most popular sites at the bottom of this article.
How to set up calendar syncs
Go to WooCommerce > Settings > Bookings > External. Enable the 'Auto-sync calendars' option and enter a value in the 'Sync interval' field. This value is the number of minutes between each sync. The minimum value is 30. Note that if you have a high number of calendars to sync, there's a potential performance issue on your site if you sync too often.
Next, go to the Product that you wish to sync. On the Booking tab in the Product data section click the menu item for 'External calendars'.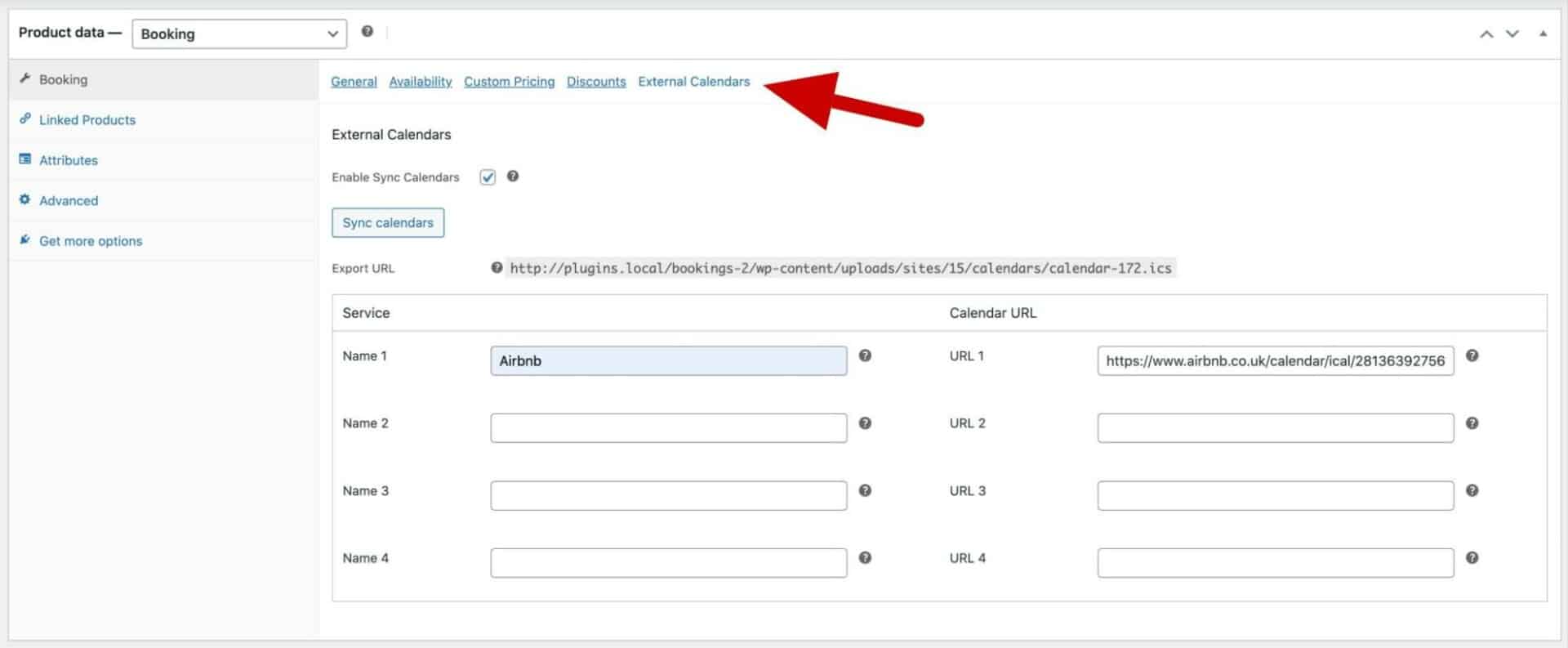 Check the 'Enable sync calendars' option.
In the table, enter the name of your external service, e.g. Airbnb, and the calendar URL from that site. There's guidance on how to obtain this URL below. You can sync up to four calendars with external services.
Save your product.
You can now copy the URL in the 'Export URL' field and enter that into the correct place in your external site's settings – guidance below.
How to get your calendar URL from external sites
Use the links below for guidance on syncing with the most popular booking sites.
Airbnb – https://www.airbnb.co.uk/help/article/99
Booking.com – https://partner.booking.com/en-gb/help/rates-availability/extranet-calendar/syncing-your-bookingcom-calendar-third-party-calendars
VRBO – https://help.vrbo.com/articles/How-do-I-import-my-iCal-or-Google-calendar