Plugin Features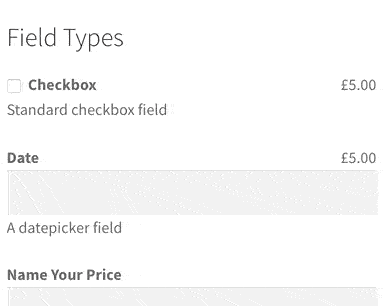 Add option fields to WooCommerce products
Add extra option fields to product pages, including checkboxes, datepickers, file uploads, text inputs, number inputs, radio groups, select / dropdowns and Name Your Price fields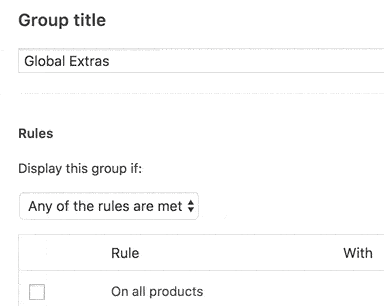 Add fields globally or per product
Product Extras makes it easy for you, especially if you've got hundreds of products because you can add extras to individual products or globally.
When you're adding fields globally, you can specify conditional rules for which products display a field: either all products, by product ID, or by category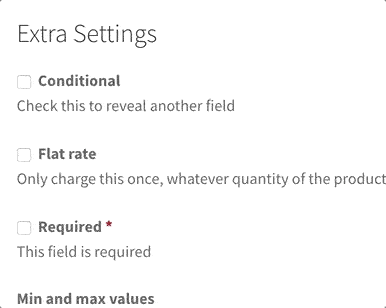 Conditional logic
Show or hide options with conditional logic. For example, you can choose to display a field only if another field has been selected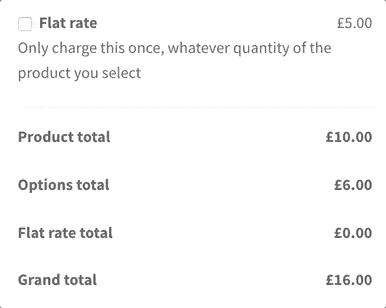 Apply the cost of options by quantity or just once
Product Extra's flat rate option lets you choose to apply the cost of field once only, whatever quantity the customer selects, or to multiply the cost of the field by the quantity.
You can even choose to set fields that are only applied once per order, not just once per product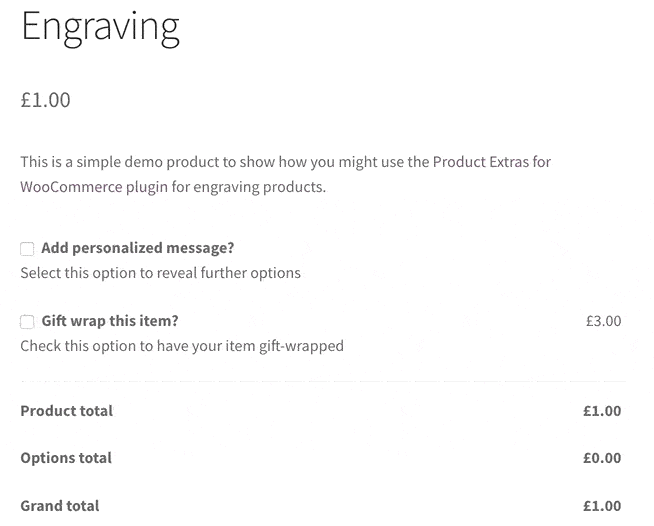 Let customers personalise products
You can use Product Extras for all kinds of product personalisation and customisation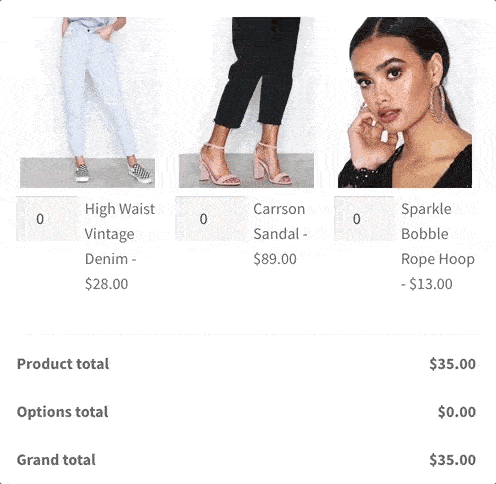 Child products (Pro)
Use products as addons to other products, so customers can add multiple products to their cart from one page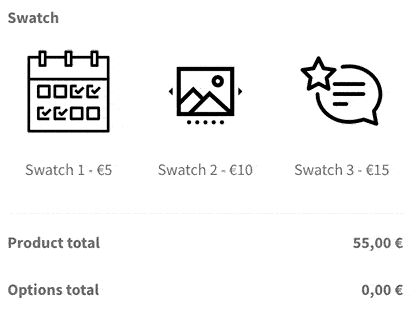 Image swatches (Pro)
A picture is worth a thousand words. Product Extras Pro allows you to upload images to accompany your radio buttons or checkbox groups to let your customers see what options they are adding.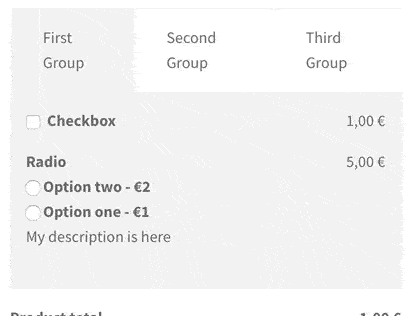 Group toggles and tabs (Pro)
Product Extras let you add an unlimited number of fields and organise them into groups. With the Pro version you can keep your groups neat and arrange them into Accordions or Tabs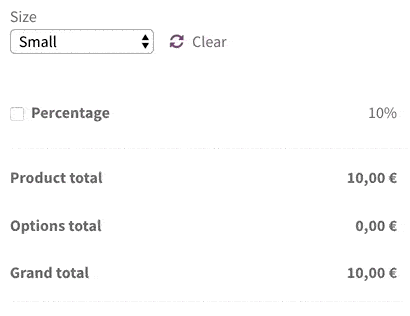 Percentage-based pricing (Pro)
Percentage based pricing lets you set the value of an option as a percentage of the product price. This works especially well with variations when each variation has a different price.
Percentage based pricing allows you to charge for extras according to the value of the product and its variations.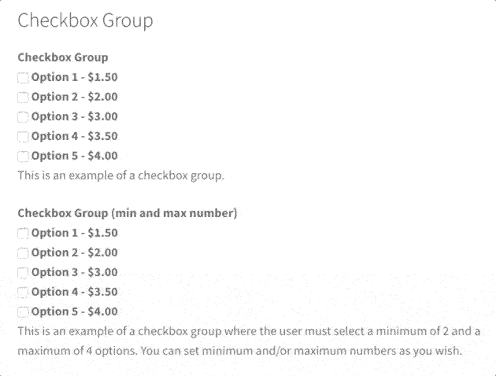 Checkbox groups (Pro)
Create groups of checkboxes and specify the minimum and/or maximum number of checkboxes that the user should select
Customer Reviews
I'm loving using Product Extras, to implement a gift economy store. I've needed support a couple of times, and Gareth has been fabulous - very quick to respond, and at one stage even logged in to my site and fixed it up for me. Thanks Gareth :)
Product Extras is an awesome plugin! It's easy to use and the support is great. Adding fields to WooCommerce products has never been easier.
About Product Extras
Product Extras is a WooCommerce product addons plugin which allows your customers to customise your products. You can add extra options to your products like text boxes, dropdowns, checkboxes and radio buttons - and you can add as many additional fields as you like, giving you and your customers fine-grained control over configuring products.
Every field can be assigned a price, which either adds or even subtracts from the original product price, so you can charge your customers extra for personalisations. This allows you to add value to each of your products and increase your profitability.
Certain fields, like dropdowns and radio buttons, can have different prices associated with each option.
Add extra input fields to WooCommerce products
Add prices to options
Set negative prices on options (to remove cost from the overall product price)
Add images with each field
Set options as required
Duplicate groups and fields as required
Add extra fields to simple and variable products
Set options globally or per product
Apply conditional logic to show or hide fields
Charge per character in text fields
Define a number of free characters before per character pricing applies
Use other products as your extra fields (Pro only)
Only allow alphanumeric characters in text fields (Pro only)
Only charge for alphanumeric characters in text fields (Pro only)
Supports WooCommerce Subscriptions
Supports WooCommerce Print Invoices/Packing Lists plugin
Export to CSV
Integrated with the Customizer
Developer friendly
Why choose Plugin Republic?
What custom fields can you add to your WooCommerce products?
FAQs
What are the differences between the Basic and Pro licences?
The Basic licence entitles you to updates and support for 1 site. The Pro licence entitles you to updates and support for unlimited sites, plus extra features like percentage-based pricing and group accordions and tabs, plus extra fields like Child Products, Checkbox Groups and Image Swatches.
How long is the licence valid for?
Unless otherwise stated, licences are valid for a year. During that time you are entitled to receive free updates and support. Licences will automatically renew unless cancelled.
Will the licence still work if I cancel my subscription?
If you cancel your subscription, you'll still be entitled to free updates and support until the end of the subscription period. After that, the plugin will continue to work but you'll no longer be entitled to updates or support.
Is there a free trial?
I don't offer free trials but all products are backed by a 14 money back guarantee so if the plugin isn't what you wanted, I will issue you with a refund.
Do you offer refunds?
Yes, there's a 14 day money back guarantee so if you purchase the plugin and decide you no longer want it, just drop me a line.
Will this plugin work with my theme?
All my plugins are independent of the theme being used so there shouldn't be any problems. If you do run into any issues, just let me know and I will take a look.