Product Extras is a WooCommerce product addons plugin which allows your customers to customise your products. You can add extra options to your products like text boxes, dropdowns, checkboxes and radio buttons – and you can add as many additional fields as you like, giving you and your customers fine-grained control over configuring products.
Every field can be assigned a price, which either adds or even subtracts from the original product price, so you can charge your customers extra for personalizations. This allows you to add value to each of your products and increase your profitability.
Certain fields, like dropdowns and radio buttons, can have different prices associated with each option.
Let customers personalize your products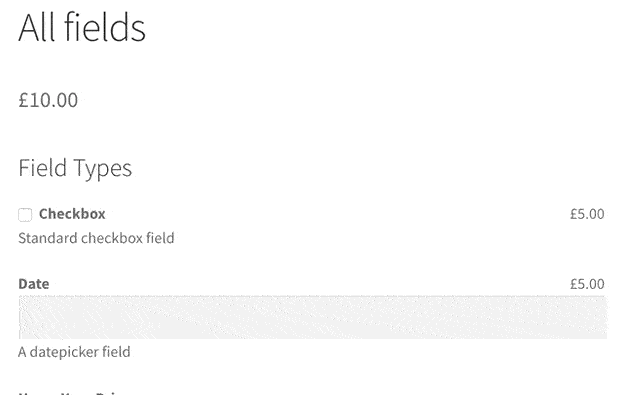 Main features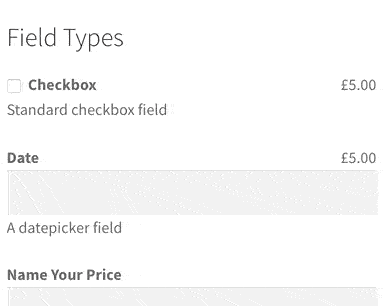 Add option fields to WooCommerce products
Add extra option fields to product pages, including checkboxes, datepickers, file uploads, text inputs, number inputs, radio groups, select / dropdowns and Name Your Price fields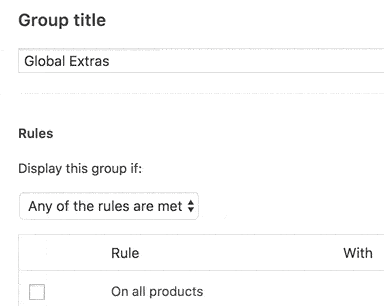 Add option fields globally or per product
Product Extras makes it easy for you, especially if you've got hundreds of products because you can add extras to individual products or globally.
When you're adding fields globally, you can specify conditional rules for which products display a field: either all products, by product ID, or by category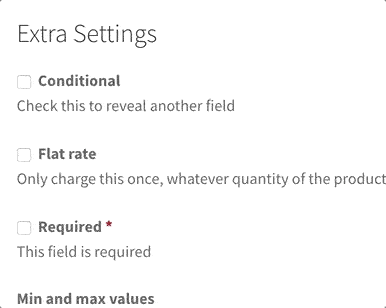 Conditional logic
Show or hide options with conditional logic. For example, you can choose to display a field only if another field has been selected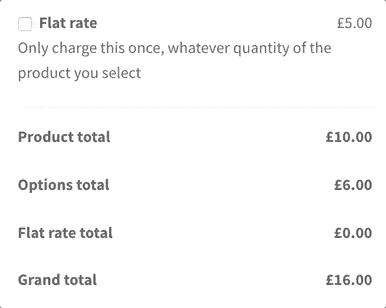 Apply the cost of options by quantity or just once
Product Extra's flat rate option lets you choose to apply the cost of field once only, whatever quantity the customer selects, or to multiply the cost of the field by the quantity.
You can even choose to set fields that are only applied once per order, not just once per product
More features than any other WooCommerce product addons plugin
With Product Extras you can:
Add extra input fields to WooCommerce products
Add prices to options
Set negative prices on options (to remove cost from the overall product price)
Add images with each field
Set options as required
Duplicate groups and fields as required
Add extra fields to simple and variable products
Set options globally or per product
Apply conditional logic to show or hide fields
Charge per character in text fields
Define a number of free characters before per character pricing applies
Use other products as your extra fields (Pro only)
Only allow alphanumeric characters in text fields (Pro only)
Only charge for alphanumeric characters in text fields (Pro only)
Supports WooCommerce Subscriptions
Supports WooCommerce Print Invoices/Packing Lists plugin
What can you use Product Extras for?
You can use Product Extras for WooCommerce to let your clients add custom information to a product, for example:
Adding personalized messages
Uploading images to be printed, e.g. on teeshirts, mugs, etc
Adding gift messages
Adding dedications or engravings for jewelry and other gifts
Gift cards with their recipient's name, a custom message, even a special photo
Greetings cards with customized message and image
Adding gift wrapping option
Adding options to subscription products
Custom menus, e.g. build your own pizza or build your own sandwich products
Fields can be organized into groups: for instance, so, if you would like to allow your customers to create tailor-made greetings cards, you could have a group of options for the front of the card and a group of options for the message inside. Having groups ensures that it's clear for your customers where to enter information.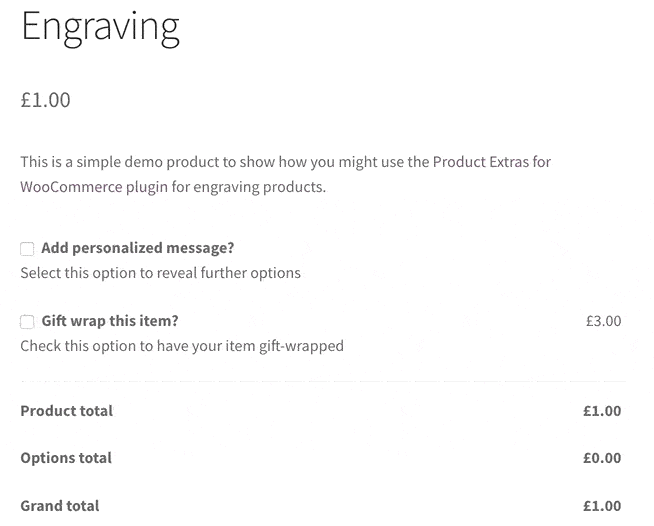 What custom fields can you add to your WooCommerce products?
Product Extras has an extensive number of custom fields to add to your products. You can add as many of these custom product options as you wish to each product. Take a look at a product with examples of all fields here.
Each field has a label or heading and you can specify whether the field is required. You can also add an optional description that will appear under the field, allowing you to provide the user with some further explanation and guidance.
Crucially, you can assign a price to each field. The price will be added to the product total if the field is completed by the customer. Product Extras has a useful feature that allows field prices to be set as flat rate. This means that the field price is only added once to the product price, whatever quantity the customer has set. Find out more about flat rate prices here.
What is the difference between Basic and Pro licences?
The Basic licence entitles you to support and updates for one site.
The Pro licence entitles you to support and updates for an unlimited number of sites. You also get the following additional features.
Pro features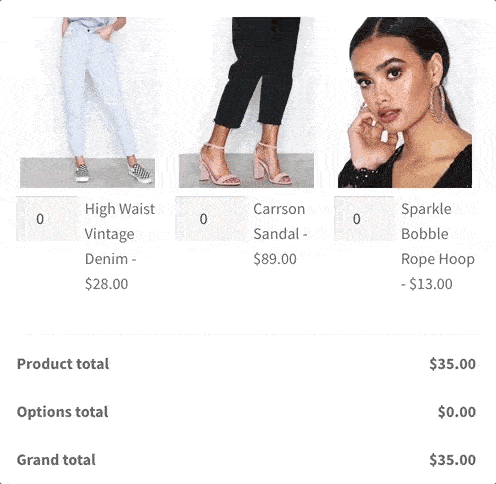 Child products
Use products as addons to other products, so customers can add multiple products to their cart from one page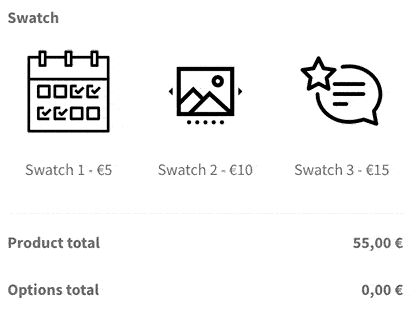 Radio button image swatches
A picture is worth a thousand words. Product Extras Pro allows you to upload images to accompany your radio buttons to let your customers see what options they are adding.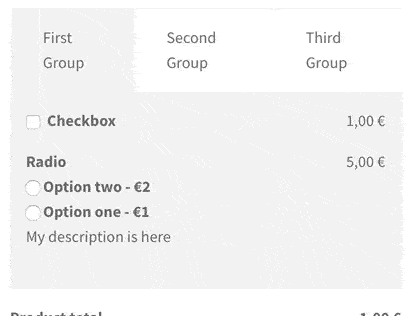 Group toggles and tabs
Product Extras let you add an unlimited number of fields and organise them into groups. With the Pro version you can keep your groups neat and arrange them into Accordions or Tabs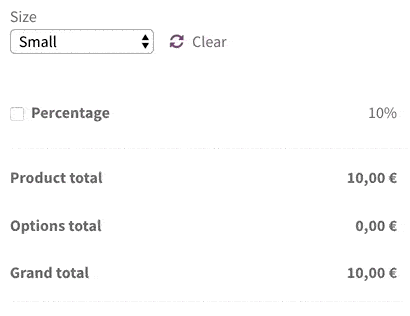 Percentage-based pricing
Percentage based pricing lets you set the value of an option as a percentage of the product price. This works especially well with variations when each variation has a different price.
Percentage based pricing allows you to charge for extras according to the value of the product and its variations.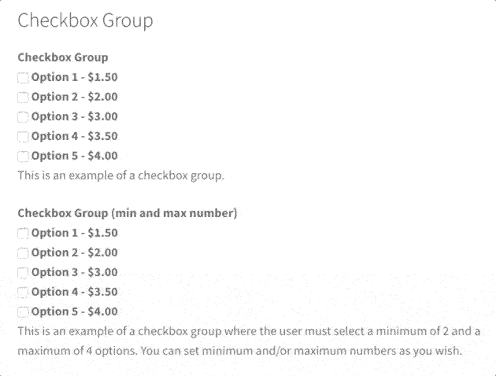 Checkbox groups
Create groups of checkboxes and specify the minimum and/or maximum number of checkboxes that the user should select
Global settings
As well as entering your addons on individual products, you can save time by adding them at a global level. You can also set rules for what products display each field, e.g.:
On all products
On a list of specified products
If the product belongs to a list of specified categories

Conditional logic
Product Extras supports conditional logic so you can display different fields depending on the information provided by the user. It's the only WooCommerce product addons plugin that supports this feature.
Show or hide fields
Conditional logic works by showing or hiding a field based on one or more conditions that you specify. A simple example of this would be a checkbox that, when clicked, revealed another field. A more complex example would be to only display a field if several other fields contained specific information.
Integrations
Product Extras for WooCommerce is integrated with WooCommerce Subscriptions, allowing you to offer addons to your subscriptions. The cost of the addons are added to the subscription cost and charged as part of the recurring payments.
Product Extras is also integrated with Bookings for WooCommerce so you can offer additional services and products to your bookable products.
The plugin also supports WooCommerce Print Invoices/Packing Lists and WooCommerce PDF Invoices & Packing Slips so your product addons are displayed on invoices and packing lists.
Product Extras works seamlessly with many, many other plugins. If you have a question, please get in touch.
What does Product Extras look like in the admin?
Product Extras integrates into the WooCommerce Product Data section. It doesn't add any ugly looking new interface styles so it blends in perfectly with your WordPress dashboard.
The plugin adds a new 'Product Extras' tab to theProduct Data section which allows you to set up which groups and fields you want.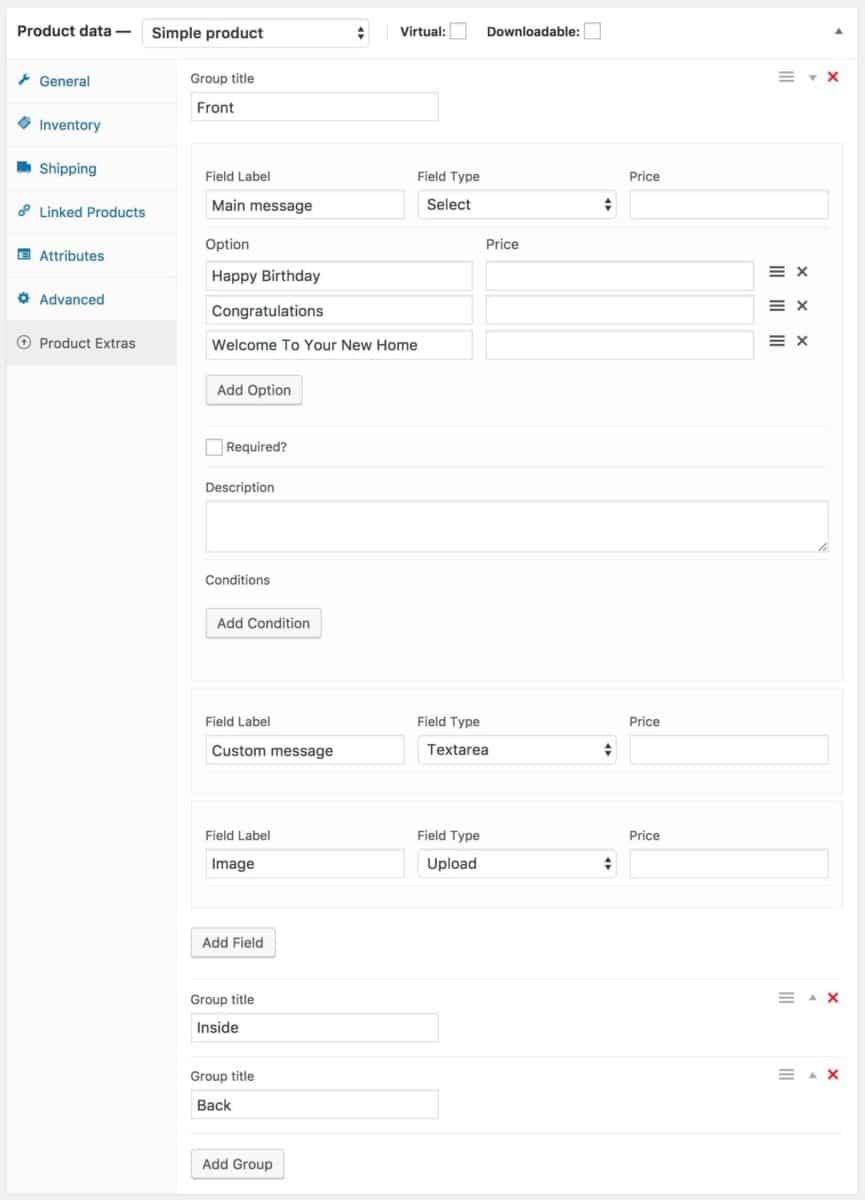 Groups
Extras are divided into groups, which are then divided into fields.
This allows you to segment your additional fields according to whatever way you like. For example, if you're accepting online submissions for an exhibition you may wish to allow users to submit two images each with a title. To do this, you'd create two groups. Each group would have a field for the upload and a field for the title.
You can add as many groups to products as you wish. Each group can be given a title which is displayed on the product page to help your users. Remember – the Pro version also allows you to present your groups in accordions or tabs.
What does Product Extras look like to the customer?
It goes without saying that you can style extra fields in any way you like to match your theme. However, the plugin uses neutral styles that should fit nicely with any theme without the need for further styling.
Any options that the customer selects on the product page are saved in the cart and listed with each item in the cart. The same applies at checkout, on the order confirmation page, and on customer and admin emails.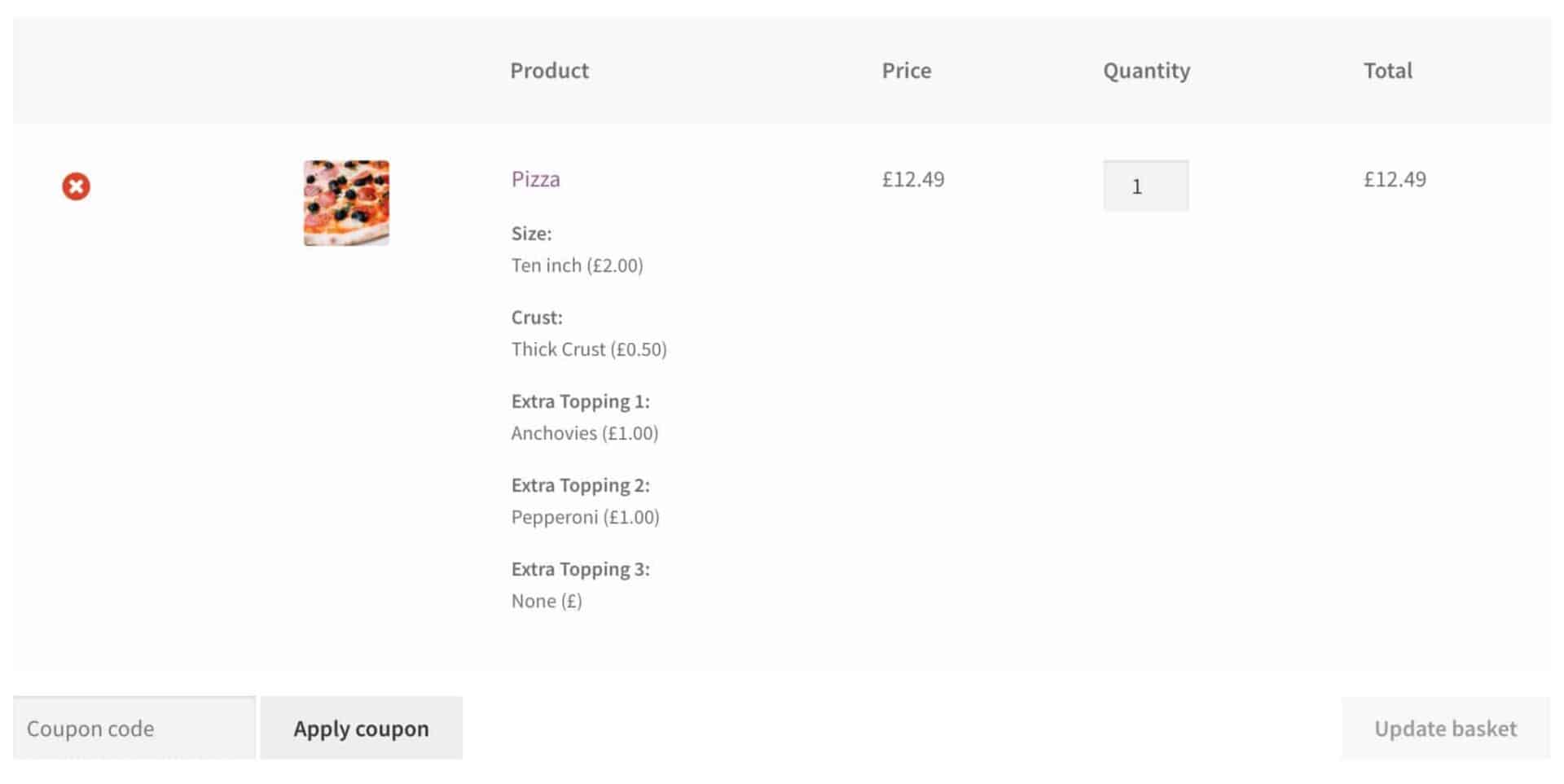 Customizer support
Some aspects of Product Extras can be configured in the Customizer – for instance, you can specify how to display option price subtotals and price labels easily from the Customizer.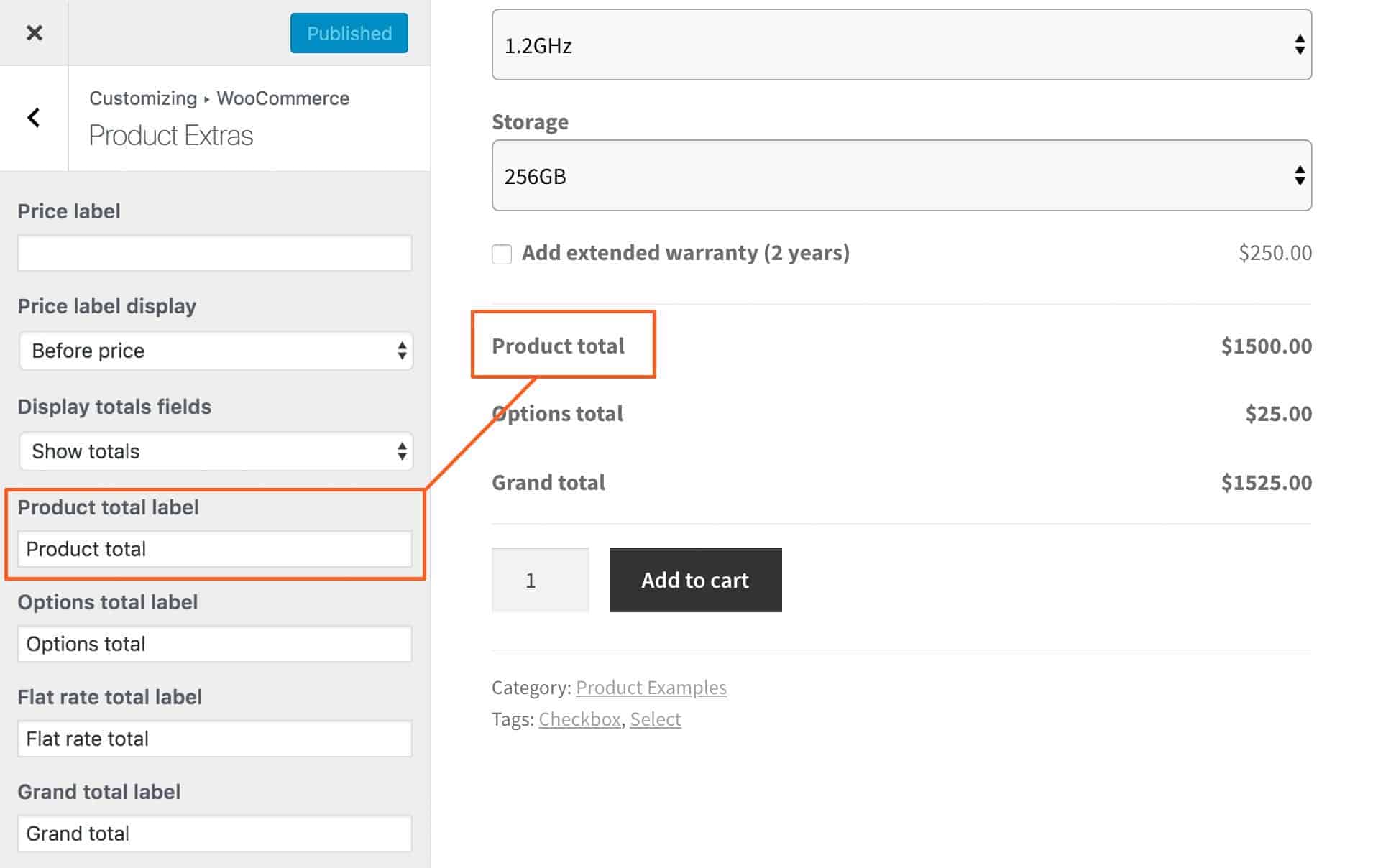 Product Extras post type
As well as adding all selected fields to the product order, the extra product content is saved separately in a custom post type, containing meta data linking it to the original product, the order, and the user. It also displays the field data submitted by the user. This is helpful if you need to extract this information from the order – for instance, if you are using Product Extras to collect customer submissions for a competition.
Export fields
You can export your product extra fields to CSV file for Excel, Numbers or comparable spreadsheet program.
Online submissions
The plugin can also be used as part of a submissions process and is therefore ideal for:
Artist submissions for galleries and exhibitions
Photography competitions
Competition entries
Applications to take part in expositions or trade shows
Event applications
In fact, any process where you want to take payments from users but require additional information:
Developer friendly
Product Extras is full of hooks and filters that allow you to extend it for your own needs. If you find you need another action or filter adding, let me know and I'll include it in the next update.