WooCommerce Fees and Discounts 2.0: enhancements and new features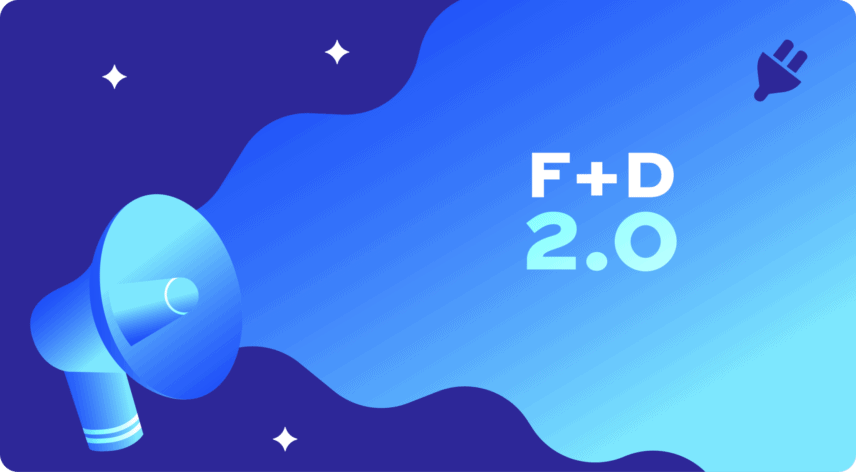 Fees and Discounts version 2.0 is now available and contains a number of exciting new features and feature enhancements.
New features in Fees and Discounts
Better management of dynamic discount rules
Dynamic rules are now a custom post type. This means better performance on both the front and back ends.
Rules are now to be found under WooCommerce > Fees and Discounts:

Click into a rule to see its settings: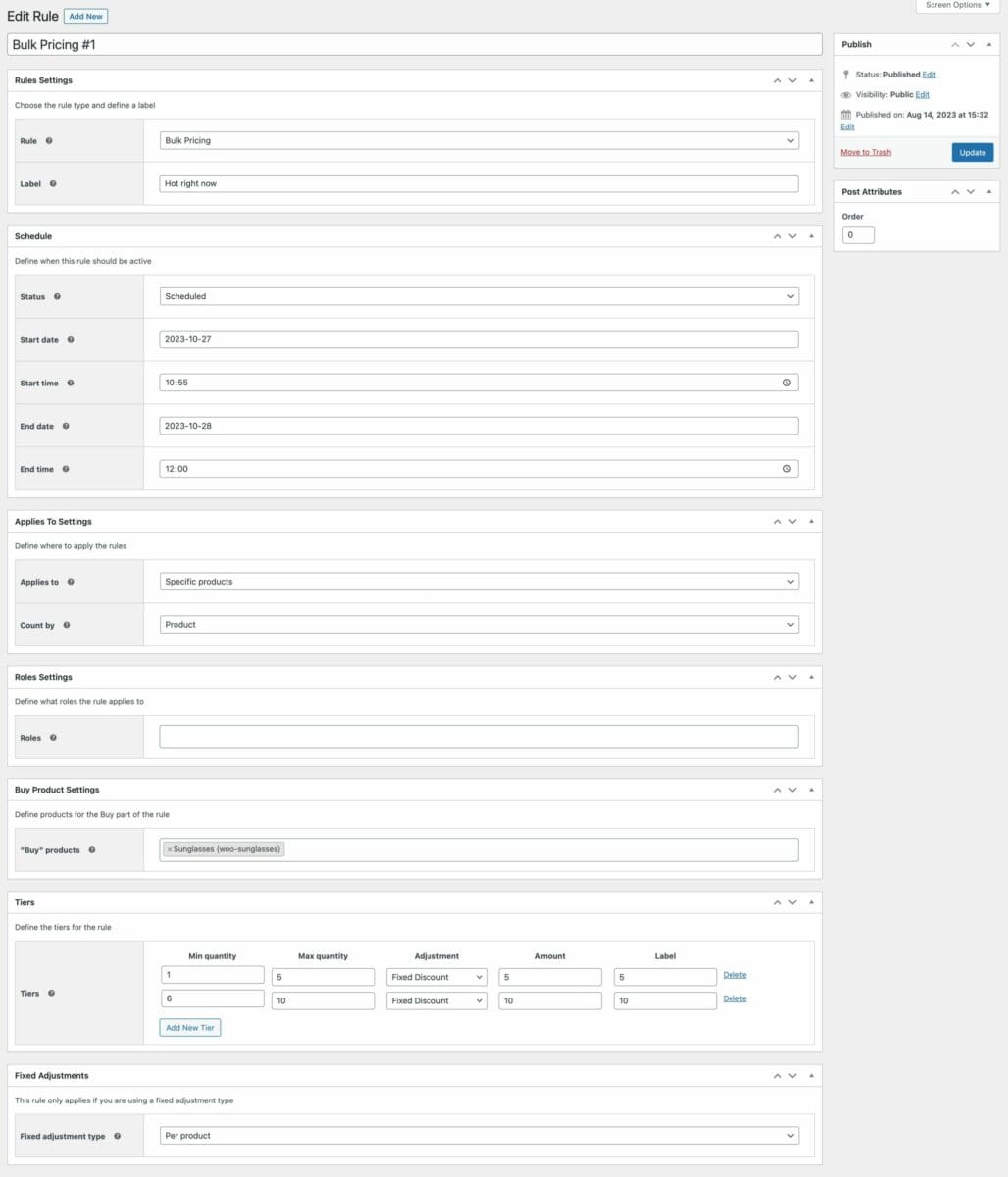 Rule status and scheduled discounts
It's now possible to set a status for the rule – either Active, Paused or Scheduled. Choose Active to activate the rule on the front end; choose Paused to stop the rule on the front end (but keep your settings, ready to be re-activated at a later date); or choose Scheduled to start and stop the rule at times you specify.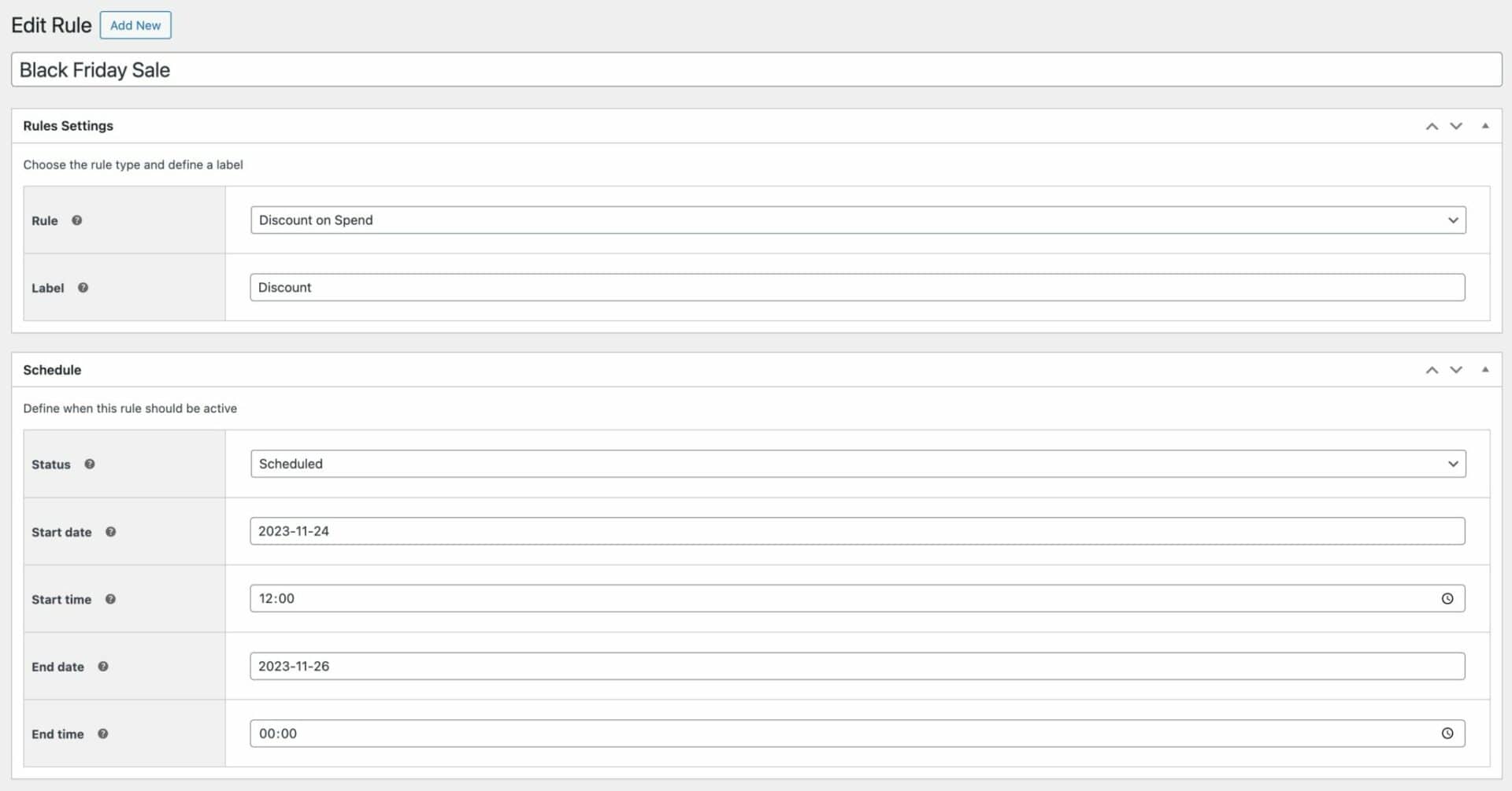 Scheduled rules are ideal for seasonal or flash sales. You can define the time and date the rule should start – so you can set this any time in the future and the rule will automatically start. Then you can optionally set an end time and date for the discount rule to close. If you don't choose a date, the rule will run indefinitely.
Discount by spend
There's a new option in global rules in the 'Rule' setting for 'Discount by spend'. This will allow you to set a discount or fee based on the amount that the user spends. As with bulk quantity discounts, you can specify which products or categories the discount will apply to. You can also specify whether the rule applies to each product/category individually or collectively ('Count by').
Using this rule, you could also add fees depending on the spend – e.g. if a user spends below a certain amount, then apply a surcharge.
Notices
You now have the option to display upsell notices to users for products they have in their cart that qualify for discounts. For instance, if a user has spent $50 and there is a discount for spending $100, you can prompt the user to spend the additional amount.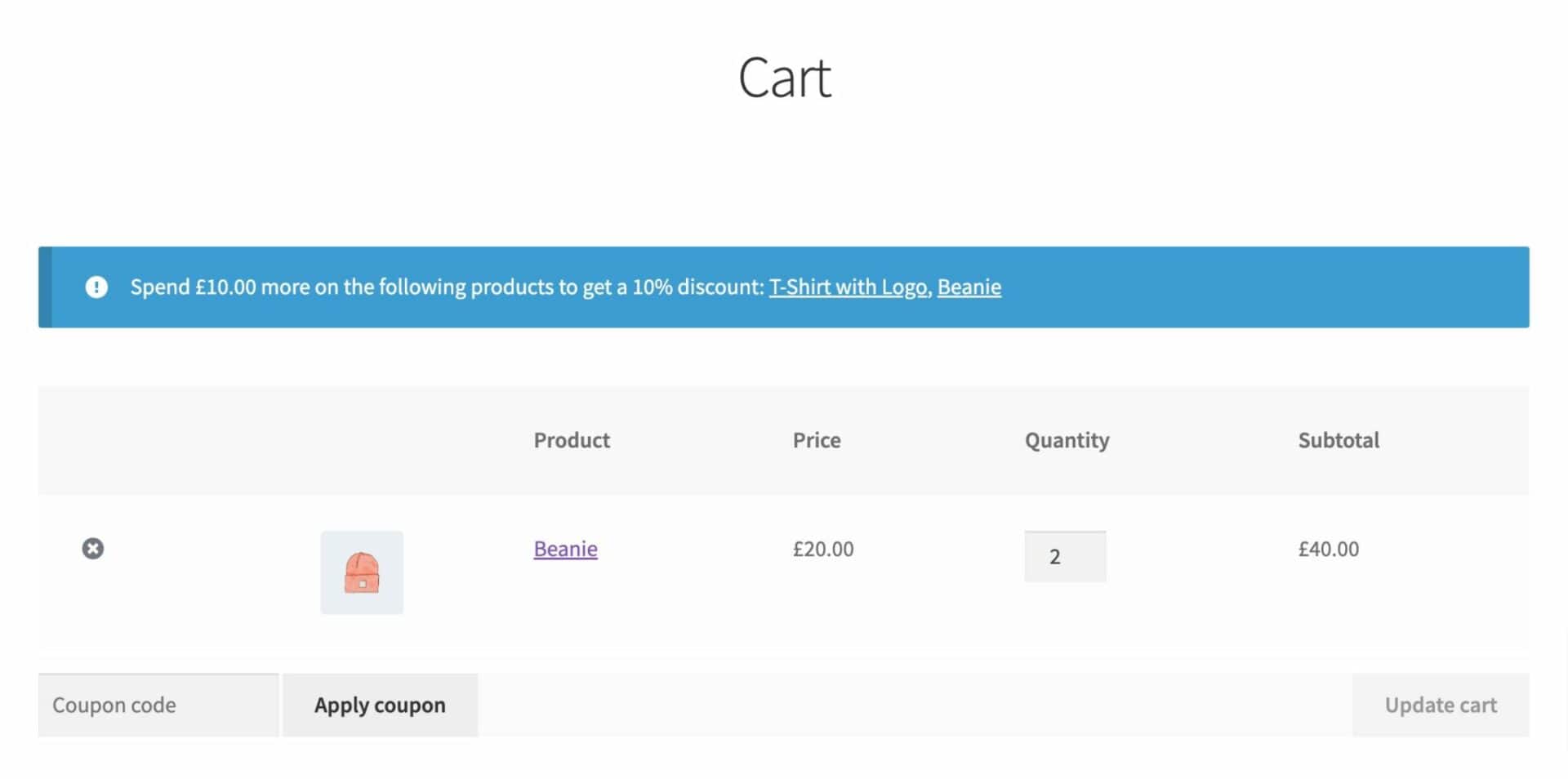 You can enable and set default notices for all rule types in WooCommerce > Settings > Fees and Discounts > Dynamic Pricing. You can also override the default notices per rule, if you wish.
Product level pricing rules
It's now possible to set discount rules at the product level. In the 'Product data' section in the General tab, you'll see some new options under the regular and sale price fields.
You can create multiple discount tiers, set different fee/discount types per tier and add a label for each. Choose between 'Bulk Pricing' for a quantity-based discount or 'Discount on Spend' for a discount based on the amount the user has spent on the product.
You can also specify the rule's status – either Active, Paused or Scheduled. If you select 'Scheduled' you can set a start and end date and time when the rule will be active.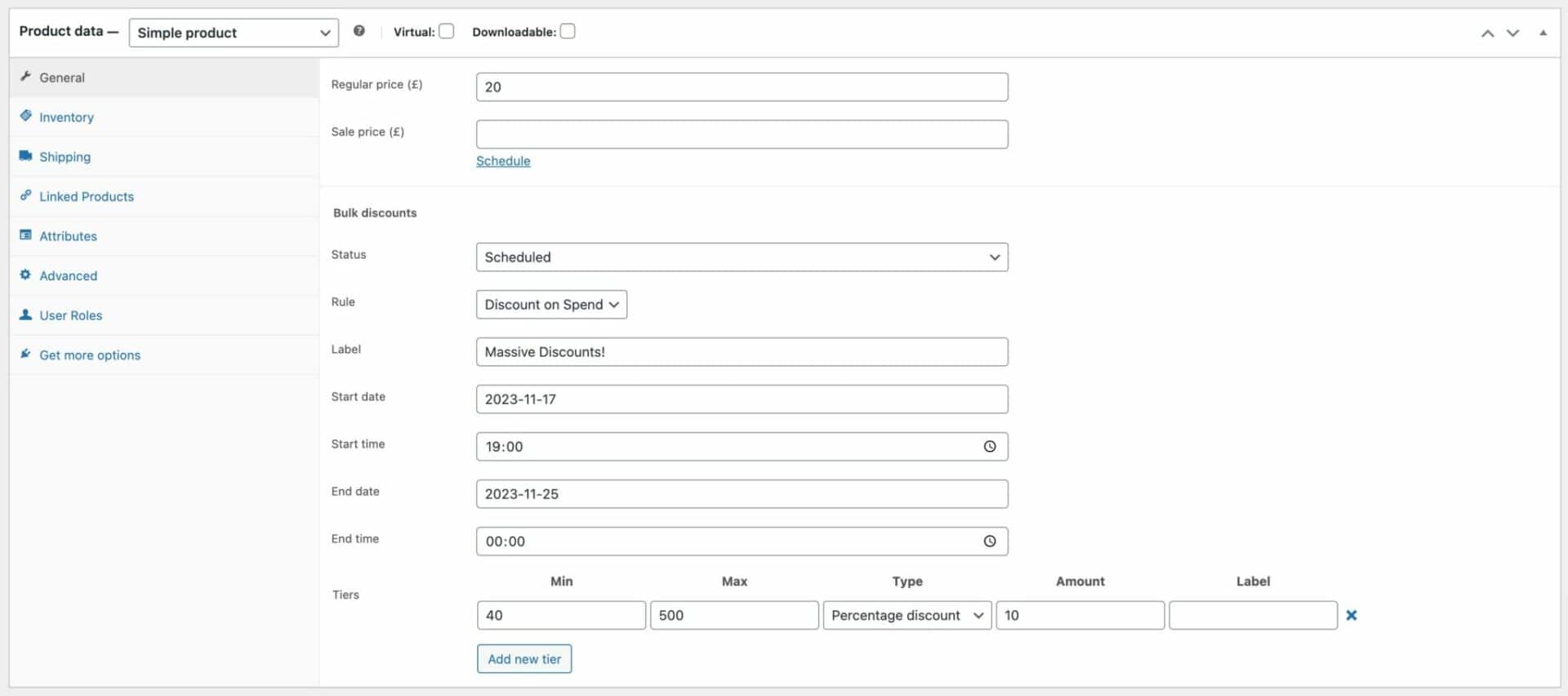 Product level pricing rules will take priority over global rules.
New options
There are some new options at WooCommerce > Settings > Fees and Discounts > Dynamic Pricing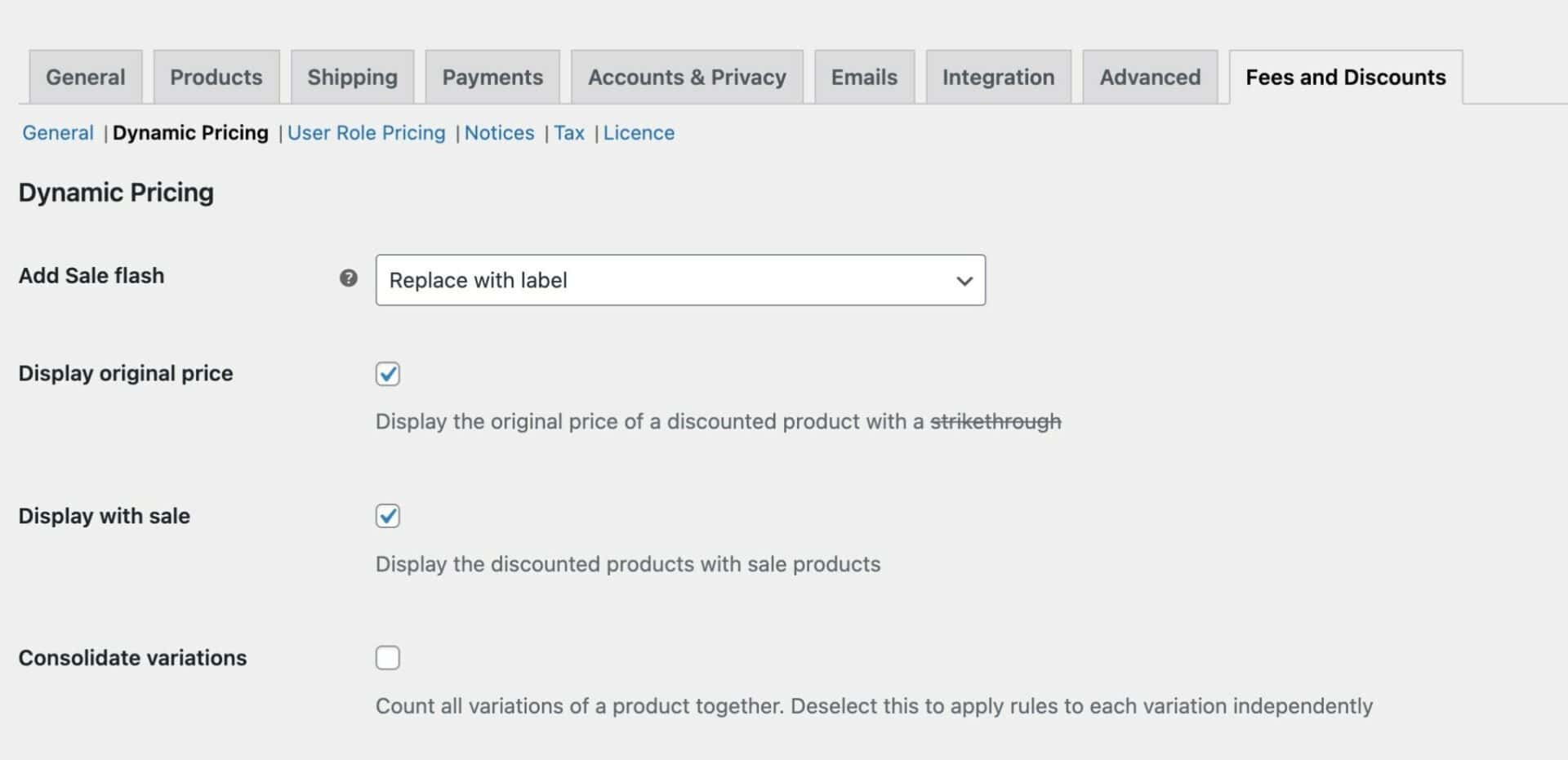 Add Sales Flash
You can choose to add the 'Sale!' label to products which have a discount. Choose 'Yes' to add the sales flash to your discounted products; choose 'Replace' to use your rule's label in place of 'Sale!'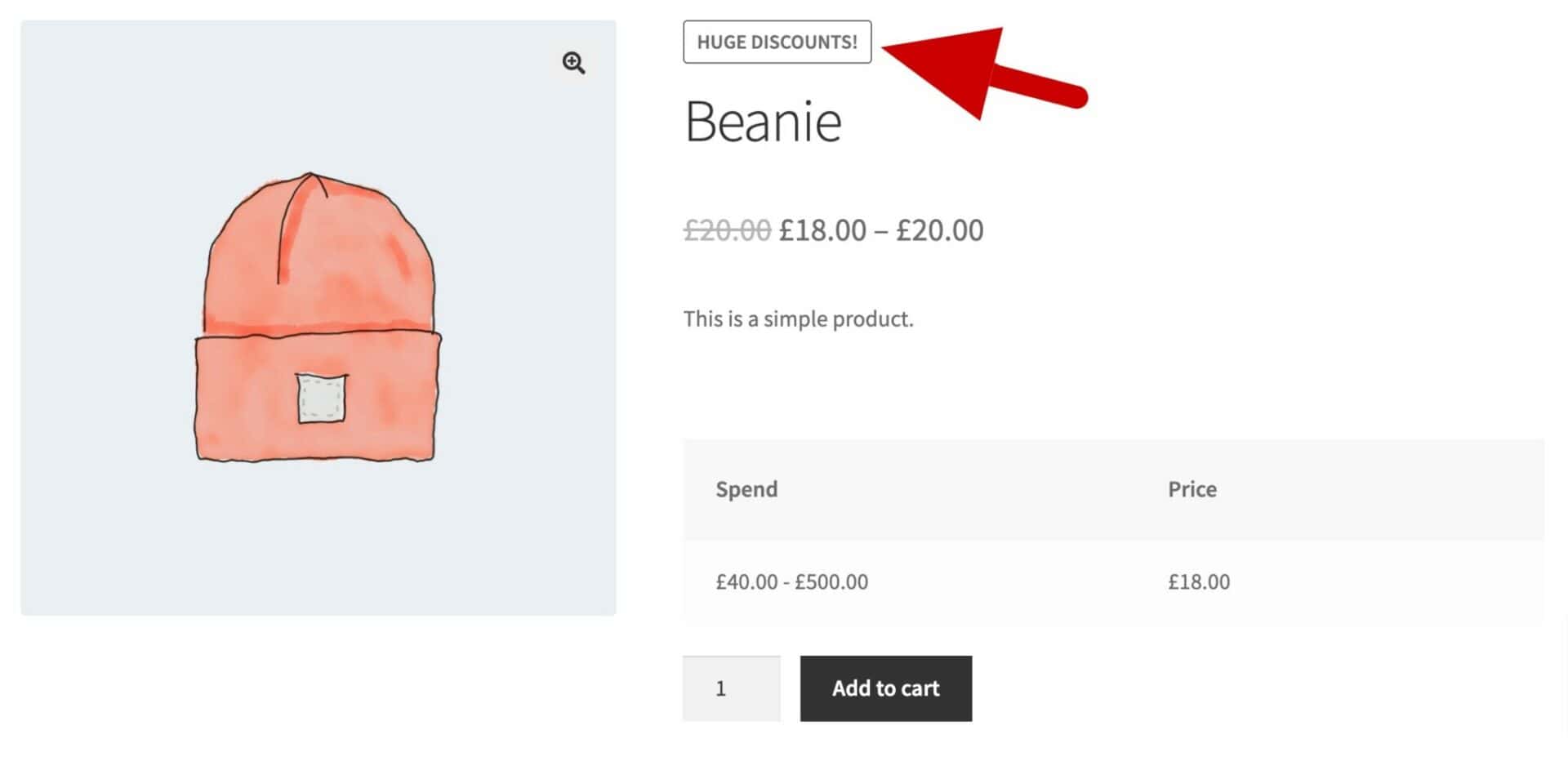 Display original price
Enable this option to display a discounted product's original price with a strikethrough in the price label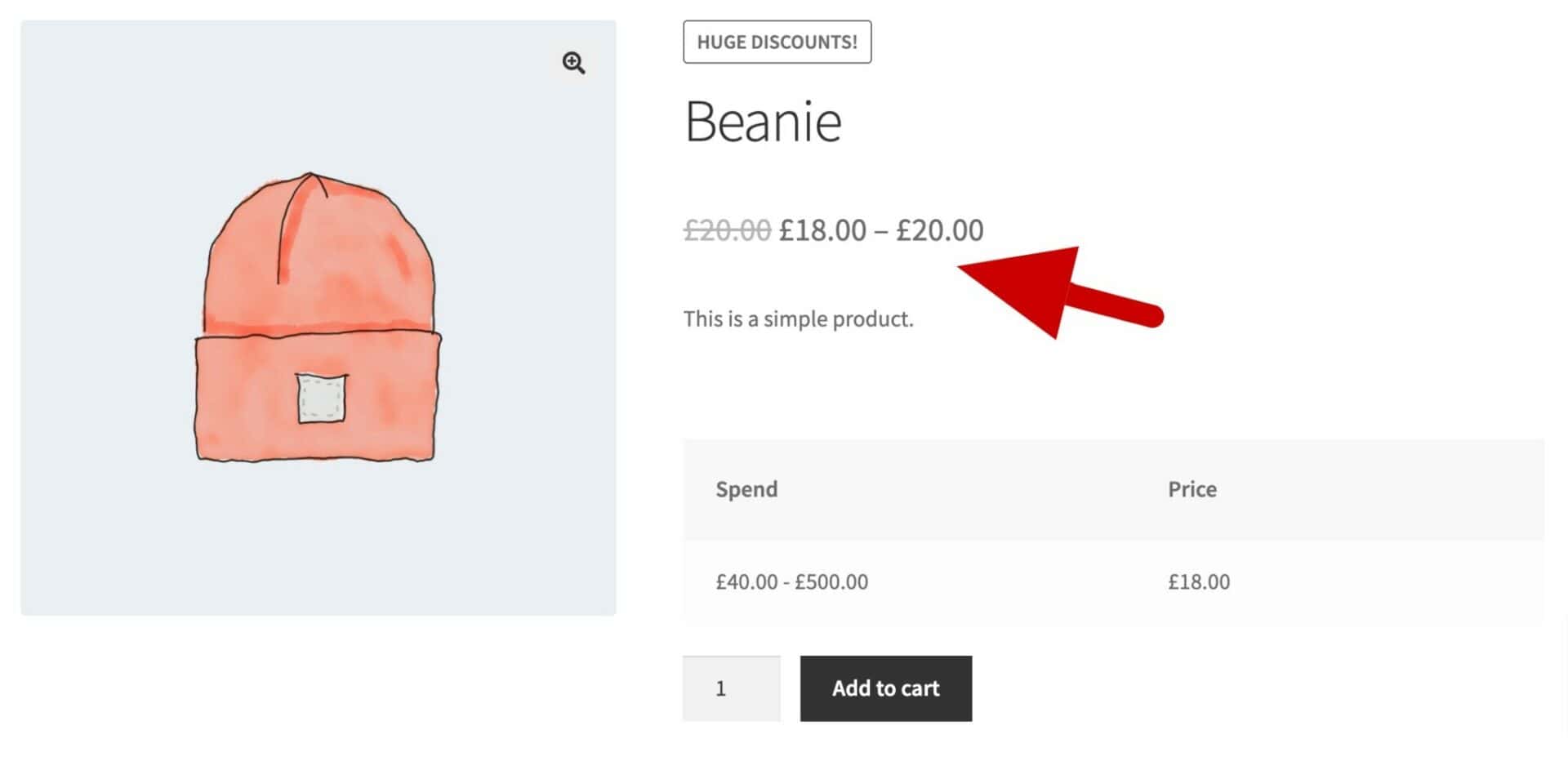 Display with sale
Enable this option if you want your discounted products to display along with any sale products – e.g. if you have a special sale or promotion page
Consolidate variations
By default, all variations of a product are counted together when assessing if a rule should be enforced. Deselect this option to count each variation independently.
So, for instance, if you create a bulk discount rule and you specify a variable product for the rule to apply to, then the rule will count up all variations of that product in the cart when deciding if a rule quantity has been met. But if you want the rule to apply to each variation separately, you should check this option.
Import / Export discount rules
Product level rules can be imported and exported to CSV and other formats using a plugin like WP All Import – or any plugin that supports import/export custom fields.
This applies to rules created globally at WooCommerce > Fees and Discounts and to product-level rules. Note that global rules are a separate post type, wcfad_rule, and product-level rules are custom fields in the product.
Upgrading from a previous version
If you are running an earlier version of WooCommerce Fees and Discounts and you have some dynamic pricing rules set up, you'll be prompted to migrate these rules to the new custom post type.

When you click the 'Migrate data' button, the migration will take place immediately and you will be directed to a confirmation screen. The whole process should only take a few seconds.
Find out more
Find out more about all the features in the WooCommerce Fees and Discounts plugin.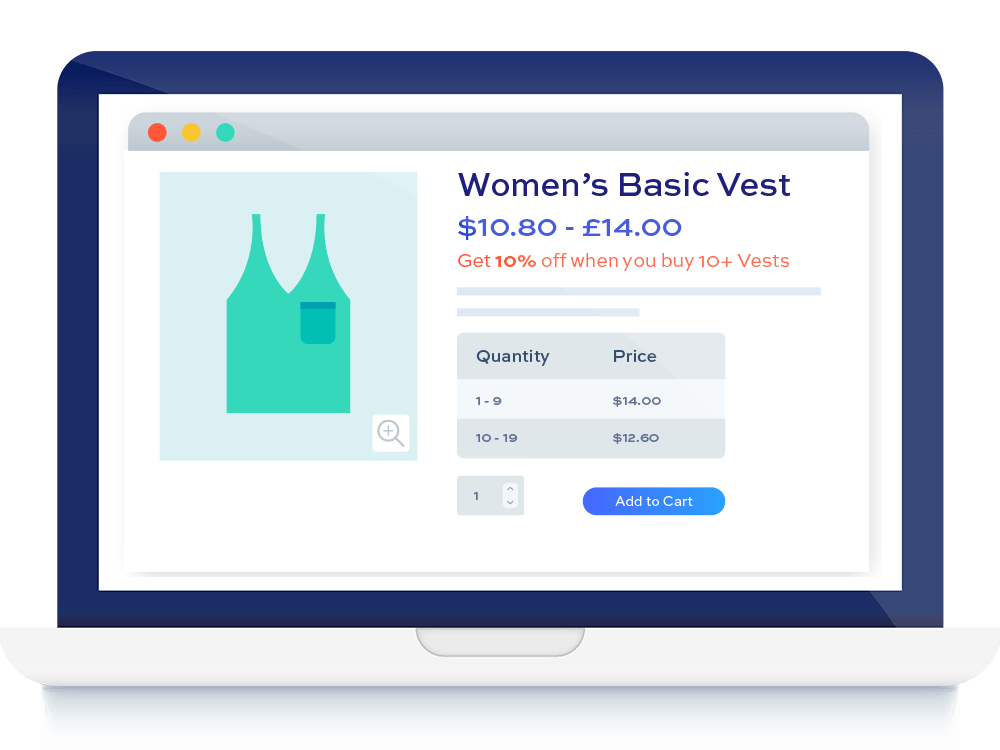 Create powerful pricing incentives quickly and easily