WooCommerce Fees and Discounts allows you to create advanced pricing options in your store. You can:
Create dynamic pricing rules (e.g. 'Buy One Get One Free')
Set fees and discounts based on the payment gateway the customer has selected
WooCommerce Dynamic Pricing Rules
The WooCommerce Fees and Discount plugin allows you to create discounts and fees for products based on simple rules that you set up. For example, buy one product get a second product free.
Offers can apply to:
All items in the cart
Specific products
Products in specific categories
Furthermore, you can specify how many products the customer needs to purchase in order to qualify for the offer, and you can specify how many products they receive at the adjusted rate. You can also specify how the discount (or additional fee) is calculated, either a fixed fee or a percentage.
So you can do all kinds of deals, e.g.:
Buy one get one free
Buy two get one free
Buy three get two half price
Buy four get one at 10% off
And so on. There's no limit to how you want to structure the pricing rules.
You can also specify that the customer needs to buy items from a certain group of products in order to receive items from a second group of products. This means you can do promotions like:
Buy two laptops and get a free printer
Buy three cushions and get a rug half price
Buy three t-shirts and get the next one at 10% off
You can also add extra text to product pricing labels on the front end to advertise your promotions.
Rules are simple to set up. Take a look at the screenshot below which shows the rule for a Buy One Get One Free offer. It takes a matter of seconds to set up.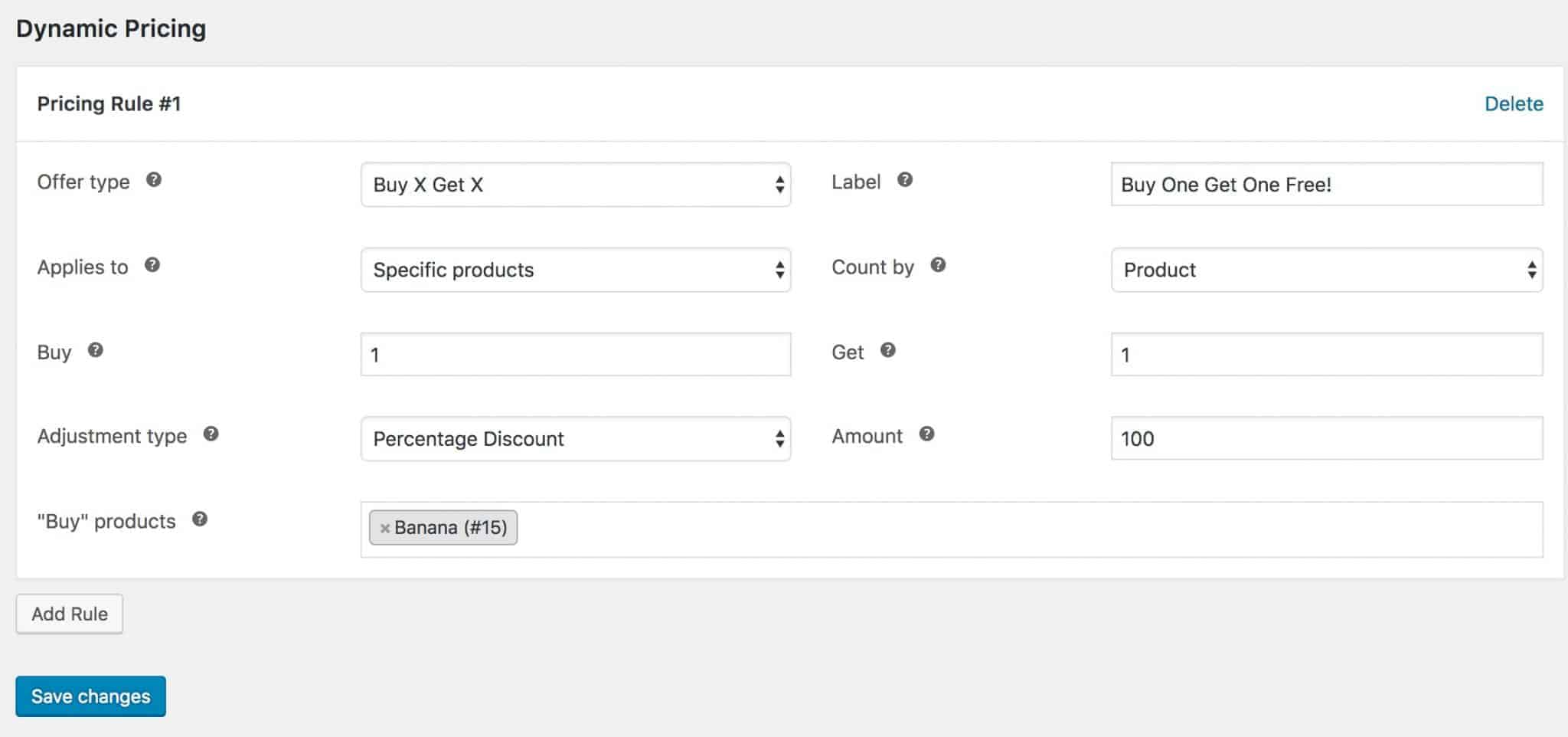 WooCommerce Payment Gateway Fees and Discounts
Using Fees and Discounts, you can also incentivise customers to choose certain payment gateways or levy additional charges on other gateways.
Each payment gateway has its own settings, applied independently, including:
Set a label to appear in the cart totals
Choose whether to apply a fee or a discount
Choose between a flat rate, fixed fee/discount or a percentage of the cart total
Choose whether to include shipping costs as part of the cart total
Specify a minimum cart total for the fee/discount to apply
Specify a maximum cart total for the fee/discount to apply
Specify a minimum fee/discount value (this is useful when your fee/discount is a percentage of the cart total, so you can set a minimum level for the fee or discount)
Specify a maximum fee/discount value (also useful when your fee/discount is a percentage of the cart total, so you can limit the overall fee or discount)
Select whether to apply tax to the fee
Select which tax class to use