A WooCommerce Name Your Price plugin allows you to be flexible in how much you charge for your products – to such an extent that you let your customers choose how much they want to pay.
You can set minimum and maximum price ranges, if you wish, or leave the price completely open-ended. You can even allow customers to set the price for optional extras within the product rather than for the entire product.
Use Name Your Price to accept donations, build trust, or run special promotions.
In this article I'm going to look at how to use a Name Your Price plugin with WordPress and why you might want to have this feature for your products because – let's face it – allowing your customers to pick their own price sounds completely bonkers.
WooCommerce Name Your Price plugin
If you're here because you already know you want a Name Your Own Price plugin for WooCommerce then you can go straight to the WooCommerce Product Add Ons Ultimate plugin. With this plugin, you can allow your customers to define their own price for your products (plus a lot of other options too).

But if you'd like to know more about the concept in general and why it might be useful to you, read on.
How does Name Your Price work?
The WooCommerce Product Add Ons Ultimate plugin allows you to add new options for your products, e.g. text input or checkbox fields. One of the options is a Name Your Price field. When the user enters a value into this field, it will be added to the price of the product.

Important features to note about Name Your Price:
You can set minimum and maximum values for the field
You can set a product price, as you would for standard products, and add the Name Your Price value – or you can set the product price to zero
You can have multiple Name Your Price fields for a single product if you wish, allowing users to indicate what they're prepared to pay for different aspects of your product
You can use conditional logic to display Name Your Own fields, only showing the field if the user has selected a certain option
The total price field for the product will update as the customer enters the price
You can combine Name Your Own fields with other option fields
You can see a demo of the product here.
How to set up a Name Your Price product
With the Product Add-Ons Ultimate plugin, you can add a Name Your Price field to your WooCommerce product. This field can set the entire product price or just be one element of the price.
In this example, we're going to set up a Name Your Price field to set the product price.
Step One: install and activate Add-Ons Ultimate
Your first step in creating your Name Your Price product is to install the Add-Ons Ultimate plugin. There are full installation steps in this article.
Step Two: create your product
If you haven't already done so, add a new WooCommerce product. Enter 0 as the price and in the 'Price label display' field, select 'Hide price'. This will hide the price label.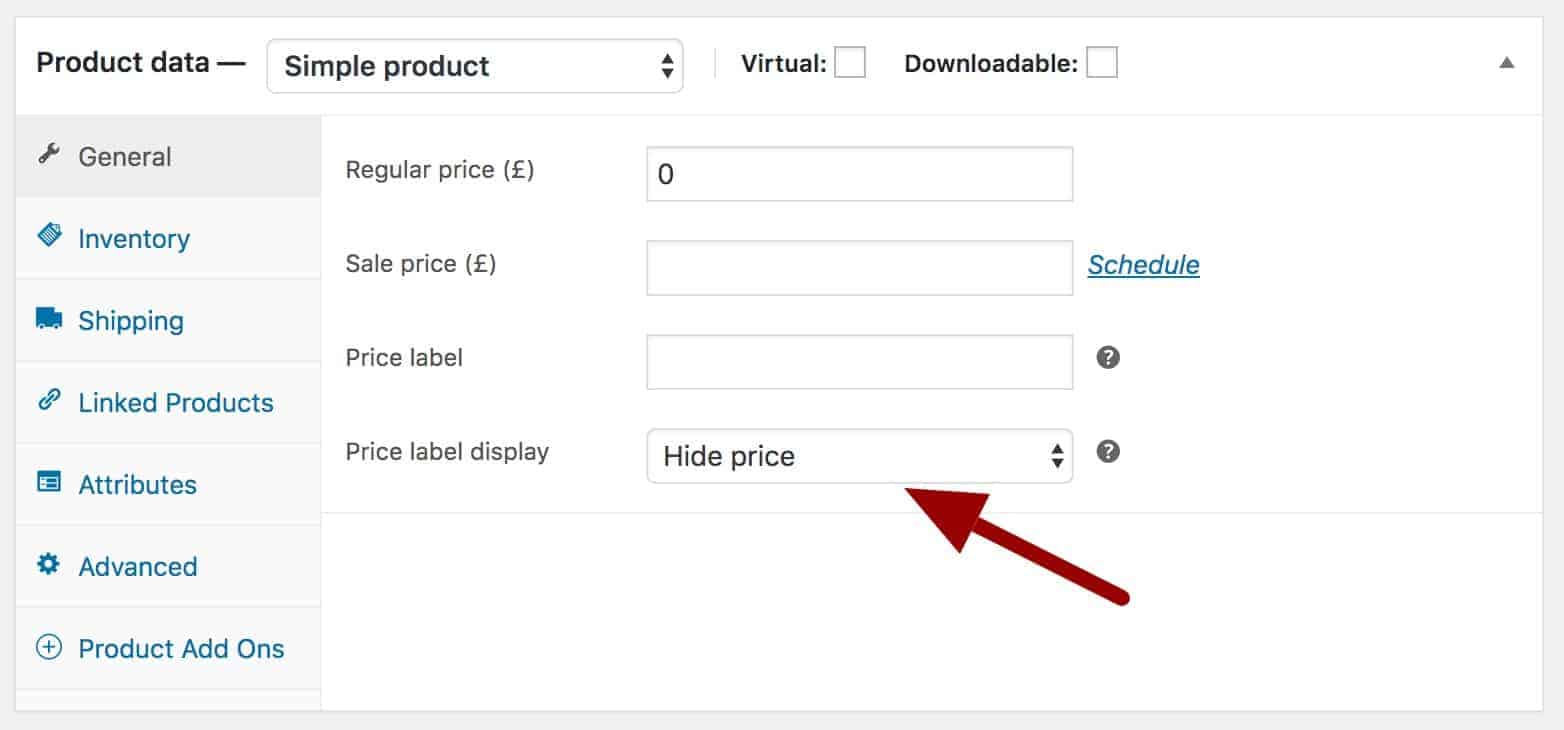 Step Three: add your Name Your Price field
Now click the Product Add Ons tab:
Click 'Add Group' and 'Add Field'
Select 'Name Your Price' as the 'Field Type'
Enter some text in the 'Field Label'
If you want to specify a minimum or maximum amount, you can do so in the 'Min Value' and 'Max Value' fields
Select the 'Required Field' checkbox to ensure the customer enters a value before checking out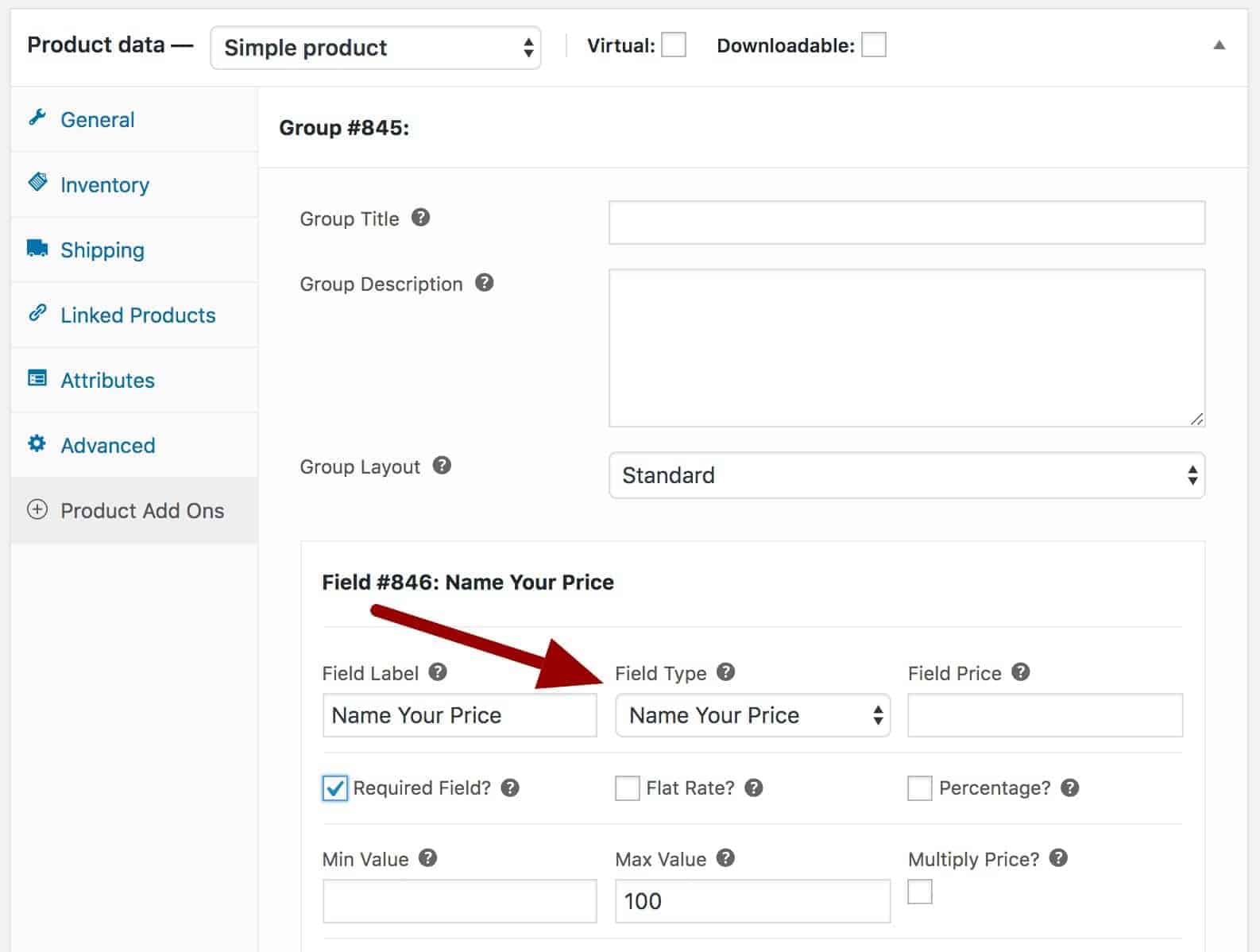 That's how to add a Name Your Price field to a WooCommerce product. Check out the demo here.
Why use Pay What You Want?
Pay What You Want or Pay What You Wish (PWYW) is a pricing model where customers are able to set their own prices for products. This can mean that customers could pay nothing for your product; it could even mean that they pay more than the expected value.
Surely this is too nuts to work?
After all, who would pay full price for your product when they have the option to pay much less, or even nothing at all? However, although it seems counter-intuitive to let customers choose what they want to pay you, there is some sound theory behind the model. A Forbes article from 2015, Pay What You Wish: What Happens When Customers Choose The Price, reports that:
Research has shown that when people are able to set their own prices, almost everyone pays something – and sometimes well over the suggested price.
One particularly well-known example, that gained a lot of publicity at the time, was the release of Radiohead's In Rainbows album under a pay what you want model. Now, you might argue that a band of multi-millionaires are in a much better position to allow their fans to pay what they want and there was undoubtedly a great deal of controversy about the decision to use this pricing model. However, according to Thom Yorke in an interview with David Byrne in Wired:
In terms of digital income, we've made more money out of this record than out of all the other Radiohead albums put together, forever — in terms of anything on the Net. And that's nuts.
So, it may be nuts but it does work.
How do you make Pay What You Want work for you?
The Forbes article followed a study by Shelle M Santana, from the Harvard Business School, on PWYW pricing. Santana looked at how some businesses had used PWYW as a pricing strategy and their relative success. She then ran a number of simple experiments selling items such as confectionary and gum to see how subtle changes in marketing affected the price that users paid.
Her findings were essentially that when the notions of partnership and community are highlighted, buyers are likely to pay more on average for PWYW products than when the focus is on special deals and promotions. For instance, when emphasizing the personalities of the people selling coffee, rather than the value of the coffee, the average cost of PWYW transactions increased.
When notions of partnership and community are highlighted, buyers are likely to pay more for products than when the focus is on special deals and promotions
Click To Tweet
Based on Santana's research, we can say that if you are considering a PWYW strategy, you should consider the following points in order to subtly influence what your customers will pay:
Promote a sense of community
Highlight the people aspect, not the value of the product
Simply put – appeal to people's better natures
Real world examples of PWYW
So, maybe there is some genuine commercial mileage in the idea of letting your customers pay whatever they like (still sounds nuts when I type it though). Let's take a look at some real-life examples.
There is at least one PWYW system that we're all familiar with: the WordPress plugin directory. Plugin authors can add a donation link to their plugins so that users have the option of donating a sum of their choice to the author for their work. Having developed several free plugins myself, I can tell you that it's incredibly gratifying, not to say surprising, when you get a PayPal donation out of the blue by someone who has found your plugin useful. So people will, even without being prompted, voluntarily donate money.
Fast Company magazine published Inside Five Businesses that Let Customers Name Their Own Price in 2014. They provide some real-life examples of companies successfully using the PWYW model, including a nonprofit cafe that started a PWYW scheme in several of its cafes with, on average, 60% of customers paying the suggested amount. This scheme is still active.
What can we learn from these examples?
There are several learning points from the Fast Company article:
Price guidelines help: in the case of the not for profit cafe, having a suggested price prompts the customer
Low cost products, such as consultancies, can utilize this model effectively and convert low or non-paying customers into clients who pay full fees. This technique is pretty similar to first-one-free
Use PWYW for special promotions. This technique can be used to convert new customers into established, long-term customers
Set sensible parameters. If you can't afford to give away all your products for nothing:

Set a minimum price
Offer PWYW for a limited time
Offer PWYW only on certain products
A combination of the above
The advantages of using PWYW on your own site
With the examples above in mind, let's look at some scenarios for how we could use PWYW and make it work best. Some of the ways you can use the technique to your advantage include:
Rarity factor
I'm writing this in the week leading up to the Black Friday and Cyber Monday weekend – the time of the year when everyone's inbox gets clogged with discount codes and vouchers for products. Implementing a PWYW sale at this time of year would be one way to stand out from your competitors.
In any case, a PWYW model is a great way of promoting your product and is likely to generate more interest than simply offering it for free.
Build trust
By allowing your customers to set the price, you are sending them the clear message that you trust them. In return, you can expect a greater level of trust from your customers to you. PWYW is a simple way of strengthening your relationship with your clients.
Sell more products
Sell more products. Maybe you only sell 10 products per week at $50 each. With PWYW, you might sell (or giveaway) 500 products over the same period at an average of $5 each. Provided your costs are low enough, you could potentially increase your profitability significantly.
Essentially, the PWYW model here is helping you find the right price point for your product. Of course, you'll need to remember other factors such as post-sales support when assessing this.
Ideas for using PWYW on your own site
You can implement PWYW pricing in several ways. The following are just ideas:
Add a tip jar
Use a Name Your Price field to allow your customers to add an optional tip to the product when they purchase it.
Special promotions and offers
Use PWYW on one or more products as a special offer. This could be helpful in generating traffic to your site, obtaining some new external links, and hopefully gaining some longer term clients.
Seasonal offers
Nominate a charity for a certain period and allow users to donate an amount to that charity when they purchase your product. This doesn't actually affect the cost of your product but it may attract some publicity to your site and you'll be doing a good turn.
Charities and nonprofits / not for profits
If you are a charity or not for profit organization, you can take donations online using Name Your Price.
Sponsorships
Whatever activity you're being sponsored for, whether you're running a marathon for charity or you're organizing a school event, you can take donations and sponsorship money online where each sponsor can choose what to pay you. Assuming you're using WooCommerce Product Add Ons Ultimate, you could also let the sponsor include their name and add a unique message, similar to JustGiving.
Crowdfunding
Create an entire crowdfunding website using Name Your Price, where users can choose how much to contribute to projects.
Pay What You Can
This is a slight variation on PWYW, asking people to contribute what they feel they can afford, rather than what they want.
Further considerations
If you've got this far then, like me, you might be starting to come round to the idea that customer-defined pricing could be a solid commercial strategy. In that case, here are a few things to remember before jumping in:
Consider your customer base
As part of her research, Shelle M Santana investigated PWYW schemes that had had contrasting successes. In the case of a pet adoption agency, she found that customers on average paid close to the recommended fee of $150, with many paying more. However, in the case of a cinema offering PWYW pricing for a showing of Freakonomics, the average price paid was just a penny.
Santana concludes from this that the customer's attitude towards the transaction has a significant bearing on how much they'll pay – whether they view the transaction as simply business or if it holds a deeper relational significance. While this is no doubt true, it doesn't take a genius to see that the type of person who is going through the process of adopting a pet is more emotionally involved in the transaction than someone buying a movie ticket. People who are altruistic enough to adopt a pet are also likely to display integrity over payment.
With that in mind, consider what it is you are offering and who is likely to be purchasing.
How to add a Name Your Price field to WooCommerce
Adding a Name Your Price field to your WooCommerce product is very simple using the WooCommerce Product Add Ons Ultimate plugin. When you add a new field, just choose Name Your Price as the field type. You can add minimum and maximum permitted values here.
Use the label or description fields to indicate any additional information to the user, such as recommended price.
Take a look at the WooCommerce Product Add Ons Ultimate support documents for further help.
Name Your Own Price plus conditional logic
Because the Name Your Price feature is part of a larger plugin, you can choose to only display a Name Your Own field if certain other field conditions are met. In this example, you could ask people to indicate whether they would like to make an additional donation to charity by clicking the checkbox. On doing so, the Name Your Price field appears. See this in action.
You could even have multiple Name Your Own fields for the same product – so customers can decide what they're willing to pay for individual elements of your product.
WordPress Name Your Price plugins
Here is a brief round-up of WordPress plugins for customer-defined pricing below.
WooCommerce Product Add Ons Ultimate
This is the plugin that I've focused on throughout this article. Because the Name Your Price feature is so simple, I incorporated it into a larger plugin. For $49 for a single site licence, the same price as WooCommerce's own single-feature plugin, and only $89 for unlimited sites, you can add name your price fields plus you can use all the other features of Product Add-Ons Ultimate.
More about WooCommerce Product Add Ons Ultimate
Name Your Price by WooCommerce
WooCommerce have their own plugin for this feature. However, given that the feature is so simple, I feel Woo's plugin is overpriced at $49 for a single licence (and up to $149 for 25 sites).
YITH WooCommerce Name Your Price
YITH have a me-too product, which again I feel is pricey at $55 for a single licence and up to $149 for unlimited sites.
WooCommerce Pay Your Price
No doubt there are many more plugins like this on Code Canyon.
Custom Prices for EDD
If you're running your store on Easy Digital Downloads, then this is the one you want.
More about Custom Prices
What about Mark Off Your Own Price?
Finally, while researching this article, I came across the concept of Mark Off Your Own Price (MOYOP). Here, you set a price for your product and allow users to choose their own discount. The psychology of this is going to be subtly different. Is there an appetite for allowing users to select their own discount? Let me know in the comments and I'll consider it for a future version.