8 top-rated WooCommerce wishlist plugins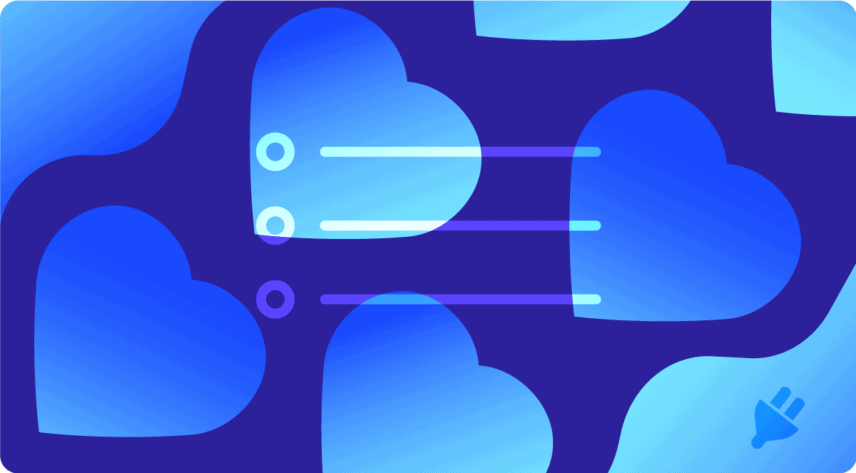 The world of eCommerce is a dynamic realm, where online retailers constantly seek innovative ways to provide exceptional shopping experiences. Among the multitude of strategies to captivate customers and boost conversions, integrating a wishlist feature into your WooCommerce store stands out as a powerful and customer-centric approach.
Wishlists not only empower shoppers to curate their ideal shopping lists but can also contribute to increased customer satisfaction and sales.
Unfortunately, WooCommerce – the leading eCommerce plugin for WordPress that powers 8.9% of all websites – does not inherently provide wishlist functionality. This gap necessitates the need for specialized plugins that can add this critical feature to your WooCommerce-powered online store.
That's why we've sifted through numerous options and cherry-picked eight of the best wishlist plugins that integrate smoothly with WooCommerce. In this comprehensive guide, we will delve into the specifics of each of these top eight plugins to help you find the best fit for your online store based on your unique needs and objectives.
Understanding the importance of wishlist plugins for WooCommerce
A wishlist plugin serves as a personal curation tool for online shoppers. It's a digital bookmarking system that allows customers to gather and save their desired products right within an eCommerce platform.
If you've ever wondered about the importance of wishlist plugins for WooCommerce, you're not alone. In fact, a staggering 40% of shoppers believe their shopping experience would be significantly improved if they could save items in a wishlist. This statistic alone speaks volumes about the multitude of benefits that wishlist plugins provide, including:
Collecting data and gaining customer insights: Wishlist plugins offer a treasure trove of valuable data about customer preferences. By analyzing this data, you can gain deep insights into popular products, trending items, and user interests, which can be leveraged to inform your marketing strategies, product offerings, and inventory management.
Increasing conversions and repeat visits: Shoppers often come back to review and purchase items they've saved, thereby boosting conversion rates and extending the customer lifecycle.
Empowering customers to share their wishlists with friends and family: This feature effectively turns your customers into brand advocates, spreading the word about your products and services. As a result, your products receive more visibility and exposure through word-of-mouth and social sharing, potentially attracting new customers to your store.
Reducing cart abandonment rates: Wishlists act as a safety net for shoppers who might otherwise abandon their carts due to various reasons, such as distractions, indecision, or budget constraints.
Contributing to a personalized shopping journey: Customers can curate and organize their saved products, creating a sense of ownership and involvement. This personalized experience fosters a stronger emotional connection with your brand, enhancing customer loyalty and lifetime value.
From data-driven business decisions and increased conversions to social exposure and personalized customer experiences, employing a wishlist plugin in your WooCommerce store is an investment that can significantly enhance your business's performance and profitability.
Essential features of a wishlist plugin
When choosing a wishlist plugin for your WooCommerce site, it's crucial to consider the features that will best enhance your customers' shopping experience based on your business goals and requirements. Keep the following considerations in mind:
Multi-wishlist support: Whether it's a list for birthday gifts, holiday shopping, or personal indulgences, the ability to maintain separate wishlists enhances organization and personalization. This feature caters to diverse shopping preferences and makes the shopping journey more flexible and enjoyable for your customers.
Privacy settings: These settings allow users to choose whether their wishlists are public, private, or shareable by invitation only. Privacy settings also add an element of control and personalization to the shopping experience.
Shopping options within the wishlist: An effective wishlist plugin should enable users to add products directly to their cart from their wishlist. This streamlined process simplifies the user journey, reducing friction and increasing the likelihood of conversions. It makes the transition from browsing to buying seamless and effortless.
Support for all kinds of products: Accommodating a wide range of product variations like sizes, colors, and styles ensures that users can save and track their desired items accurately, regardless of their complexity or assortment.
Top 8 WooCommerce wishlist plugins
From streamlining the shopping process to fostering customer loyalty, let's explore the most feature-rich and seamlessly integrated wishlist plugin options available.
When it comes to a complete solution for adding a wishlist feature to your online store, WooCommerce Wishlists Ultimate stands out from the crowd. This comprehensive plugin comes packed with all the essential features you need for an effective wishlist:
Support for all types of products, including product variations. For instance, if a customer prefers a size M T-shirt, they can save the right-sized product directly to their wishlist.
The ability to create and manage multiple wishlists. Users can name each wishlist according to different occasions or interests, such as birthday gifts, wedding gifts, or home decor ideas.
Privacy settings that allow users to set their wishlists to private or public.
The capability to update quantities or remove products from their wishlists, and add products directly to the cart from the wishlist.
Full control over the customer prompts and messaging, such as 'add to wishlist', 'product already exists in wishlist', and more.
Flexibility in displaying the 'Add to Wishlist' call-to-action (CTA). You can choose to display it as a button, link, or icon, and position it below the 'Add to Cart' button or next to it.
You can get a feel of how this plugin works by visiting its demo site – even better, there is a 14-day money-back guarantee, which makes purchasing this plugin risk-free.

WooCommerce Wishlists offers a reliable and feature-rich solution for your wishlist needs, such as:
Social media sharing capability, enabling users to share their wishlists on Facebook, Twitter, Pinterest, and even via email with a custom message.
Allowing both guest visitors and registered customers to create their own wishlists.

For guest visitors, the wishlists are stored for a maximum of 30 days or until they clear their cookies.
Registered customers can store their wishlists indefinitely.

Alerting and notifying customers if an item already exists in a wishlist when onsite browsing.
This plugin also offers a one-year support service (assistance with product installations, configuration, and use) when you purchase it.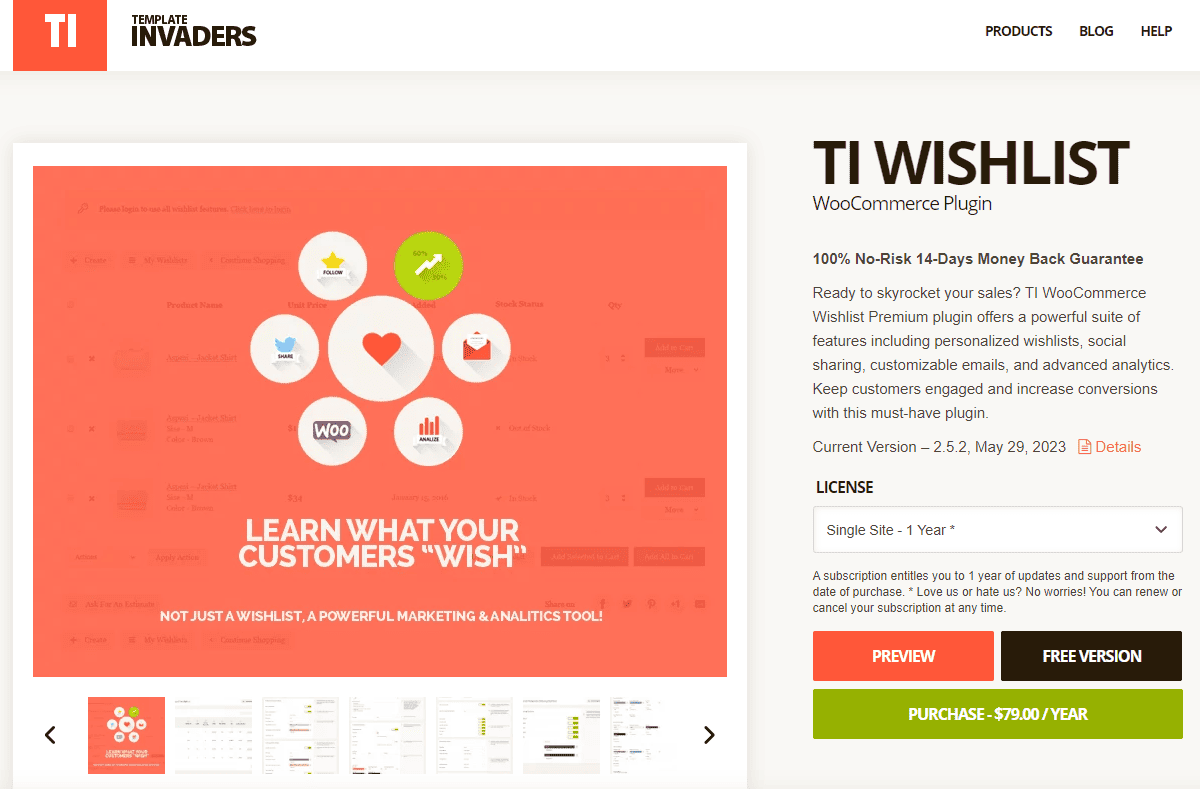 TI WooCommerce Wishlist is another excellent choice for your WooCommerce store. With a plethora of customizable options, ranging from buttons to columns, this plugin will empower you to curate a wishlist experience for your customers that aligns perfectly with your brand's identity.
This plugin provides:
Full control over the look and functionality of your wishlist. You can enable or disable each element of the wishlist page and table from the admin panel.
A unique feature where a popup appears every time a user adds an item to their wishlist. In this popup, users can choose an existing wishlist or create a new one, which adds a layer of interactivity and personalization to the user experience.
TI WooCommerce Wishlist comes in a free version and a few premium options with extra features.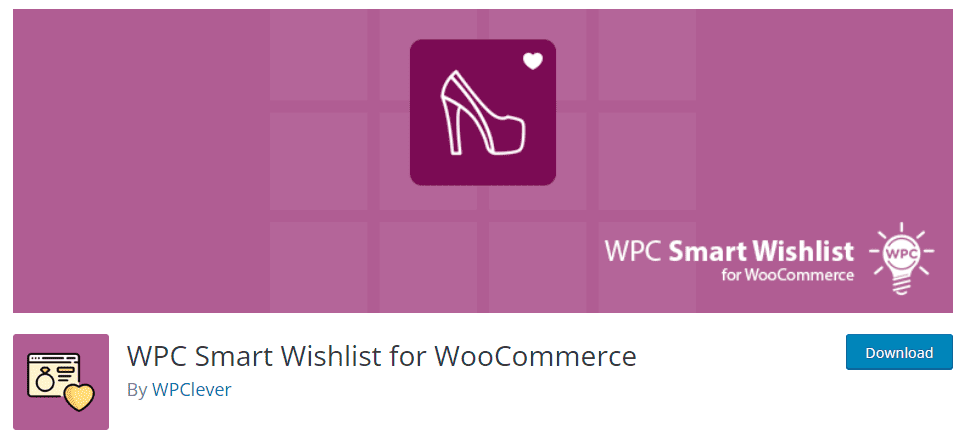 The WPC Smart Wishlist plugin offers a robust and user-friendly solution to assist your customers in creating product wishlists and organizing them for future buying. This plugin offers a variety of notable features, such as:
Smart display of product details, including title, price, date of adding, stock status, and product image preview.
Easy addition, removal, and checkout of wishlist products.
The option to auto-remove products after adding them to the cart, further streamlining the user journey.
Choosing a specific page as the wishlist page and initiating an action triggered by clicking the wishlist button, like displaying a message or opening the product list.
What makes this plugin an attractive option to some is its free open-source nature. If you're tech-savvy, you can leverage this to your advantage by customizing the plugin to fit your business model using PHP code.
WishSuite is a versatile wishlist plugin that offers a range of features to enhance your WooCommerce store, like:
The ability to show a wishlist table on any page of your website. You can customize this table by showing or hiding columns as per your preference.
Allowing users to add a wishlist anywhere on a page using a shortcode.
This plugin is another free open-source software on this list. You can easily browse its code or view its SVN repository.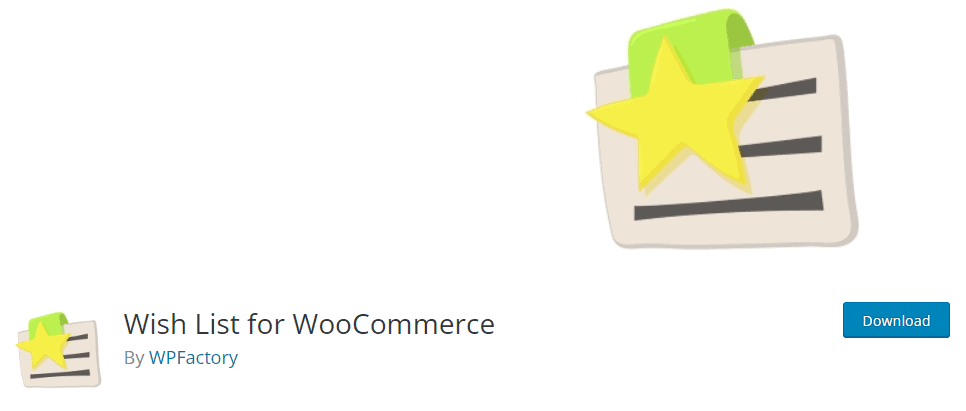 Wish List for WooCommerce is known for its minimalist design and user-friendly features, such as:
Allowing both logged-in and unlogged users to add items to their wishlists.
Supporting AJAX for adding or removing items, making the process smooth and fast.
Having stock alert notifications, which notify the customers if a product becomes available to ensure that they never miss out on their desired items.
Enabling customers to add custom notes to personalize their wishlists.
This plugin could be an ideal choice if you're a developer or have experience with coding since it's free and open-source.
Premmerce WooCommerce Wishlists allows online store owners to integrate wishlists into their websites easily to provide a better shopping experience for their customers. It offers a range of features, like:
The ability for admins to review customers' wishlists in the dashboard, providing valuable insights into customer preferences.
Supporting widgets for displaying wishlists, adding flexibility to your site design.
Various integration options, making it a versatile choice for any eCommerce store.
Moreover, this plugin is also free and open-source, which means you can harness all its benefits without paying any fees, and even modify its code yourself if you're technically inclined.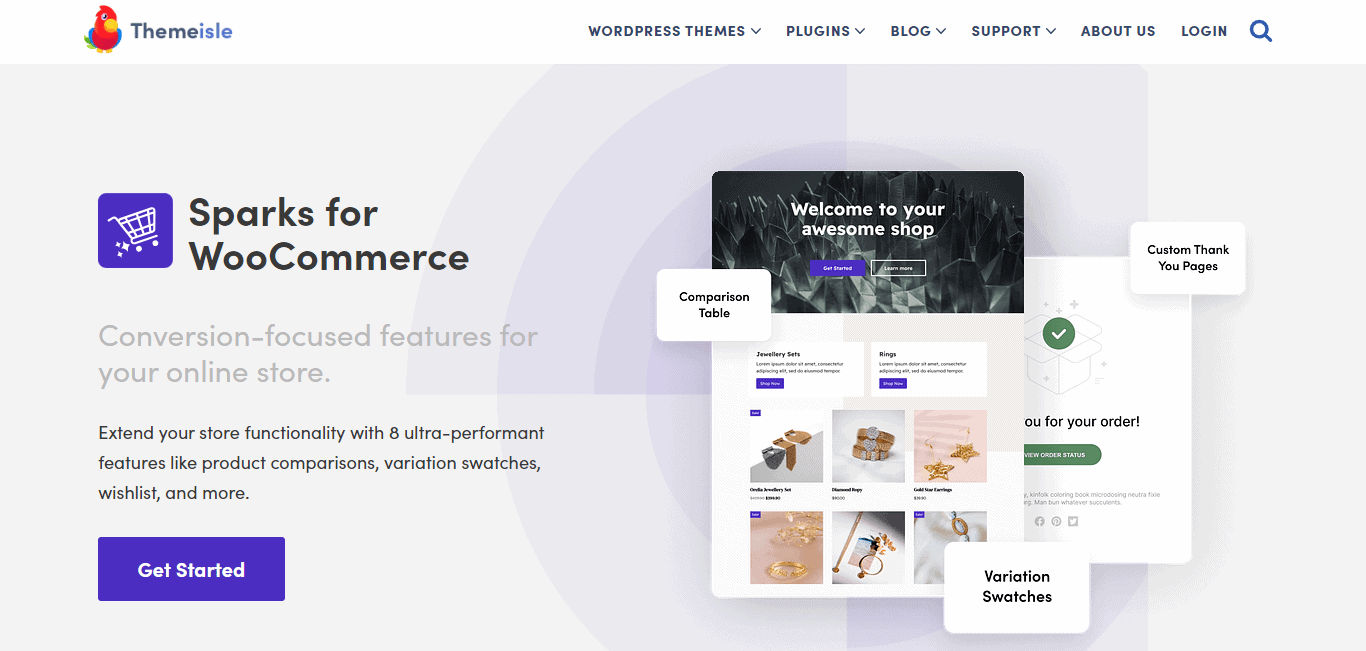 Last but not least, Sparks for WooCommerce provides wishlist functionality along with other conversions-focused features, including:
Comparison tables.
Variation swatches.
Quick view.
Multi-announcement bars.
While this plugin might be overkill for store owners who just want a wishlist plugin, it's an excellent choice for those looking for a comprehensive solution to boost their store's conversions.
Your choice of wishlist plugin primarily depends on your specific needs and business objectives. However, if you're looking for a comprehensive, feature-rich, and user-friendly solution that provides the biggest bang for your buck, WooCommerce Wishlists Ultimate should be your go-to.
How to add wishlist functionality to your store with WooCommerce Wishlists Ultimate
It's essential to provide your customers with a shopping experience that goes beyond the ordinary. When it comes to implementing this attribute seamlessly, WooCommerce Wishlists Ultimate stands out as a prime choice.
Here is a step-by-step tutorial on how to incorporate wishlist functionality into your WooCommerce store:
Visit the WooCommerce Wishlists Ultimate webpage, purchase the plugin, and download it to your PC.
Upload the plugin to your WordPress backend by navigating to Plugins > Add New > Upload Plugin from your WP admin dashboard, then install and activate it.
Go to WooCommerce > Setting > Wishlists> General and select the checkbox for Enable wishlists. Configure the rest of the options according to your needs.

Choose whether wishlists should be public, private, or shareable by invitation only.
Enable users to create and manage multiple wishlists, and name each of them according to different occasions or interests.
Specify whether to display the Add to Wishlist CTA as a button, link, or icon, and choose its positioning either below the Add to Cart button or next to it.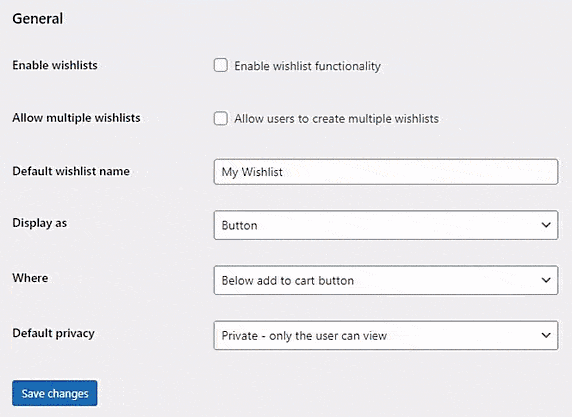 You can also adjust the alert messages to your preference. Navigate to WooCommerce > Setting > Wishlists> messages and type out the messages you want to display for each use case.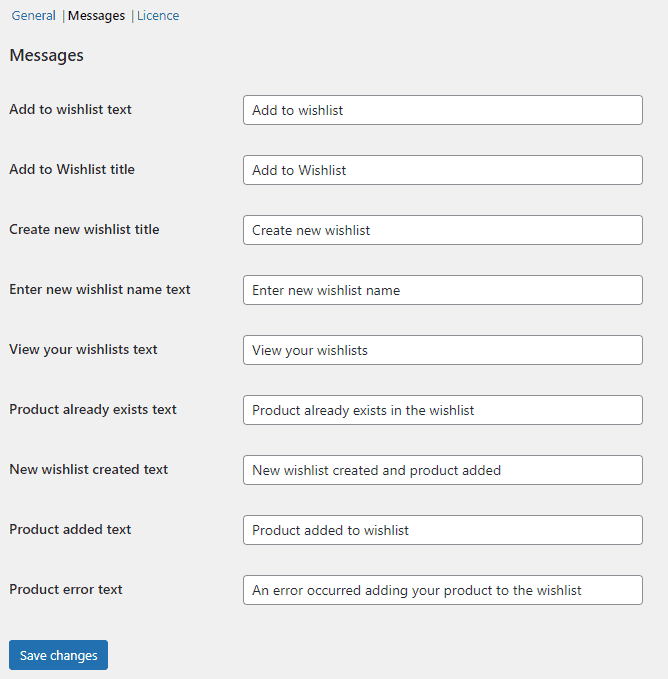 The result will look something like this: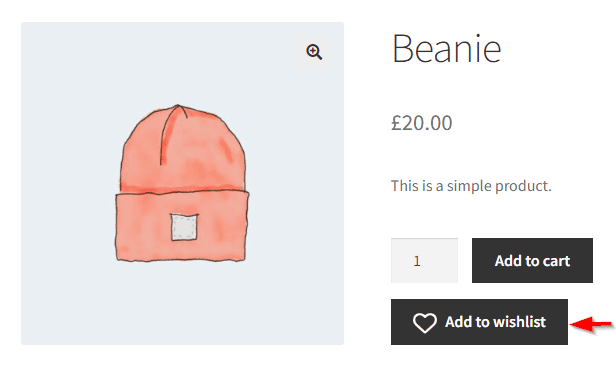 When the customer clicks on the Add to wishlist button, the product will be added to their personal wishlist. If the customer doesn't already have a wishlist created, they will be prompted to create one and given the option to keep this wishlist private or share it publicly.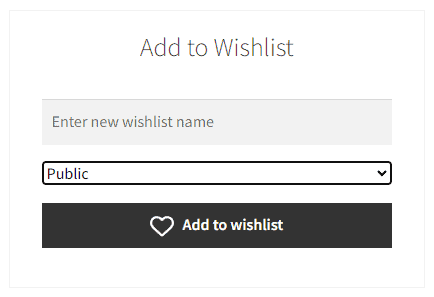 The customer can then access their wishlist from their account dashboard.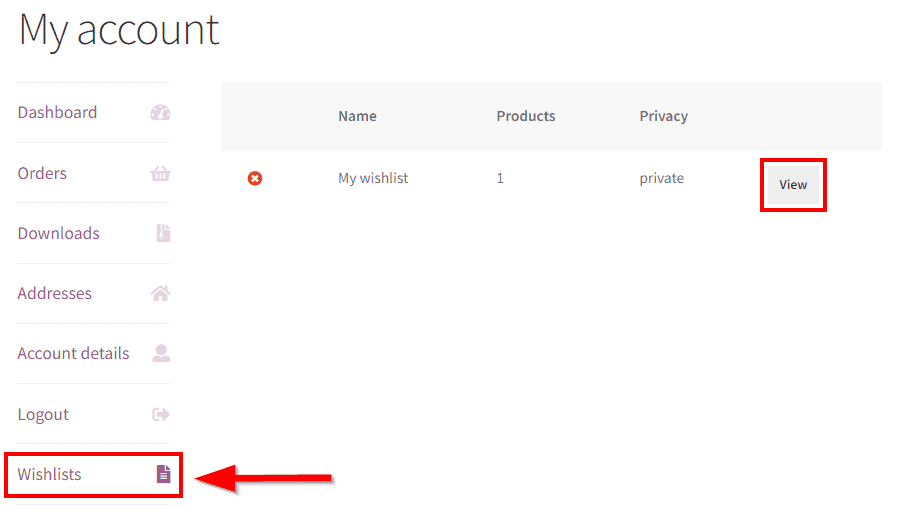 They will be able to see if their wishlist products are in stock or not, and can also add the products in their wishlist directly to their shopping cart and specify the quantity they want.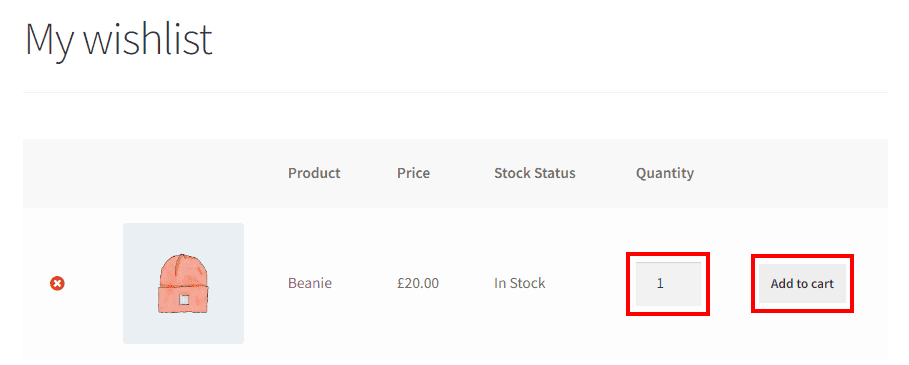 That's it – you now have wishlist functionality on your WooCommerce store in less than two minutes!
Get started with WooCommerce Wishlists Ultimate
Adding wishlist functionality to your WooCommerce store is no longer just a luxury, but a powerful tool in your conversions arsenal. It significantly enhances the shopping experience, increases customer engagement, and boosts sales.
It allows your customers to save their favorite items for later, organize their shopping needs, and share the products they desire with friends and family. It also provides store owners with valuable insights into their customer preferences, bolstering data-driven business decisions.
With a plethora of WordPress plugin options on the market, choosing the most fitting one for your business can get quite perplexing. Look for key features such as a user-friendly interface, support for all types of products and variations, the ability to create multiple and shareable wishlists, and data analytics capability. These features ensure a seamless shopping experience for your customers and provide you with the tools you need to optimize your online store.
That's where WooCommerce Wishlists Ultimate stands out as the superior choice! 
It incorporates all the key features discussed above and provides additional benefits such as customizable messaging and flexible display options for the Add to Wishlist CTA. Even better, it offers a clean, intuitive interface that makes it easy even for non-tech-savvy users to navigate and manage their wishlists.
So, why wait? Get started with WooCommerce Wishlists Ultimate today and enhance your profitability by taking your online store to the next level.