The 6 best 'save cart for later' WooCommerce plugins for 2023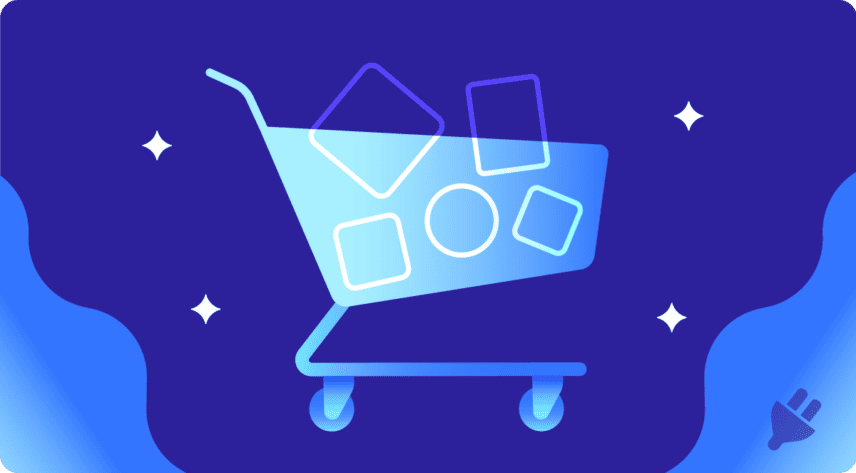 Are you seeking a practical solution to reduce cart abandonment and elevate sales in your WooCommerce store? 'Save Cart for Later' WooCommerce plugins could be just the answer you're looking for, offering a key strategy to unlock higher conversion rates.
These handy plugins allow customers to save their cart – and the products they've selected – for a future purchase. Think how useful this can be when shoppers want to think over their choices, await an incoming pay cheque, compare options, or simply hold onto their cart until they're ready to finalize their purchase.
In this comprehensive guide, we'll explore the key features and benefits of six leading 'save cart for later' plugins for WooCommerce. Our aim is to provide you with the information you need to select the most fitting solution for your store. So let's get stuck in!
Top 6 'save cart for later' WooCommerce plugins
1. WooCommerce Wishlists Ultimate
WooCommerce Wishlists Ultimate is a feature-rich WordPress plugin, that allows users t to bookmark products they're interested in but not yet ready to commit to purchasing. By letting customers easily return to their favored products at a later time, the plugin presents an opportunity to boost conversions.
Key features
Multiple wishlists: Customers can create numerous wishlists to cater to various occasions. This enables users to stay organized and encourages saving more products for future purchasing consideration.
Support for various product types: Be it physical or digital products, or variants like size and color – this plugin supports them all. The ability to handle a wide range of products heightens the plugin's utility for various eCommerce stores.
Privacy settings: Users have the flexibility to set their wishlists as private or shareable. This adjustability gives customers control based on their preferences.
Direct wishlist access: With the option to view wishlists directly from their account pages, users can easily manage their saved items and make purchases when they're ready.
Admin wishlist view: Admins have access to all wishlists, offering critical insights into shopping trends and customer preferences, which can help shape effective sales strategies.
Easy management and customization: Designed for both coders and non-coders alike, the plugin ensures easy management and is loaded with approachable customization options.
Options for 'Add to Wishlist' display: Choose between a button, link, or a simple icon to display as the 'Add to Wishlist' option, ensuring alignment with the website's design and user preferences.
WooCommerce Wishlists Ultimate offers considerable benefits to your eCommerce store. It's an avenue for a boost in sales, increased customer loyalty due to a more individualized shopping experience, a streamlined user experience, and effective store administration.
2. WooCommerce Cart Share and Save
WooCommerce Cart Share and Save is a versatile plugin that enables not only the saving of carts, but also their sharing. This dual functionality is aimed at increasing sales volumes and bolstering customer engagement.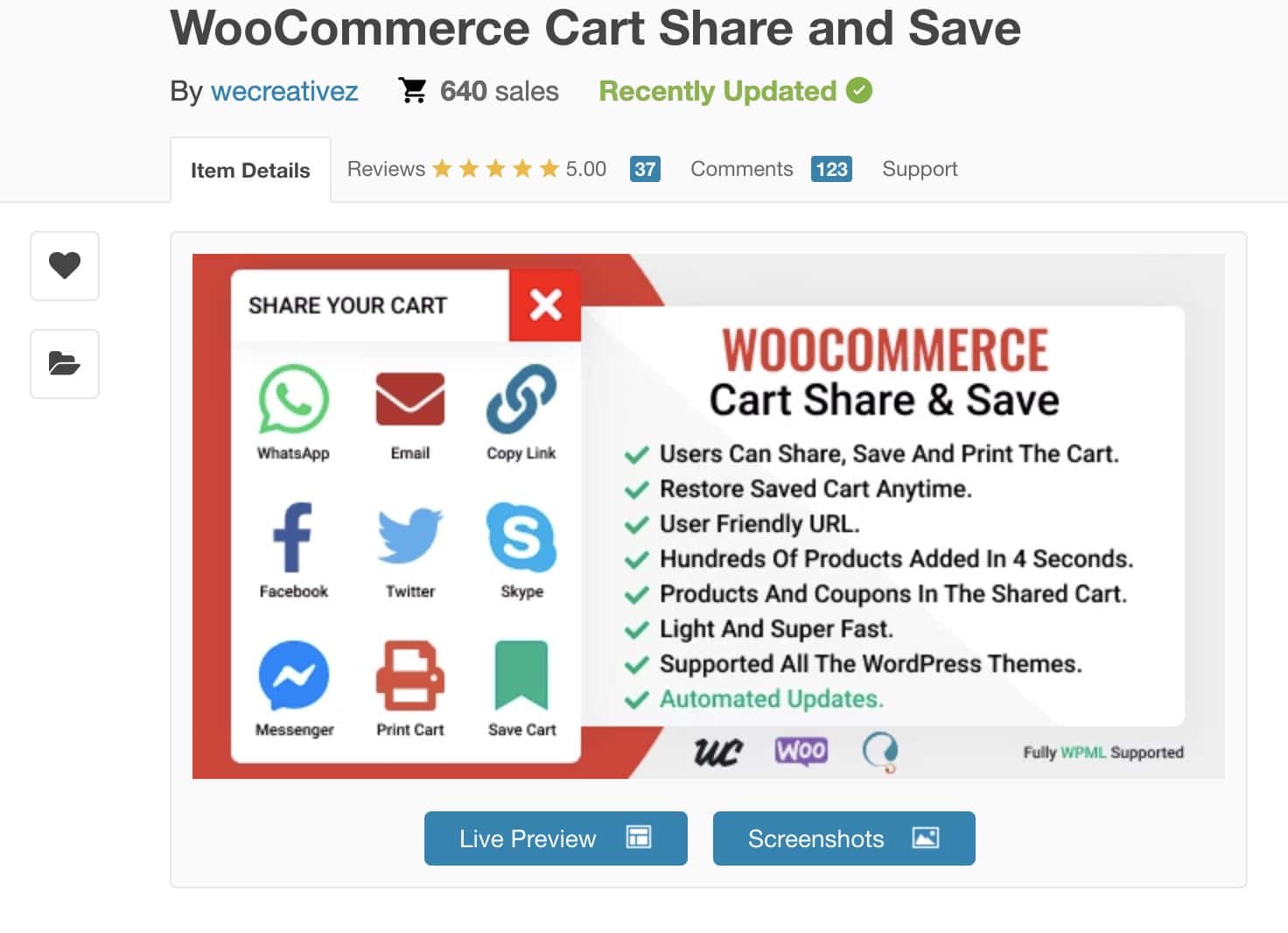 Key features
Share and reserve cart for later use: The plugin allows users to share their shopping cart with others and reserve it for later use. Further simplifying the sharing process, the plugin generates easily comprehensible URLs for shared carts.
Print cart feature: If sharing cart details is needed, the plugin includes a print cart feature, allowing the creation of tangible hard copies.
Easy cart restoration: Restoring saved carts is seamless, hence encouraging customers to complete their deferred purchases.
Access based on user roles: Administrators can find this plugin instrumental due to its capability to allocate cart access based on user roles, providing precise control over access parameters.
The WooCommerce Cart Share and Save plugin is designed to be lightweight, resulting in swift execution and optimized overall performance. Regular updates and proactive maintenance can contribute to increased sales and solid customer engagement.
3. Save & Share Cart For WooCommerce
The Save & Share Cart For WooCommerce plugin has a user-friendly interface with functionality that allows customers to save, share, or replace their shopping carts, thus reducing cart abandonment rates, enhancing sales, and capitalizing on social media sharing for maximized website traffic.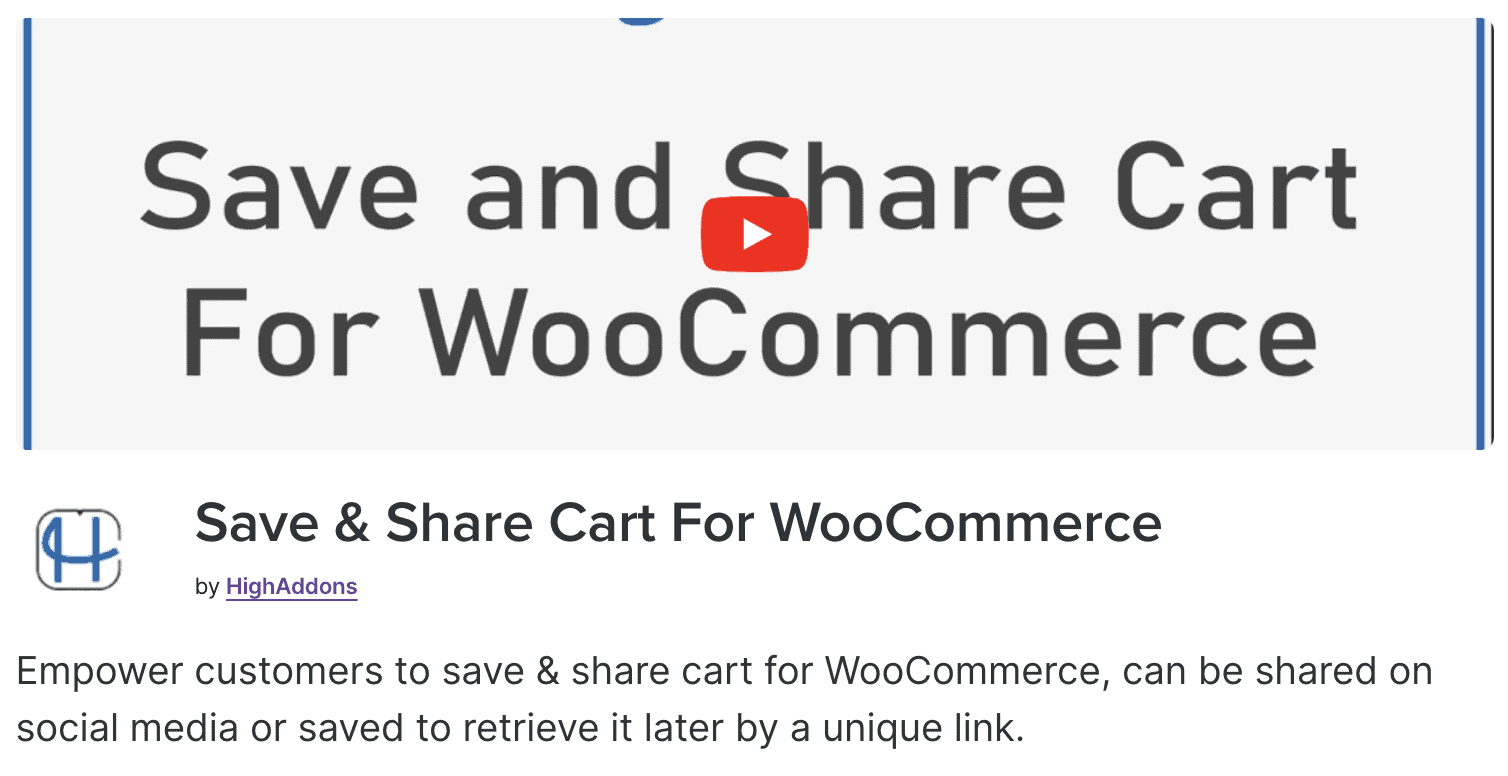 Key features
Improved customer experience: This plugin offers various features designed to improve the customer experience and instigate repeat visits, such as allowing users to save their carts for later, share them, or even replace them entirely, with a bulk save option for rapid saving.
Social cart sharing: The plugin allows the sharing of cart links through Facebook, Twitter, email, Messenger, WhatsApp, LinkedIn, and Skype. These unique cart links can be viewed and checked out directly by others. Store owners have the power to set a time duration for older cart links, to ensure the removal of irrelevant ones.
The plugin also has abundant customization options, such as altering the popup background color, popup header & footer color, and icon color. By significantly lowering cart abandonment rates, this plugin ensures your investment in marketing does not go to waste.
4. Save for Later for WooCommerce
The Save for Later for WooCommerce plugin helps enhance customer retention and limit cart abandonment in WooCommerce stores. This nifty plugin allows shoppers who aren't quite ready to hit the 'purchase' button to easily place coveted items onto a 'Save for Later' list.

Key features
User-centric features: The plugin ensures privacy for anonymous shoppers, whilst automatically identifying logged-in customers, offering total flexibility to save items.
Customizing the shopping experience: Shop owners have considerable autonomy in shaping the shopping experience. This includes the ability to determine the duration of display for saved products for guest users, thus creating a sense of urgency to purchase.
Enabling rules and restrictions: The plugin allows restrictions to be set on the 'Save for Later' function, applicable to specific products, categories, or user roles, offering complete administrative control.
Theme-specific configuration: The display configuration can be set to default or customized to match your site's theme, ensuring a seamless experience for shoppers.
Display personalized messages to shoppers: This feature sets the stage for a deeper relationship with your customers, which can boost customer loyalty and retention rates.
Translation-ready: The plugin is translation-ready, making it a good choice for stores catering to a globally diverse customer demographic.
5. Save Cart Later
The Save Cart Later plugin is designed to minimize cart abandonment rates and improve user experience for WooCommerce stores. Providing services to both guest shoppers and those with accounts, it offers the convenience of storing items in their shopping cart for later purchase.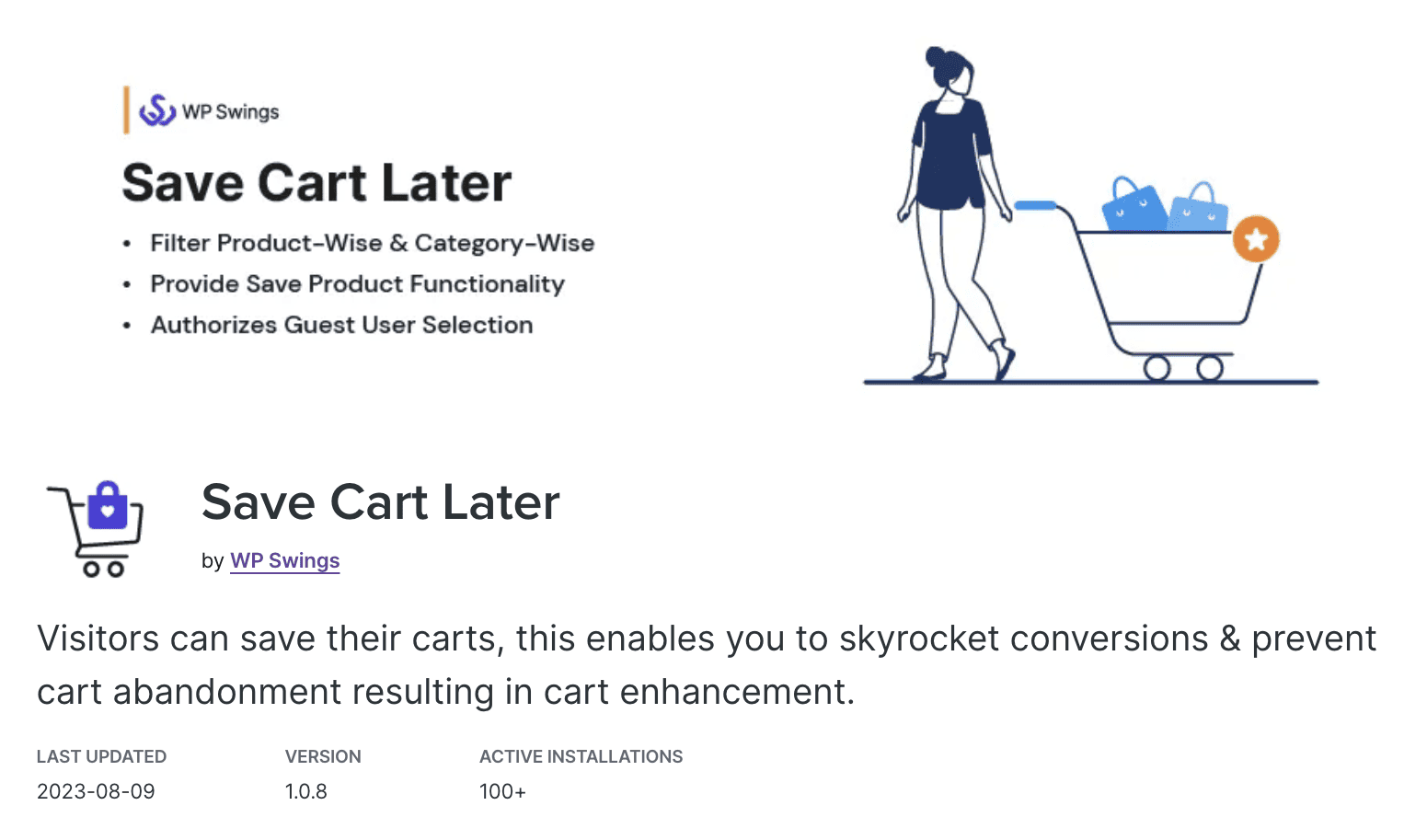 Key features
Separate shopping carts: Flexibility to create different shopping carts based on the types of products they're browsing. Whether customers are shopping for home appliances, books, or games, there's a separate cart for each, enhancing user experience significantly.
Share cart contents: The plugin allows shoppers the convenience to share their cart contents, as well as the applied discounts, with others for easy payment – an extremely handy feature for gift purchases or when costs are being split.
Email reminders: To reduce the chances of forgotten or abandoned carts, the plugin also sends email reminders to customers, reminding them to finalize their purchases.
Limited-time cart saving: For guest users, there's a provision to save products, albeit with a time limit. Lastly, with customer convenience in sight, shoppers can move all saved items back to the main cart with a single click.
6. Save Now Buy Later for WooCommerce
Finishing off our list is the Save Now Buy Later for WooCommerce plugin – an intuitive tool that expertly tackles the persistent eCommerce challenge of cart abandonment.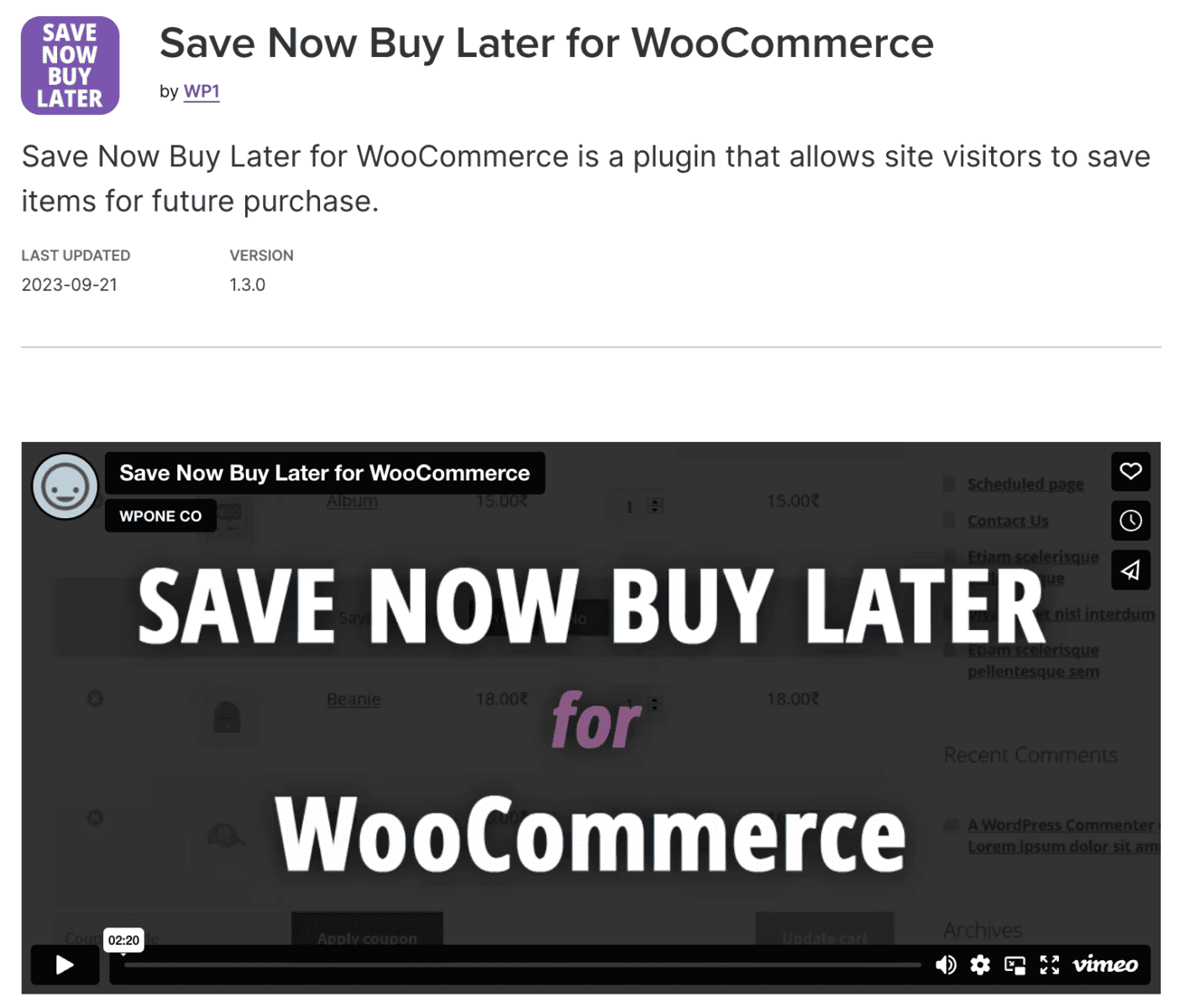 Key features
One-click saving: All it takes is one click for customers to secure their chosen items for future purchase, taking the stress out of decision-making during a shopping spree and ensuring that their hard-found favorite products won't slip through the net.
Smart product removal: When customers remove an item from their cart, the plugin smartly prompts them to save the item for later. This innovative feature sees potential sales as opportunities out on loan, rather than lost forever.
Convenient cart review: Customers can view their saved items directly below the cart total. This transparency helps customers stay informed about their saved items and streamlines the shopping process.
Selective application: The 'Save Cart Later' button can be configured at a product or category level, giving store owners fine-grained control over where this feature is applied. They even have the power to exclude specific items from this functionality.
Effortless checkout: With a single click, customers can shift their saved items back to the main cart and proceed to the checkout, making the entire shopping experience smooth and enjoyable.
Elevate your WooCommerce store with Wishlists Ultimate today
eCommerce business owners often grapple with the prevalent issue of cart abandonment. The high cost of customer acquisition highlights the value of each potential sale. When a shopper fills their cart but exits without making a purchase, we're not just talking about immediate lost revenue. The task of re-engaging those customers once they've left your site could also be an uphill battle.
A 'save cart for later' plugin is a remedy for these problems. Allowing customers to save their chosen items for future purchasing supports a seamless and engaging shopping experience. Moreover, it also discloses valuable insights about your customers' preferences and shopping behaviors for you.
This is where the WooCommerce Wishlists Ultimate plugin truly stands out with its ability to enable the creation of multiple wishlists and support all kinds of products, among several other features. Don't let potential sales slip through your fingers. Elevate your customer experience and help shoppers transition from hesitant browsing to decisive action in just a few clicks.
Begin your journey with Wishlists Ultimate – it's time to pen your WooCommerce success story!