WooCommerce deposits – how to accept part payments for your products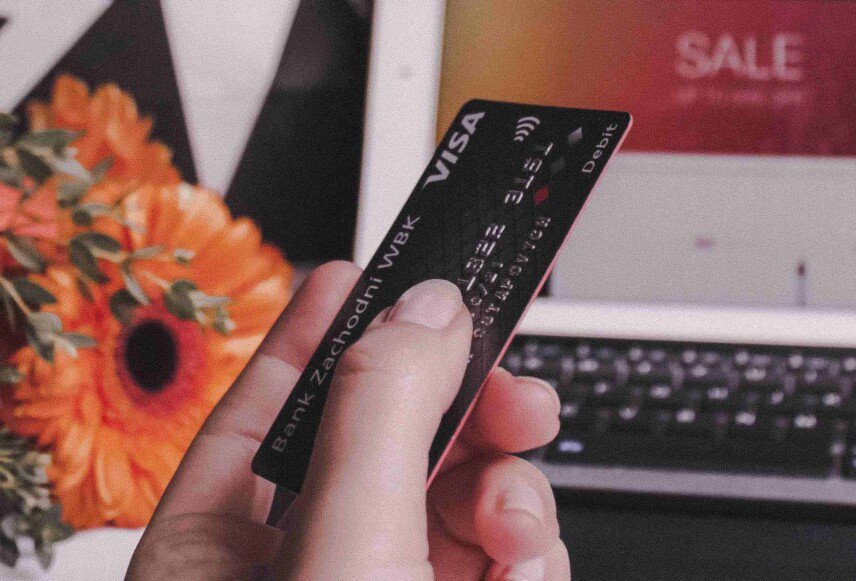 In this article, we're going to look at the simplest way to accept WooCommerce deposits or part payments in your store. Your customers will be able to choose between paying the full product price or paying something now and something later.
Accepting part payments in WooCommerce
Throughout this article, we're going to be using WooCommerce Deposits and Part Payments – a WooCommerce deposits plugin.
This is a simple to use plugin that will give you all the functionality discussed in this article. It also integrates with a number of other plugins, including Bookings for WooCommerce.
We'll take a look at exactly what we mean by deposits and part payments. Then we'll walk through the process of enabling them in WooCommerce. Plus, we'll look at some specific examples with demo products so you can see exactly how it all works.
Use the menu below to navigate through the article.
What is a deposit?
So, firstly, a deposit is a part payment for a product. Many customers might not want or expect to pay the full price straightaway for certain products, like holidays or other expensive items. Allowing them to pay a deposit means the customer can pay some money now, to secure the product, then pay the rest later.
Why would we want to accept deposits in WooCommerce
The big advantage to offering deposits on your WooCommerce store is that you're enabling your customers to make purchases they might not otherwise be able to afford. Many people can't afford a $1000 for a new sofa – but paying $500 now and $500 is a much more manageable option.
Accepting deposits is standard practice for many businesses, like rentals and holiday lets. In fact, many people would expect to structure their payments in this way.
How to enable WooCommerce deposits
Okay, we've made the case for adding deposits to your WooCommerce store. Let's look at the practicalities.
Installing WooCommerce Deposits and Part Payments
Your first step is to install and activate WooCommerce Deposits and Part Payments. It's such a simple plugin that you don't need to do very much more than this. But we'll quickly look at the options.
Configuring the plugin
With the plugin installed, go to WooCommerce > Settings > Deposits to set it up. You'll see a simple options page with the following settings:
Accept Deposits
Choose between 'All Products', 'Some Products', or 'No'. If you choose 'All Products' then deposits will be enabled for all products; if you choose 'Some Products', then you'll need to specify which products can be bought using this method (see below).
Deposit Type
Choose between 'Percentage' or 'Fixed Amount'
Deposit Amount
Enter the value here that you want to charge for the deposit
Default Payment Method
You can specify whether the default payment method is 'Deposit' or 'Pay In Full'. The customer can change the method on the product page.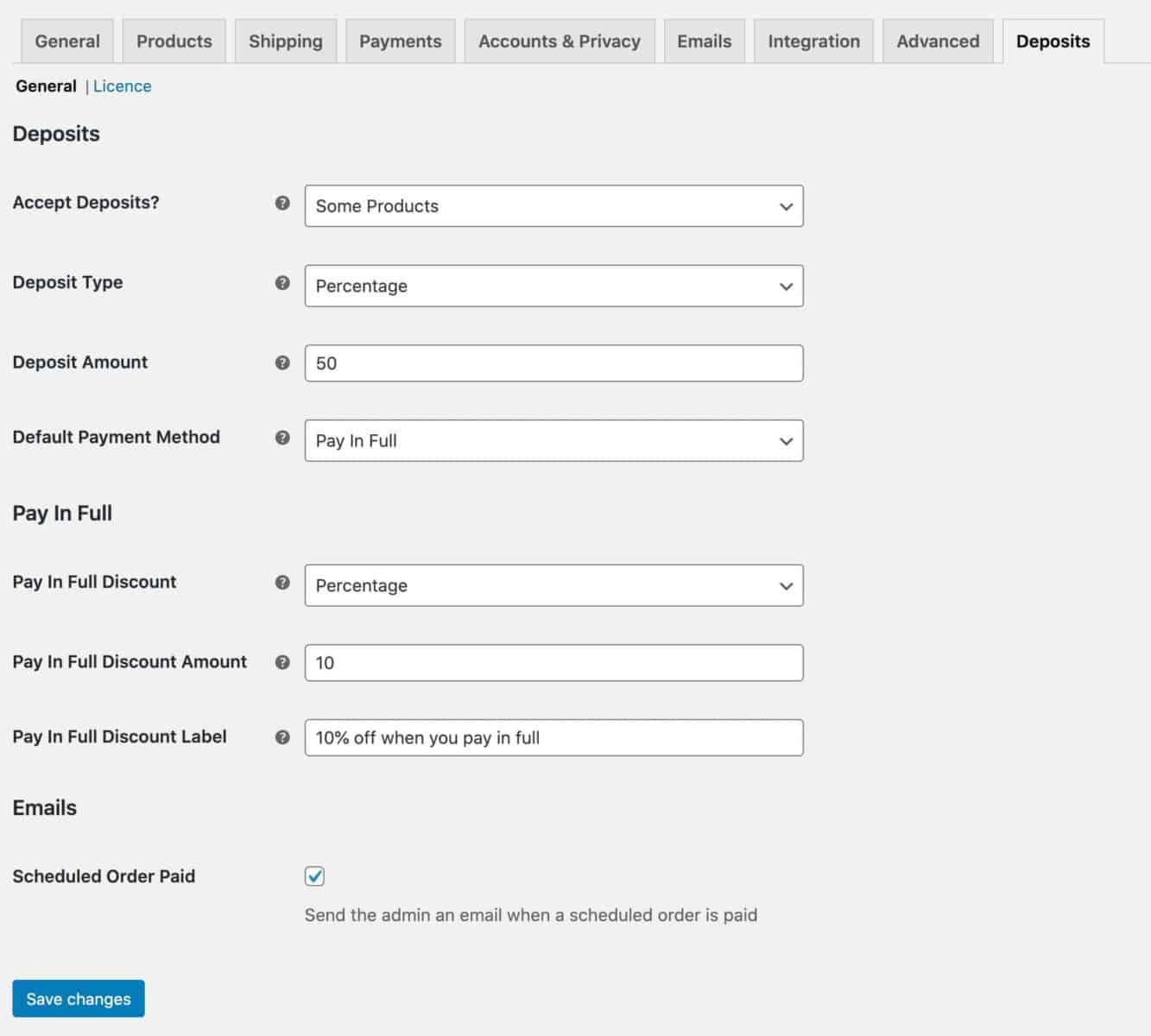 Apply discounts for paying in full
If you want to offer your customers an incentive to pay the full amount, you can set a discount using the following settings:
Pay In Full Discount
Choose between applying a discount as a 'Percentage' or 'Fixed' amount
Pay In Full Discount Amount
Set the value of the discount
Pay In Full Discount Label
Add optional text to the 'Pay In Full' label to inform the user of the discount
Emails
If you would like to receive an email when a scheduled order is paid, check the 'Scheduled Order Paid' option.
Enabling deposits per product
If you've chosen 'Some Products' in the 'Accept Deposits' field above, then you'll need to enable deposits on a product by product basis.
To do so, edit the product that you'd like to enable deposits for. Click 'Deposits' in the 'Product data' field then select the 'Enable deposits' option.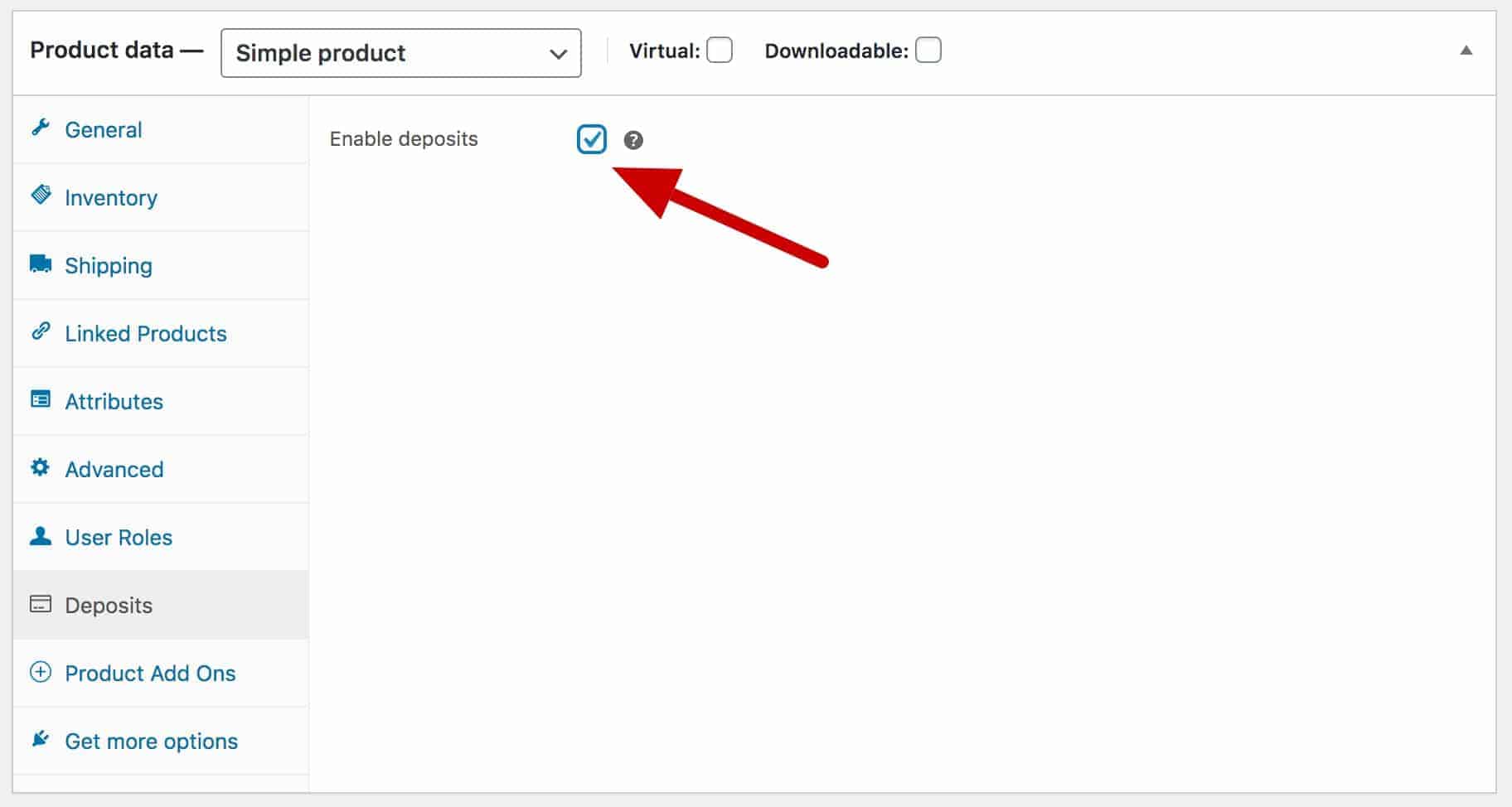 How the deposit process appears to the customer
Following the simple steps above means that you will have enabled WooCommerce deposits in your store within a matter of a few minutes.
Now let's take a look at how it appears to the customer. In this example product, we're selling a nice designer sofa. The only problem is that the price is a pretty hefty £2000. So we're offering the customer the chance to pay a 50% deposit.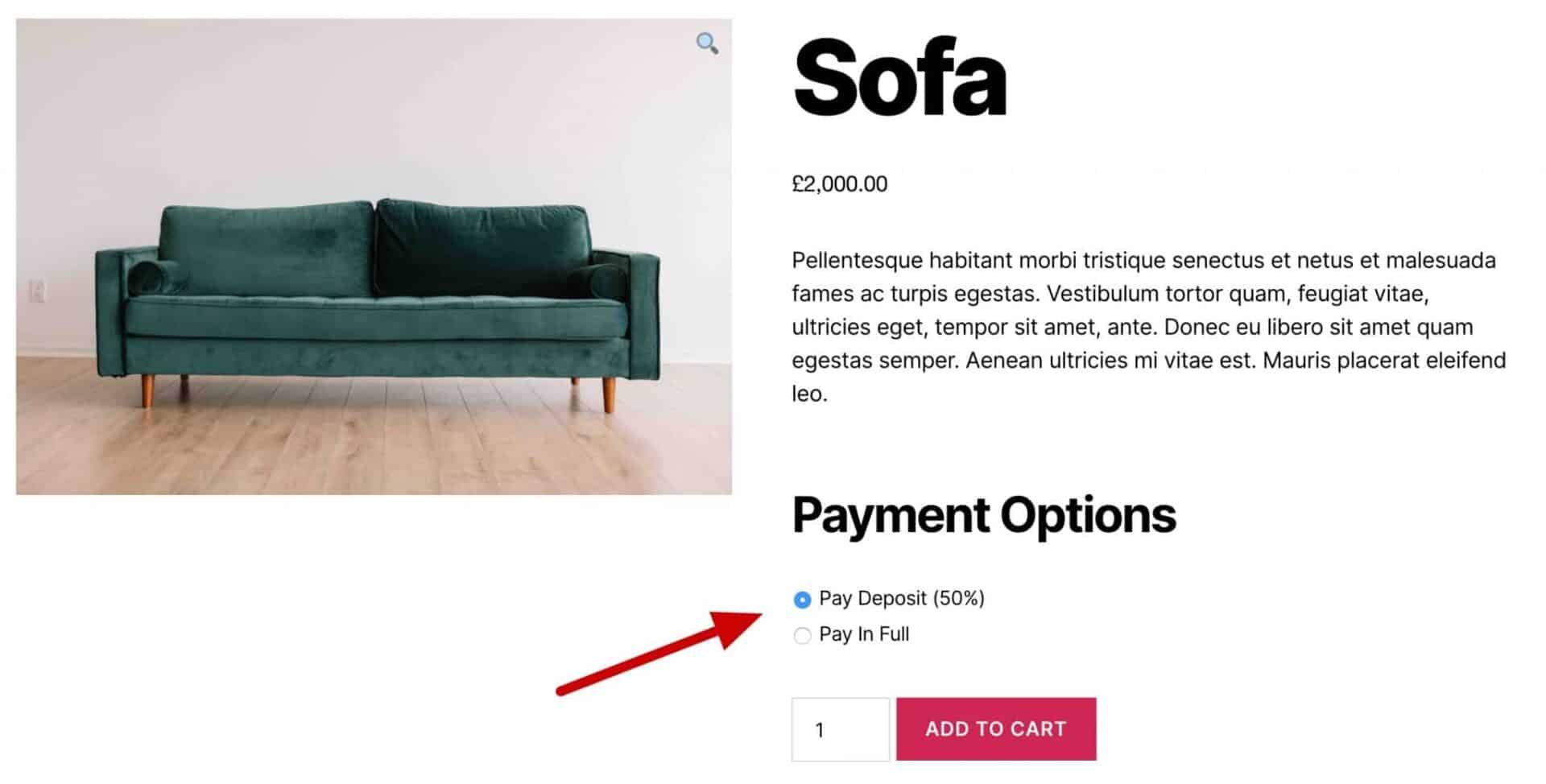 You can see that the customer has the option to choose whether to pay the deposit or to pay in full. In this example, the default payment method is set to 'Deposit'.
Standard cart and checkout process
Let's imagine that the customer is going to buy the sofa and pay the deposit. We see the product in the standard WooCommerce cart but the costs have been divided up.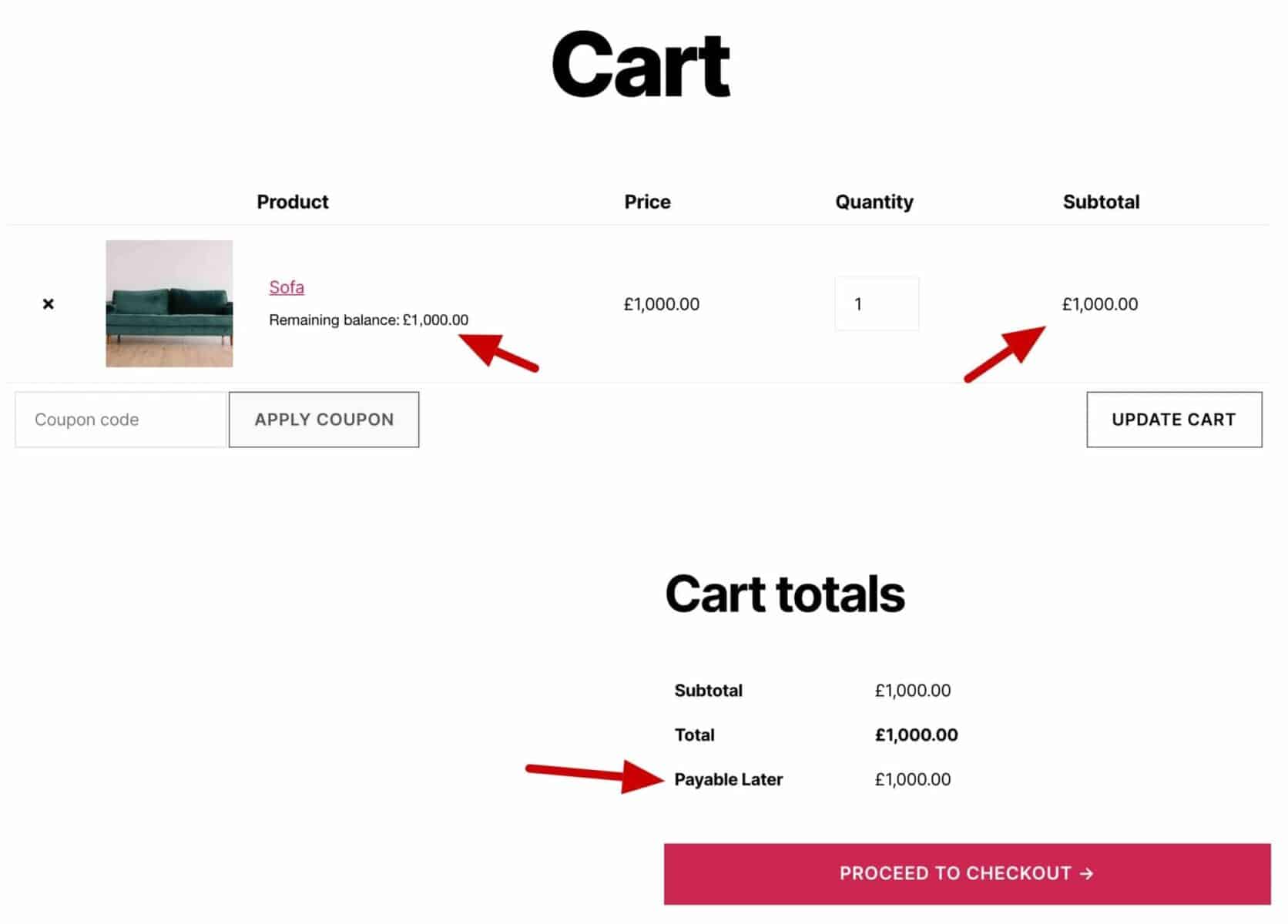 You can see that the product appears as a standard line item in the cart but only half the price, £1000, is payable. The remaining balance, the second £1000, is recorded below the product name. And a new line in the totals table, 'Payable Later', shows the amount of the second payment.
It's all really clear and simple for the customer to understand.
Scheduled orders
Once the customer has paid the deposit for the item, WooCommerce sends out the standard emails to you and to the customer with the order details. The plugin also creates a second, scheduled order for the final payment.
The customer can view their orders in their Account page.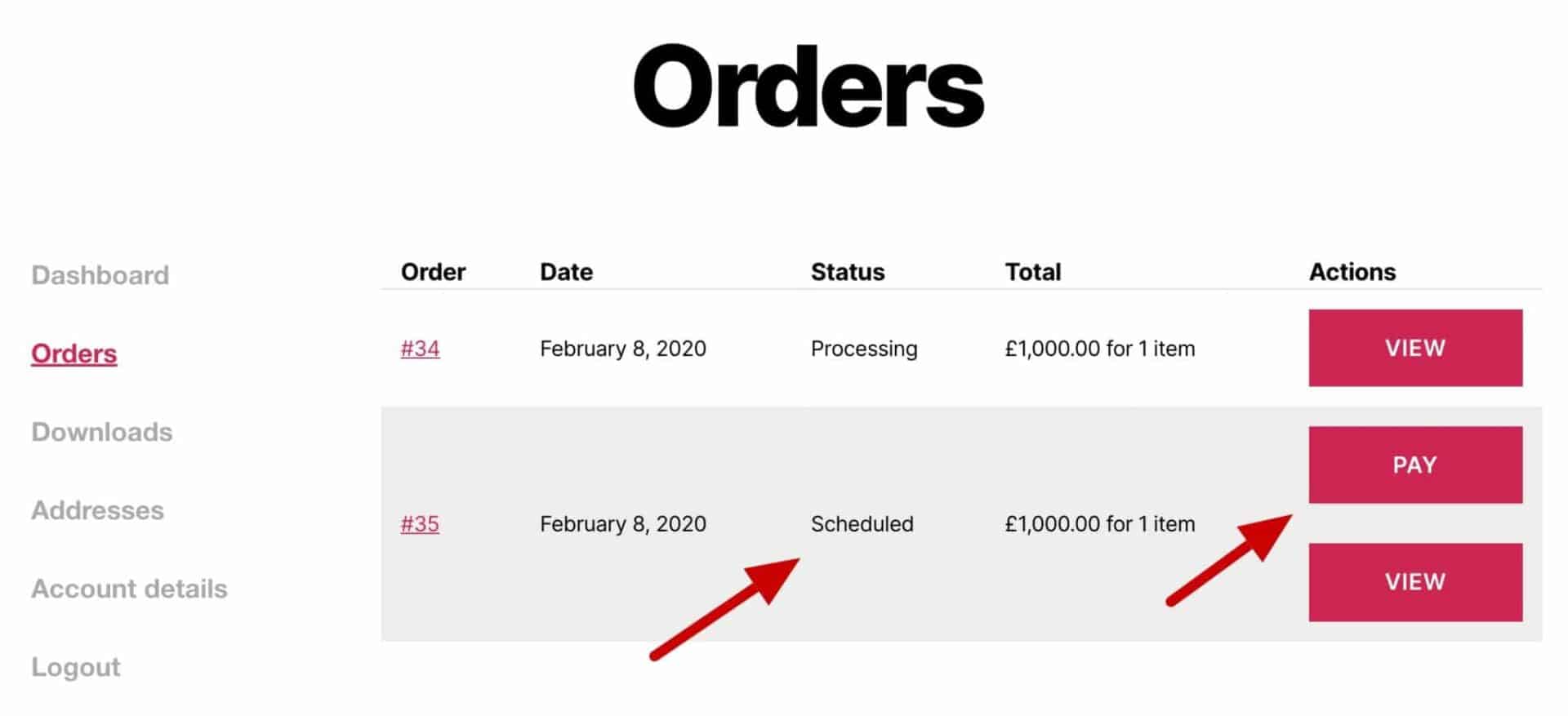 Note that the status of the second order is 'Scheduled'. There's also a direct link to the payment page.
It's up to you whether you ship a physical product at this stage or if you prefer to wait until the final payment has been made.
Paying the balance
If the customer clicks the 'Pay' link against the scheduled order, they can pay the remaining balance: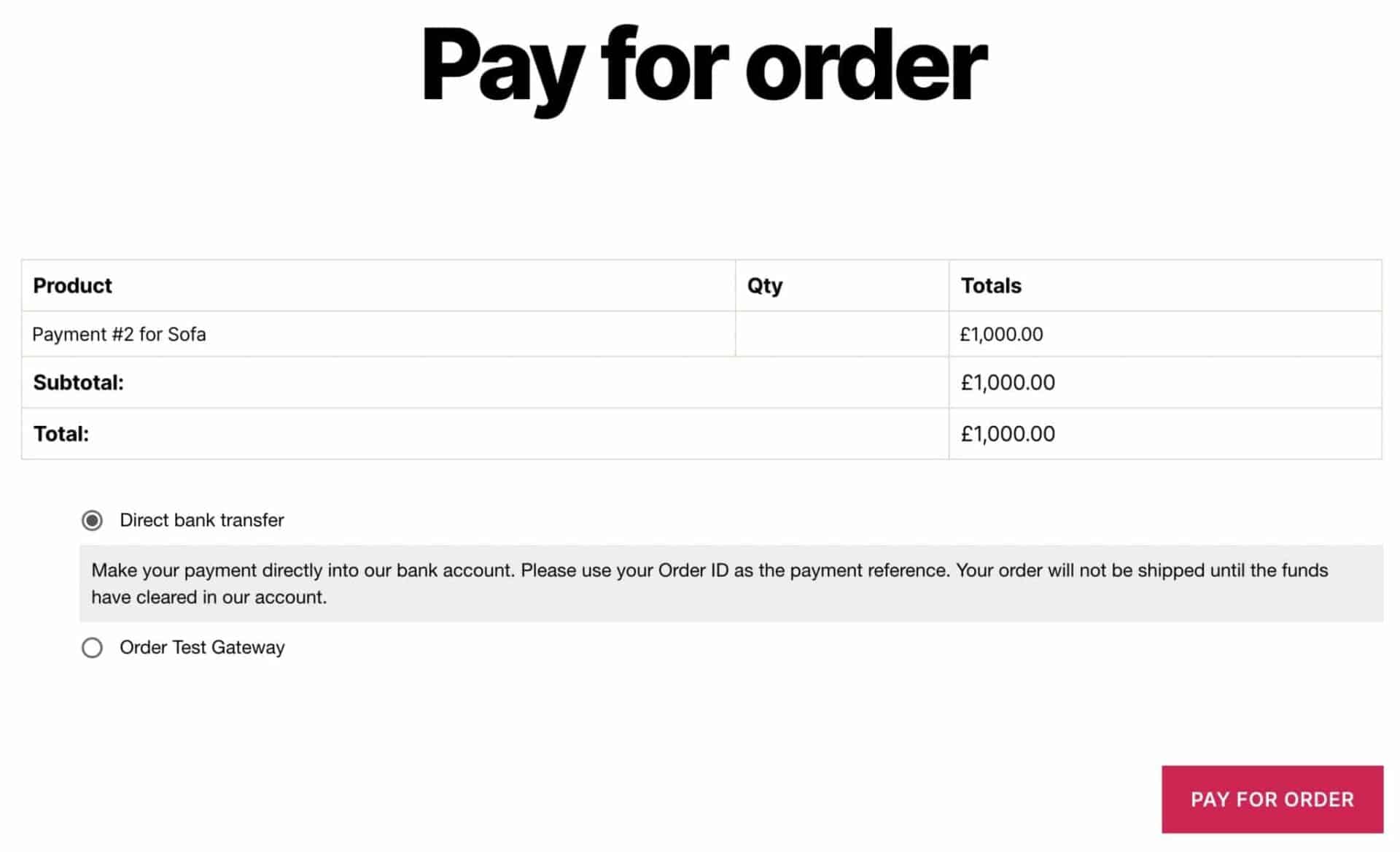 It might also be the case that a customer would collect an item, in which case they might not pay the final payment online. In this case, you can just manually change the order status from 'Status' to 'Complete'.
Managing orders
Orders that include deposits are treated just like standard WooCommerce orders. The payment statuses are the same and they appear in your dashboard along with any other orders.
Note that products where a deposit has been paid will have some extra meta data, showing the value of the deposit, the full price of the product, and the remaining balance.
It will also give you a link to the scheduled order for the remaining balance, making it easy for you to keep track of linked orders.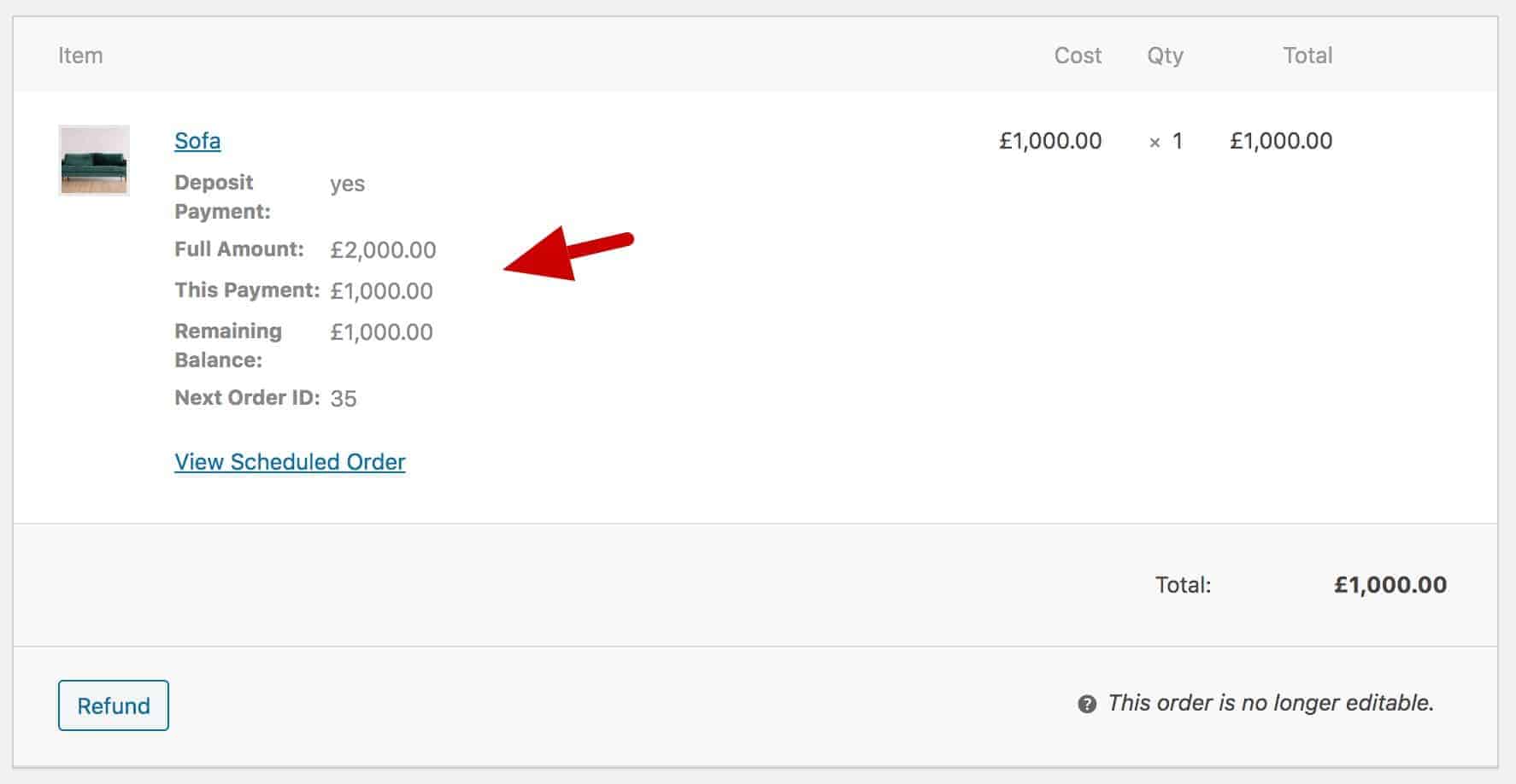 Applying refunds for deposits
If you want to refund a deposit, just hit the 'Refund' button – the same process as with any payment.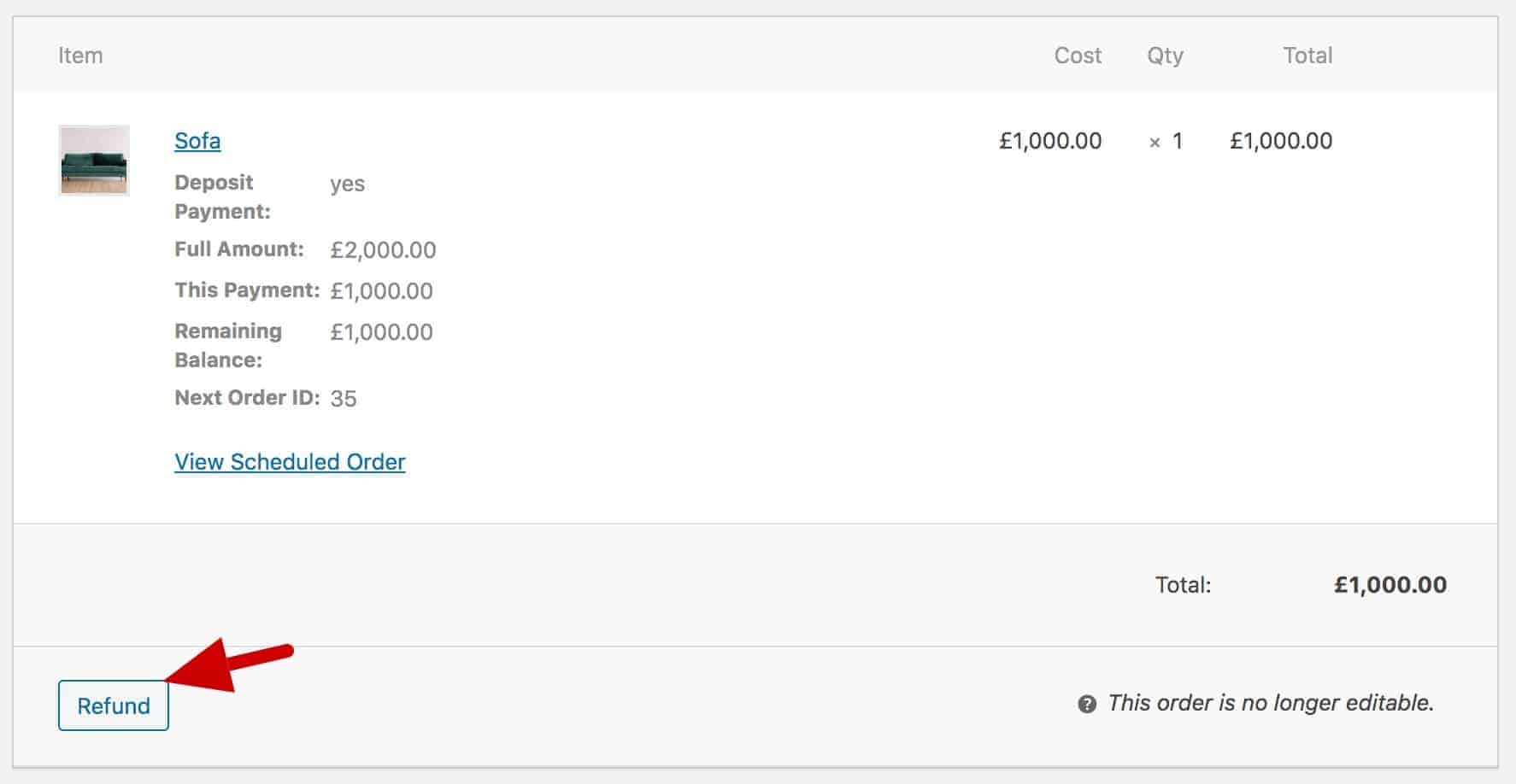 Example: Accepting deposits on a rental property in WooCommerce
So that's the basics of how to add deposits in WooCommerce. Now let's look at a specific scenario where you might want to accept deposits.
Let's imagine we own a luxury rental property that we let out for holidays.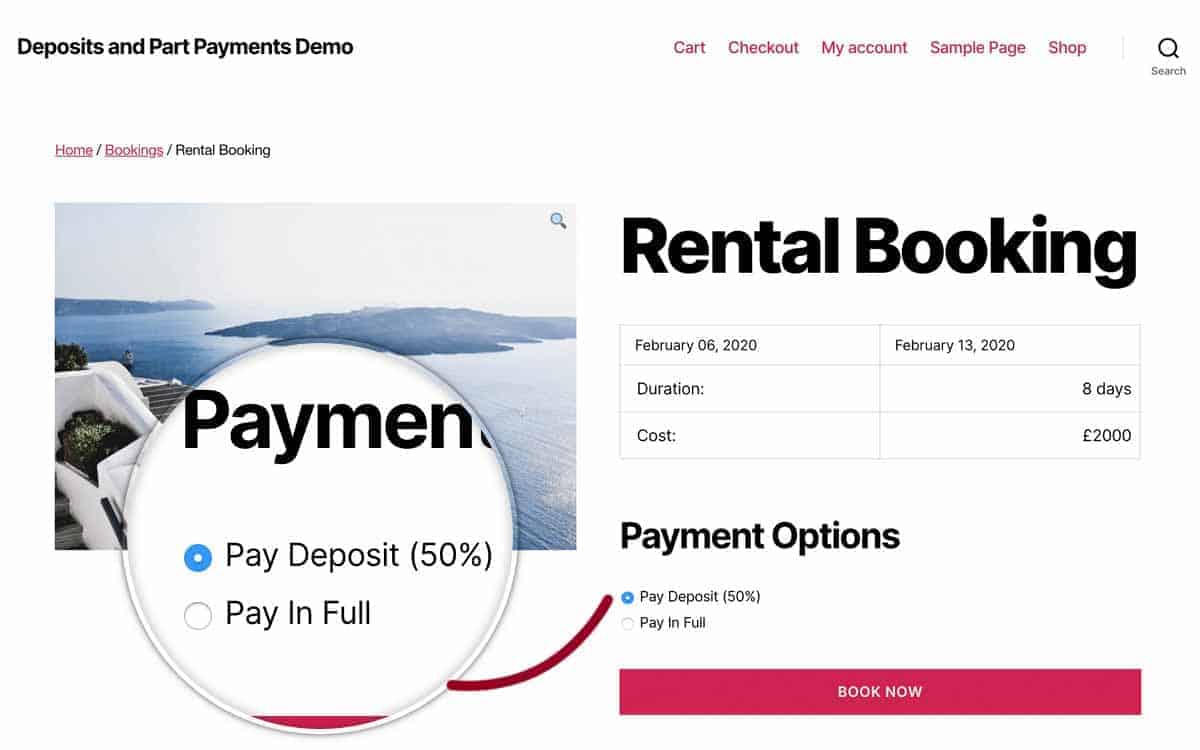 In this case, our customers are only expecting to pay a relatively small deposit of £200 to secure the property for their selected dates.
Because it's a booking where users will select a start and end date, we'll also use the Bookings for WooCommerce plugin.
Accept deposits on rental properties
With WooCommerce Deposits and Part Payments, you can accept deposits on bookable products the same as with any other product type. To accept deposits on a booking in WooCommerce:
Go to WooCommerce > Settings > Deposits
Set 'Accept Deposits' to 'All Products' (assuming all your products will allow deposits)
Choose 'Fixed Amount' in 'Deposit Type'. This is because we want to accept a fixed deposit amount for our holiday let.
Enter '200' as the 'Deposit Amount'. (Of course, you can enter your own value here if you wish).
Set 'Default Payment Method' to 'Deposit'.
That's it. Now you're ready to start taking deposits on your holiday rental property.
WooCommerce deposits – recap
In this article, we looked at what deposits are and how they might benefit a WooCommerce store. We looked at how to configure the WooCommerce Deposits and Part Payments plugin and we stepped through a couple of examples – accepting deposits for a sofa and on a holiday rental.
The plugin is really simple to use.