WordPress forum plugin
Discussion Board is a popular and free WordPress forum plugin with a 4.9 / 5 rating on WordPress.org. It lets you add a simple forum to your site where users can register, post new topics, and reply to others' topics.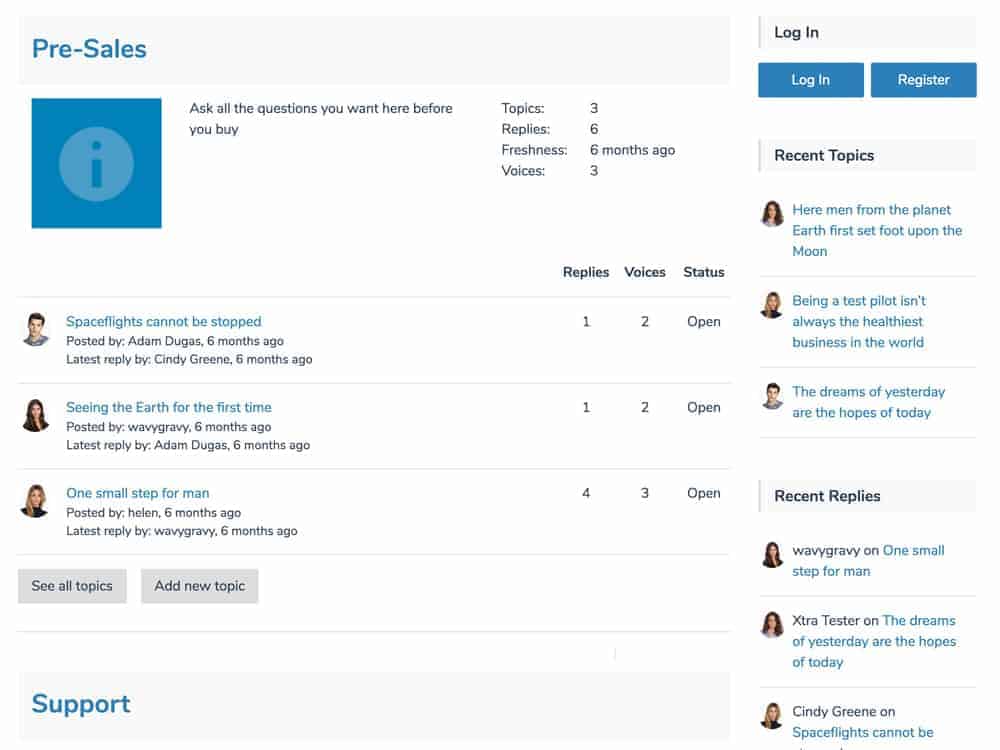 Discussion Board features
The free version of Discussion Board can be downloaded from its page on the WordPress plugin directory. Its features include:
One-click installation for easy set-up - you can get up and running with your forum in just a few seconds
Optional front-end user registration and log-in
Control who can view topics and who can post topics separately according to user roles
Spam prevention features including account activation by email, email blacklists and limiting the frequency between posting new topics
Discussion Board Pro features
Discussion Board Pro extends Discussion Board, giving you more forum features and functionality, including:
Multiple boards
Discussion Board Pro allows you to create sub-forums within your site. Your users can choose which board to allocate their topics to, allowing you to keep your forum nicely organised and helping your users find the topics they're most interested in.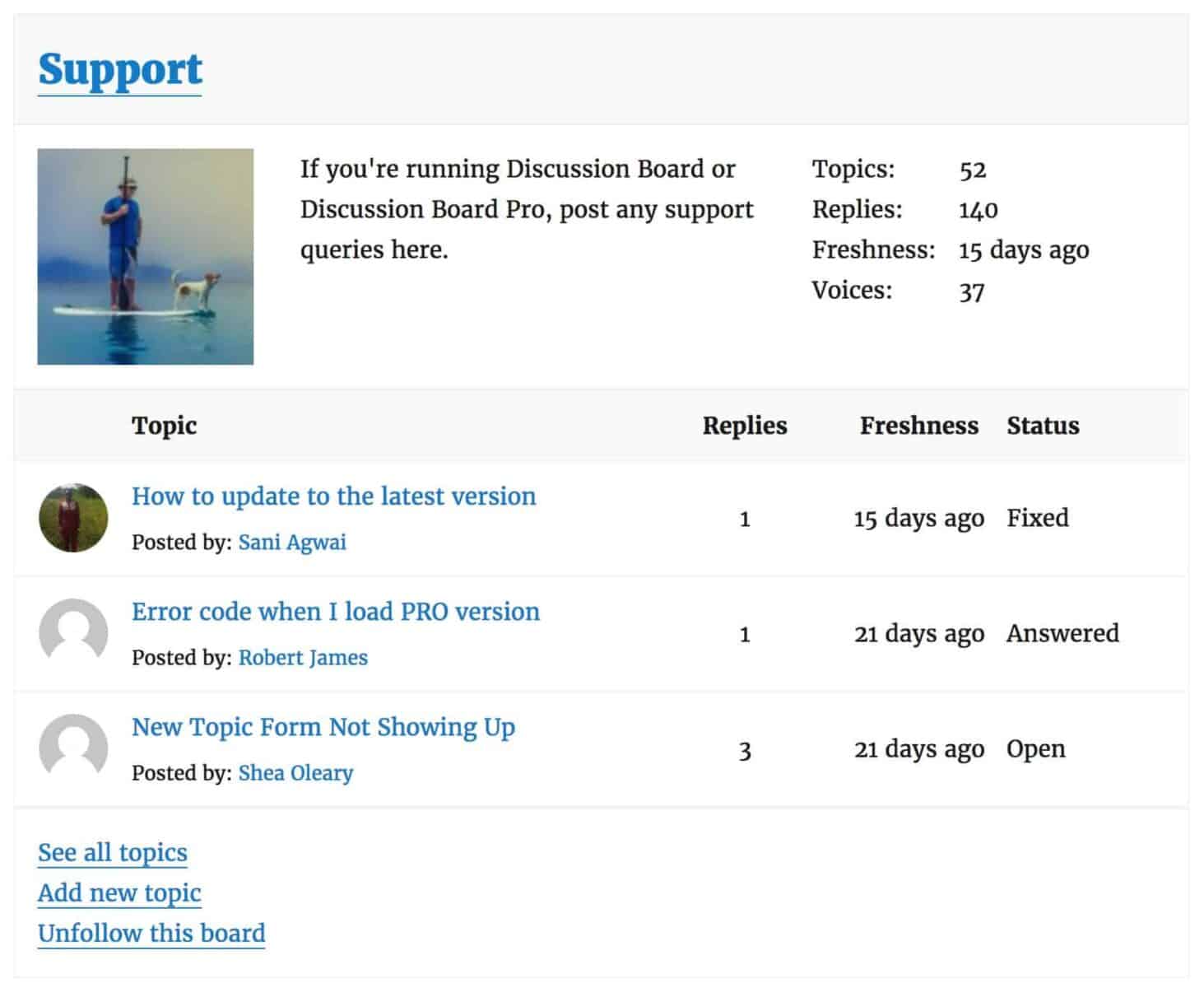 Each board can display a thumbnail image, description, and meta data including:
Number of topics within the board
Number of replies to topics within the board
Time since content was last added to the board (freshness)
Number of users interacting on the board, either posting topics or replying to topics (voices)
Recent or most popular topics are listed below the meta data
Child boards
Boards can also be hierarchical, meaning that you can create child boards under main boards, effectively giving you sub-sub-forums.
Different access permissions by boards
You can set different viewing and posting permissions for each board. For example, you can set one board to be viewable by anyone and another board to be only viewable by admins. Or you could define the posting permission for one board to customers and the posting permission for another board to admins.
In this way, you can have public boards and private boards, each with their own specific permissions.
Subscribe to boards
Users can choose to subscribe (follow) specific boards in order to receive email notifications of any new topic or reply posted on that specific board.
Follow topics
In Discussion Board Pro, users can subscribe (follow) any topic they wish. They'll receive an email notification whenever another user leaves a reply on the followed topic.

Users can choose to un-follow a topic at any time.
Admin approvals for new registrations
The admin approvals feature allows you to decide who can join your discussion board. When a new user registers for your site, you'll receive an email with the user's details and a link to approve the registration. If you decide not to approve the user, they won't be able to post.
User profiles
With user profiles, you can choose to display selected user information about each user on a dedicated page. Information includes:
Biographical details for the user
Date of joining
Number of topics posted
Number of replies posted
In addition, you can also choose to display:
A feed of topics started by the user
A feed of replies made by the user
A feed of topics followed by the user

WYSIWYG editing
Discussion Board Pro gives you the option to enable a WYSIWYG editor on the front-end.
Media uploads
Discussion Board Pro allows you to enable image uploads for new topics.
Categories and tags
You can define categories and tags for topics. Users can allocate their new topics to pre-existing categories and/or tags or you can choose to allow them to define their own.

Why choose Plugin Republic?
WordPress Forum Plugin - demo site
There is a demo of the Pro features at discussionboard.pro. You can sign up, post topics and create replies to existing topics.
Further reading on WordPress forum plugins
If you'd like some more information about WordPress forums in general, check out this article on How to add a forum to WordPress. It provides detailed information on:
The different types of forum you might wish to run on your site
The benefits of having a forum on your website
Installing and configuring Discussion Board
Configuring the additional features in Discussion Board Pro
A round-up of other forum plugins available
FAQs
What are the differences between the Basic and Pro licences?
The Basic licence entitles you to updates and support for 1 site. The Pro licence entitles you to updates and support for unlimited sites.
How long is the licence valid for?
Unless otherwise stated, licences are valid for a year. During that time you are entitled to receive free updates and support. Licences will automatically renew unless cancelled.
Will the licence still work if I cancel my subscription?
If you cancel your subscription, you'll still be entitled to free updates and support until the end of the subscription period. After that, the plugin will continue to work but you'll no longer be entitled to updates or support.
Is there a free trial?
I don't offer free trials but all products are backed by a 14 money back guarantee so if the plugin isn't what you wanted, I will issue you with a refund.
Do you offer refunds?
Yes, there's a 14 day money back guarantee so if you purchase the plugin and decide you no longer want it, just drop me a line.
Will this plugin work with my theme?
All my plugins are independent of the theme being used so there shouldn't be any problems. If you do run into any issues, just let me know and I will take a look.