Bookings for WooCommerce allows you to sell date-based bookings. It's ideal for all kinds of rentals, including:
Property rentals
Vacation rentals
Holiday homes
Villas and apartments
Renting rooms
Holiday lettings
Accommodation lets
Gallery rentals
Exhibition space rentals
Booking venues
Vehicle hire, e.g. car, bike or boat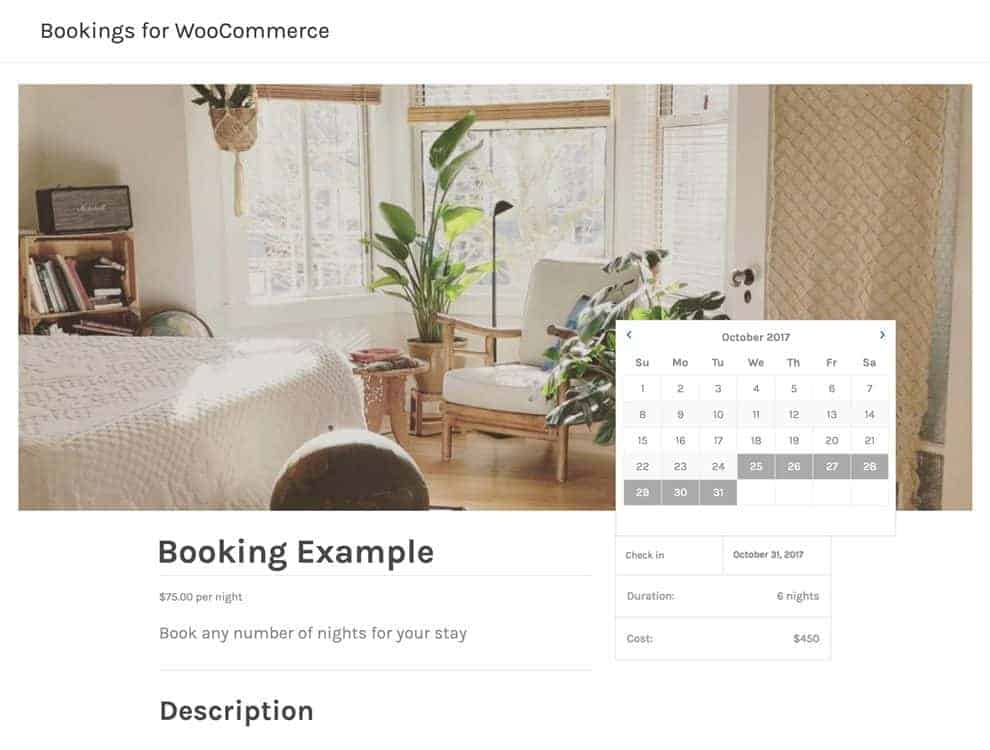 WooCommerce bookings
Bookings for WooCommerce adds a new 'Booking' product type to WooCommerce which lets you set exactly how you want your bookings to work.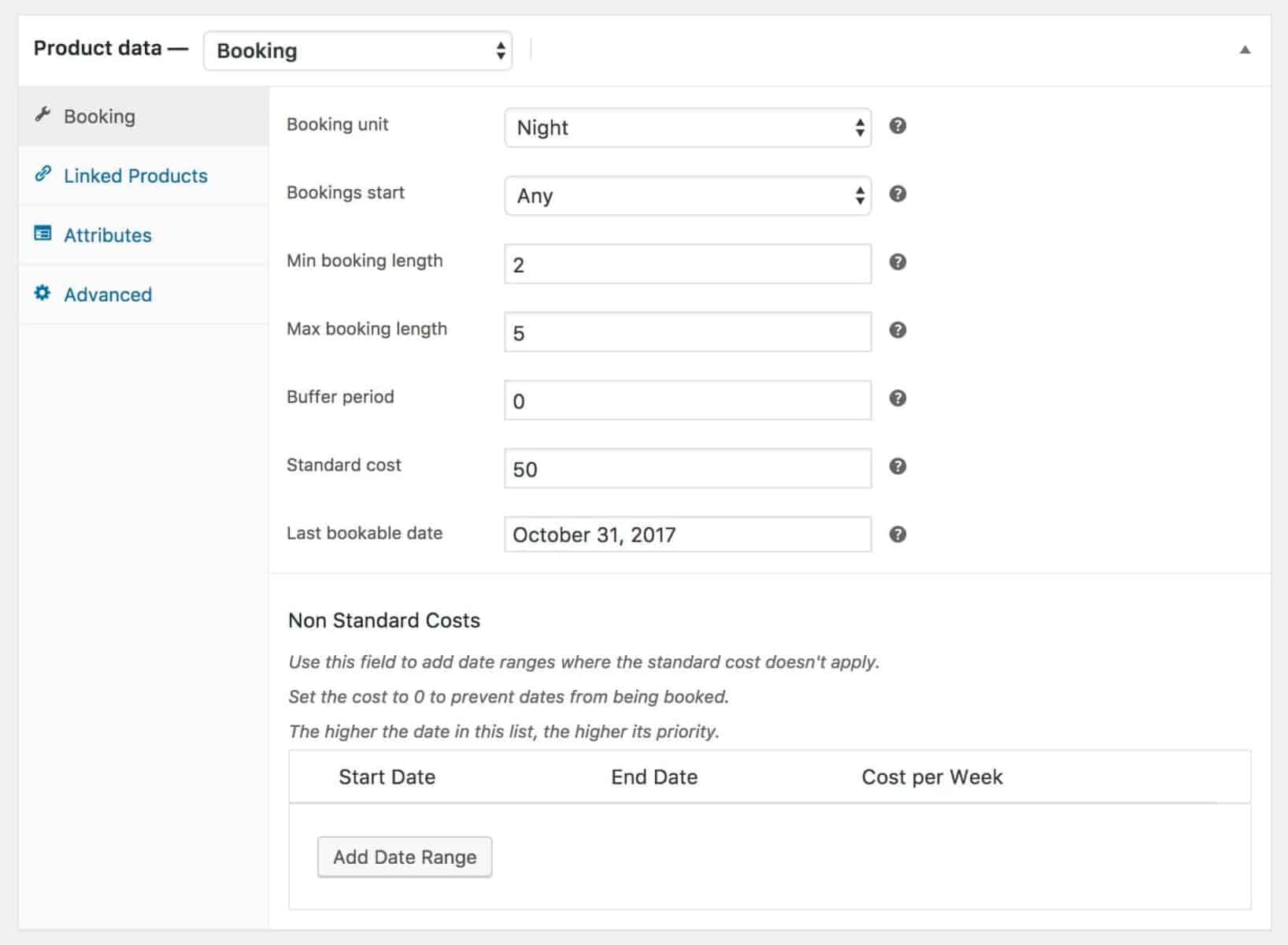 Using the Booking product type, you can define:
Booking units: either by day, by night, or by week.
Booking start day: specify a day of the week for the booking to start, or let users select any day
Minimum and maximum booking lengths: happy to let users book for just one night? That's fine. Need to specify a minimum number of nights? That's also fine.
Postponed start: allow yourself a notice period before the booking can start.
Buffer period: add an optional buffer period between bookings
Costs: set a standard cost per day, night or week then define periods where the cost might be different. Charge premium rates for your busy times, tempt people with discount rates for the quieter times
Block out dates: you can make dates unavailable in the calendar to prevent anyone from booking them.
Last bookable date: decide how far in advance to take bookings
Discounts – specify a time after which the discount kicks in, e.g. book for 4 days and get 20% off
How does it work?
The plugin adds a simple booking form to the product page where the user can select their check-in and check-out dates. The permitted dates are clearly indicated and the calendars automatically update to ensure that users can't duplicate bookings or book across a blocked-out period. The plugin calculates the duration of the stay and displays the cost automatically, taking into account any non standard cost periods that might be incorporated into the user's booking.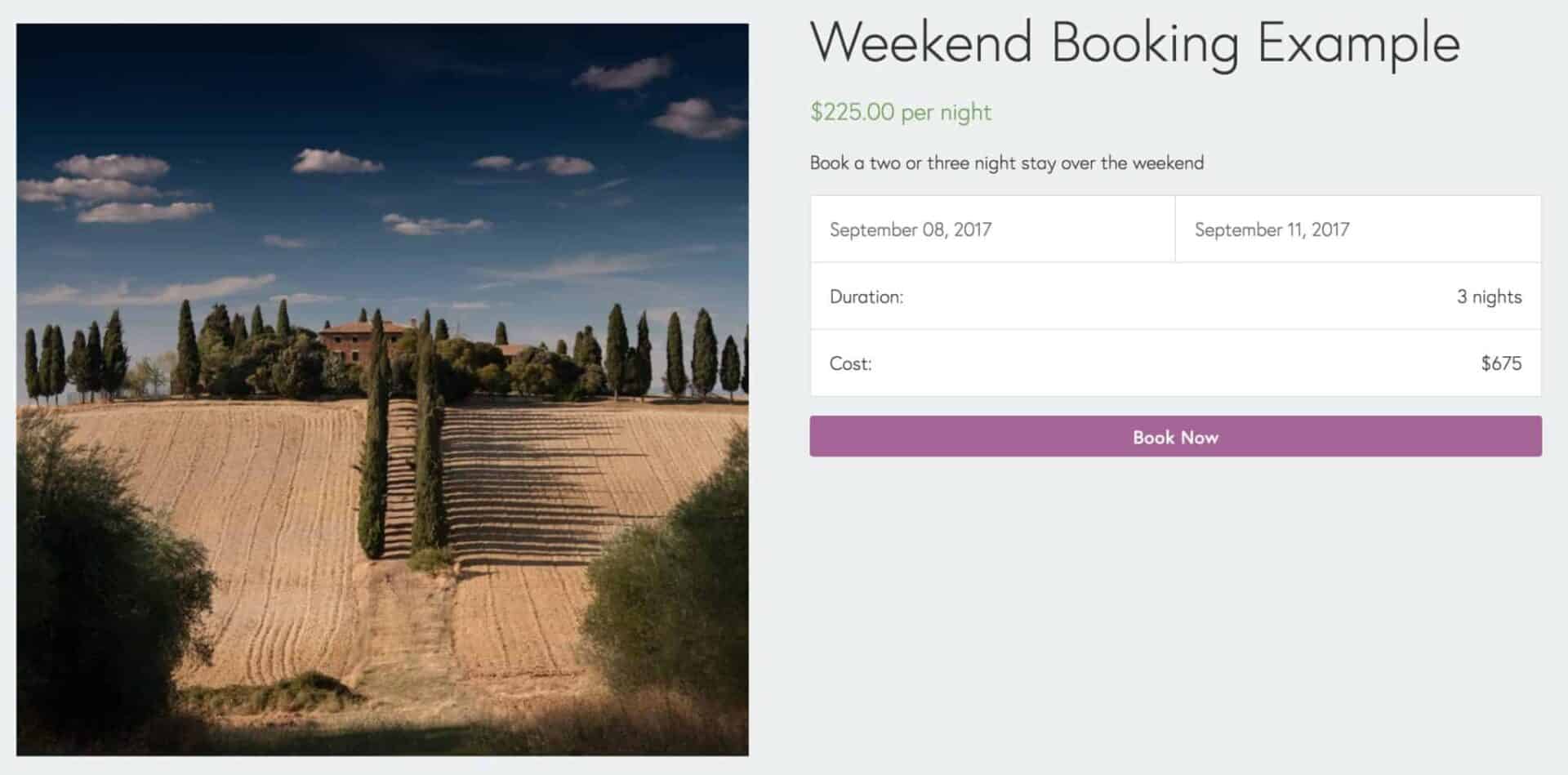 The user can add their booking to their cart then checkout, the same as they would do for any other product: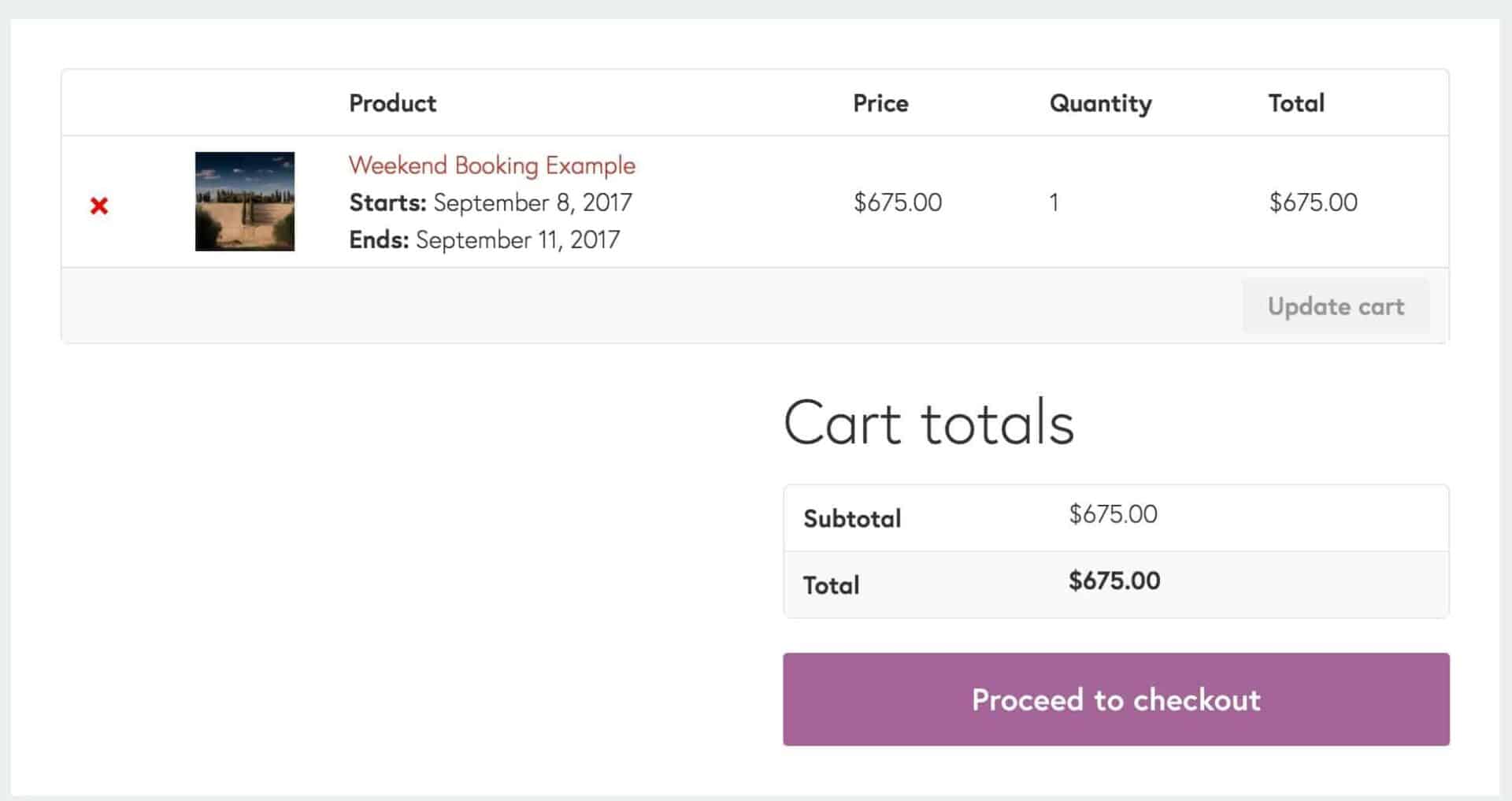 After payment, the user receives an email with the booking details: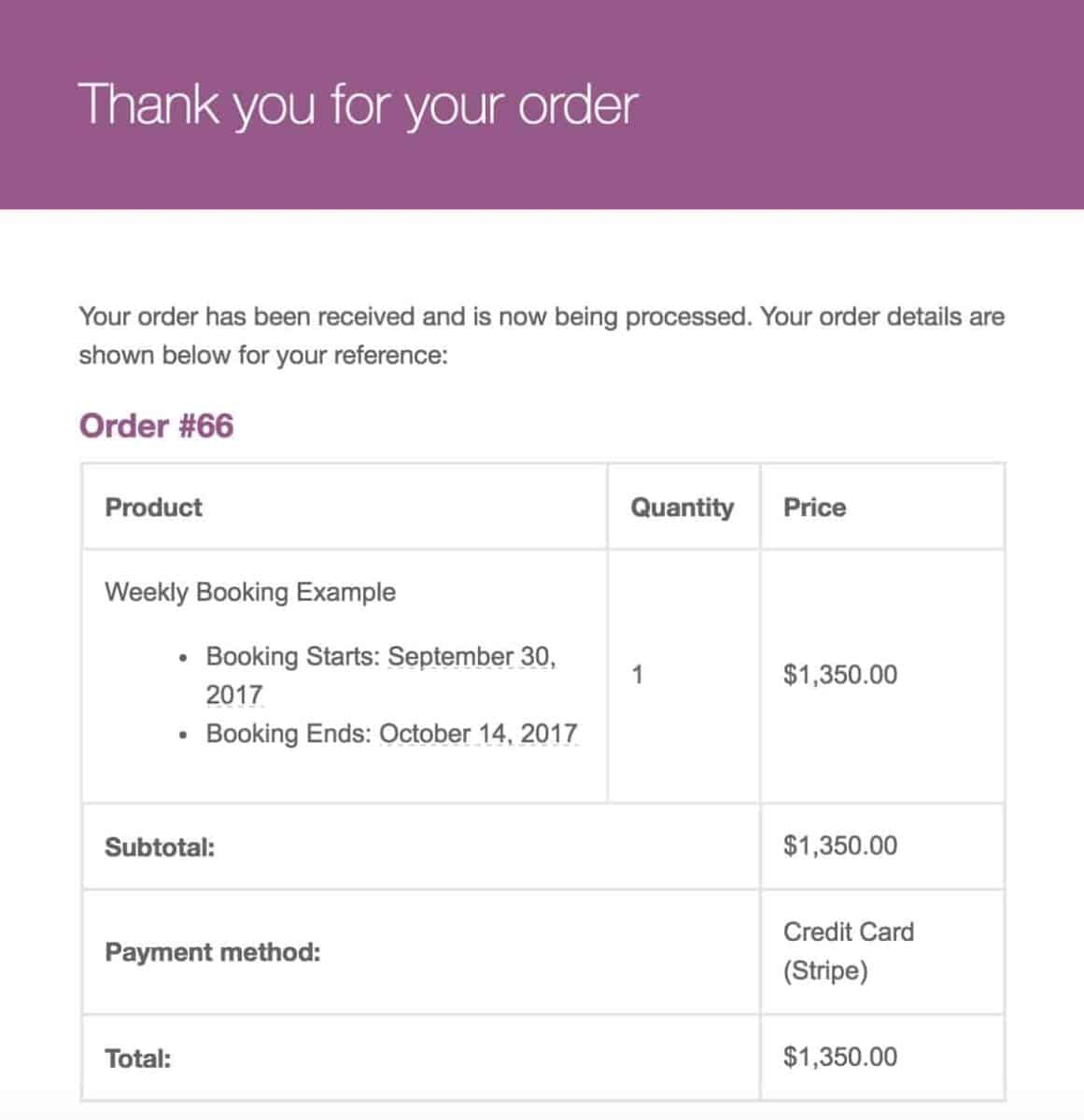 In your dashboard, you can monitor and update bookings: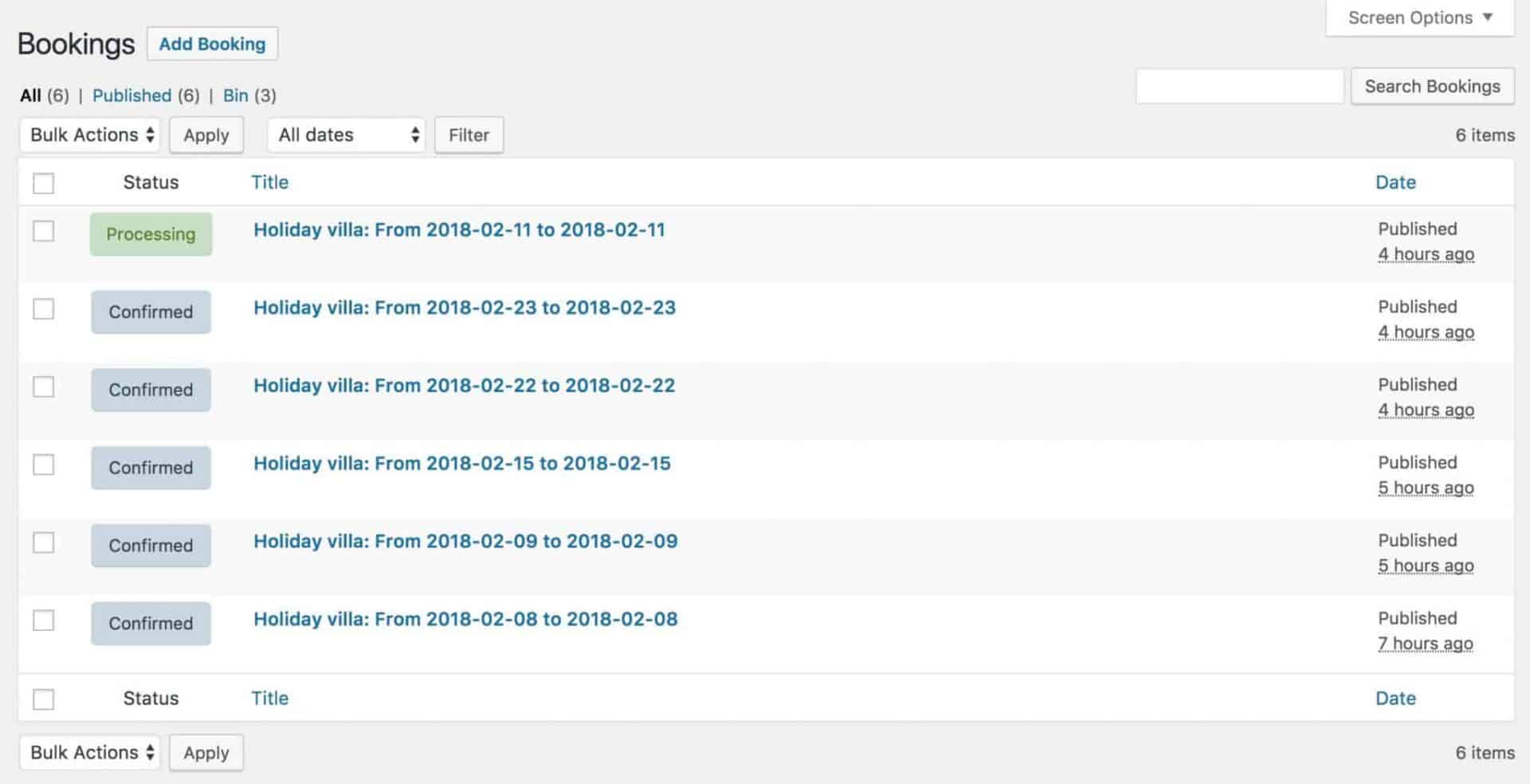 The plugin works with WooCommerce so that you can take payment via your preferred payment gateway. You can also sell additional products on your site as well as take bookings.
Integration with Product Extras
Bookings for WooCommerce integrates with Product Extras, our WooCommerce product addons plugin, to allow you to include additional chargeable options in your bookings. Possible options might include:
Cleaning fees
Linen fees
Transfer costs
Bicycle hire
Bed and breakfast options
Half board or full board options
Optional insurance charges
Facilities hire
Extra towels
Surcharges for extra guests
Additional beds or bedding
Welcome packs
Shopping hampers
Each additional option can be charged as a one-off fee or per bookable unit, e.g. per night, per week.

WooCommerce bookings demo
You can see a demo site for Bookings for WooCommerce here.
Purchase the plugin