One day, I found myself staring at my plugin's page in the WordPress directory, wondering why there was such a difference between the number of downloads recorded and the number of active installations. I looked around and it appeared to be the same story for every plugin. The information on the Statistics tab seemed so limited and gave me no real clue as to what was going on. So I decided to create a tool to help.
Wisdom is, I think, the first WordPress plugin that allows plugin developers to gather and analyse meaningful data on how their plugins are being used. If you're a plugin developer, you embed some Wisdom code into your plugin which will then transmit data back to your website. Your website collects all the data and presents it to you through filterable charts.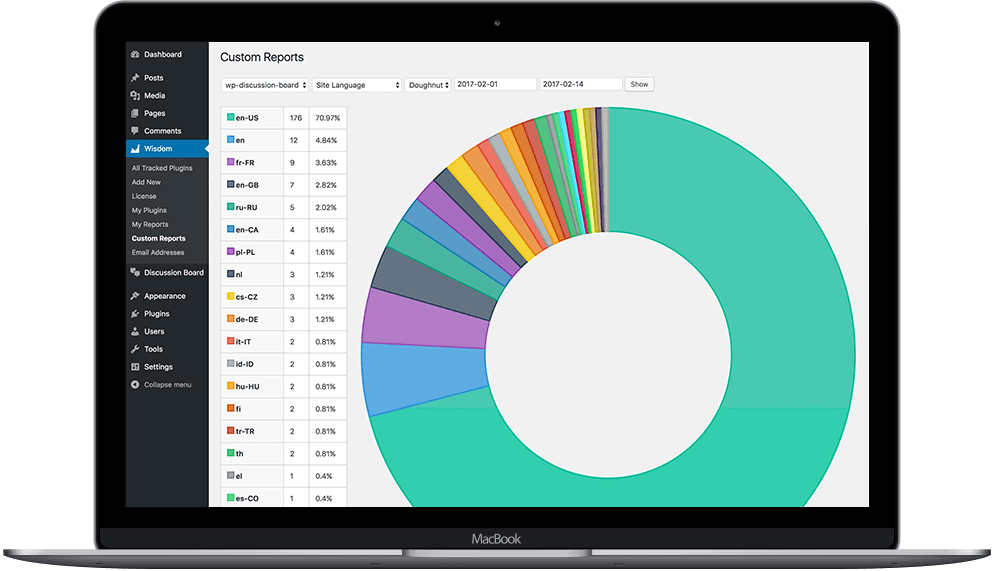 How do you currently measure how your plugins are used?
Let's say that you are a plugin author. Perhaps you have a few plugins on the WordPress.org repository that you have released to the community after you developed them for some client work. Alternatively, you might sell plugins as a sideline or main business, either through a freemium model, via marketplaces like Code Canyon, or via your own site. Unless you have created your own data-collection and feedback system, there are limits to how effectively you can assess how your plugins are used or measure their success. Typically, you might rely on user feedback, support tickets, user reviews, or refund requests. The problem with this is that you often only hear from your users when something goes wrong. While it's obviously essential to hear back from users when they have problems, it's good to get some perspective as well. Wisdom allows you to get some perspective.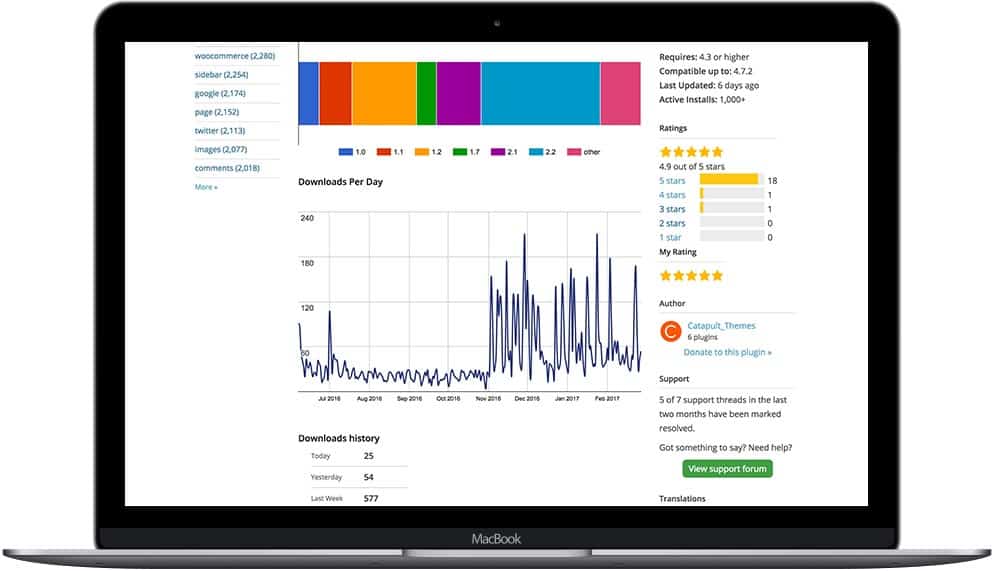 The statistics tab on the WordPress repository (above) has limited usefulness. It will display the number of downloads per days and a rough indication of the distribution of the different versions of your plugin. But it doesn't give you any insight into how your plugin is being used.
By contrast with the repository stats, Wisdom gives you detailed analytics.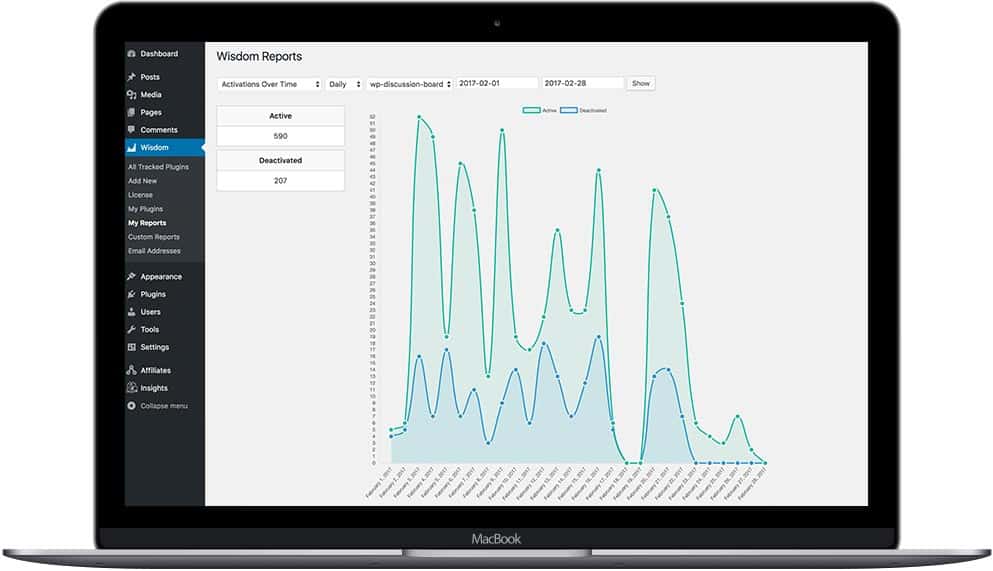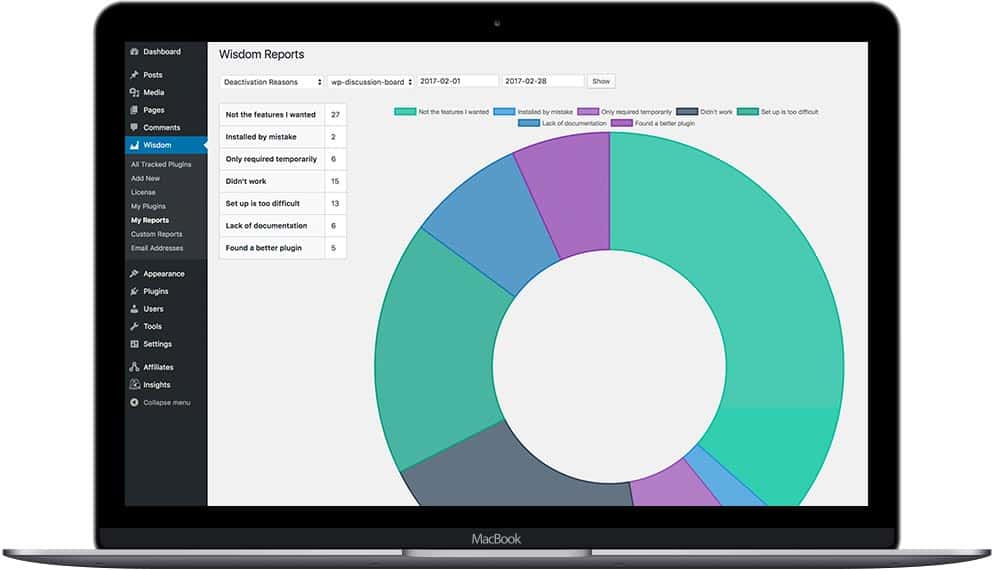 Main features
What does it do?
Wisdom tracks the usage of your plugin on the sites where it's installed. You may already have noticed similar functionality when activating certain plugins. Yoast SEO and Easy Digital Downloads, for example, both ask permission to track usage, with EDD offering an incentive to do so. Wisdom is a ready-built system to include this kind of functionality in your plugin(s). It handles user opt-in, specifies what data to collect, and provides a dashboard for receiving and viewing the data.
What data does it collect?
Every time an admin activates your plugin and opts into tracking, Wisdom will start to send back data to your own website. This includes information about your plugin (such as version number), other plugins active and deactivated on the site, information about WordPress (including version number and language), theme information, and server information.
There's also the possibility to have Wisdom send back data on what settings are being used within your plugin. This means you can evaluate what features are popular and which are not used, helping you to concentrate your development efforts (or improve your marketing and support documentation).
Deactivation form
One of the issues that Wisdom is designed to address is the mystery of why users choose to deactivate your plugin. There is a deactivation form displayed to the user at the moment they click on the 'Deactivate' link to deactivate your plugin. The user is invited to select one or more reasons for wanting to deactivate the plugin, e.g. 'Set up is too difficult', 'Lack of documentation', and there's a free-text field for the user to leave some additional comments if they wish.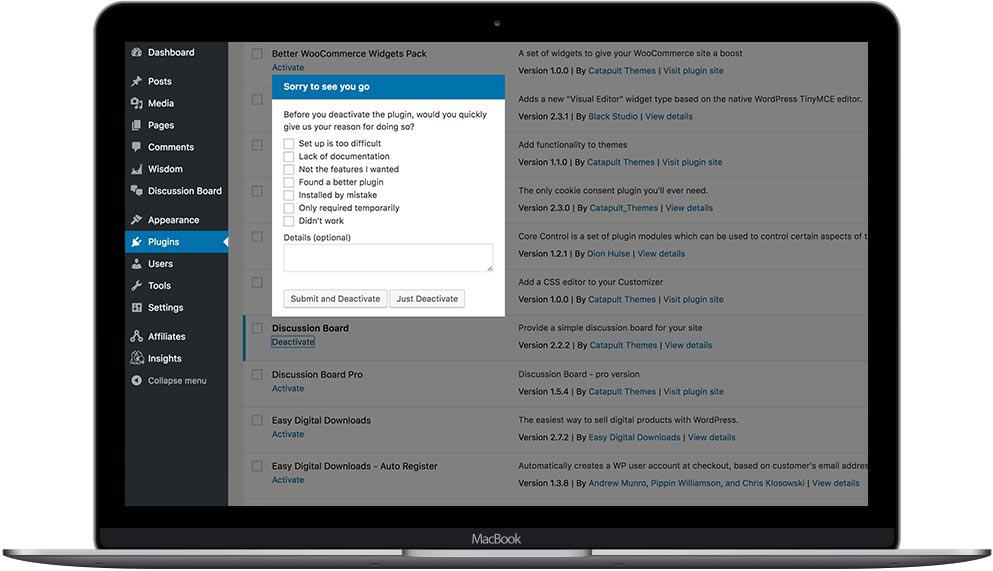 The deactivation form is filterable so you can add your own options and wording if you wish.
How does it work?
If you're using Wisdom to gather data about your plugin, first you need to include a small code snippet and file in your plugin. This is all that's needed to handle user opt-ins and send data to your own site where you install the Wisdom plugin itself. This collects all the data sent from the many installations of your plugin.
For more detailed guidance on how to set up Wisdom, take a look at its Support page.
How many plugins can be tracked?
You can track as many plugins as you wish using Wisdom. There are plans available for tracking one plugin, up to three plugins, or unlimited plugins.
Data Protection
There is increasing volume in the WordPress community about collecting usage data. While there's a debate to be had about the benefits of collecting and analysing such data against the needs of the individual to protect their privacy, from the point of view of the developer the advantages in gathering analytical data is indisputable.
As far as Wisdom is concerned it's important to know (if you are planning to use it with a plugin hosted in the repository) that it follows the WordPress guidelines on 'phoning home'. That's item 7 in the Detailed Plugin Guidelines page:
7. The plugin may not "phone home" or track users without their informed, explicit, opt-in consent.

In the interest of protecting user privacy, plugins may not contact external servers without the explicit consent of the user via requiring registration with a service or a checkbox within the settings. This method is called 'opt in.' Documentation on how any user data is collected, and used, should be included in the plugin's readme, preferably with a clearly stated privacy policy.

This restriction includes the following:

No unauthorized collection of user data. Users may be asked to submit information but it cannot be automatically recorded without explicit confirmation from the user.
Wisdom requests the user's permission through a standard WordPress notice. The user clearly has the option to allow or reject tracking. This notice appears immediately after the plugin being tracked is activated and no data will be collected unless the user opts in.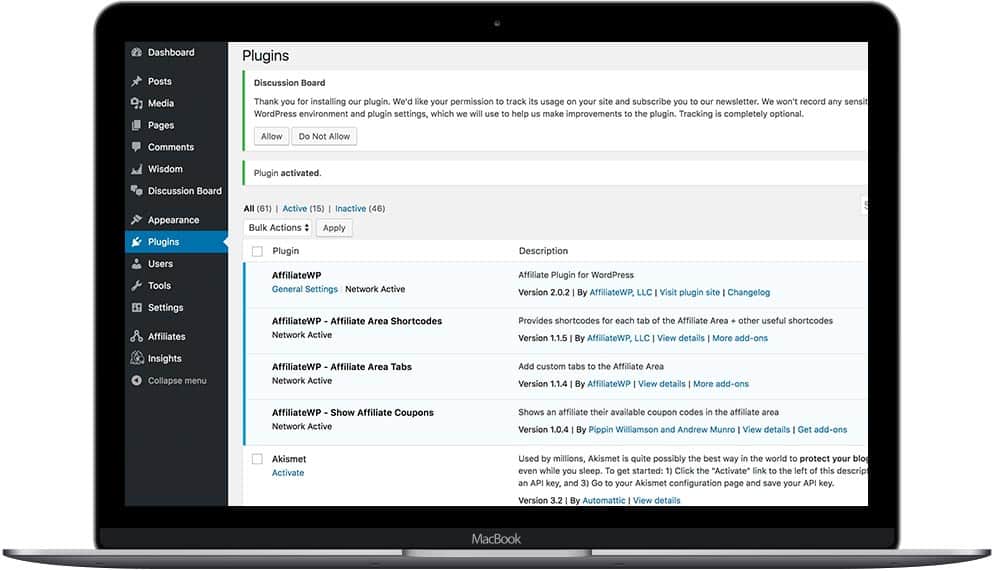 One complication in collecting data is to define what is sensitive and what not. Most of the data, such as server environment, WordPress version, plugin options, and so on, are anonymous. However, if you are a developer, there are some very good reasons for wanting to collect the email addresses of the admins of the websites where your plugin is installed – mainly for marketing purposes. With this in mind, Wisdom offers a couple of different ways to make clear to the user if you intend to collect their email address (assuming you want to grab emails – there is an option that doesn't include the email address).
The first option is a single notice that requests opt-in to tracking and clearly states that this will include the gathering of the admin email address.
The second option is to request opt-in to tracking with one notice then, if accepted, request permission to collect the email address in a second notice.
The advantage of the first option is that it is less intrusive for the user – it's one notice then gone. The advantage of the second option is that some users may be happy to opt-in to tracking but not to email collection. It's your choice which you use.
Of course, the wording can be filtered if you would like to add your own custom message.
For plugins that are not distributed via the repository, opt-in is not compulsory. Information can be gathered silently in the background though it is strongly recommended that you make clear in your documentation that this is taking place.
Why would you need this?
Hopefully, the answer to this question is pretty clear from the above. Information about how your plugin is being used now will allow you to make informed decisions about how to develop the plugin in the future.
You can learn what features your plugin is missing, and find out which features are being used and which are being ignored.
You can reduce the number of support tickets you have to deal with. By being proactive with your development, you will improve the quality of your plugin and head off potential support requests before they arise.
You can troubleshoot support queries more quickly by reading off information about a user's environment direct from your own dashboard.
You have the opportunity to increase conversions to your premium products. If you're collecting email addresses, you can focus your marketing directly towards people you know who are already using your products.
You will be able to build relationships with clients and users who would previously have been unknown to you.
You take guesswork out of the equation.
Find out more about Wisdom here.